If you are spending the school holidays in Sydney this spring you are in for a real treat with numerous activities, shows and holiday camps offered around our city. We can't wait to enjoy a few and have shared some of our ideas with you below.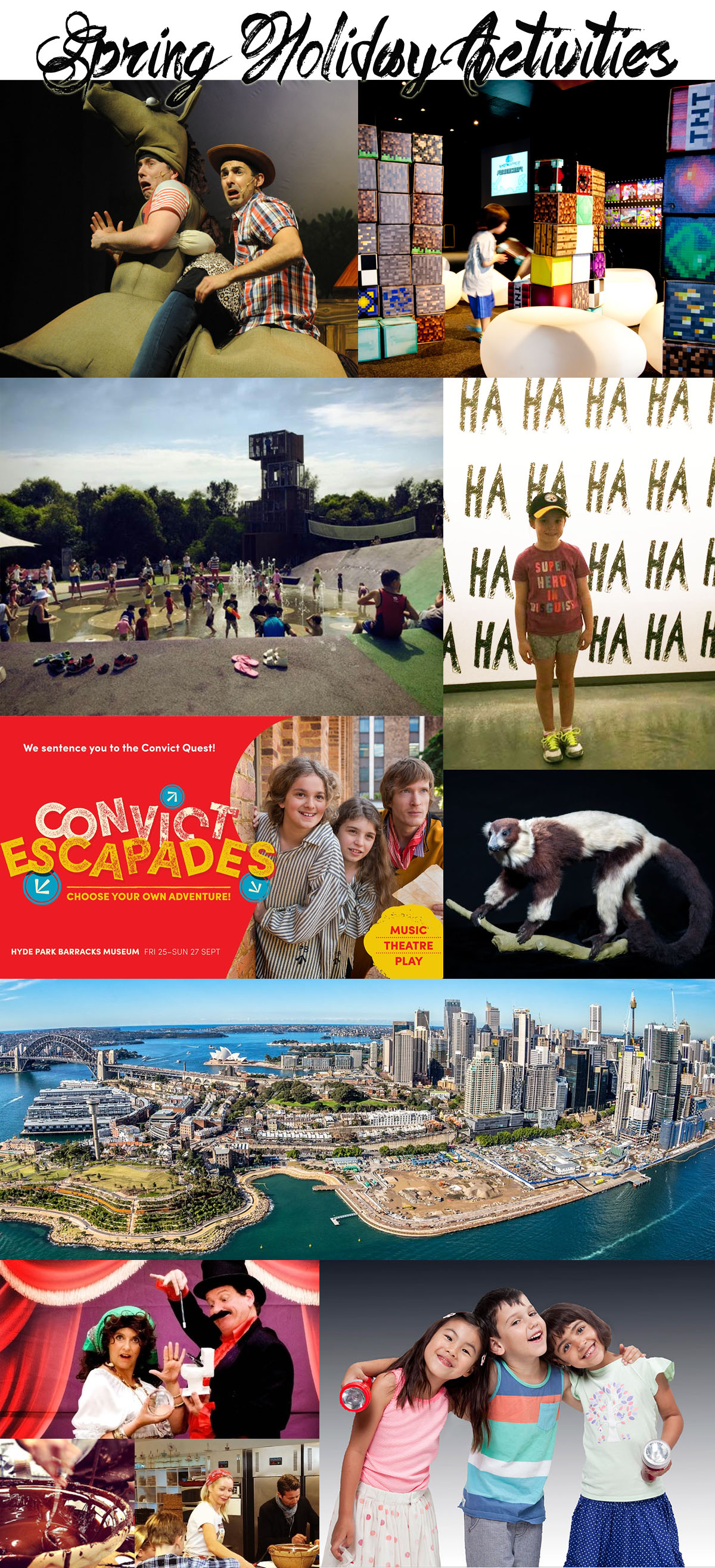 Kids at the House. The Sydney Opera House has become a fixture in our school holiday itinerary every season. The whole family enjoys visiting and we've found that there is always at least one show that we all love. These school holidays you can head in to watch The 52-Storey Treehouse and the Carnival of the Animals. You might even like to take the Sydney Opera House Junior Tour which is super fun.
Create a Minecraft World. No doubt your kids know Minecraft. From 9 September–5 October 2015, from 9.30am–5pm each day, the Powerhouse Museum is offering kids the opportunity to use oversized Minecraft blocks to construct their own creations, play with giant Minecraft characters and animals, wield a Minecraft sword and even design and decorate their own Minecraft block. Entry to the Powerhouse Museum is FREE for kids under 16 too.
Sydney Olympic Park. Celebrating its eleventh year, Kids in the Park at the Sydney Olympic Park has a plethora of activities across the school holiday period for you to join. My favourite? Crack the Code where you set out with your compass to explore the Newington Armory to find the code and work out its meaning. Don't miss the Splash Festival on Sunday 27 September from 10am – 5pm.
The House of HA-HA-HA! If you are keen to introduce your kids to contemporary art, you may like to visit The Museum of Contemporary Art these school holidays where you can take a walk on the wild side as you delve into Aleks Danko: MY FELLOW AUS-TRA-ALIENS. Recommended for kids 4+ and running from Tuesday 22 to Saturday 26 September, 10.30am–4pm each day, you and your kids will have the opportunity to play with words and everyday objects to create a collaborative installation. A donation of $5 per family is welcomed, although the museum is free to explore.
Sydney Living Museums. We adore visiting the Sydney Living Museums and the school holidays are the best time to explore each setting. These school holidays you can head to the Hyde Park Barracks where you can choose-your-own-adventure via the Convict Escapades experience; make damper and butter at Elizabeth Farm or Vaucluse House; participate in a Mad Hatter's Tea Party at Meroogal or earn your tucker at Rouse Hill House and Farm.
Australian Museum. It's been a while since I visited the Australian Museum with the kids although I did visit with my class during Science Week. I always love weaving through the exhibits and I'm delighted by what is on offer these school holidays. Kids can investigate the skeleton via Mini Explorers: Bones, Bones, Bones program, Be a Scientist for a Day; or join a number of workshops.
Barangaroo Giant Picnic. On 4 October, why not head to Barangaroo Reserve between 11am-5pm for their giant picnic. Free music, numerous food stalls including Matt Moran's Aria Catering and My Kitchen Rules judge Colin Fassnidge and Carla Jones from the 4 Fourteen in Paddington, and a chance to tour the James Craig, one of the original Tall Ships.
The Royal Botanic Gardens. If you love visiting the Royal Botanic Gardens and you hope to extend that love to your kids you'll find two fantastic programs on offer these school holidays. Madame Mulch and The Great Fertilizo is my pick as it totally spins the traditional magic show into one involving all things garden: worms, dirt and much much more. Want more? You might like to have a look at the Digital Mini-monsters program where your kids will explore the grounds with one of the Garden Educators and create digital and tactile art.
National Maritime Museum. These school holidays you have the chance to head to the National Maritime Museum at night time and explore the HMB Endeavour with host Antonio Ponto by flashlight. This is an experience I know you won't want to miss.
The Sydney Chocolate School – Coco Chocolate.  I heard about this delight via Adventure Baby and have added it to my Bucket List. Suitable for children aged 5 to 13, these school holidays your kids can learn how how to temper chocolate by hand on marble and how to make handmade freckles, chocolate bars, and treats. I want to do this too!
There's always heaps to do in Sydney. If you want more inspiration, head to our interactive map, zoom in and find an activity that appeals. Remember to enjoy your time with your kids. They grow up so very fast.