If you sat back and thought about what the perfect accomodation configuration would be like on your next family holiday no doubt it wouldn't have you sharing a room with the kids. Our kids are growing and with both now in primary school the days of booking a double room are starting to become a thing of the past. They're simply not comfortable anymore. When we spied Aria Hotel Canberra and their 2 bedroom apartments we knew that it would provide a luxurious feel to our spring holiday.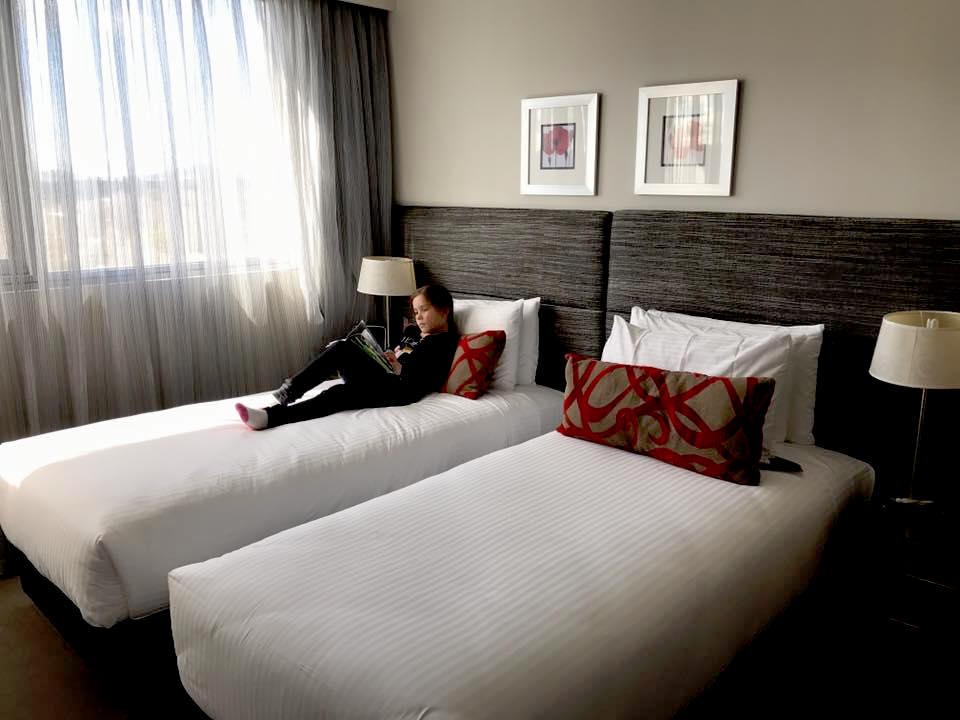 Our arrival at Aria Hotel Canberra was at the end of a long drive from Sydney which had required a few pitstops along the way. We were tired and wanted to relax. Often this can be difficult in a small hotel room where you feel like you're all on top of each other. Walking into our apartment was like walking into an oasis. It was sparkling clean, spacious and had a luxe feel about it. The kids immediately ran to their room, squealed when they realised they had an ensuite then proceeded to jump up and down on the bed.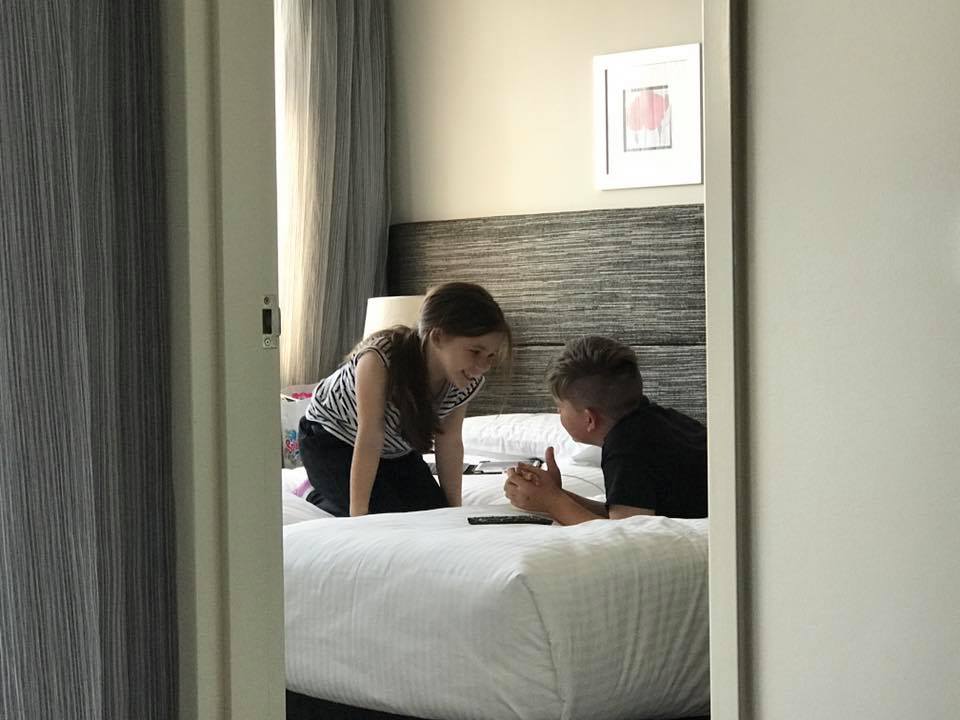 Outside the family traveller, the Aria Hotel Canberra 2 bedroom apartment is normally separated into a one bedroom apartment and a hotel room. This means that when you book it for your family you will notice walking through the doorway that there is a small foyer. You will need both of your room keys to turn on the lights – one for the larger apartment space, and one for the smaller room. It's no trouble at all, but on our next visit I will probably ask for a third spare key for those times when one of us adults needs to run to the car or go on a grocery room.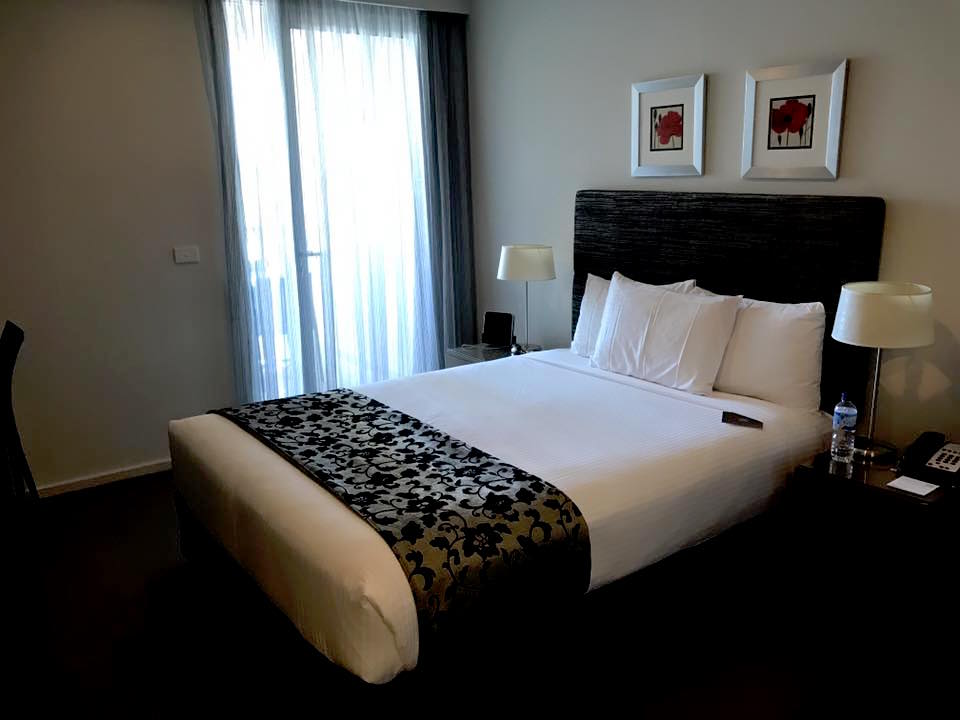 The huge positive about the room configuration was that both the kids and us adults had privacy when we needed it and we weren't climbing all over each other during our morning and evening routines. It was perfect. We enjoyed a shared lounge, dining room and kitchen where we spent most of our time. The kids could retreat to their bedroom and super comfy king single beds to read when they needed some downtime, whilst T and I had the luxury of our own room and fully stocked minibar when the kids were finally asleep each night. Now that's the optimal way to commence a holiday, right? For those who love a little television entertainment, there is a TV in each bedroom as well as the lounge area. All three have FOXTEL.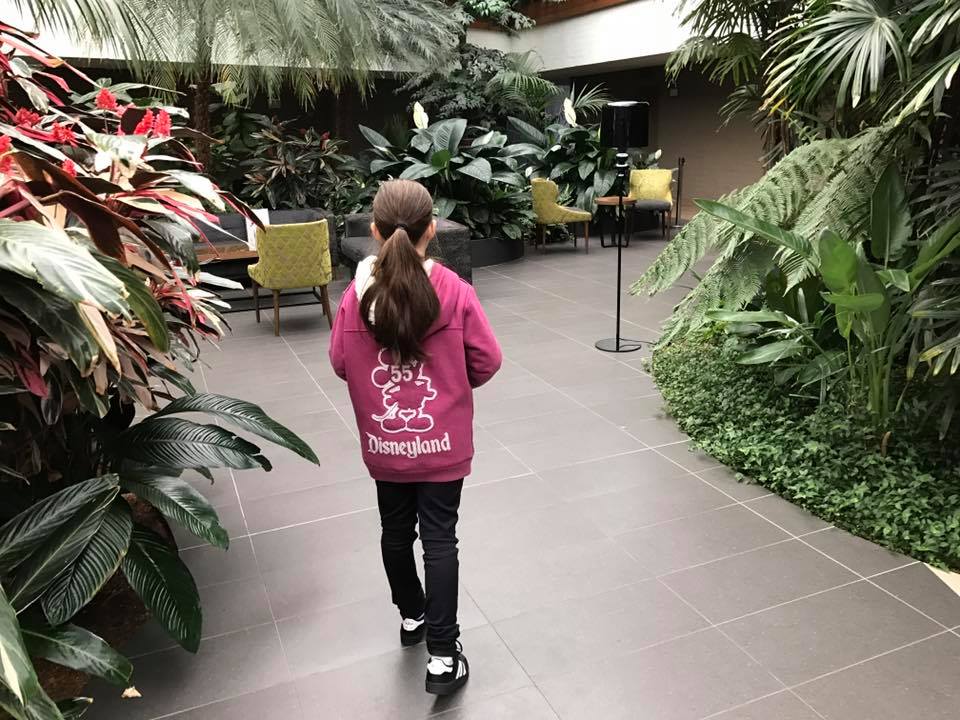 Heading off on an adventure with kids can be tiring. We find that maintaining regular mealtimes prevents "hangry" episodes and makes every day run smoothly. Imagine our delight when we discovered that the Aria Hotel Canberra also offers an amazing hot and cold buffet at their sister hotel next door every morning. It kickstarted our daily adventures with every family member enjoying their favourite breakfast foods. Bacon was a consistent favourite each day, as well as the interesting toaster machine which the kids returned to each and every day. Who knew toast could be so interesting! I also discovered that I have a deep love for Bircher Muesli and croissants which seemed to appear on my plate every morning along with bacon. The chef is happy to cook your eggs to your preference or even pancakes. Yummy.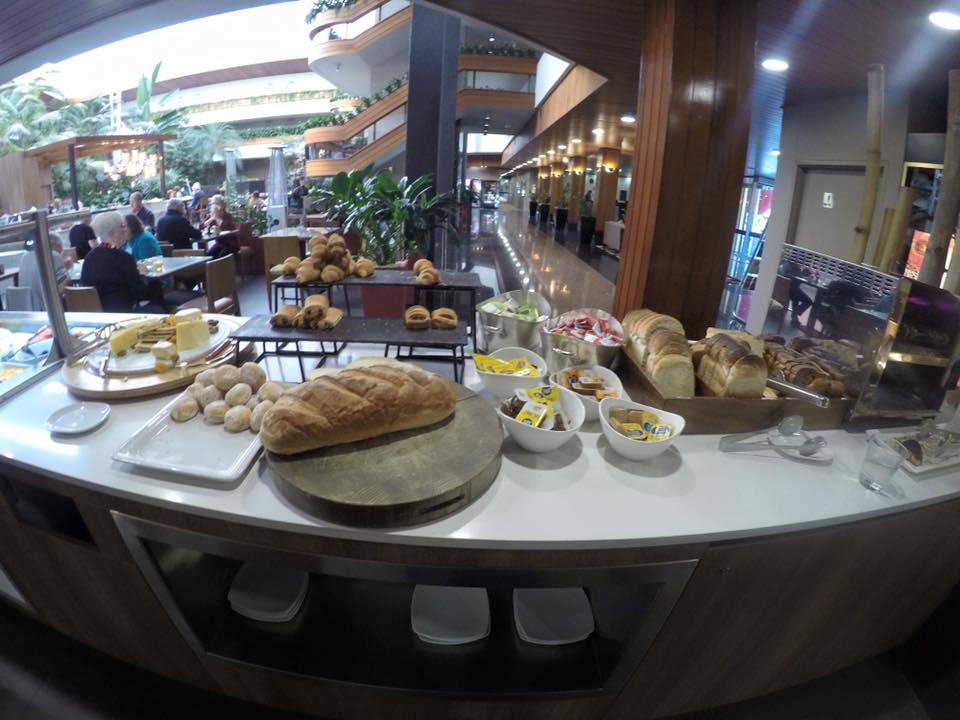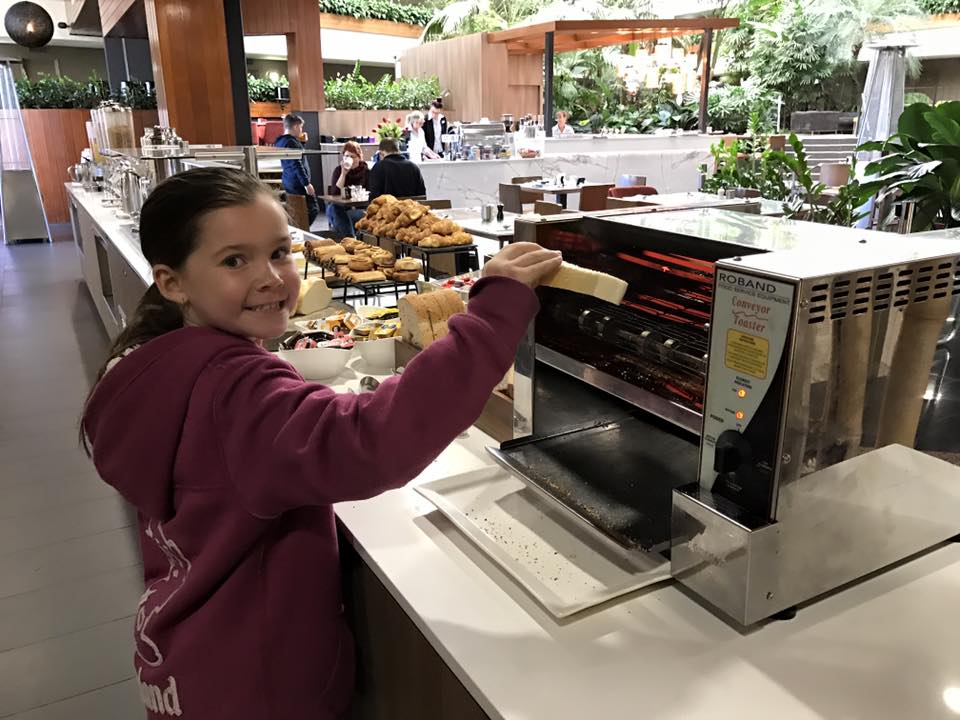 Sometimes, and I know many of you will experience this, dinner at the end of the day can be really hard. The kids are tired. You're tired. Heading out for a meal, whilst exciting and usually quite a culinary thrill, can be a huge juggle. On those evening we like the luxury of ordering in or even cooking something ourselves. The 2 bedroom apartment at Aria Hotel Canberra has a mini kitchen so you can prepare your own meals with ease. We ordered pizza from Walter G's Pizza Obsession who delivered to the hotel reception who called us when it arrived. We loved that we had enough room to eat together in the dining space. The cupboards have all the plates, cups, glasses, cutlery and cooking utensils and pan ware that you will need on your stay. There's even a dishwasher! Better yet, there's a washing machine and dryer tucked away too which means we were able to pack less and keep our clothes clean as our stay progressed.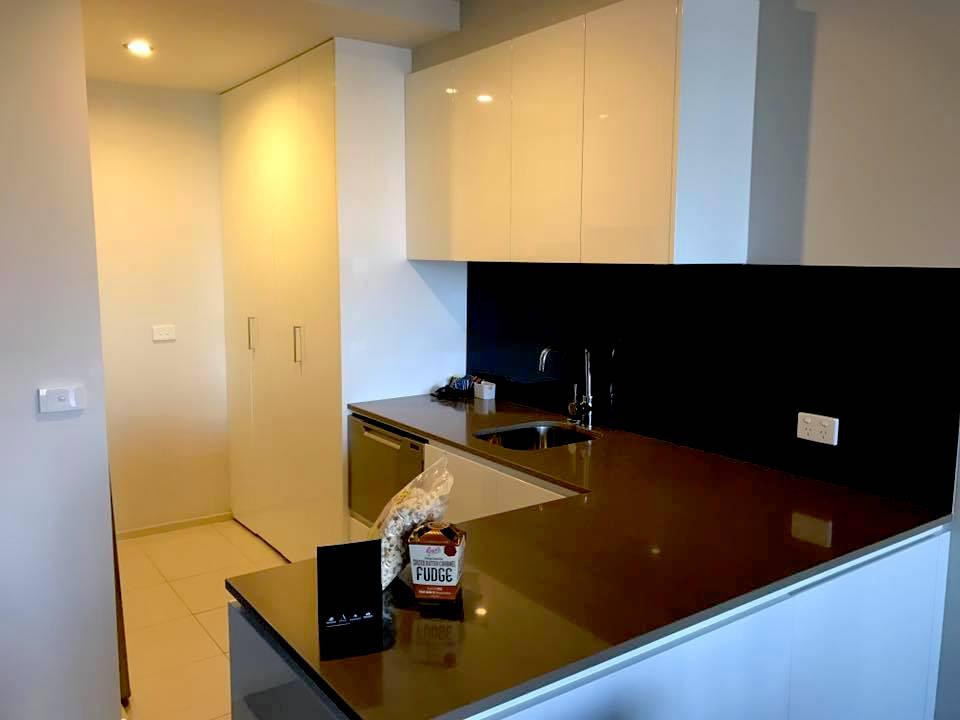 Bathrooms are an important feature of every accomodation space. When I first started the water in my shower I thought it was just a hand held shower head which annoyed me. T laughed, pressed a button and water started flowing from the ceiling. It was my first experience of a rain shower (I think that's what you call it) and something I wouldn't mind at home. With two bathrooms, all of our toileting routines were easy peasy. There was a great range of shower gels, shampoos, conditioners, and accessories provided to use; a hard dryer and wonderfully fluffy white towels. The inclusion of robes may have added that luxe factor, but otherwise it was perfect.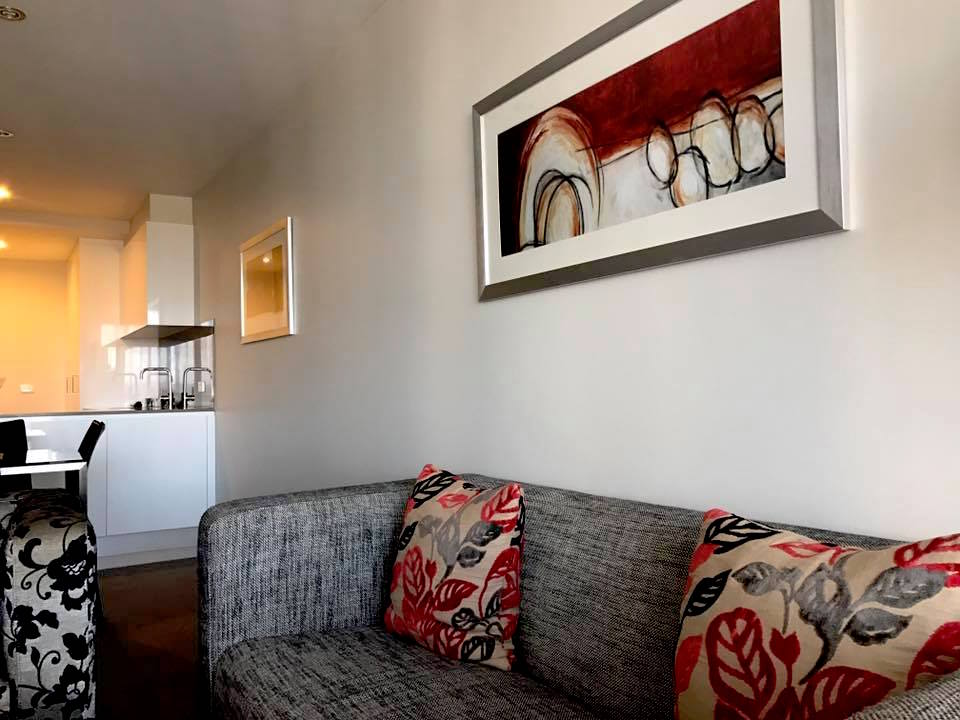 So would we recommend the Aria Hotel Canberra? My gosh yes! Rarely does T ever suggest that we return to a location in the near future but he has already suggested that we head back in the next few months so we can see more of the city and stay again at the Aria. He's rarely impressed but loved the stay, as did both kids and myself. It's perfect for families!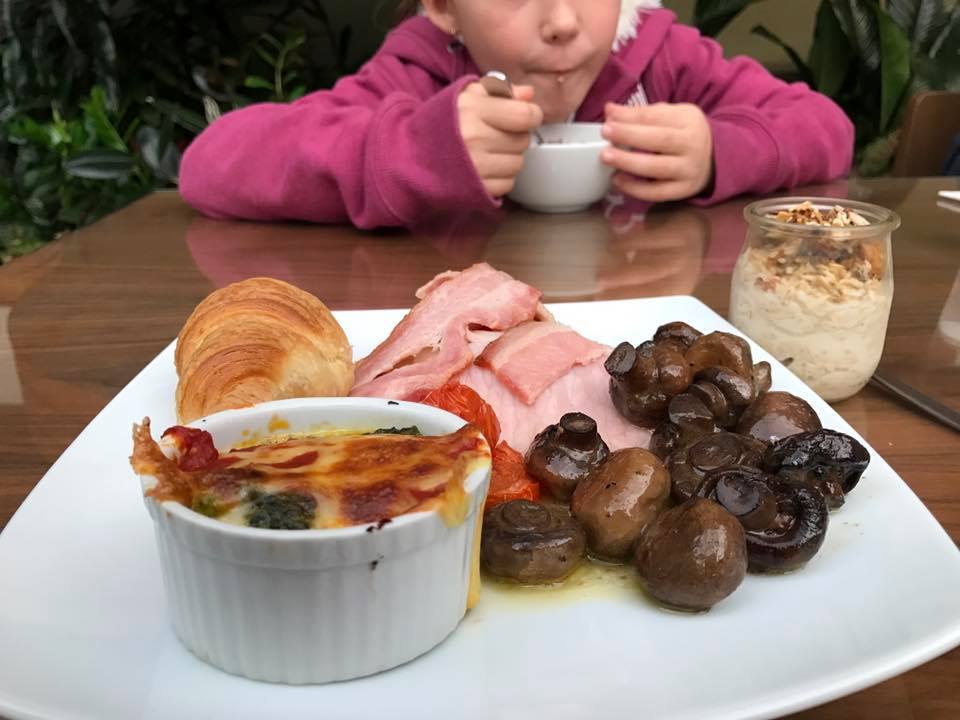 You can read more about our Canberra adventures by heading to our coverage of the amazing attractions around the city. Click to Visit Canberra. 
You can book the Aria Hotel Canberra directly via their website ariahotel.com.au.
Thank you to VisitCanberra who hosted our Canberra stay and organised our stay at Aria Hotel Canberra. We were incredibly impressed with our stay, with all opinions above our own. 
Wondering what else to do in Canberra? Check out our 20 Things To Do In Canberra coverage.