When planning our trip to Darwin I was very keen to add a trip to Nitmiluk Gorge (also know as Katherine Gorge) which is a little distance south and sits on the southwest edge of Arnhem Land. Growing up in the Top End, I had visited a number of times when I was around the same age as my children. I always found it to be quite a magical place and I wanted them to experience a little of the 13 kilometre long gorge system for themselves
With the gorge around four hours south via Katherine we decided pretty quickly that a sleep over was going to be on the cards. There were a number of options available and through a few recommendations by Darwin locals we spoke to we booked a family room at Knotts Crossing Resort for $190.00 a night. It was clean and spacious and in our experience, fairly typical of country town accommodation. Great for one night!
We woke up early the next morning to head out to Nitmiluk Gorge with barely contained excitement. It was going to be an awesome day! We had booked our  tour a few weeks prior via Nitmiluk Tours and had settled on the Nitnit Dreaming excursion which explored two gorges departing at 9.00 am. Our boat was small, but the seats were roomy. Our guide was friendly and told us the stories of the traditional owners, the Jawoyn people and how they saw the gorge and country around. It was fascinating with all us listening intently.
Nitmiluk (Nit-me-look) is the Jawoyn name for the Gorge which means Cicada Place. The name was given by Nabilil, (from the  Creation Time) who heard the song of the cicada "Nit, Nit, Nit" when he was travelling through country. We were told how Bolung, the rainbow serpent, carved out the gorge and that he still inhabits the deep pools of the second Gorge so we must be careful not to disturb him. Our boat floated above the actual pool that he is said to sleep under. I couldn't help but feel a little scared! What if we wake him up!
I find stories of the Dreamtime incredibly powerful and was very pleased to watch my children being drawn into the stories our guide told us. We heard how during 'Burr' (Dreamtime) beings in human, animal and plant form brought the landscape to life. They travelled the land, both above and below the ground, giving names to places and specifying dangerous areas and sites to avoid. The story of Nabilil and Bolung were so interesting.
We walked between the two gorges, a fairly easy walk even with my youngest (our Ergobaby carrier really got a work out!). This gave us an opportunity to view some Aboriginal rock paintings which were amazing! We also spotted some small freshwater crocodiles, a bright yellow snake, bats and many varieties of bird. Our guide let us know that Nitmiluk Gorge contains many places of spiritual significance, some which we can visit, others which we can not. It is such a diverse place and you can feel the cultural landscape. It had a huge impact on us and reaffirmed our need to respect country.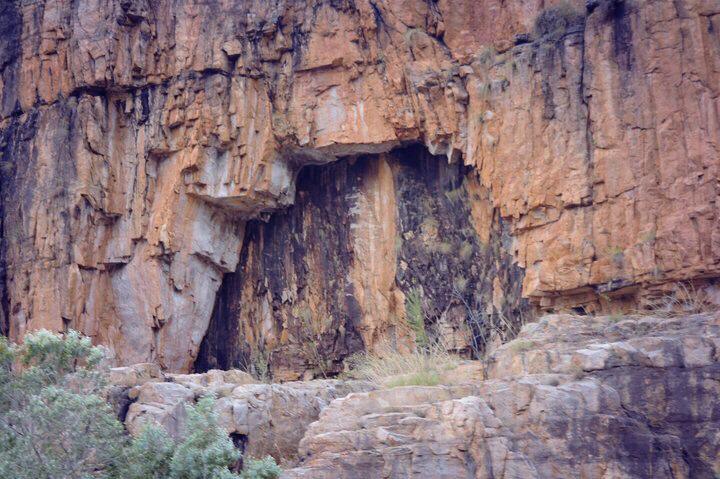 Nitmiluk Gorge is about 4 hours south of Darwin. Tours start at $79.00 and adult; $44.00 per child (5-15).