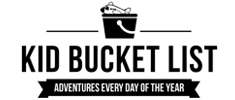 The Kid Bucket List grew from a little idea to capture adventures that we could experience with our two kids. We created a bucket list where we listed dozens of things that we hoped to do from milking a cow to holding a crocodile. No idea was too silly or unachievable. As they were completed, we documented the experience, hopeful that other families might try it too.
Sometimes health and money can get in the way of some of the big ticket items on a list. I doubt that we will be headed off to Africa anytime soon (read about how we are travelling with a Chronic Health Condition.) but this only provides room for other adventures, right?
The great thing about a Bucket List is that you're under no obligation to complete them every item you've listed….they can stay in the Bucket ready and waiting for the perfect time. Better still, you can keep adding items whenever you discover something you would like to add. 
A Kid Bucket List makes you think about what you want to do with your children and helps you to find adventures where you don't expect. Travelling with kids can be fun and rewarding.
Where do you want to go next?
I am under no illusion that we have a certain amount of privilege when it comes to travel and adventure. We recently wrote about how we are paying opportunity forward with the development of a roving reporter arm of the Kid Bucket List. 
Feel free to recommend items to our Bucket List – just email us at leah@kidbucketlist.com.au
Awards
The Kid Bucket List has been the recipient of a number of awards. These include:
Kidspot Voices 2015 "Put Yourself On The Map" WINNER
Kidspot Voices 2015 Food and Travel FINALIST
Top 20 Family Travel Blogger 2016 Holiday Lettings by TripAdvisor
Top Parenting Blogs 2017 Nappy Bag Store
Guest Posts
Thanks for your interest. We don't host guest blogs.
Copyright
I own the copyright for all the content on this site and it is based on my own opinion.  My own images are copyrighted content and may only be used with permission (please email me!). All images that have not been taken by me on this site are clearly credited to their owners. My articles may not be re-posted anywhere else on the Internet or in any form of media without express, written permission.
Integrity
Commentary and opinions are my own. Product reviews and Advertorials are clearly marked.  I sometimes use some affiliate links where relevant and appropriate.
Want to read more about us:
On why we are definitely a travel blogger even though we work.
Travelling with a Chronic Health Condition.
How do we afford to travel?