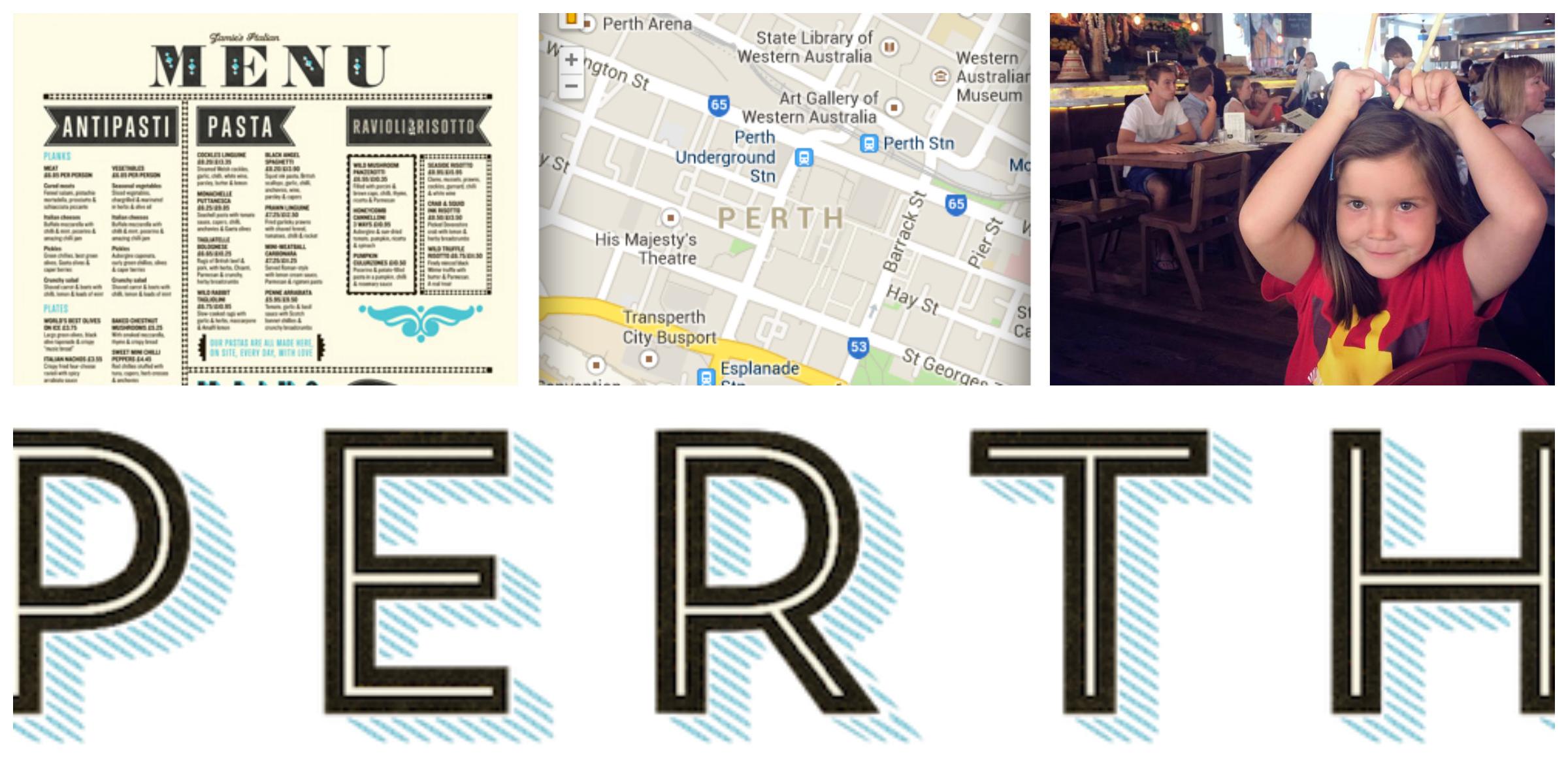 Eating out with kids can be lots of fun if you choose your restaurant or cafe well. Don't choose where to dine simply on their kids menus, we rarely order from these anymore preferring to order a main which we can divide between our two or an entrée  each. No, look for restaurants with space, great service and a good non-alcoholic drink selection. That will tell you more about its ability to be child friendly than any menu.
When we were in Perth last we decided to check out Jamie's Italian for lunch. Their menu was plentiful (their kids menu was pretty good too) but had also heard that Jamie likes his restaurants to be a place where he could take his own children for dinner, so we blindly booked and hoped it would live up to our expectations. We booked a few days in advance and were able to secure a table with relatively ease, although future attempts to book for dinner in Sydney have not been so easy (it's so popular it is booked out weeks in advance).
Jamie's Italian is situated at 140 William Street right in the middle of the CBD. It is close to the train station, bus route and a great parking area. On entry we were seated straight away, drinks were ordered and we were provided with an Italian Bread selection (homemade rosemary focaccia, Italian grissini, crispy "music bread" & ciabatta) to nibble on while we looked through the menu. We ordered meat planks of mezze for a shared entree (San Daniele prosciutto, Wagyu bresaola, finocchio & artisanal mortadella, Buffalo mozzarella & pecorino with amazing chilli jam, Curly green chillies, green & Gaeta olives & caper berries and Shaved root veg with chilli, lemon & mint), a side of Posh Fries with truffle oil & Parmesan (I'm a truffle diehard) and individual mains. Both kidlets feasted over the plank, working through the cheeses, meats and olives but avoiding the pickles.
Earlier you would have noted that I am not a fan of regular kids menus. Chicken nuggets, spaghetti Bolognese or sausages and chips is something I can easily by from a take away store. The thrill of dining at a restaurant with kids is the opportunity to expose them to different tastes and the dining experience. Jamie has put a spin on these typical options,  making them palatable even for adults. There are four kids options on the menu. We ordered the Mini Sliders: 2 mini burgers, a beef burger and a turkey burger with fantastic polenta chips. They didn't mind the polenta chips, but with the aroma of my truffle chips rising around our table they stole more of mine to eat leaving me with the polenta version. All kids menus come with a 'shake me salad' and an unlimited glass of Bottlegreen cordial
Before we ordered dessert, a trip to the bathrooms became a priority. I have developed this theory that you can determine how good a restaurant or cafe is by assessing their bathrooms facilities. Jamie's Italian has a bathroom that is one of the loveliest I have come across. It is huge, clean, and incredibly stylish. I even learned where the euphemism "Crapper" comes from!
Once we reseated, Dessert was ordered which was quite difficult considering the choices. The kids both ordered old fashioned Serendipity ice cream, where us adults went all out ordering Tiramisu, Brownies, Trifle and Panna Cotta. Yum, Yum and Yum. I even think I heard my husband say that it was the best Tiramisu he had eaten. Fine praise considering he ate his way through Rome on a Tiramisu diet. I was partial to the brownie with its caramelised amaretti popcorn and amaretto ice. I could have gone a second serving if only I my stomach could fit it in.
Jamie's Italian is a great restaurant for any occasion. It has a lovely, feel good ambience; welcomes children with open arms; and has an attentive, and good humoured team. We plan to try their Sydney location to compare.