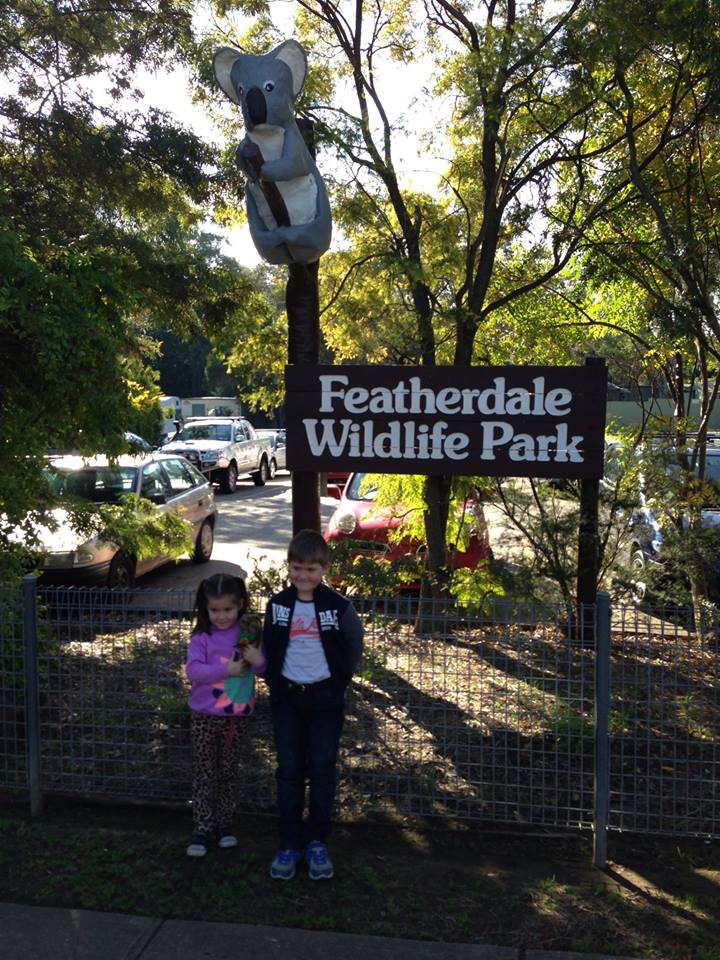 Whilst I grew up in the country where kangaroos fed in our top paddock, wombats dug their burrows under our fence line and koala fed in eucalyptus tree right next to my bedroom, my children are growing up in the suburbs where the only native wildlife they see are the birds that feed from our garden and the single blue tongue lizard who sun-bakes on our garden rockery. I've noted that many children are scared of native animals. Australia isn't full of little Bindi Irwin's! I want my children to have an appreciation for our native animals and be able to recognise them on sight. One of the perfect places to do this (other than actually going out to the country) is visiting a nearby wildlife park.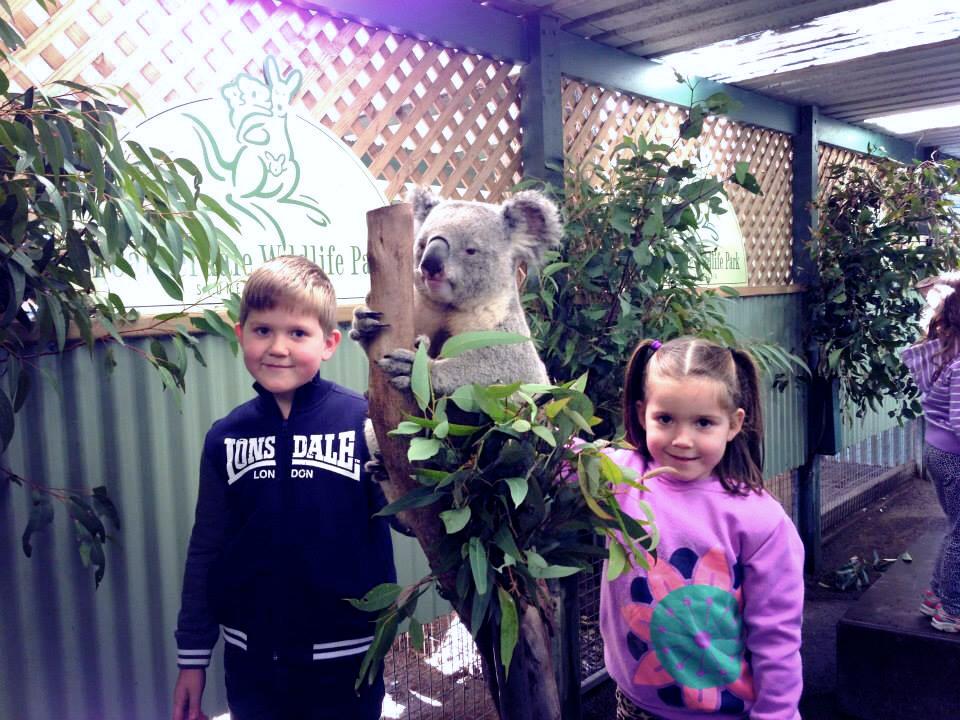 Featherdale Wildlife Park – www.featherdale.com.au is the perfect place to introduce children to Australia's native animals before venturing out to their native habitats (I can't wait to show you that adventure!). Open from 9 – 5 pm every day except Christmas Day, the park is not far out of Sydney and hosts one of Australia's largest private collections of Australian native animals and bird life. What's great is that you can actually feed a kangaroo, wallaby or emu, hug a koala and even stroke the backs of a number of birds.
Throughout the park you can learn about the different animals with roving staff available to answer your questions and provide an up and close encounter with various animals. They also have a schedule of talks and feedings throughout the day. On entry, kids are given an animal passport to complete during their visit. Scattered around the park are stamp stations for the kids to collect once they have looked at the adjacent exhibit. To make it interesting we let them know that they had to answer a question about the animal to obtain the stamp. A little twist of the rules I know, but it provided us with an insight into what they were learning.
On entry to the park we walked past a number of aviaries containing an assortment of bird life and then some grazing wallaby's (who we were reluctant to disturb) before finding the koalas. They were all munching on their leaves in an area where we could approach them and stroke their fur under the gentle guidance of one of the keepers. The animals were not bothered by our rather enthusiastic squeals of delight and kept munching on their leaves. It was around this time that Master R spotted a Tawny Frogmouth which is calmly approached and stroked on the back. This little guys head immediately turned to see what was touching him, but continued to sit and enjoy the pat.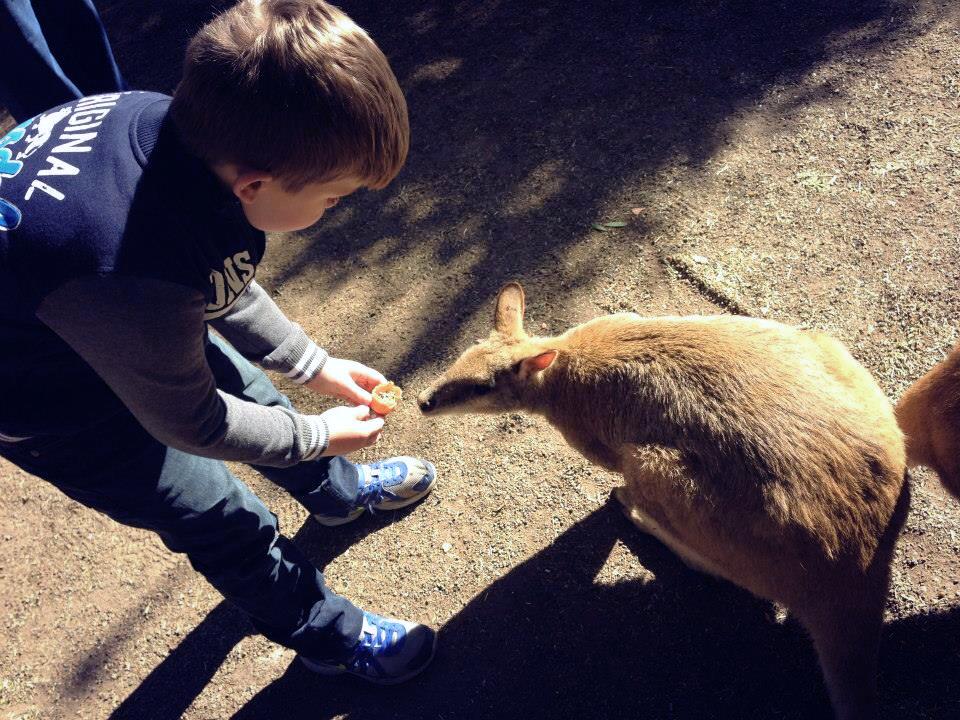 There is a food station alongside the koala exhibit where you can purchase an ice-cream cone of food for the animals for a gold coin. This investment will provide you and your kids close encounters with kangaroos, wallaby's and emus who you will find around the corner. You will need to approach most of the animals yourself (I think they had been munching on ice-cream cone laden meals all day!) as some aren't interested at all. Watch out for the goats who will jump up on you and steal what they can. If you are strategic with your time you will have the opportunity to bottle feed some of the farm animals nearby too. Again, watch out for the goats!
On leaving this exhibit we explored the rest of the park, collecting our stamps along the way and learning about the different types of mammals: monotremes (egg laying), marsupials (pouch rearing) and placental, before heading to more birds and then the reptiles. The kids were delighted at every turn but grew tired after we did the circuit. Whilst there is a cafe on site, we packed our own healthy lunch and tucked into sandwiches and fruit before watching the dingo talk. What a day – both kids fell asleep on the way home.
With so many animals to care for it is always anticipated that a wildlife park or zoo is going to be a little heavy on the wallet. A family ticket to Featherdale Wildlife Park is currently $82.00 for two adults and two children which I think is almost like an investment in Australia's wildlife future. We can often forget that places like Featherdale Wildlife Park have extensive Breeding and Conservation programs behind the scenes which work towards protecting and evening saving many of our native animals. Recent research has been conducted on the Dingoes, Bush Stone Curlews, Yellow-footed Rock Wallabies and both the Eastern and Spotted-tailed Quoll in partnership with government and non-government wildlife organisations. You can read more about Featherdale's work here.