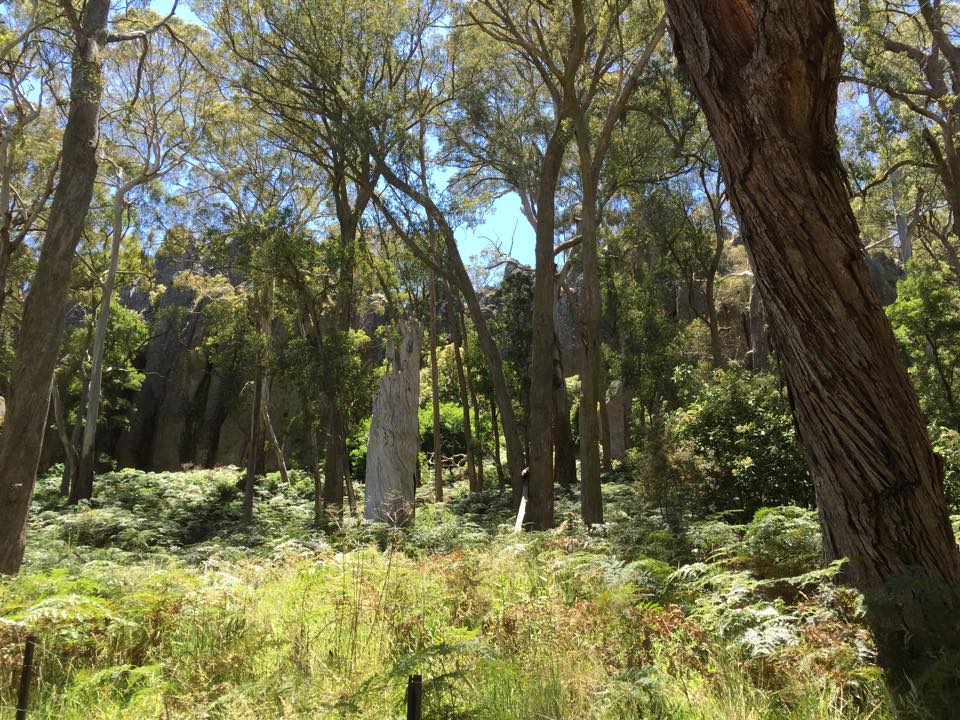 Growing up in the Macedon Ranges was full of adventure. My weekends were filled with horse treks within the Wombat State Forest. In summer we would head to Hanging Rock for the races. Although I am now raising my children in Sydney's Urban Jungle, we travel down to Victoria quite regularly to visit my parents. Until now I have resisted taking them to some of the less accessible places I love as I wanted to wait until they were old enough to climb independently and discuss our discoveries. They are now the perfect age!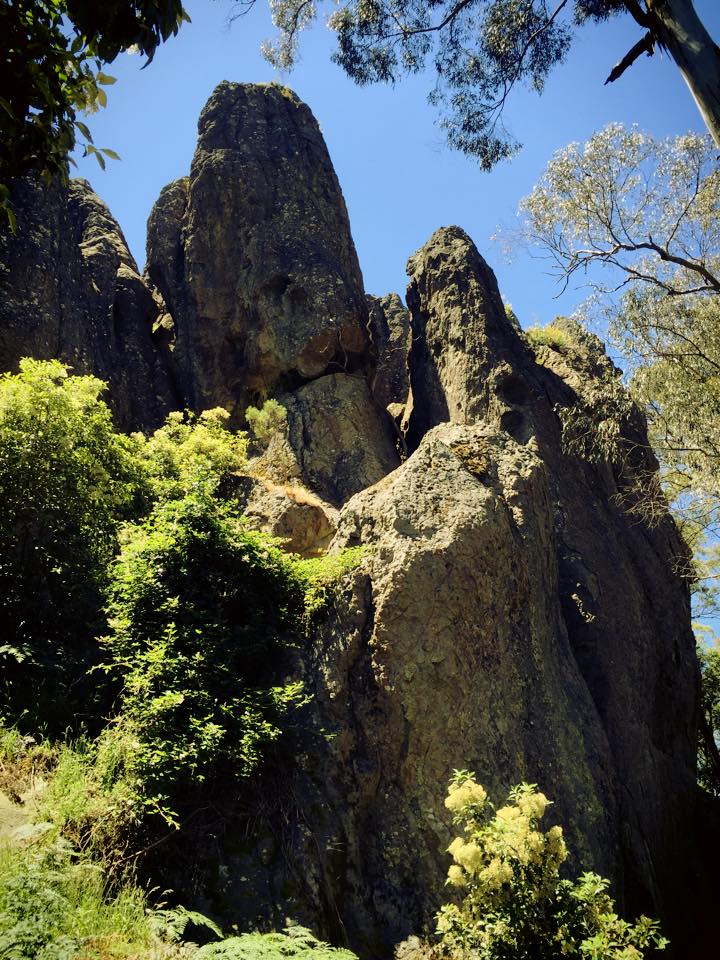 Hanging Rock was made famous when Peter Weir adapted the novel Picnic at Hanging Rock into a movie of the same name. Whilst fictional, the majority of people still believe that it's based on fact and that a number of girls went missing in the location. Add that it is in the Wurundjeri nation's territory and prior to European Settlement was the site of male initiation with entry forbidden except for those young men doing their ceremonial initiation and an eerie ambience is sure to take over. On more than one occasion shivers ran up my spine. They do every time I visit. Perhaps an overactive imagination?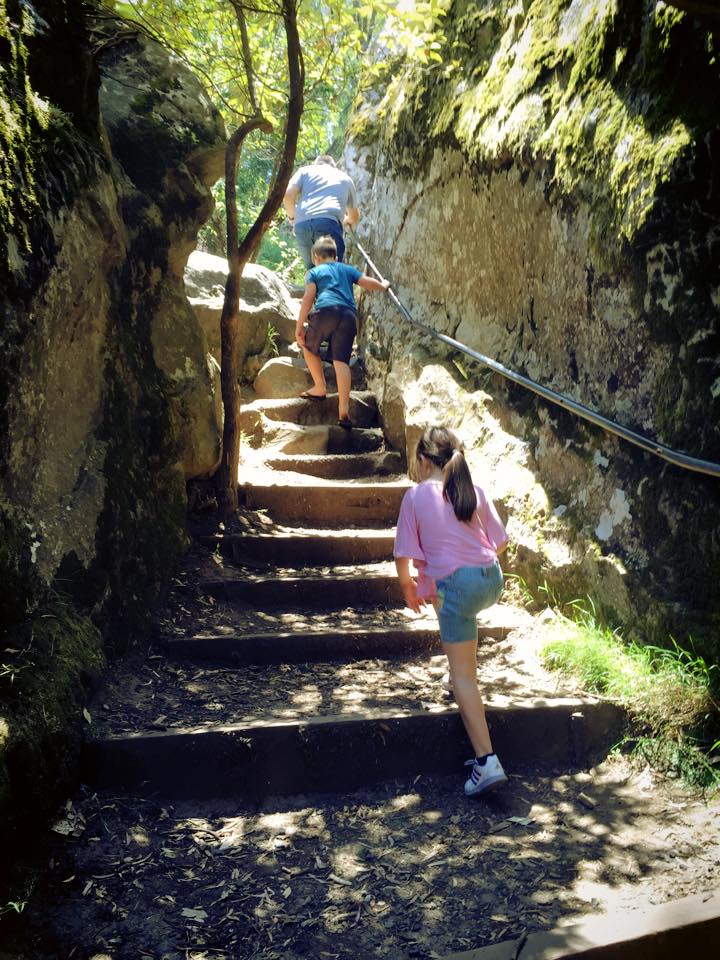 Formally called Mount Diogenes by surveyor Robert Hoddle in 1844, the site like many around the area has been named after places and people from Alexander the Great's era. T is amused that I grew up in an areas with this strong connection to Macedonia only to grow up to marry a Macedonian! Geographically the site is amazing and one that will raise all types of questions from your children. Created over 6.25 million years ago, Hanging Rock is a mamelon which is the simplest of terms, is a rock formation created by an eruption of relatively thick or stiff lava through a narrow vent in the bedrock. Erosion from the wind and weather conditions weather the structure.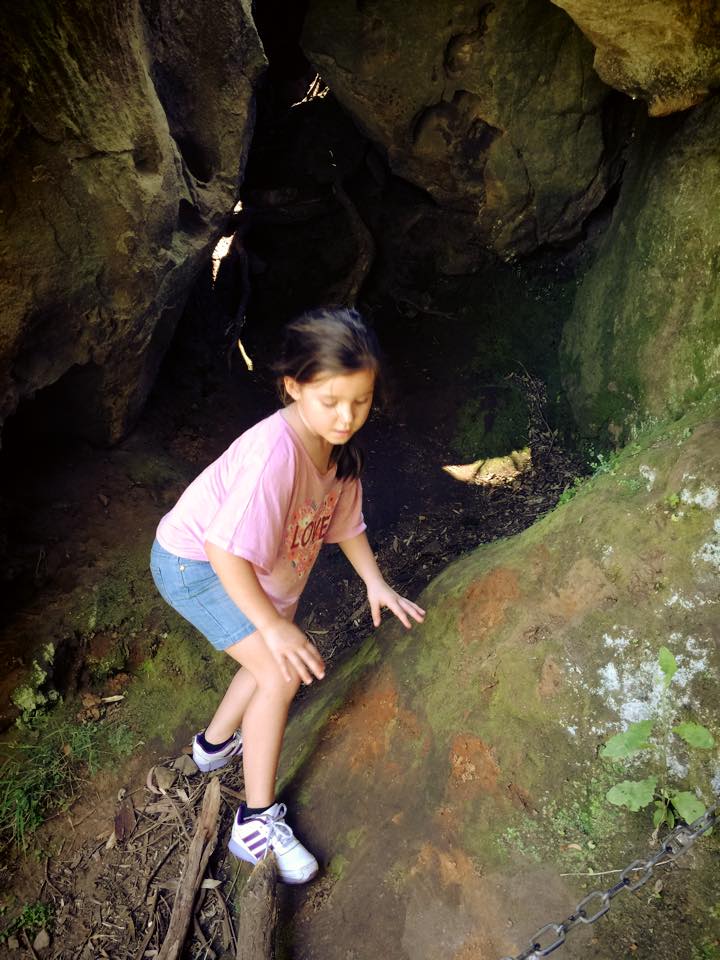 Rising 718m above sea level or 105m above plain level, climbing Hanging Rock is a Bucket List item for most Victorians. The only problem is that it's not particularly accessible to people with mobility issues although the local council have done their best to create a level path around and through the middle of the climb. I had contemplated climbing to the top when Master R and Miss N were younger by utilising our Ergobaby carrier, but postponed it to a  time when my fitness levels were a little better.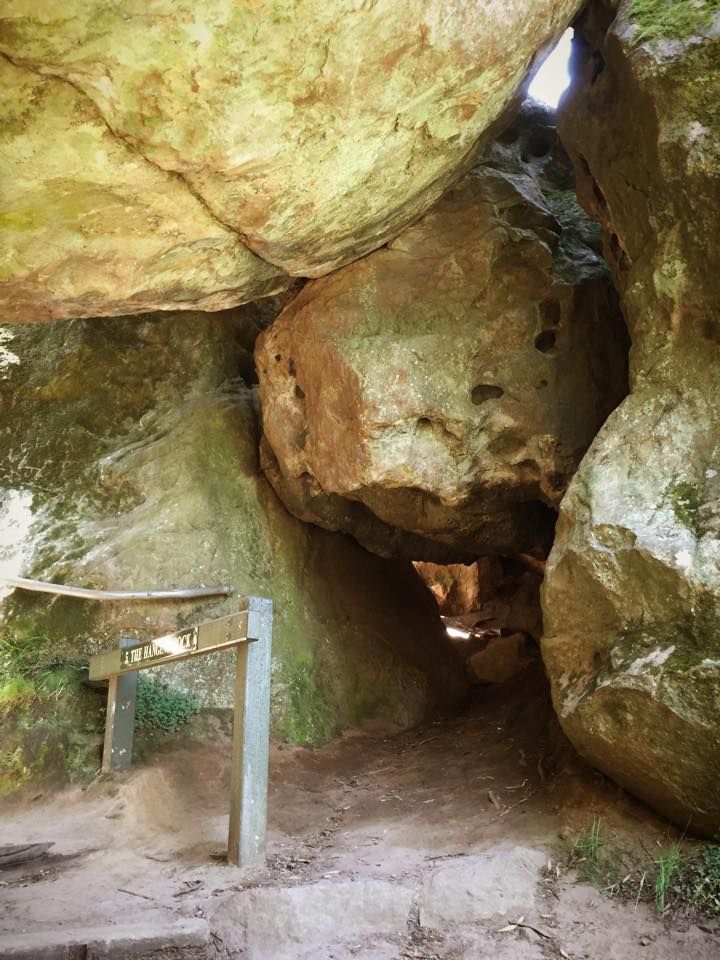 We planned our excursion on a weekend. Travelling from Woodend only took 10 or so minutes and parking was easy – there was hardly anyone at the site! Entrance per car is $10.00 which I believe goes back into caring for the site. Signs are everywhere to help you find the path to the top of Hanging Rock. You can't really get lost if you stick to the paths.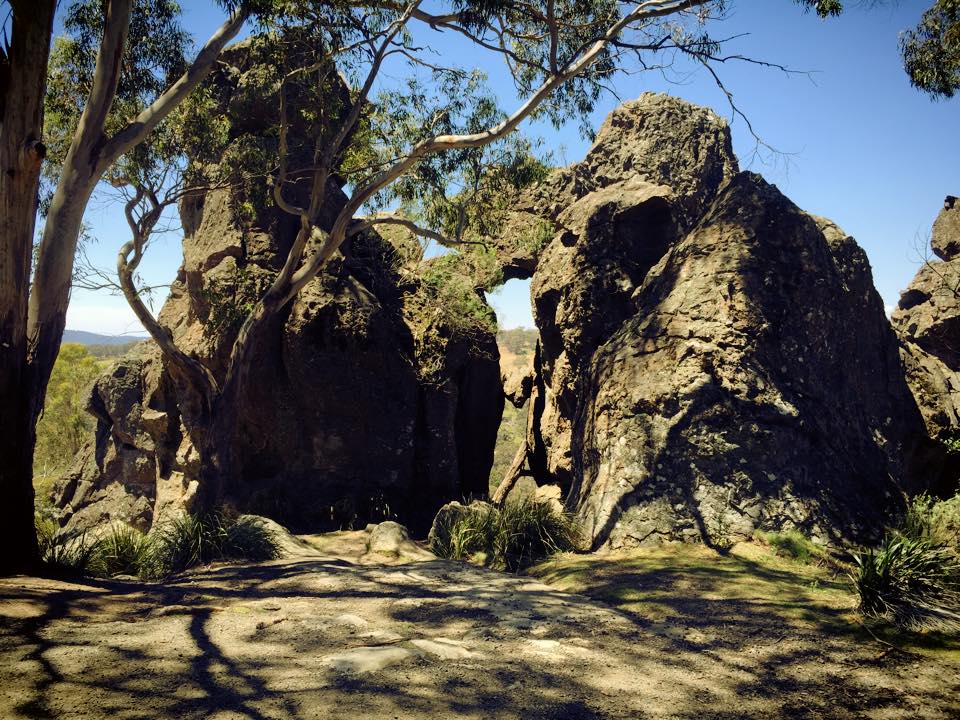 Both Master R and Miss N were excited to climb Hanging Rock. This was heightened when one family told us that there was a friendly echidna only half way up the climb. The steep climb up has been supported by new stairs – so much easier than when I was a child! There are also multiple rest stops AND barriers in some places which make it a lot safer to climb with children. I suggest keeping them within arms reach in many places. Our biggest mistake was carrying only a single bottle of water! Take at least one per person.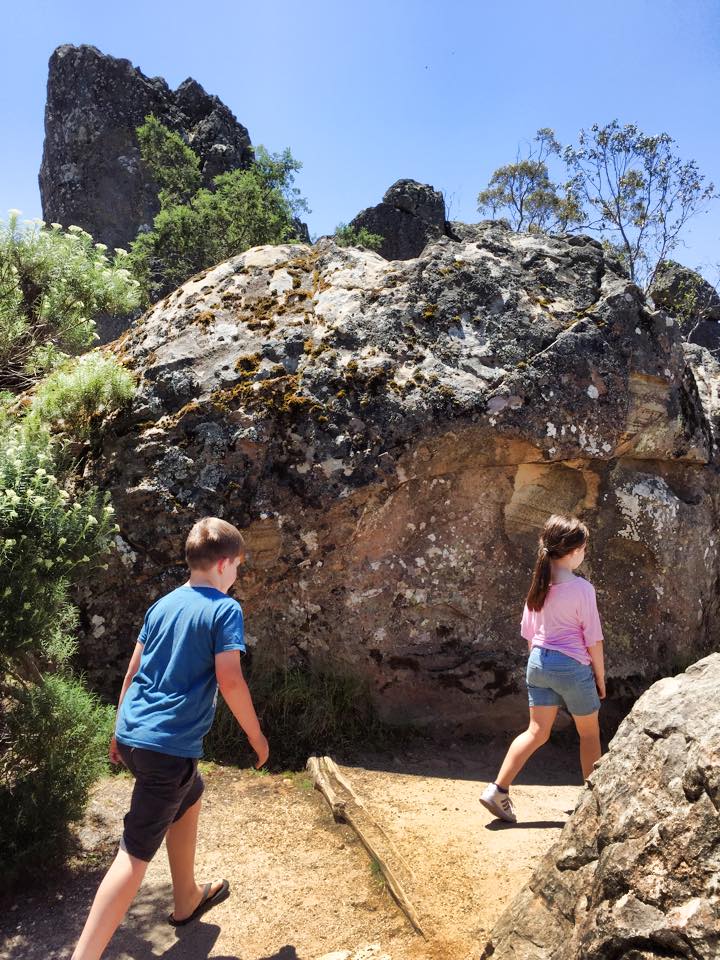 We loved coming across different rock formations on the climb up which have been named and labelled. The eagle and the Hanging Rock were two we found quite easily, but others were viewed when we strayed from the path.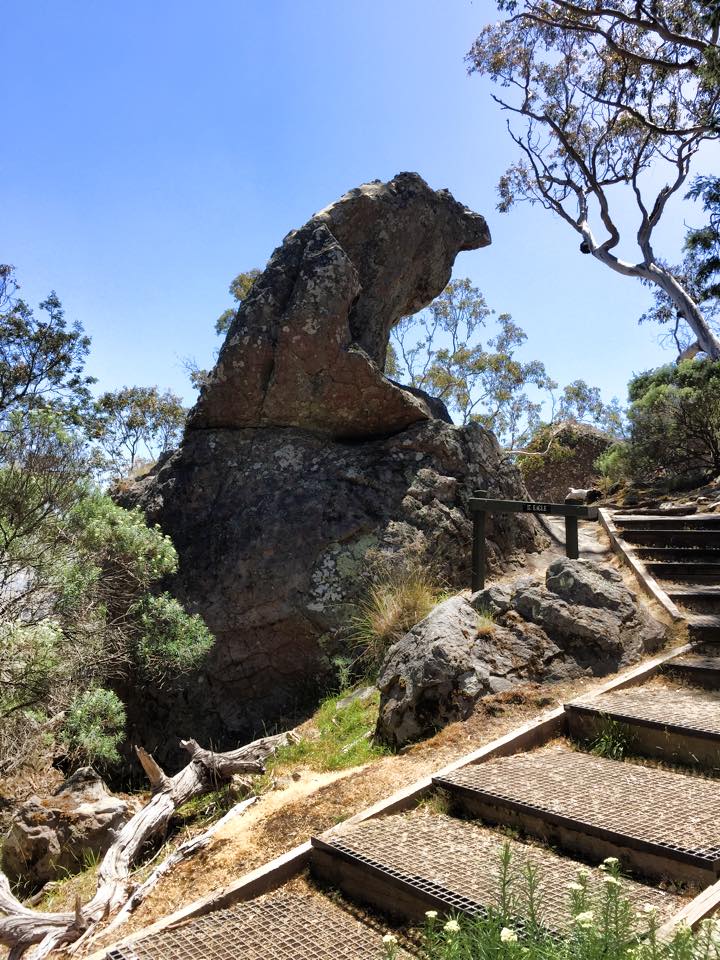 It took us just under and hour to reach the top. This included many rest stops and a few investigations of caves and crevices. This time we didn't find the echidna but we are hopeful he will be out next time. Climbing back down took us less than 15 minutes with the prospect of ice-cream at the cafe fuelling our speed.
Want to head to Hanging Rock for a day visit? From Melbourne jump on the Calder Freeway and take the Woodend exit and follow the signs. It should take you around an hour to get there. There is a cafe on site as well as toilets, a playground and even BBQ facilities. You could even pack a cricket set or ball with clearings spread out around the site for you to play.