I grew up in the goldfields of Victoria where it was not uncommon to have a metal detector stored in your back shed. I have vivid memories of visiting Sovereign Hill as a kid where we would gold pan in the river that ran through the site. My brothers and I took the skills we learned from each visit back home to try in the creek that ran through the back of our property with little luck, but it was always fun to try.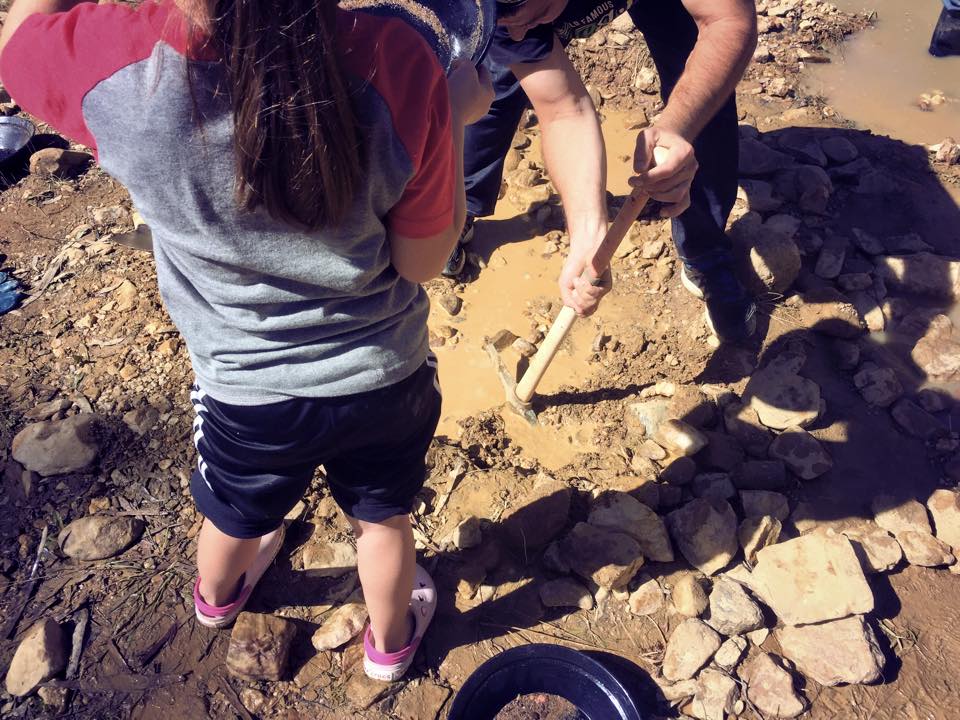 Learning that New South Wales was also struck by gold fever after  it was discovered in the Fish River between Rydal and Bathurst in 1823 was quite exciting, especially with a trip to Bathurst planned. I added gold panning to our itinerary and set out to investigate where we could introduce Master R and Miss N to this skill. There were lots of options but T and I agreed that Hill End would be the place to head. This called for a Trip to Hill End for a Little Prospecting.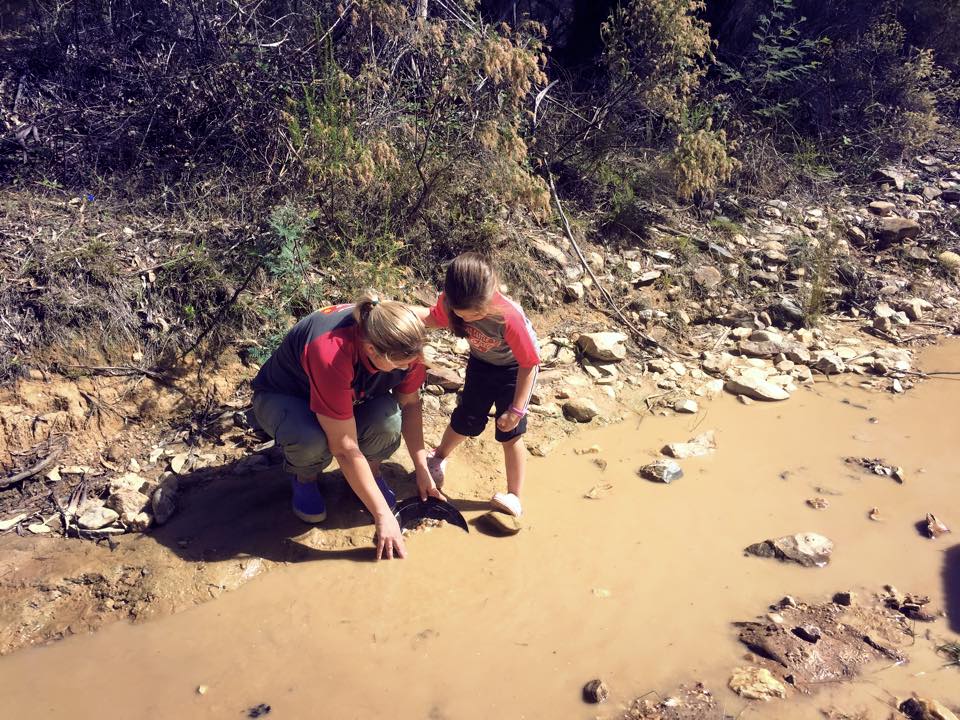 A little research uncovered a find that would make our first family gold panning experience very successful. T was told about Ted Abbott, a local in Hill End who runs his own Gold Panning Tours. At 81 years young, Mr Abbott has been panning the Tambaroora Creek for alluvial gold for over 40+ years and knows just the right place to take a very excited family.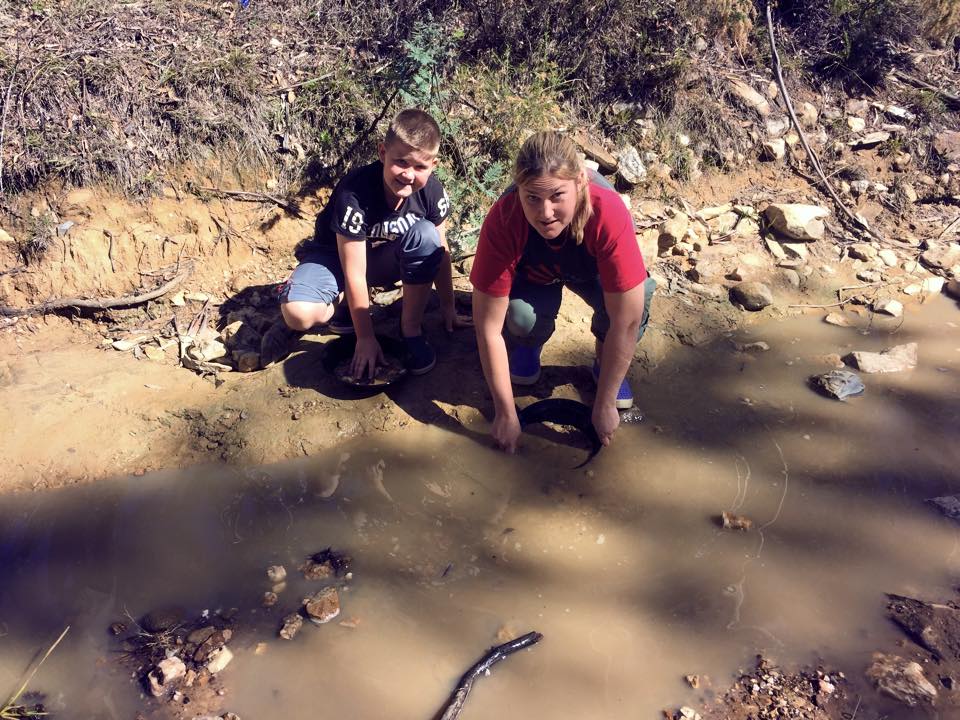 We set off for Hill End from Bathurst on an early Friday morning. We met Mr Abbott a few kilometres out of Hill End on the way to Mudgee. Although you don't need a license to fossick for gold in NSW, you are unable to do so in Hill End as it has been classified as a historical site by the National Parks and Wildlife Service (NPWS) and is not permitted within the area. The best location for beginners in the area is in the creek behind the cemetery and that's exactly where Mr Abbott took us.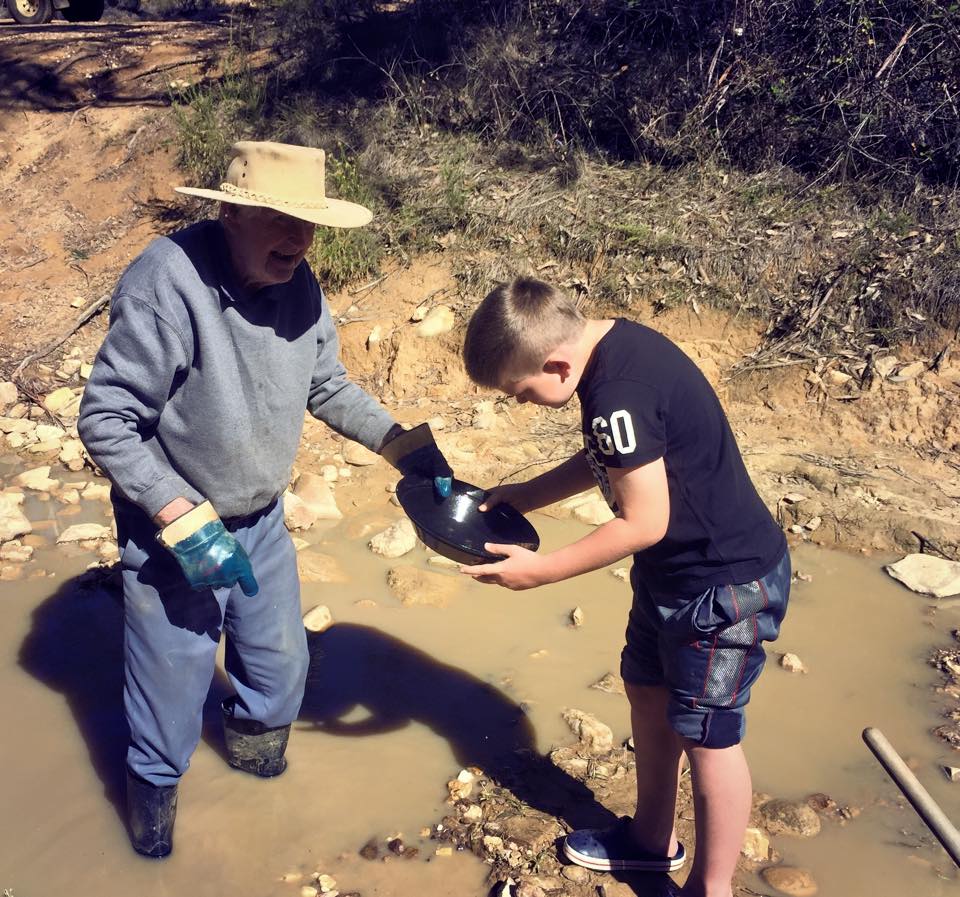 With his ute loaded with all the equipment, we followed Mr Abbott onto a dirt track into the bush. A short 4×4 drive along the track and we reached the fossicking site. We unloaded gold pans, shovels and a pick and carried them down to the creek. Mr Abbott then taught us how to pan for gold.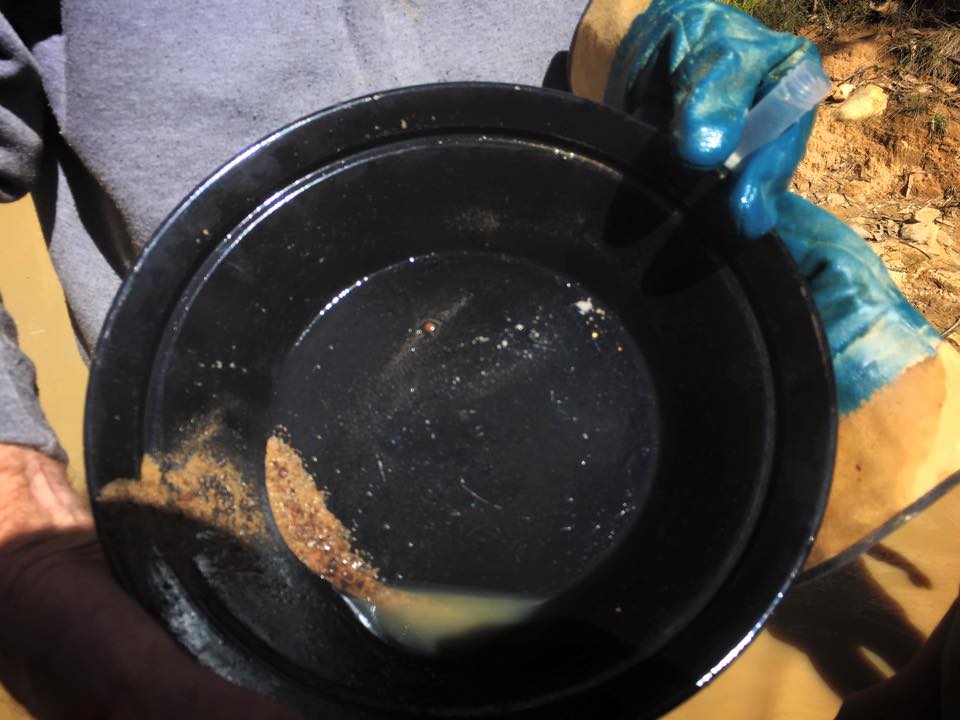 Because gold is so heavy it takes the creek a lot of force to move it through the water. Given this, wherever the creek runs slowest is where the gold is most likely to settle.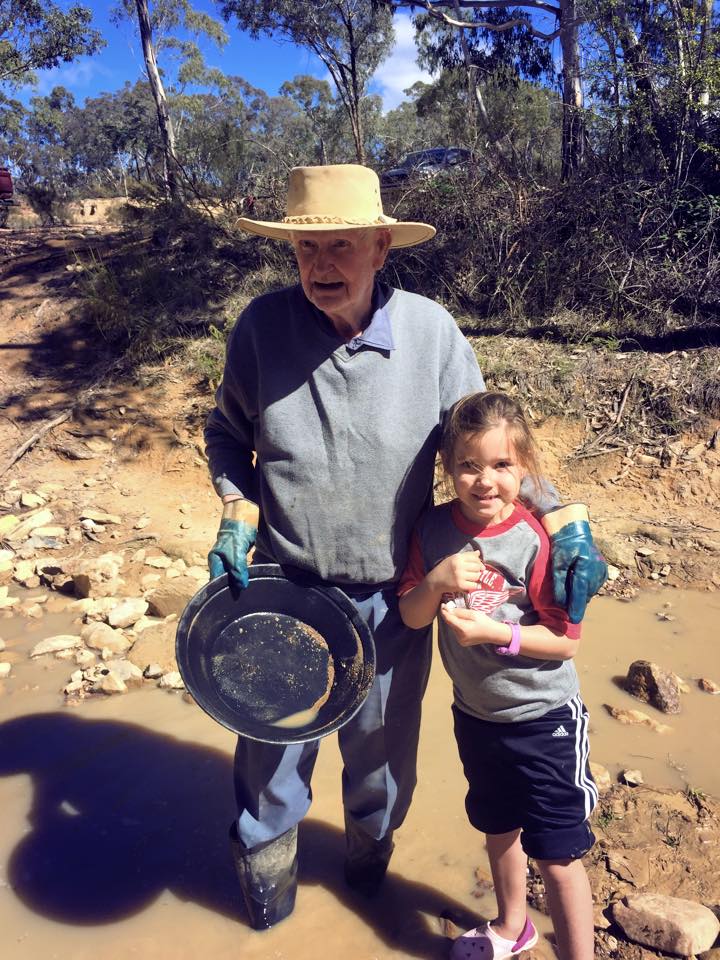 Mr Abbott began by finding a good area to dig. He then filled a pan with the dirt and took it to the creek. Large rocks and debris were removed (make sure you're not throwing away a large nugget by taking a close look at what you have) before Mr Abbott agitated the water by sloshing his hand around the pan. This washed away the lighter stuff that was in the pan. Gold is heavier than water and most other material so usually rests at the bottom. Once a small amount of material is left in the pan you then need to wash it. This is probably one of the hardest steps as you are separating any gold you have from everything else.  If you slowly swish the pan around, your gold should be one of the last materials to move and you should be able to spot it.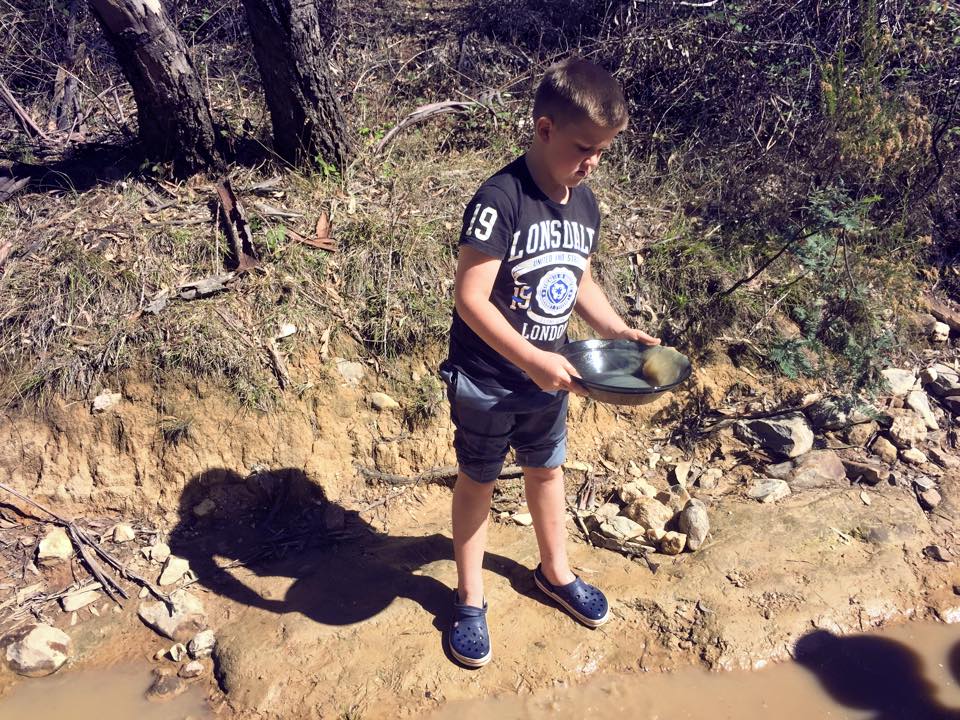 Once you have located some gold, get your gold jar ready. Dry your finger, spit on it a little and then press it into the gold. You will then scrape it into the jar.
We spent a good hour and a half panning from gold. Whilst we didn't find any nuggets we did find many specks of gold which we were able to add to our jars. Mr Abbott helped us throughout that time and made sure more and more specks were found throughout our time with him.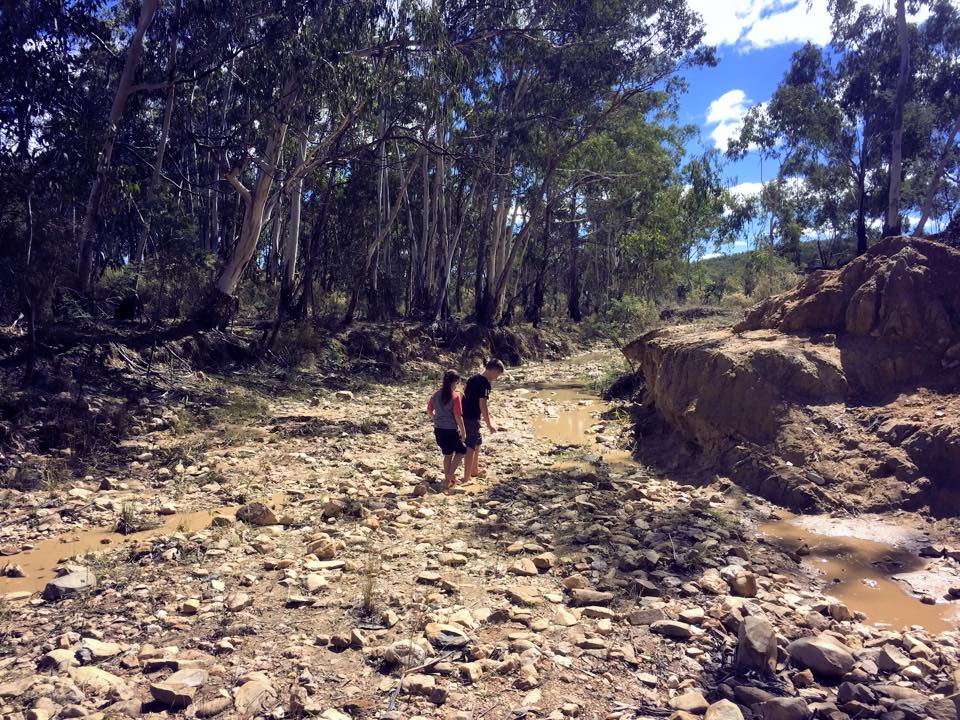 If you are heading to Hill End you should look Mr Abbott up. His Gold Panning tours are a lot of fun for the kids and great value. We paid a mere $16.00 for our time with him and he provided all the equipment. You can organise a Gold Panning Tour with Ted Abbott by calling 02 6337 8251. 
Want to know more about fossicking in NSW? You should check out A Guide to Fossicking in New South Wales