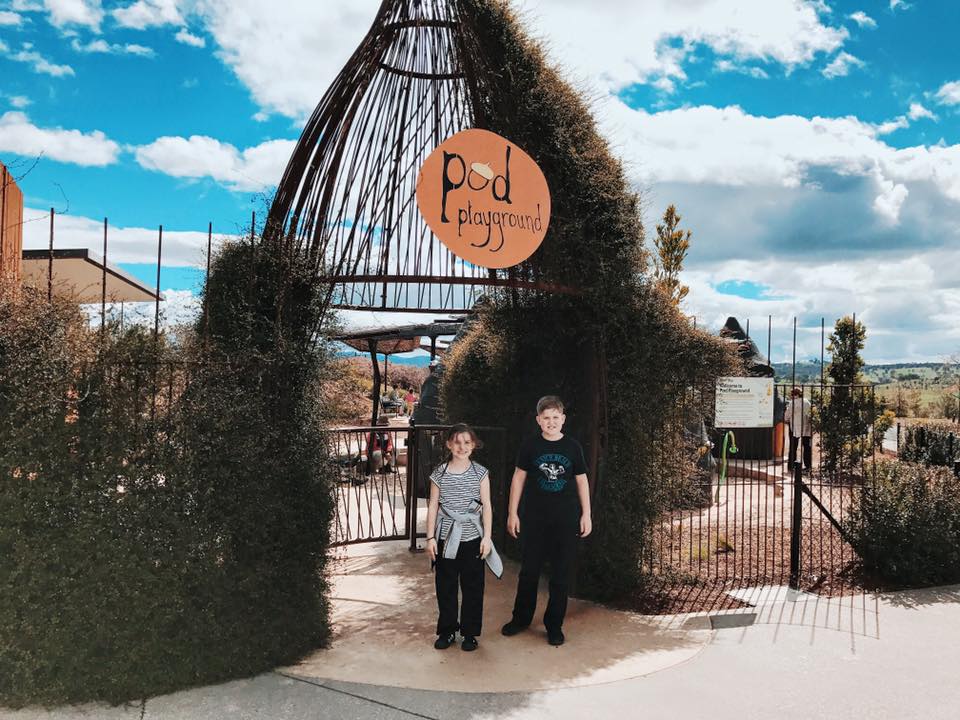 One of the downsides of growing up is that the playspaces that amused our children as toddlers and preschoolers start to wane. Spaces with more concrete for scooters or flat fields for ball games start to be sought, with the playgrounds of their younger years no longer truly functional for their size. I was hopeful that the National Arboretum Pod Playground in Canberra, a site I have longed to visit since it was developed, would be a park that would reignite my children's excitement about climbing, swinging and balancing.
The National Arboretum Pod Playground is a bespoke design and is a stark contrast to the brightly coloured, mass produced plastic playgrounds that you see replicated again and again in suburbia. Designed by Landscape Architect firm Taylor Nullity Lethlean, the playground celebrates plants and feels to me like a fusion of May Gibbs' Snugglepot and Cuddlepie and Enid Blyton's Magic Faraway Tree with large Banksia pods for the toddlers, Acorn treehouse that wind up into the sky for the older kids, as well as swings and a large net. The result is a breathtaking playground that will instantly capture your child's imagination and see them running towards it with glee as you walk through the gates.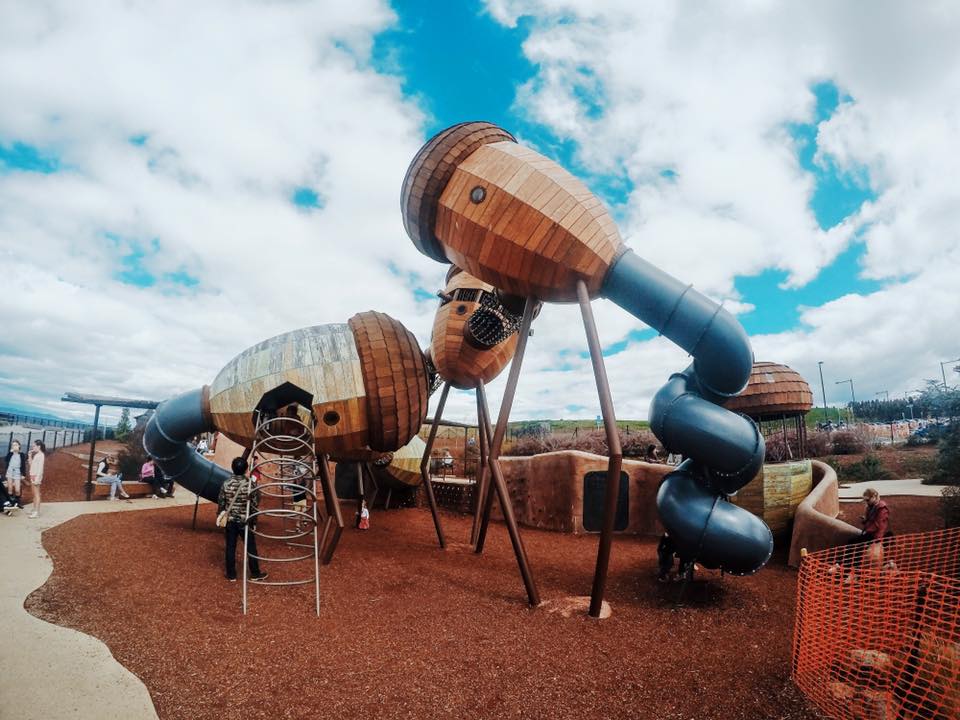 In my experience, the measure of a good playground is how long it takes you to lose sight of your children. In the case of our trip to the National Arboretum Pod Playground, it was about 3 seconds. I didn't spy them again for about 5 minutes, and then only briefly as the five ran past me in giggles. For the next 90 minutes, all five kids (aged 8, 9 , 10, 11 and 12) climbed, ran, balanced, and swung to their hearts content. It was proclaimed the best playground ever!
I must admit that my fear of heights came into play on our visit and I didn't climb up into any of the acorns on this visit. The kids told me that I really missed out on seeing some of the best parts of the playground as within each acorn is a surprise. There's an acorn full of instruments to make loud noises and another where creepy crawlies are displayed, and then there are the three that my youngest has dubbed the "Goldilocks" acorns. The first, is not quite high enough but is where you will need to start to get higher. The second contains a number of kaleidoscopes which morph your view and make you feel higher than you are to the ground. Then there is the third, and what my kids said was the best. You reach it by crawling up through a netted tunnel (I found it scary just watching). As you enter, everything goes dark with the exception of the way you came and a  hole leading down. Just right! It's high. You'll feel a little scared I'm told but once you enter the hole you will feel a rush of air as you fall down the hole like Alice in Wonderland, only to be spat out into daylight.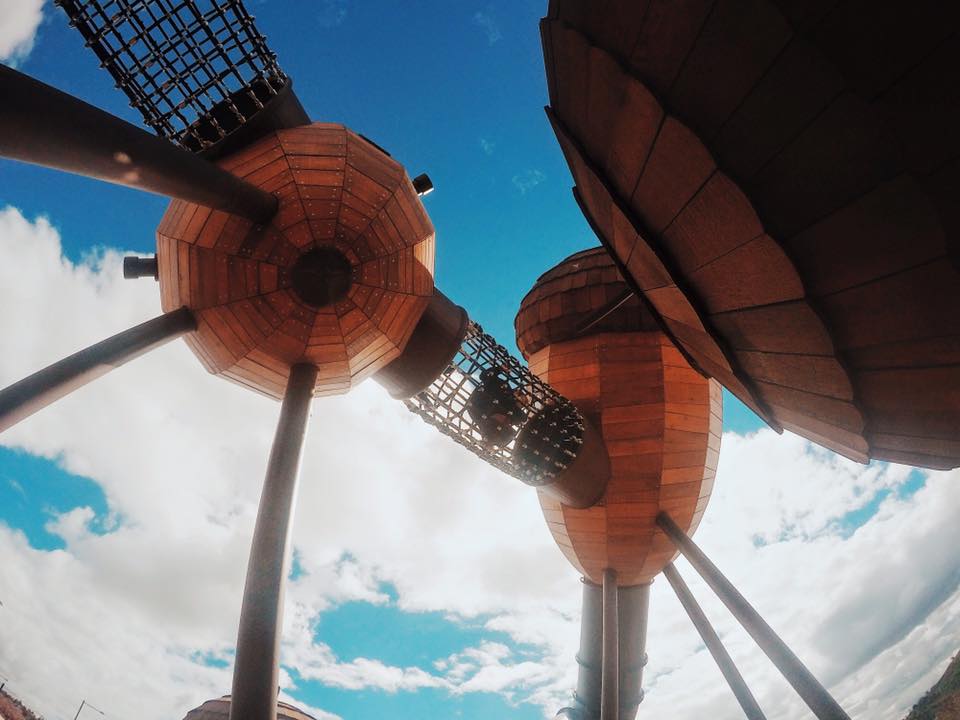 After 90 minutes of playtime us adults decided it was time to explore outside the playground area. The kids were reluctant to go but were excited when they saw the rolling hills of grass that they then proceeded to roll down (at great speed, I must add). All in all it was an amazing visit and one you must add to your Canberra itinerary.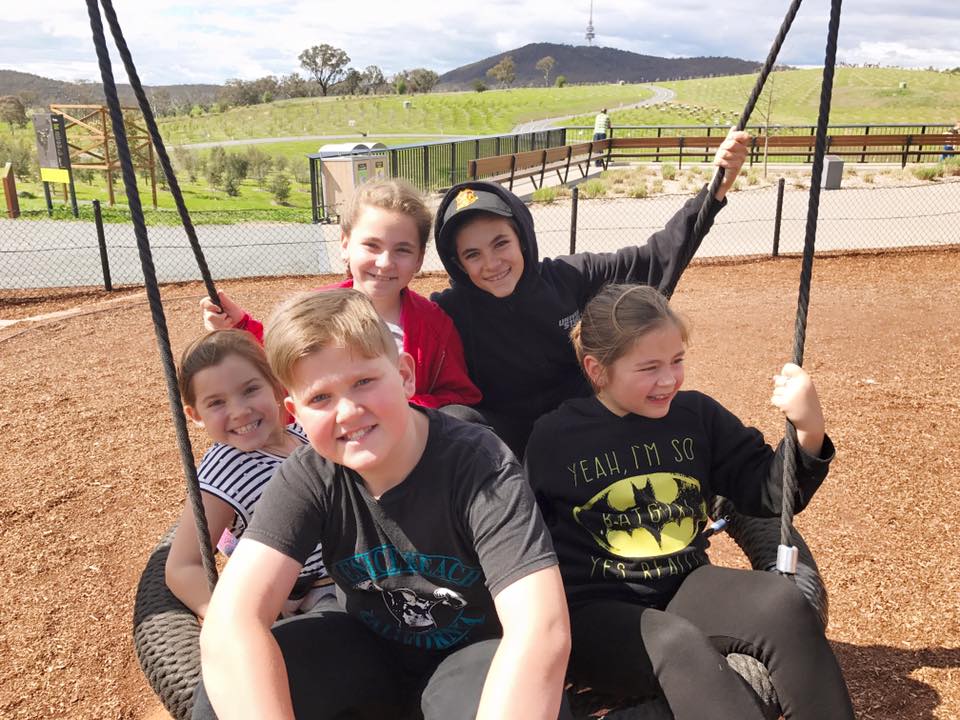 The National Arboretum Pod Playground is located within the National Arboretum, It is open daily from 7.00 am to 5.30 pm and 6.00 am to 8.30 pm during Daylight Savings. The venue is free although you will need to pay for parking. Find out more at the National Arboretum website: www.nationalarboretum.act.gov.au. Click to discover other playgrounds we have visited
Wondering what else to do in Canberra? Check out our 20 Things To Do In Canberra coverage.