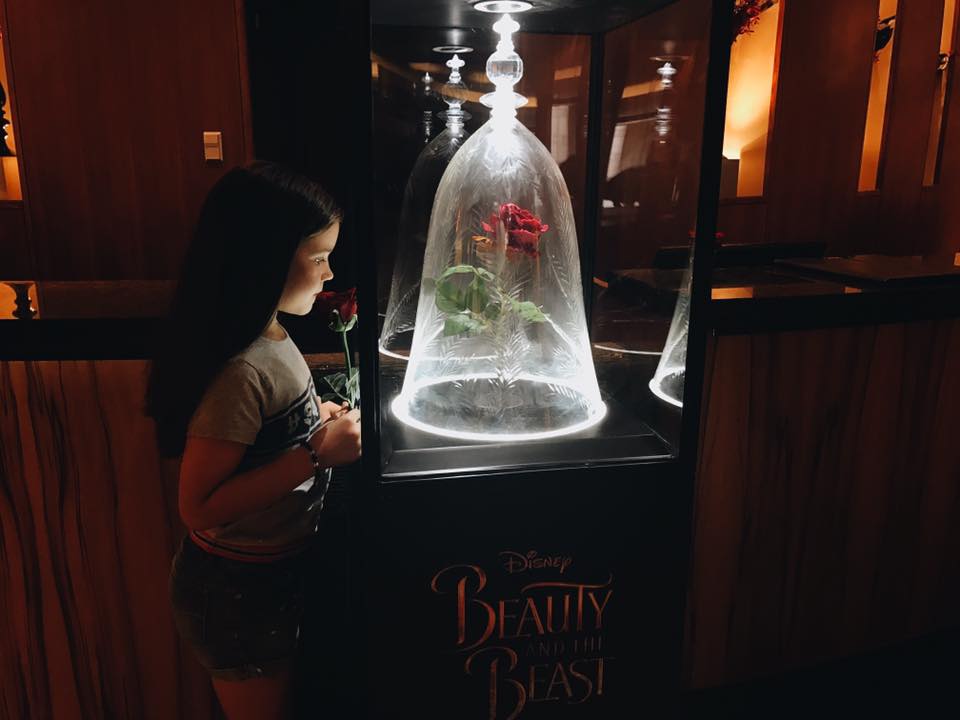 "Oh mama, I think this is the real one from the movie" my daughter whispers, staring at suspended rose as we check in to the Sofitel Sydney Wentworth hotel for a Disney Family Fun Package experience. We are both a little giddy with excitement. Yes, I have regressed to 8 year old me, almost too overwhelmed to check in. The only thing that could top our anticipation would be for the concierge behind us to start singing "Be our guest, Be our guest, Put our service to the test…" .  He doesn't. I guess that would be strange.
As we check in, Sunshine is presented with a long stemmed, silk rose. I didn't think it possible, but her smile grew even wider. I look for mine. Oh that's right, I'm the adult, this isn't about me! Our Beauty And The Beast High Tea is confirmed for the following day and we're also presented with our tickets to see Beauty and the Beast to be used at our leisure. I pinch myself, is this really happening?
Just to give you a little background, Sunshine and I have NEVER had a mummy/daughter stay away from home. This is our first. Couple that with MY all time favourite Disney princess movie, Beauty and the Beast,  and you have the perfect ingredients for one very amazing weekend. Oh, and food is involved too which is certainly always a winner for me! We have been talking about it for a couple of weeks now, the two of us envisioning cupcakes on the bed as we lounge around in white robes, lots of singing and perhaps a pedicure.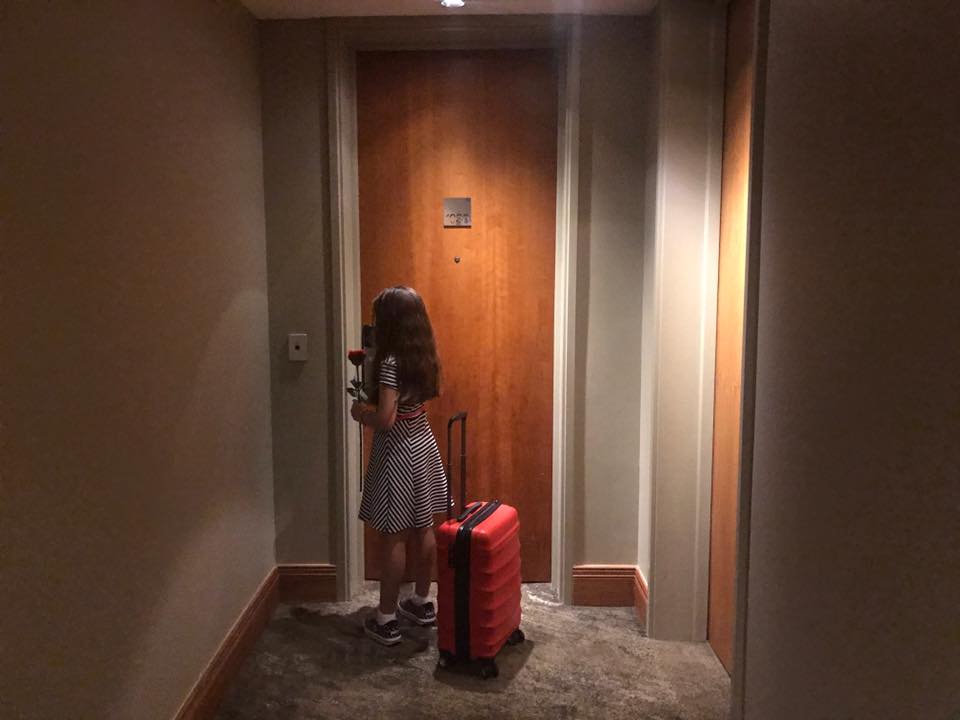 The Room
We head to our room. Sunshine runs ahead so she can open the door. As we walk in, my breath catches a little as Sunshine squeals in delight – we have our very own enchanted rose in our room! We also find the Disney Beauty and the Beast picture book, an activity kit and perfect, rose themed cupcakes. Oh my! But that's the lounge room (yes, we've found ourselves in a suite!). Our bedroom is kitted out in luxury  – a giant king bed, slippers set out on each side and a super giant wardrobe which Sunshine joked was where she should sleep for the night.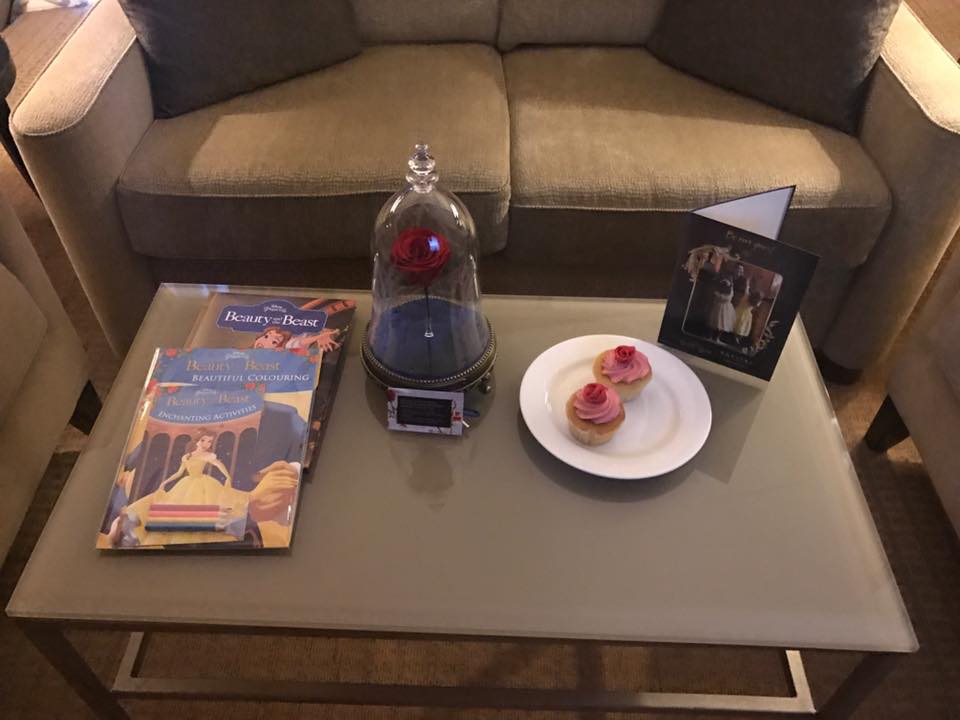 What do you do when you first enter a new hotel room? Surely not jump on the bed? Well that's what Sunshine did. She couldn't help herself. Only this evening it was to the soundtrack of Beauty and the Beast. "Tale as old as time…True as it can be" (through our enchanted rose speaker) belted out while jumping on the bed. Whilst far from princess like, it seemed to be almost cathartic and settling. 15 minutes later we were heading to level 5 for dinner.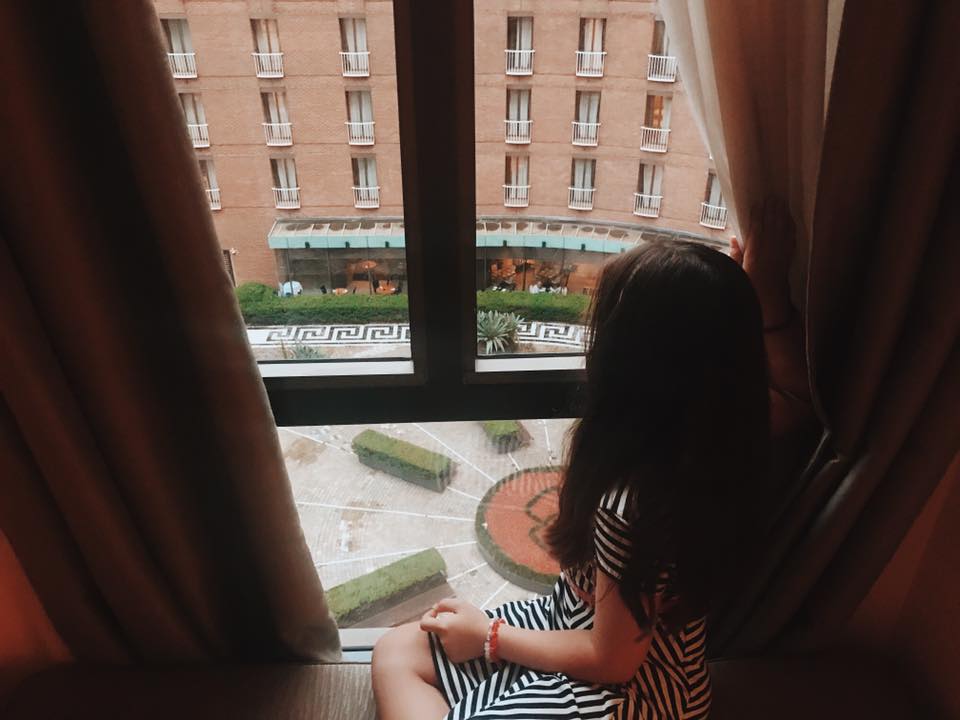 Dining in a restaurant surrounded by adults seemed to be quite exciting for Sunshine. A kids meal is included with each paying adult if you are staying as part of the Disney Family Fun Package. It was chicken tenderloins, salad and chips for the kid, and an amazing duck dish for me. I gave in to Sunshine's excitement and allowed her to order us both drinks from the drinks menu (being so grown up and all). We sipped Fire Engines while dining on our meal.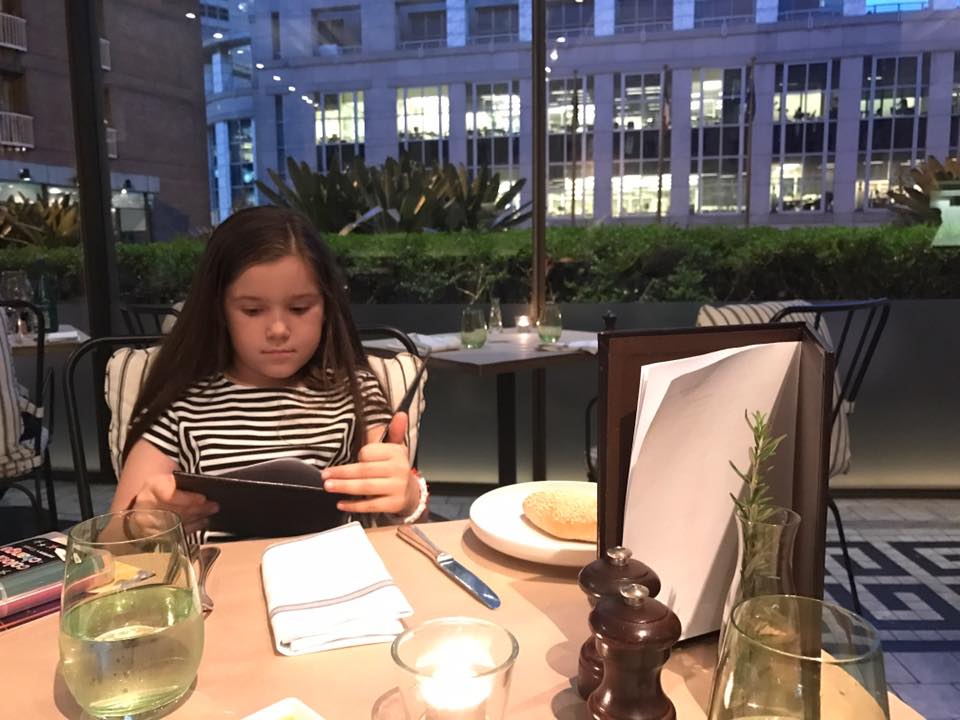 After dinner, it was back to our room. We feasted on our rose cupcakes for dessert (well, we liked all the icing off – we were still so full from dinner) before a relaxing bath and then into our fluffy robes. Sunshine was still fascinated by the enchanted rose, so we spent the rest of the evening playing music through it and talking. She rarely has me all to herself and I could tell that the opportunity to speak at great length without interruption was a highlight. Soon she was asleep to the soft glow of the enchanted rose (my gosh I want one for home!).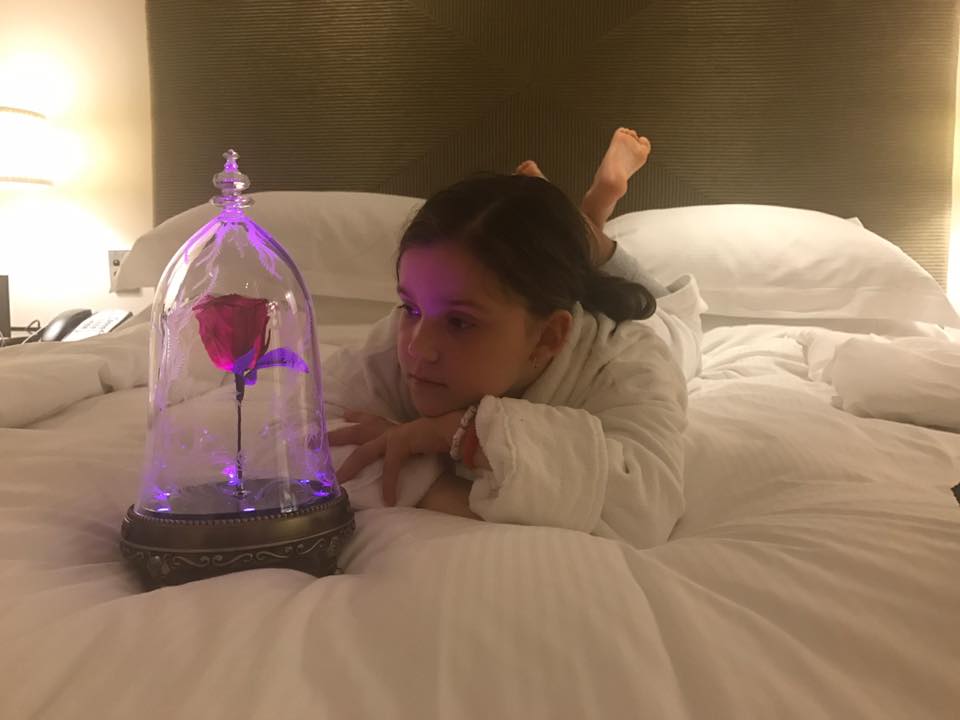 With a lounge next to our bedroom, I thought I might head in there to catch up on a few things (ie. blog posts) but fell asleep myself! The bed was lush. The perfect softness with nice firm pillows. Sofitel has also introduced an aromatherapy spray with lavender hues (do you call them that?) which may have helped encourage sleep a little quicker than normal. I don't think I've slept this well for ages. We slept in!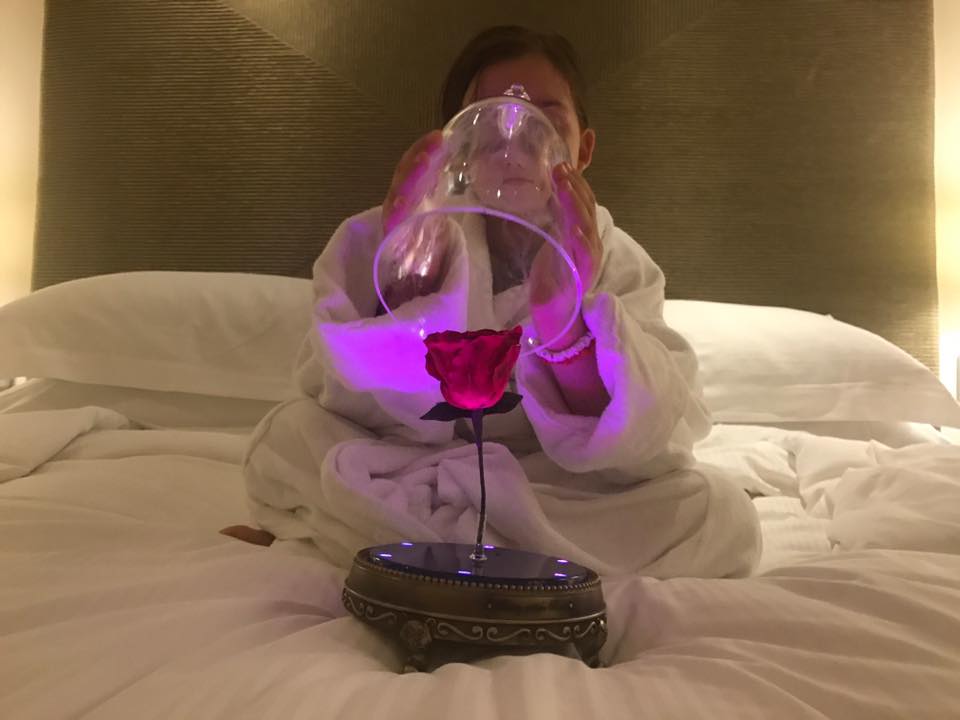 On the weekends, breakfast time in the Sofitel Sydney Wentworth restaurant runs into mid morning. Perfect for us two girls who slept in a little later than normal. There were so many options including an Asian buffet which I always love. We decided not to go overboard so we could fit our Beauty And The Beast High Tea in later in the day.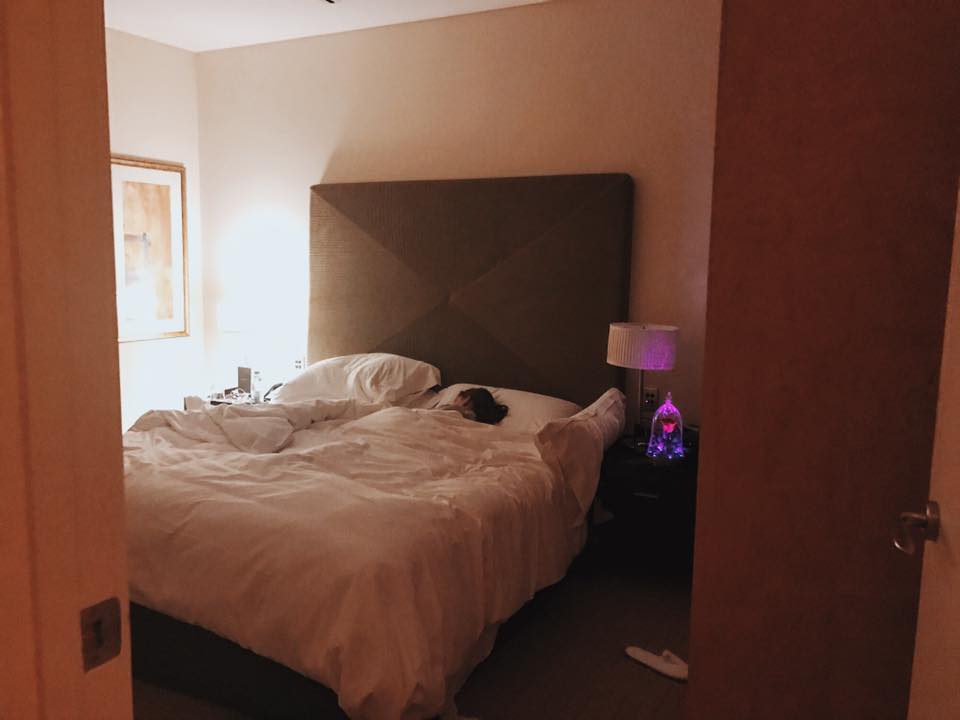 Breakfast seemed to pass quickly. We headed downstairs to check out Belle's Reading Room and the rest of the Beauty and the Beast theming downstairs. Sunshine found a few books and made herself comfy on a reading chair where she spent a good half an hour before I gently prompted her back upstairs. We had a high tea to prepare for!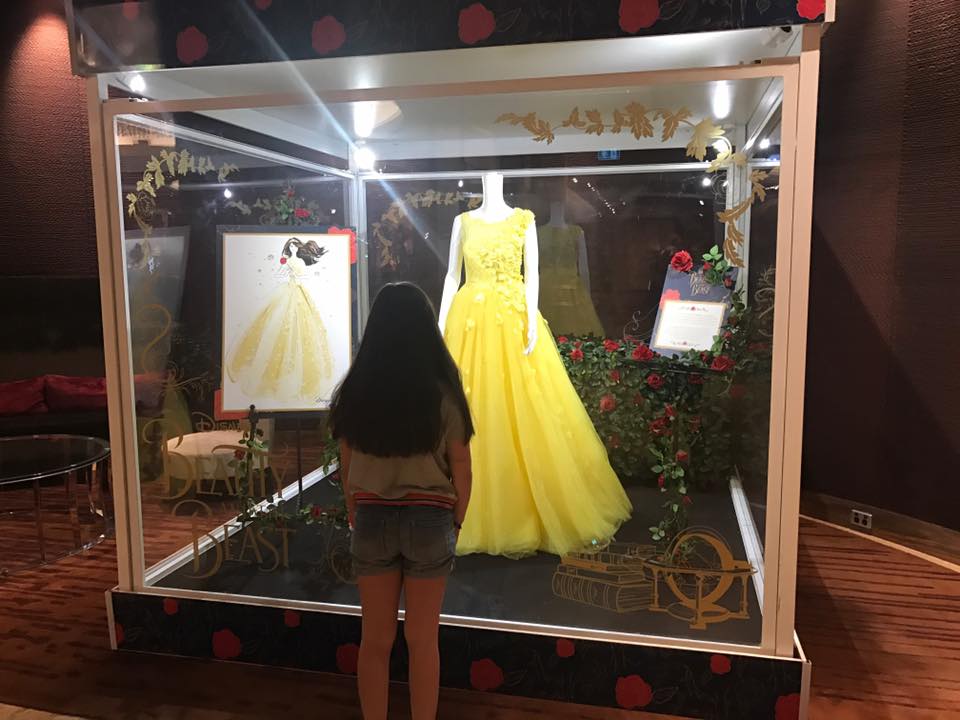 Beauty And The Beast High Tea
There's something ultra special about a High Tea experience shared with your daughter. To celebrate the cinematic release of Beauty and the Beast across Australia, the Sofitel Sydney Wentworth's pasty chefs have designed a number of high tea delights to enjoy.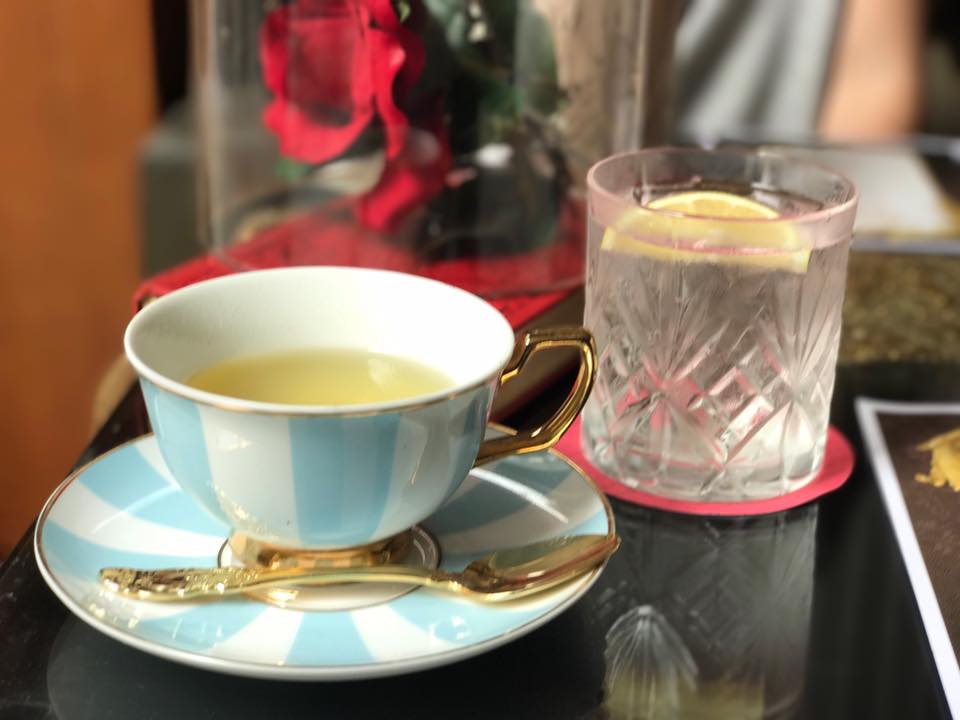 When we arrived we were led to our beautifully styled table right near the windows. The table was set with silverware, an enchanted rose (how could it not be) and china teacups. Sunshine was full of awe as soon as she sat down, oohing and ahhing about it all. We looked through the menu together so we knew what to expect.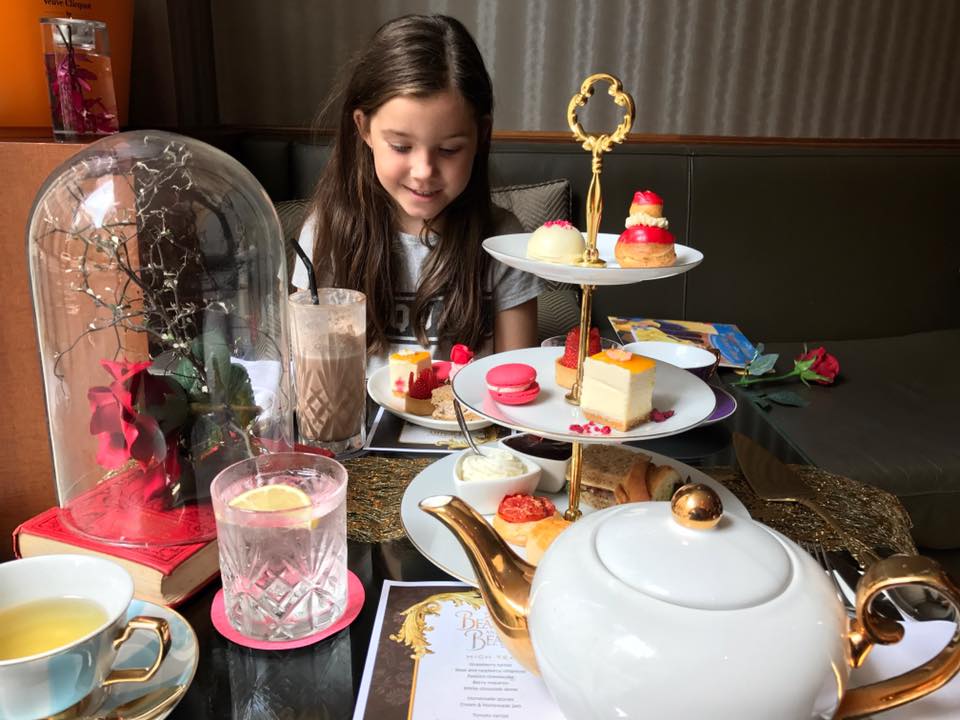 Before our delights arrived, Sunshine received a Beauty and the Beast activity pack which kept her busy until her drink arrived. Whilst there is an enormous selection of tea to order, Sunshine decided an iced chocolate would match her food. I settled on a ginger and honey tea. Yum.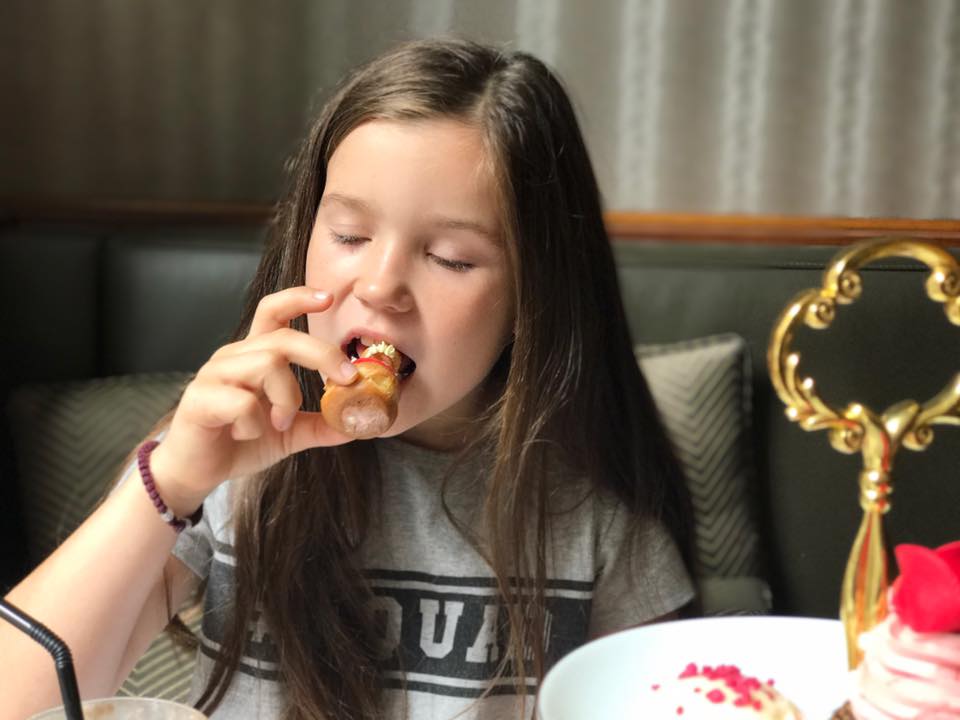 The adult version of the high tea consists of: strawberry tartlet, rose and raspberry religieuse, passion cheesecake, berry macaron, white chocolate dome, homemade scones (with jam and cream), tomato tartlet, roasted Angus beef on whole wheat bread and,  salmon gravlax and tomato on Viennese baguette.  The kid version was a little smaller and consisted of tuna on whole wheat bread, a strawberry tartlet, passion cheesecake, Enchanted rose cupcake and homemade scones (with jam and cream).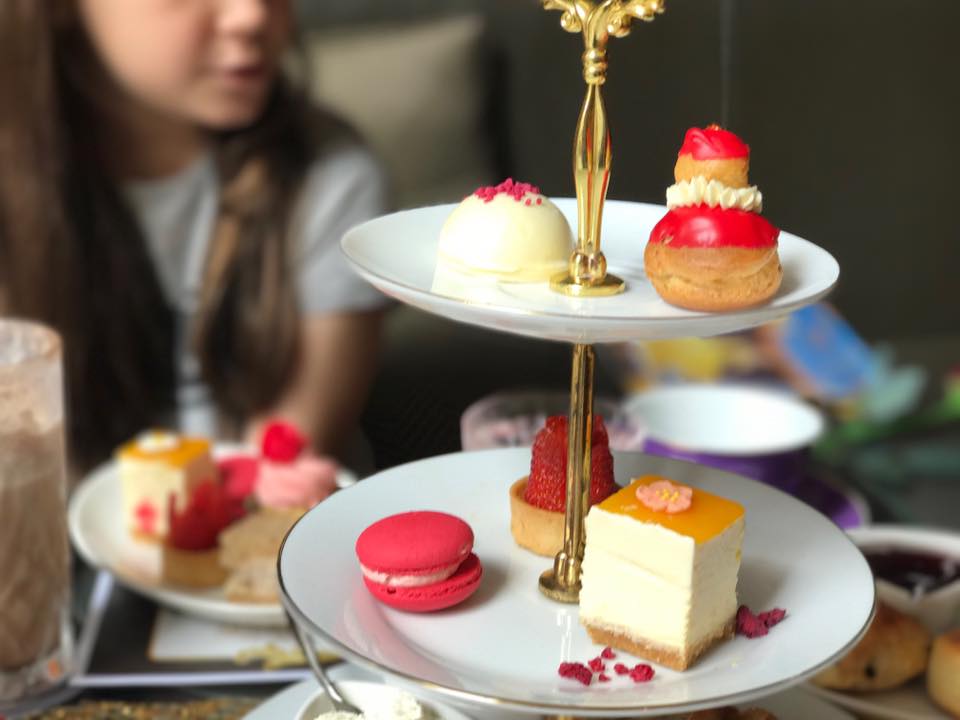 Our high tea was incredibly filling. Every bite was sublime. We sat and giggled, shared jokes and talked about the movie which we were off to see next. Our hostess checked on us a few times and was quick to get us refill or ask our endless questions.
"And it's all in perfect taste that you can bet. Come…"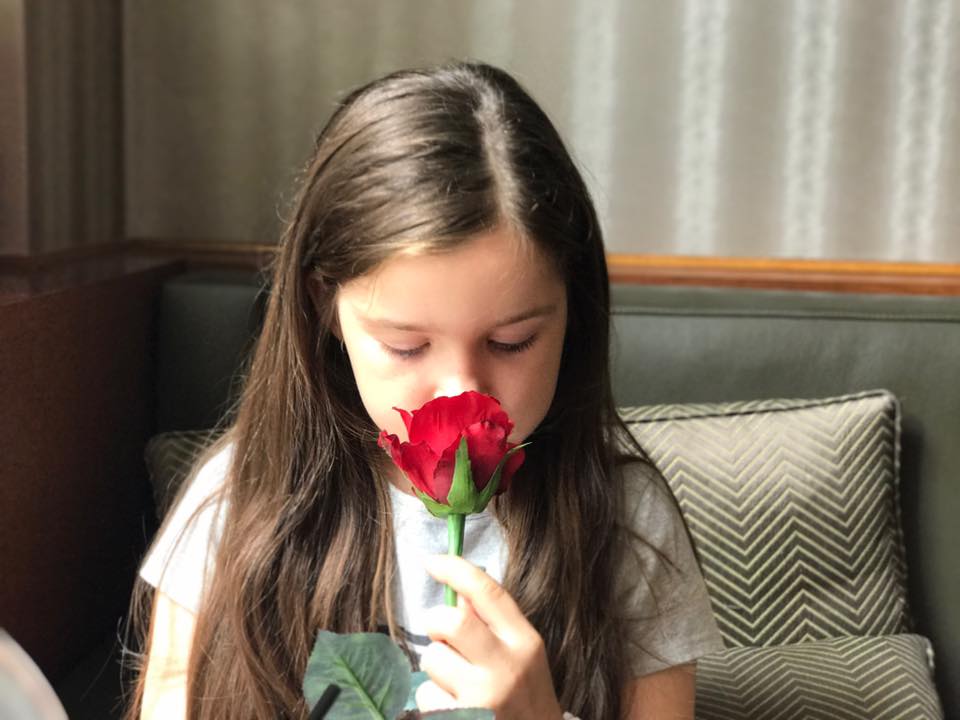 The Beauty and the Beast Movie
Whilst general admission tickets are included in the Disney Family Fun Package at Sofitel Sydney Wentworth, I decided to carry through the magic and booked Gold Class seats for Sunshine and I at Event cinemas – George Street. It's not something we would usually spend our money on as a whole family, but this weekend was a mummy and daughter special, it was worth the investment.
Beauty and the Beast was one of my most favourite Disney animated movies as a kid so I was a little worried that it wouldn't live up to the hype. I shouldn't have worried. Both Sunshine and I had our eyes glued to the screen throughout the entire thing, even the credits had us watching. Emma Watson make a wonderful Belle and I can see that shortly little kids everywhere will be levelling up their disney princess costumes, shedding the blue and taking on the yellow. You must go and see it!
The Details
The Disney Family Fun Package starts at $379.00 and includes:
Buffet breakfast for all guests
Complimentary dinner for children up to 12 years of age*
Disney welcome gift* on arrival
The first 15 bookings will receive a free movie family pass**.
Disney welcome gift includes:
Disney Princess "Beauty and The Beast" storytime book & enchanting activities colouring kit to take home
Gorgeous silk red rose on arrival
Delicious rose decorated cupcake in the room on arrival for each guest
Exclusive Enchanted Rose Bluetooth Speaker is available in the room to play all of your favourite song
The Beauty And The Beast High Tea starts at $69.00 per adult and $29.00 per child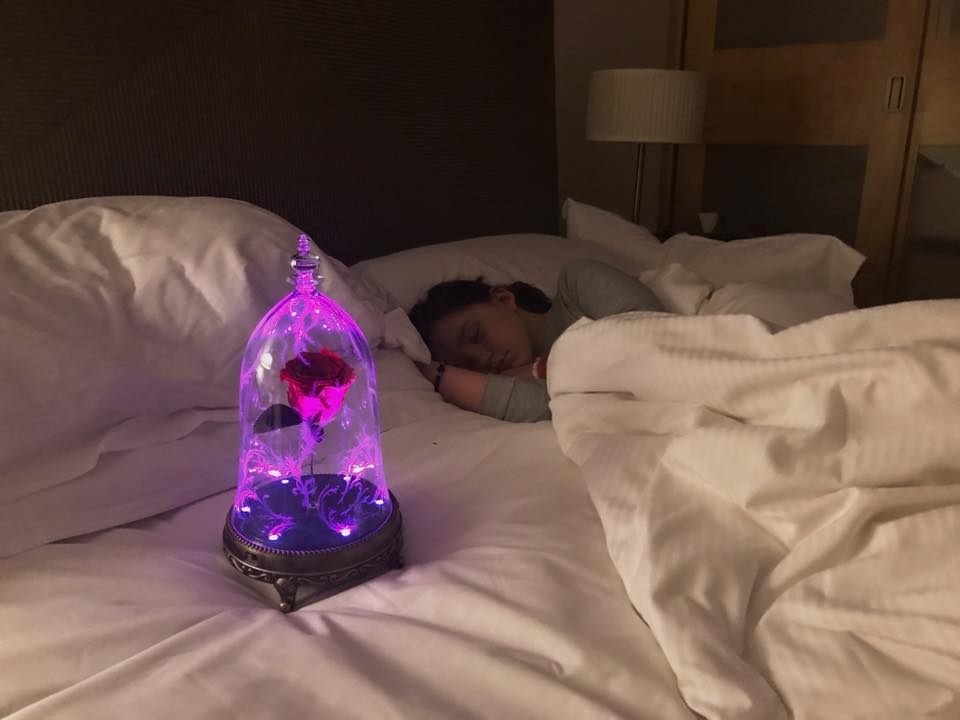 The exclusive Enchanted Rose Bluetooth Speaker is only available in Australia at Sofitel Sydney Wentworth hotel until May and is available for purchase by accomodation and high tea guests. It costs $249.00 per unit.
For more details and to book, head to the Sofitel Sydney Wentworth hotel site.
---
A huge thank you to Disney Australia and Sofitel Sydney Wentworth for inviting Sunshine and me to experience the Disney Family Fun Package. We self funded the Gold Class experience at Event cinemas. All opinions are our own.
Pin this to Pinterest: