Until recently, Newcastle has eluded our attention. We thought of it pretty much as an old industrial town full of steel. But then we received an invitation to stay at the Crowne Plaza Newcastle Hotel and the thought of a night in a luxury hotel had us changing our mind. Oh boy I am glad it did. You see, Newcastle has gone through an enormous makeover and although we only stayed for two days the whole family is super keen to go back and adventure more. It has a growing foodie scene, a 5km long promenade with exciting street art and sculpture littering its edges, and a bevy of cultural sights such as Fort Scratchly waiting for you to explore.
The Crowne Plaza Newcastle Hotel is situated right on Honeysuckle on the water. With a water view room you can watch the tug boats come and go throughout the day and into the evening, and you are also within walking distance of some of Newcastle's best cafes and restaurants. On a warm day you can also cool down in the amazing little pool overlooking the waterfront.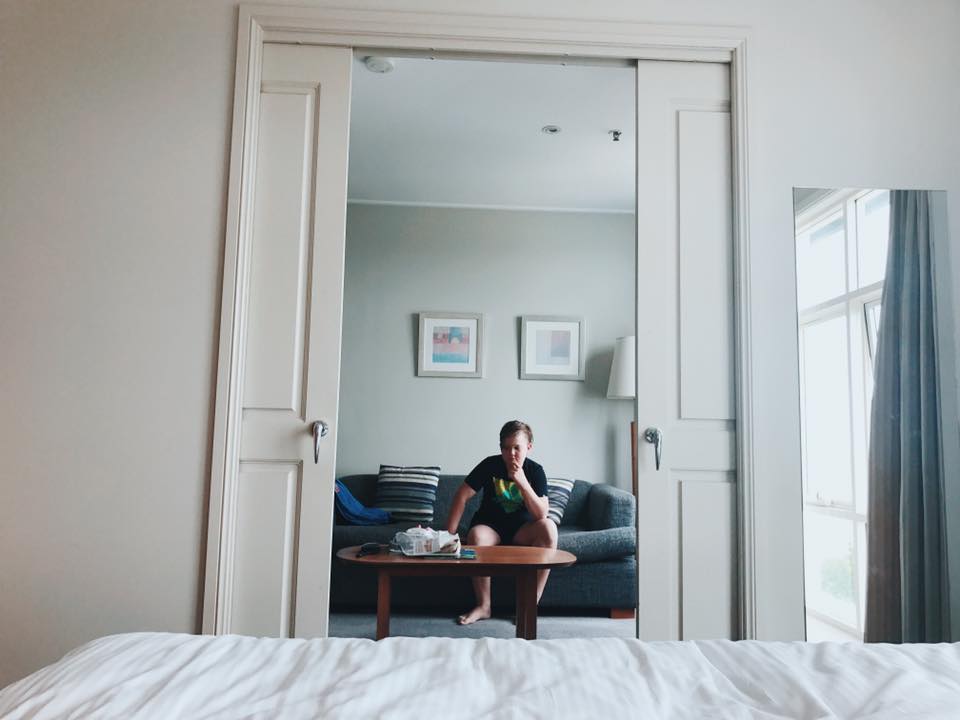 Our little family arrived in the late afternoon and discovered that the hotel only provides valet parking. This is great news for those of you who are happy to hand over the keys of your car. For us, it did mean that we parked around the corner in the Wilson carpark which was also within walking distance of the hotel (what is it with men and their cars?) and had a flat overnight rate.
Check in was seamless and by registering for the IHG Rewards Club we received free WIFI for our entire stay. As hotel guests you also receive free access to the health club next door, access to the pool and free apples (or at least I think they're free – they're on a table just outside the elevator).
The Room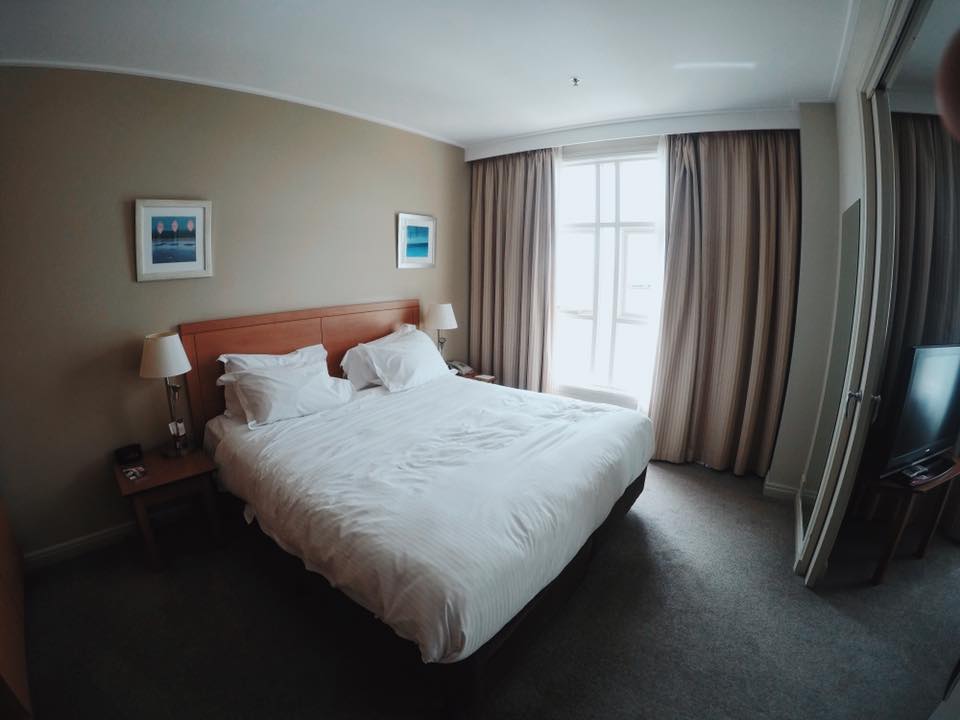 Up to the room we went, the kids full of excitement and quite boisterous as they debated who would get the door key and the honour of opening the door. We had booked interconnecting rooms so that we us adults could have a room separate from the kids yet still close enough to maintain some supervision. We noted each room had a sofa bed as well (although we didn't use it) so families could book a single room if they were on a smaller budget.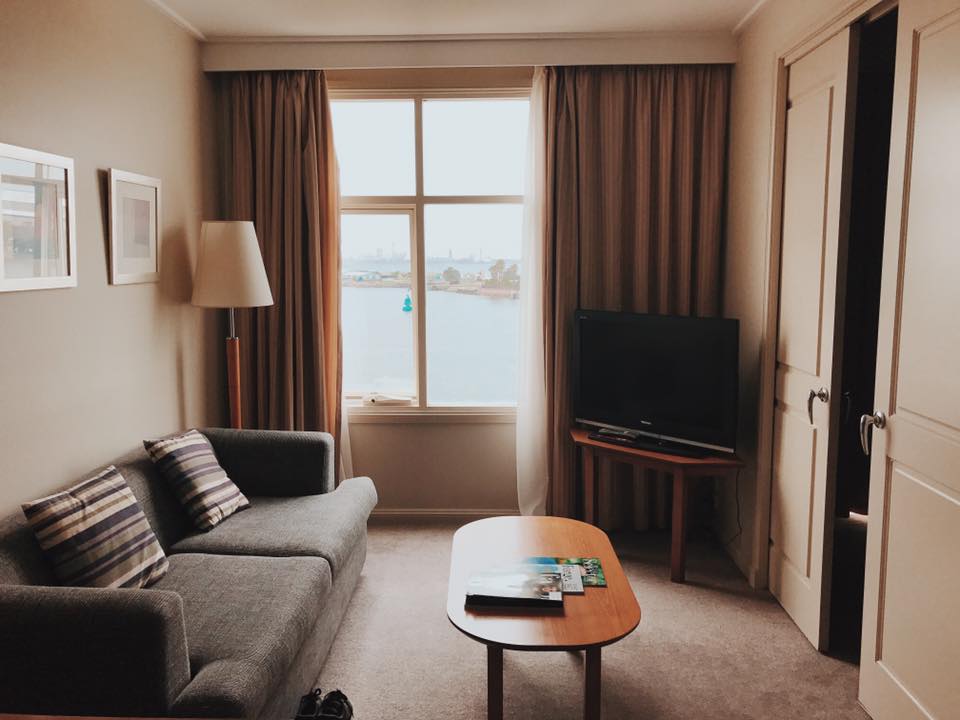 Beds are always important when it comes to staying at a hotel. You want a Goldilocks experience – not too hard, not too soft, just right. A good hotel also invests in sheets with a high thread count and it is immediately obvious if this has been covered when you pull the sheets back and hop in when sleep beckons. Pillows, well that good nights sleep will depend on that too. Crowne Plaza Newcastle Hotel has ticked all the boxes. If Sleeping Beauty had the chance to choose a bed for her 100 year sleep, I'm thinking she would have chosen this! What I found interesting was the addition of ELEMIS quiet mind room mist next to both beds I have never thought of using essential oils to assist with sleep but I tried it and it seemed to work, or perhaps I was just really tired.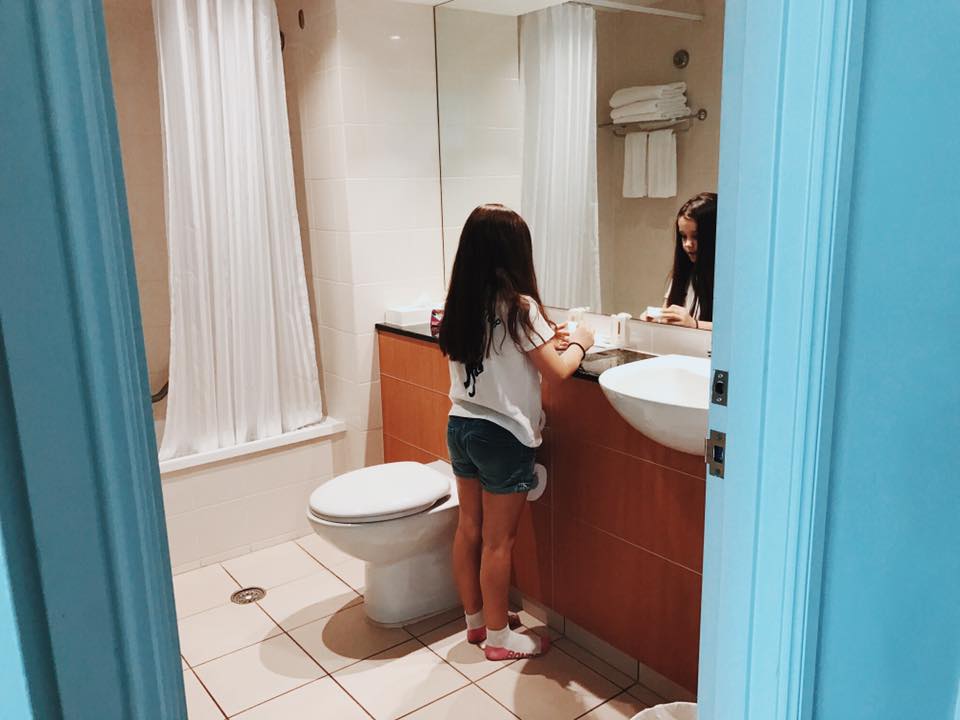 The bathroom was a good size with a combined bath/shower and a fully stocked toiletry selection. I must say, I love when hotels provide toothbrushes with teeny tiny toothpaste tubes. I'm not sure if you can realistically rate a hotel on this inclusion, but I'm leaning towards believing it does indicate a high standard.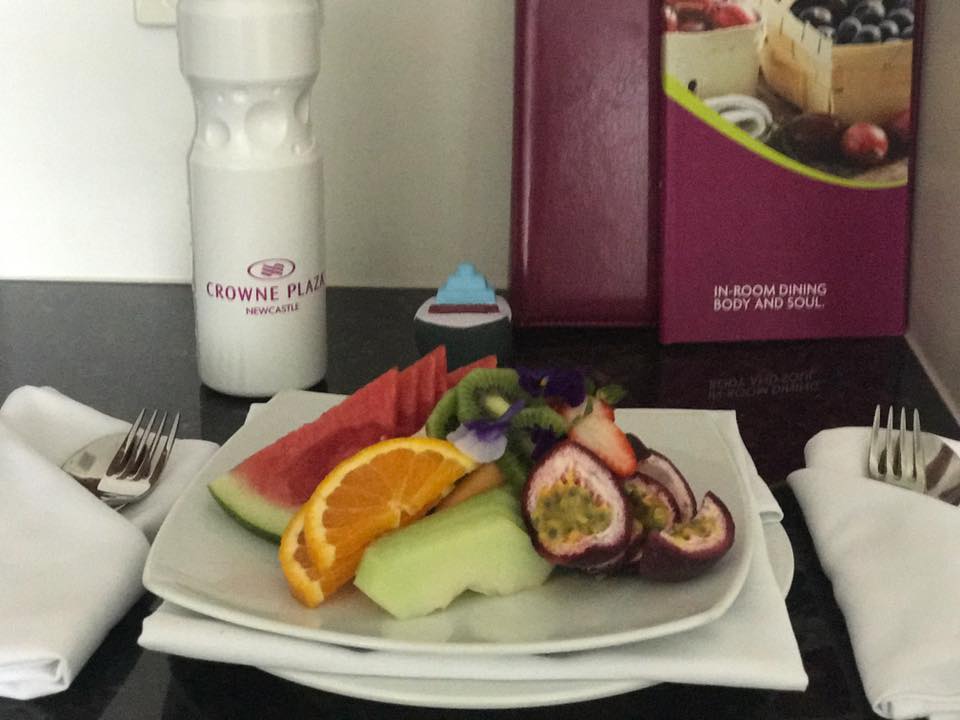 Our room also featured a small kitchenette, a stocked mini bar, a great little area to eat, a lounge and flat screen TVs in both the lounge and bedroom and a few special little additions such as a fruit plate for us to share.
The Food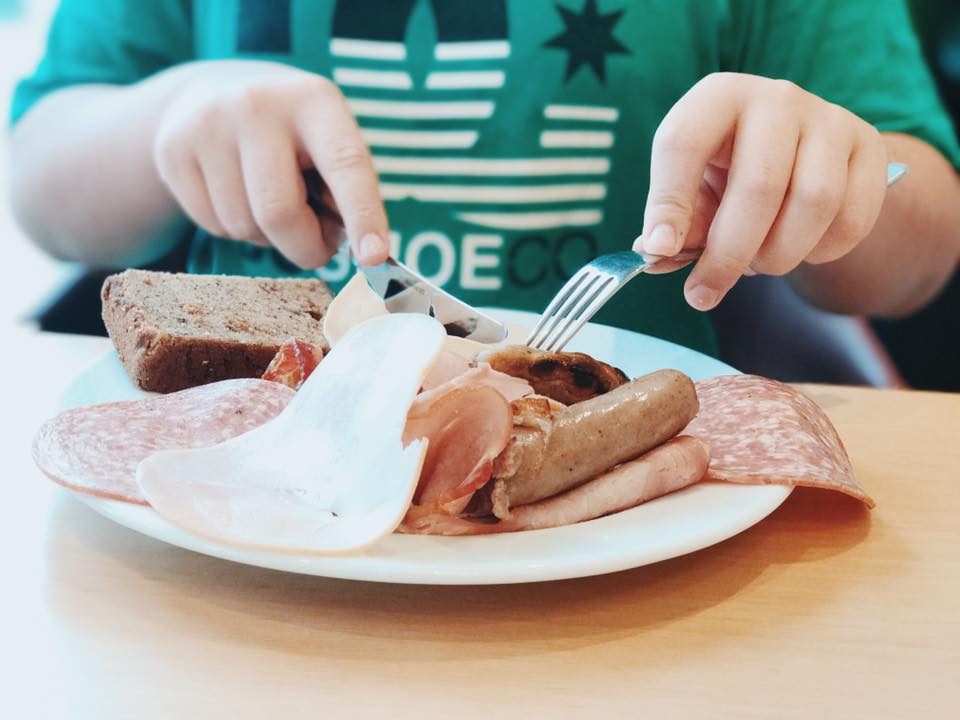 There are limited self catering options at the Crowne Plaza Newcastle Hotel unless you wish to order a pizza. I'm very much of the "who wants to cook on holiday" mindset so we headed off to the Honeysuckle cafe area for dinner. It's maybe 50-100 metres away (maybe a little further, it felt very close) and bursting with options all pretty much appropriate for kids. If you don't feel like walking you could choose from Seasalt Restaurant which is within the hotel and has quite a good reputation, or splurge on in-room dining.
We chose to check out the buffet breakfast in the morning at Seasalt Restaurant. Who doesn't love a good buffet! I opted for my favourite Eggs Benedict which you order at the egg bar before returning to your seat. It is brought to your table once cooked. Striker piled his plate with bacon – I guess all that cholesterol doesn't really count on a holiday. Sunshine opted for a simple omelette, I was actually surprised that our pickiest eater ate it all. I didn't really notice what T ordered because by the time he arrive back from his time at the buffet, my Eggs Benedict had arrived.
One of my pet peeves when it comes to a buffet is the general lack of floor staff that often comes with the territory. It was refreshing to find that this was not the case at the Crowne Plaza Newcastle Hotel. Finished plates were whisked away quickly, and dropped cutlery replaced. Perfect.
The Pool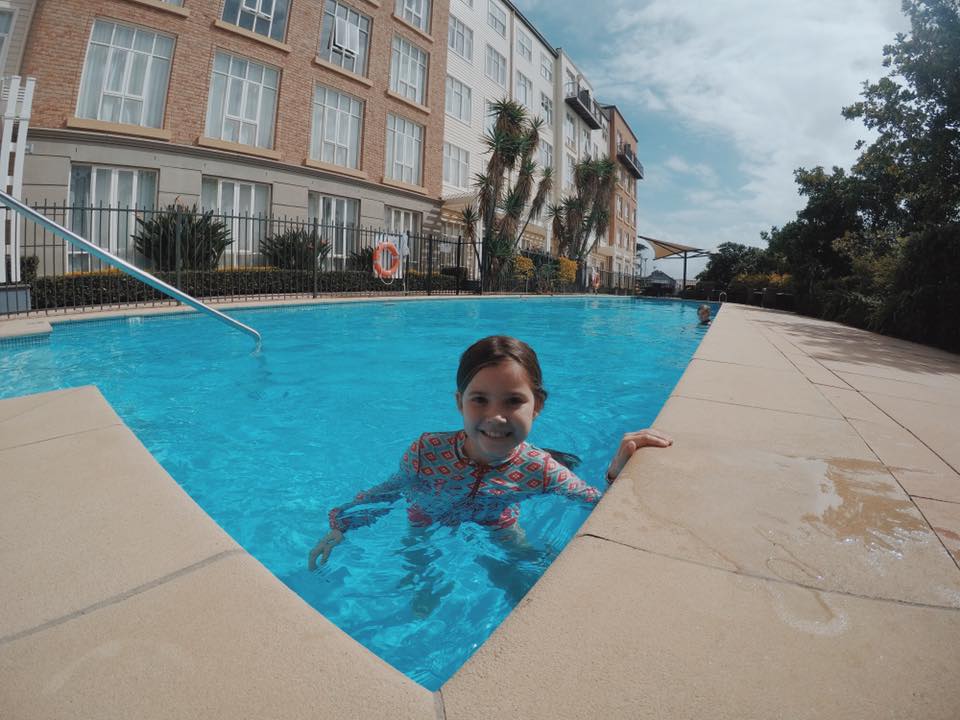 My kids are bonafide water babies so they begged to go for a swim once they heard that there was a pool on site. Whilst it isn't heated, it is a shallow pool so retained the warmth from the summer months even on the overcast, autumn day of our visit. How could I say no. I lounged on one of the many pool chairs whilst the kids swam. It was there kind of paradise and with a good book to read, I was pretty relaxed too.
The Verdict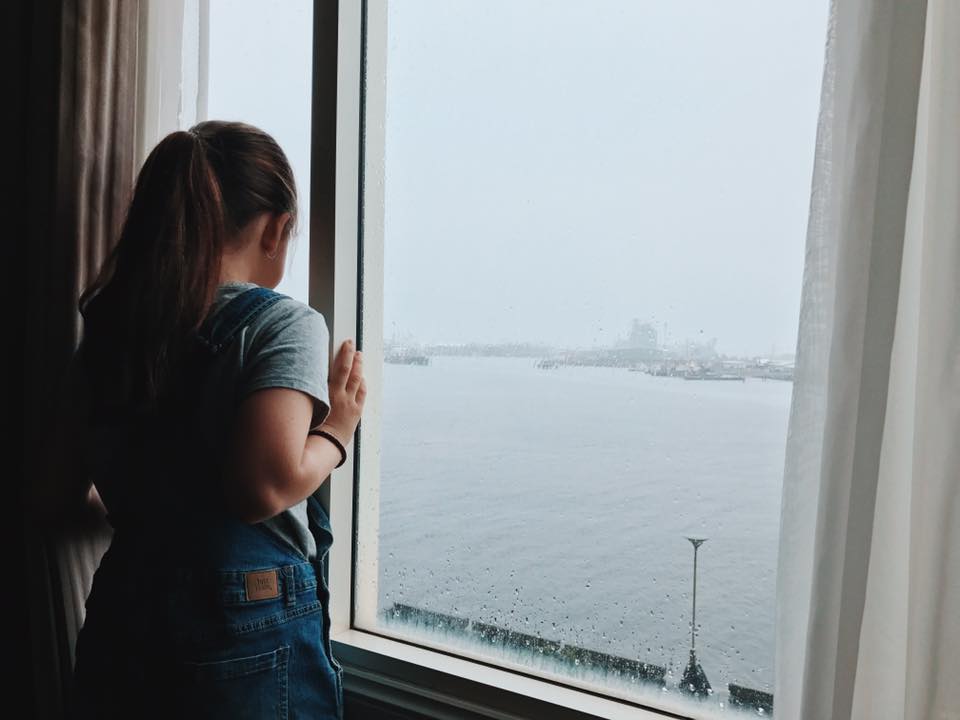 Newcastle ended up revealing lots of delights which means we will be heading back soon. The location of the Crowne Plaza Newcastle Hotel, their impeccable service and the goldilocks rooms would definitely see us considering it for our next visit. Look it up yourself! You'll love it.
You can book the Crowne Plaza Newcastle Hotel directly via their website. 
Thank you to Crowne Plaza Newcastle Hotel who hosted our one night stay. We were incredibly impressed with our stay, with all opinions above our own. 
Pin this to Pinterest: