Exploring Meiji Jingu Shrine and observing Shinto rituals.

The Meiji Jingu Shrine is located in Shibuya, Tokyo and is a Shinto shrine dedicated to the revered spirits of Emperor Meiji and his wife, Empress Shōken. Whilst I was mistaken it for an very old shrine, it was formally dedicated in 1920 and completed in 1921. It was destroyed in the WWII Tokyo air raids and was rebuilt, yet again, in October 1958. Nonetheless, it was on my list of places to visit.
One of the most fascinating attributes of Meiji Jingu Shrine is that it is located in a forest that covers 170 acres in Tokyo city. Visiting after the hustle and bustle of nearby Shibuya or Shinjuku stations provides a welcome calm and a place to centre yourself.
Prior to our visit to Japan, we had never visited a Shinto Shrine. The Meiji Jingu Shrine and I was keen to make sure our visit was respectful and done properly. I learned that there were a number of rituals to observe on the visit to show our respect for the shrine and towards the Japanese people. I am sure we made some mistake, and I apologise.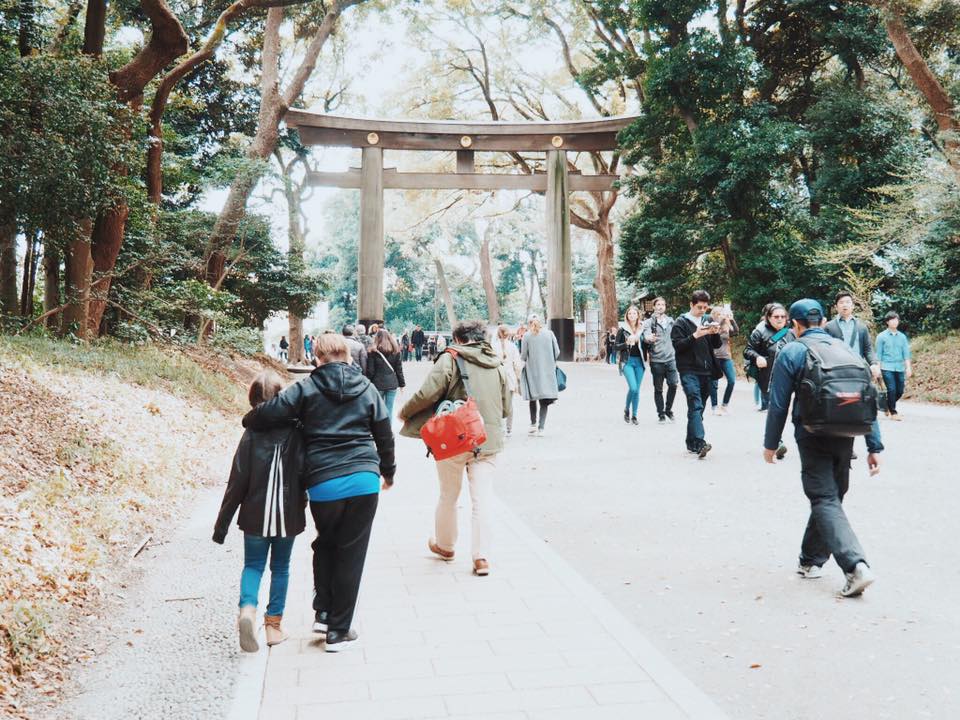 Torii Gates
On approach to any Shinto Shrine you are likely to first walk through a Torii Gate. Torii gates mark the transition from the profane to the sacred. In other words, it tells you that you are entering a sacred place. To show your respect you should bow before crossing through it. You should never walk in the middle of the path through the Torii Gate as this is reserved for the gods. Instead, be mindful to walk along the side of the pathway.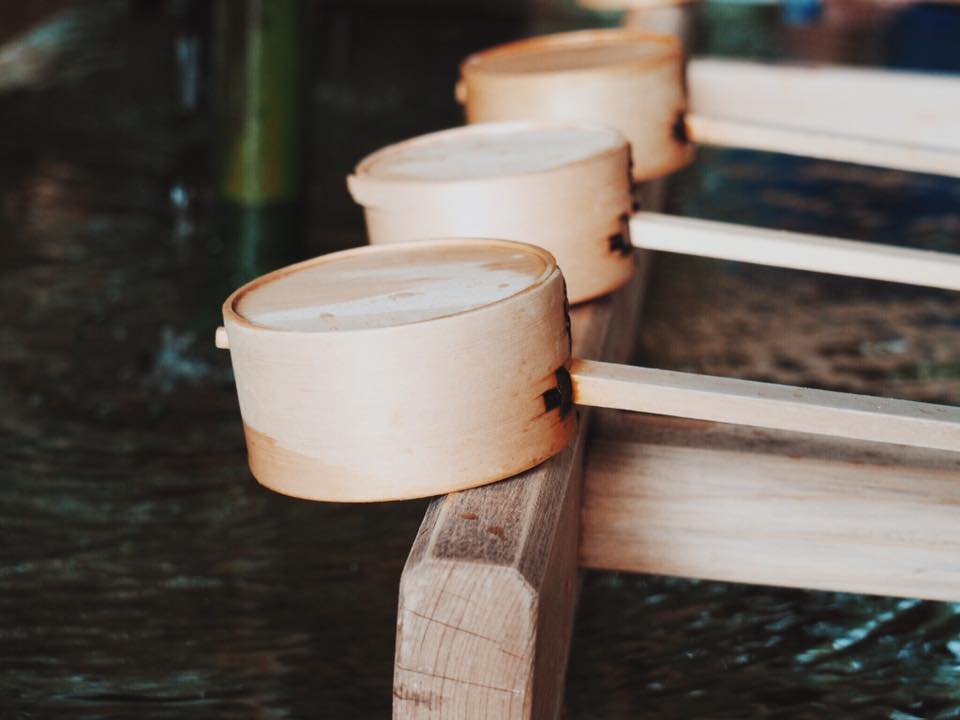 The Water Pavilion
The Shinto practice is to purify oneself before praying. This is done through water at the chozuya or Water Pavilion and was a ritual that both Striker and Sunshine enjoyed. As you approach the water pavilion you will note that it has ladles to catch the water. Approach the pavilion and find a place where you can stand in front of it within reach of the ladle.
To purify yourself, fill the ladle with water with your right hand and then pour it on your left hand before swapping wand pouring on your right hand. Next, hold the ladle with your right hand and pour more water into your left hand and use it to rinse your mouth. Make sure you do not wash your mouth directly from the ladle itself. Always use your left hand. This small ritual will cleanse you. Next, hold the ladle vertically and allow the remaining water to gentle run down the handle to clean it.  You have then completed the ritual.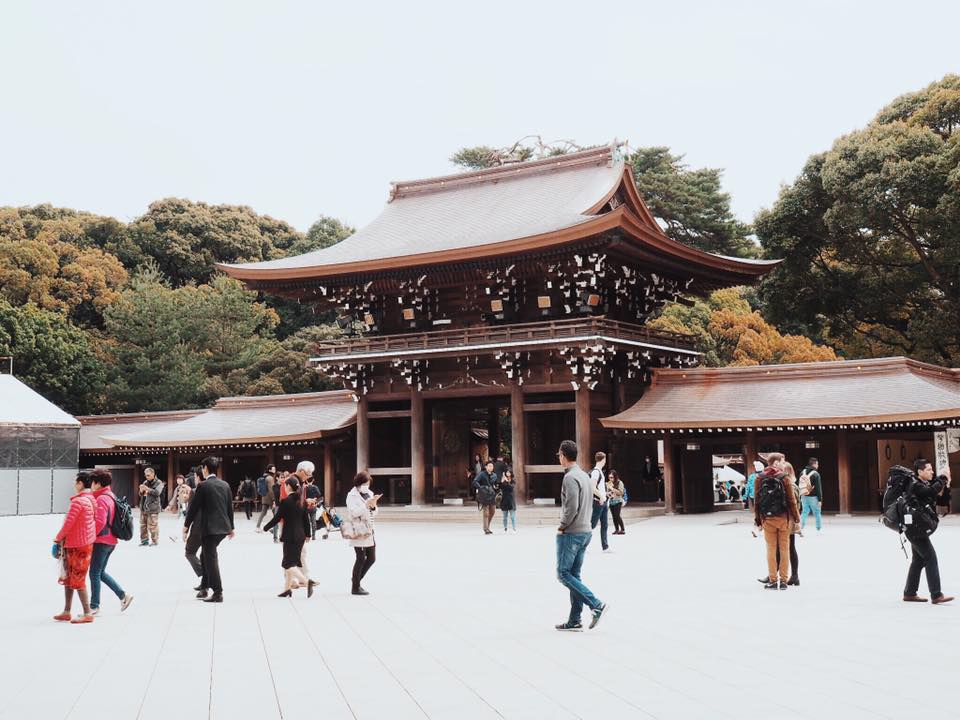 Approaching the Shrine
Once you have cleansed yourself you are ready to approach the shrine. Make sure you remove your hat if you are wearing one. Also, check you pockets to make sure you have some coins as you will need them for the ritual (we gave the kids a few yen each for this activity).
The first step when approaching the shrine is to throw your coin in the offertory box. No denomination is better than another, although an urban legend says that throwing a 5-yen coin increases your chances of finding true love. After throwing your coin, ring the bell 2 or 3 times to let the gods know that you have arrived.
You are now ready to pray. To do this, bow at a 90 degree angle twice, clap twice with your left hand to the front, give your thanks and respect to the gods (some say make a wish as well), complete one more 90 degree angle bow.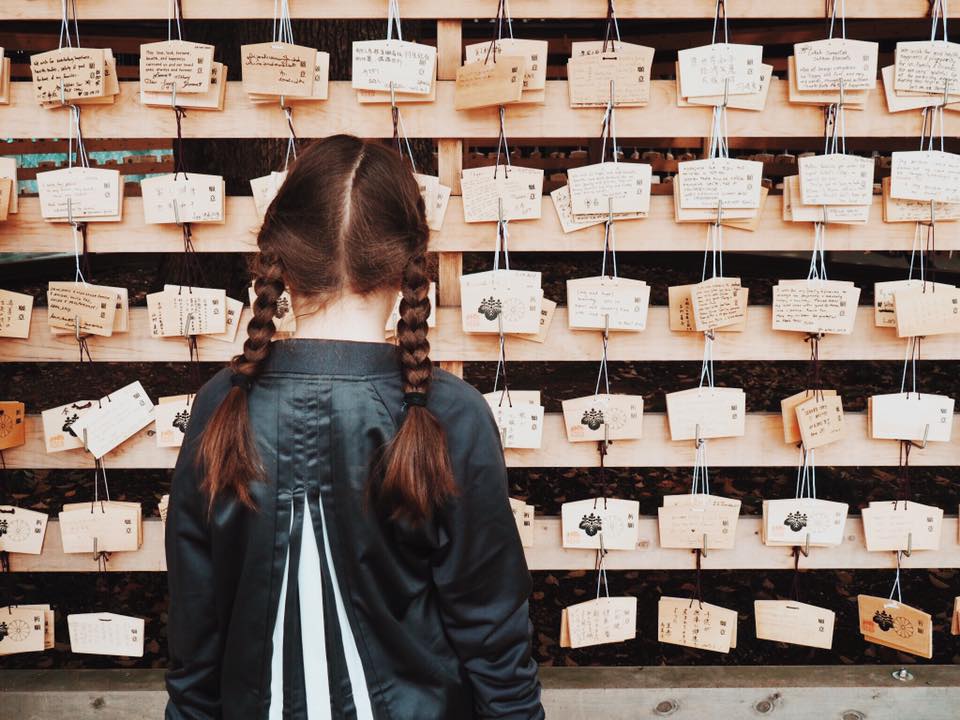 Omamori – Lucky Charms and Amulets
Sunshine found this the most fascinating part of the Shinto Shrine, which doesn't surprise me as she is a collector! After you have paid your respects you are likely to spy a section of ema or wooden plaques nearby. Here you can write your wishes and hang them up to be received by the gods. Although we could always find the completed ema, we never really discovered where to buy them so did not complete one.
Omikuji are fortunes on a slip of paper which you can purchase for around 100 yen. In our experience,  you shake a box or capsule and draw out a stick. You then match the symbol to a draw which will reveal your individual fortune. Now, be warned, you could receive a curse. You can choose to keep your fortune or tie it to a rope. We were pleased to always receive blessings which we did keep.
In two locations at Meiji Jingu Shrine you can purchase charms and amulets. There are charms you can use at home to ward off evil spirits. These are called  Hamaya. There are then different kinds of amulets called omamori, which are said to provide you with things like safe travel and good fortune. From our observations, a lot of visitors appeared to buy these. If you want something smaller you can buy a small commemorative stamps called shuin. These show that you have paid your respect.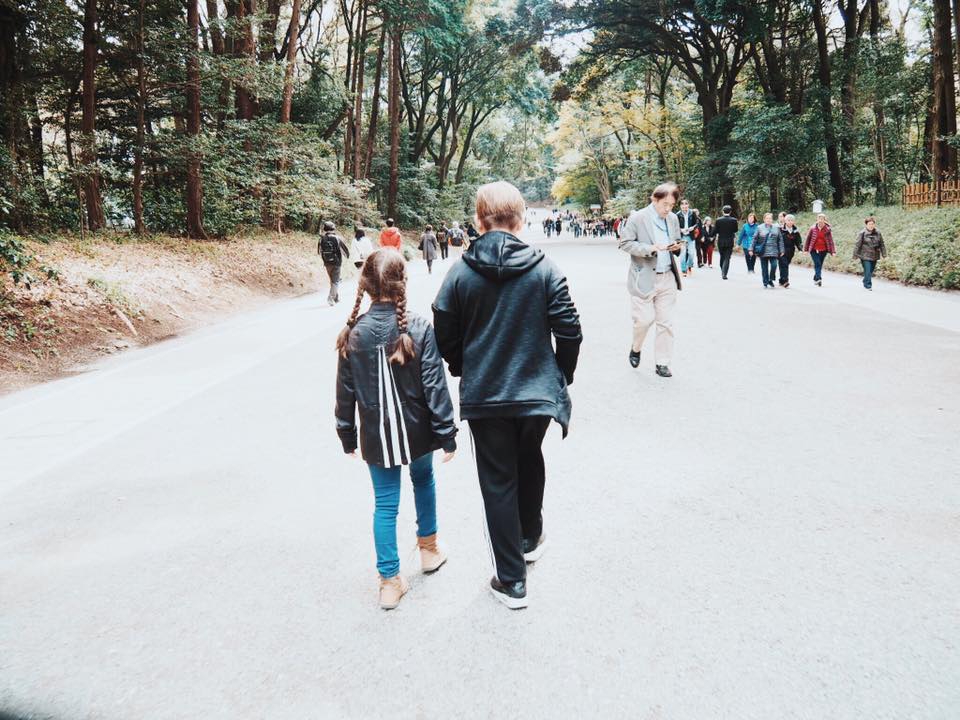 Dos and Don'ts
We spoke earlier about how you must not walk through the Torii gate from the centre. There are a bunch of other things you will need to observe to be truly respectful. It's important that you know these before you visit and that you observe these throughout your visit.
Firstly, be mindful to wear shoes that you can easily take on and off. You do need to take your shoes off to enter the inside of the main shrine. Unfortunately on our visit it was undergoing renovations so we didnt get to do this.
The centre line of the Torii Gate, also called the Sei-Chu, is incredibly important. Never take a photograph of the centre line from the Torii Gate. Step off centre. You are not a god!
Many, many Japanese and other Shintos are likely to be in prayer in the main Shrine. Do not disturb them. It is especially important not to talk in front of the offertory box. Don't take photographs of people praying and never take pictures during a ceremony by a Shinto priest.
While the Meiji Jingu Shrine is an amazing place to visit, please remember that it is a place of worship. It is open to everyone to visit, but be respectful and try to observe the rituals we have discussed above.
Have you visited a Shinto Shrine? Did you make an other observations about the rituals that maybe we should add? What did you think of your visit?
You can visit the Meiji Jingu Shrine at 〒151-8557 Tokyo, Shibuya, Yoyogikamizonocho, 1−1 which is just near Harajuku station. Of course, it is free to visit. You will need to pay for entry to the gardens if you would like to explore them off the path.












Two weeks in Japan wasn't long enough. Check out all of our Japan posts so you can see what you could do on your trip!
Pin this to Pinterest: