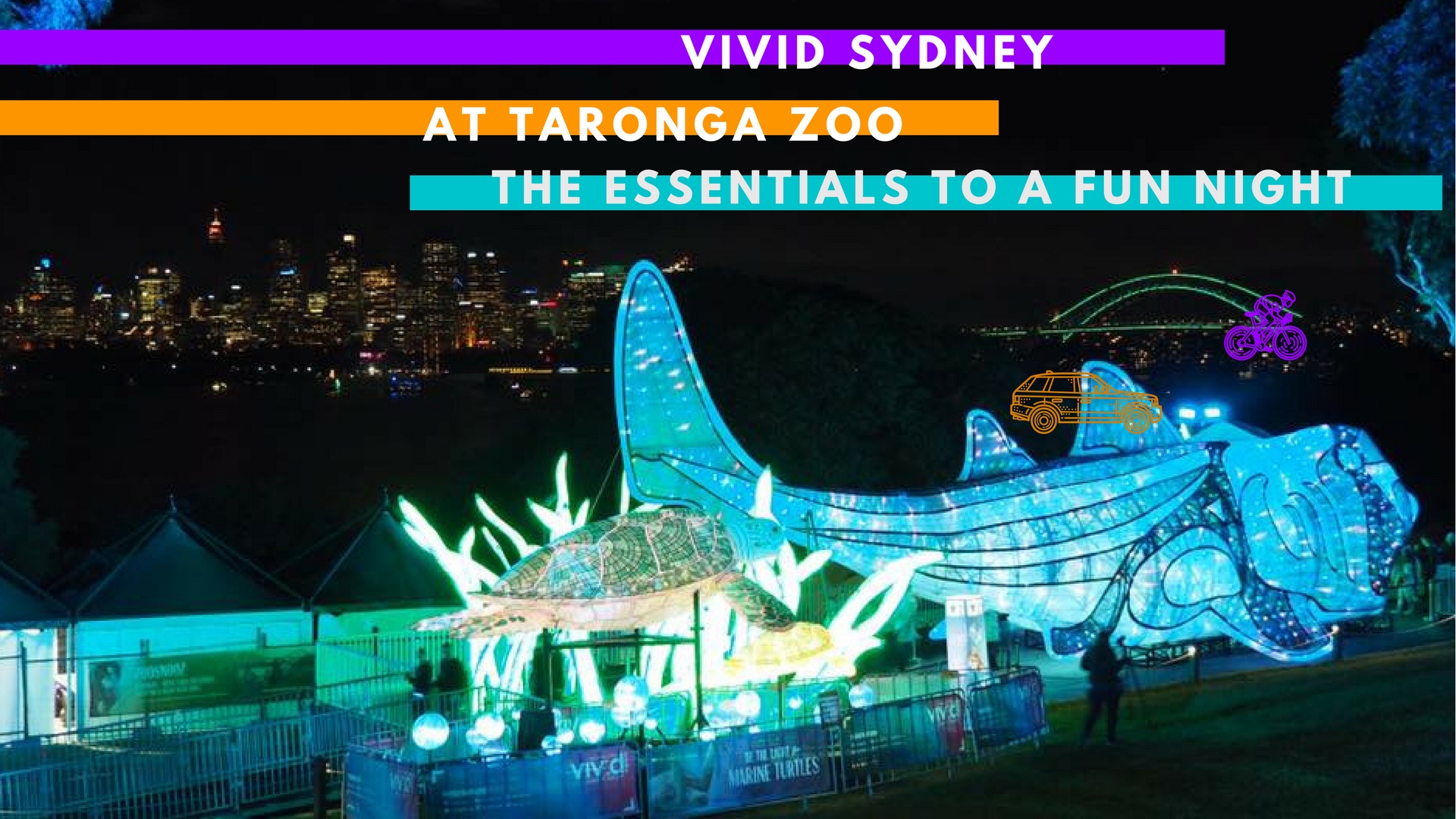 Taronga Zoo celebrated the Vivid festival for the very first time last year and quickly grew the reputation of being Sydney's best family friendly Vivid attraction. A capped ticket allocation and a well planned trail has made it the perfect Vivid destination for parents wanting to experience the festival with their kids whilst also avoiding the crowds. I pounced and booked tickets as soon as they were released, convinced that it would be another amazing night.
Of course, knowing what you're getting yourself into is important, so I've pulled together some essential reading to help you plan your trip to Vivid Sydney at Taronga Zoo. Believe me, it is worth it!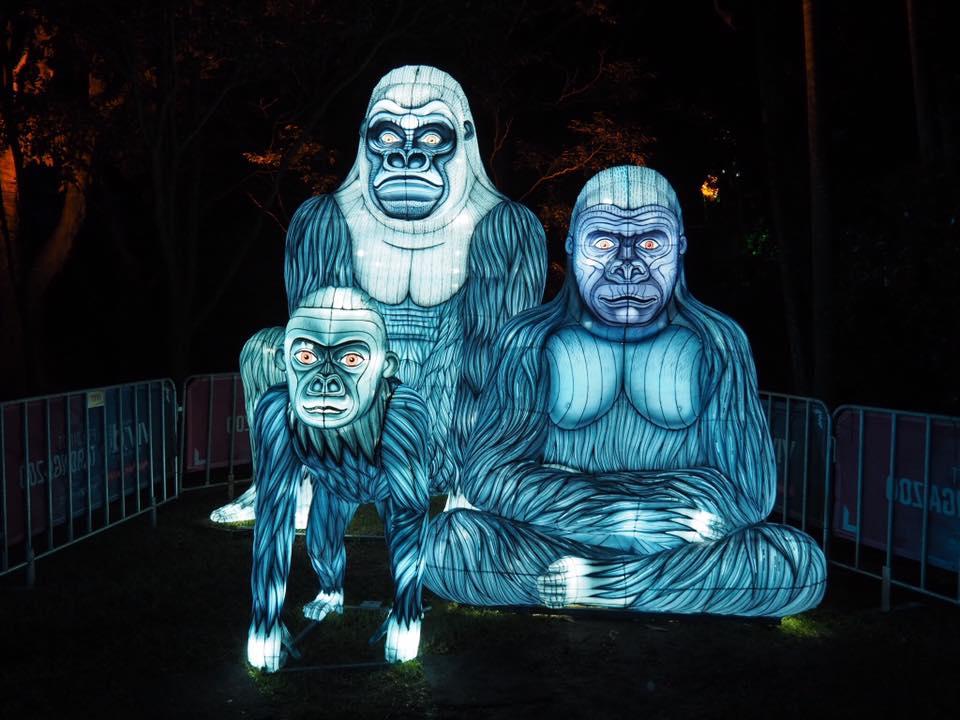 Getting To Vivid Sydney at Taronga Zoo
You can get to the event by either car or ferry (or even bus!). We chose to prebook parking at Sydney Opera House, anticipating an amazing trip over the harbour on a ferry. However, Western Sydney experienced one of the worst blackouts which saw the entire M5 closed, preventing us from getting to the carpark in time from my workplace. We decided to drive straight to the park.
Taking the car
You can book a bay through Wilson Parking and catch the ferry across the harbour from Circular Quay which will probably cost you around $50.00 after parking fees and ferry tickets (you'll need your Opal card). Alternatively, driving straight to Taronga Zoo is an option with pricing starting at $9.00. We found parking plentiful on site.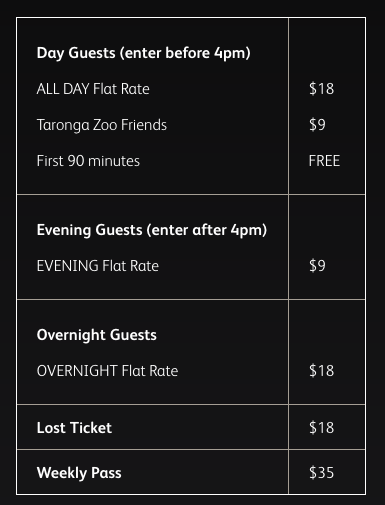 Taking the ferry
During Vivid Sydney, ferries will be departing for Taronga Zoo from Circular Quay fairly frequently. A one way ticket is around $5.74 per adult and $2.87 for kids. For timetables and pricing head to the Sydney Trip Planner site. What this transport option does provide is unparalleled views of the city and the icon Sydney Harbour Bridge and Sydney Opera House.
Tickets and Entry
This is one event that you need to plan. Tickets are only available in advance via pre-purchase so you won't be able to just rock up on a whim. Numbers are also capped, so if you are yet to purchase your tickets you may need to have a few dates in mind so not to miss out.
Sessions
There are two sessions each day: 5.30 pm-7.30 pm and 7.30 pm-9.30 pm. You won't be able to slip inside a little earlier, so think carefully about which time would suit you and your family. In our case, this was the later session as we were departing after work, and our kids are little older so can easily cope with a later night.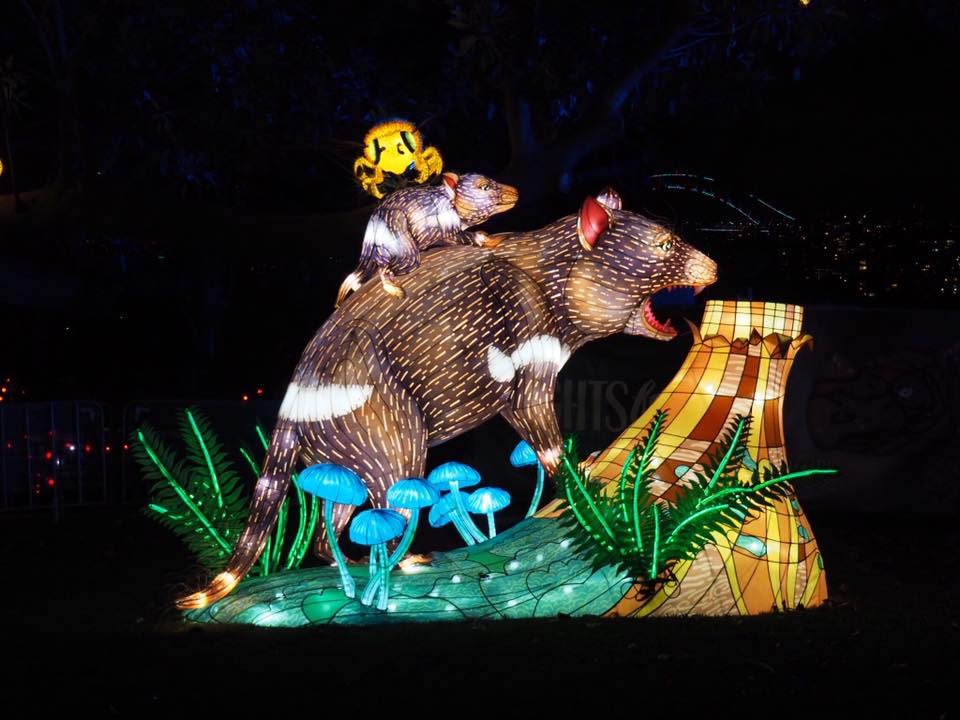 Pricing
There are two options when it comes to tickets: your regular entry and then your Blue Pass. They are exactly the same other than the Blue Pass offering a round trip on Taronga's Sky Safari cable car experience. Ticket pricing is $16.95 to $21.95 per person.
Admission
On your nominated day, entry is via the top entrance. I recommend arriving a little early so you can stop and watch the amazing projection on the main entrance before you walk through into Taronga Zoo. Silly me, I thought we could do this AFTER we visited but the projection is promptly turned off at 9.30 pm.
When you enter the gates, you will find a general area with great toilet facilities, a small cafe and a number of sculptures. It's a great space to organise yourself and the kids, to meet friends or to just wait for your time allocation to tick over. You'll also be able to pick up a FREE paper here to take home with you if you so desire.
Wrist Bands
As you move through the ticketing area where your ticket is scanned, you will receive a wrist band. This year the Vivid Sydney at Taronga Zoo wrist bands are pretty snazzy. They are state-of-the-art and light up in a colour sequence which matches the lights around them. It will actually help the kids to interact with the sculptures around the park, transforming them into a light for the wild.  Just remember to put them in the dedicated recycling box as you leave – they won't light up and home anyway 😉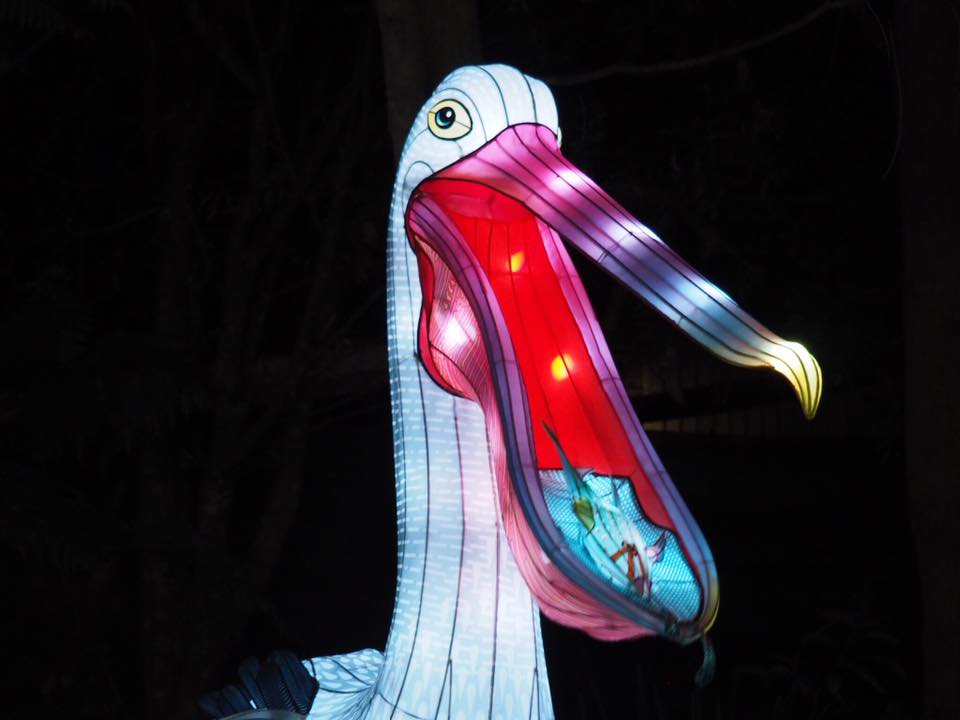 The Vivid Sydney at Taronga Zoo Trail
Whilst the trail is quite different to last years, the glow in the dark trail map is back to the glee of my kids. You can use your wrist band to charge it up and then use it to guide you around the parl. You can catch a sneaky peek here.
The Animals
The 10 legacy species are on display again this year, some with a few little additions, but for those of you who attended last year, you will spot a few new lanterns. We counted: Bees (in addition to last year's primates), a Pelican, a Ray, a Gorilla family, Tasmanian Devils, and an amazing Port Jackson shark. I wonder if you will spot them all!
How much time will I need?
We really didn't have enough time! We arrived at 7.30 pm and didn't leave until 9.45 pm. However, we did stop at the View restaurant for dinner. If you take your time and really immerse yourself in the experience, I think you will need all two hours. I would encourage you to ride Taronga's Sky Safari cable car on arrival if you are attending the later session as we missed this – it closed just as we finally reached the top.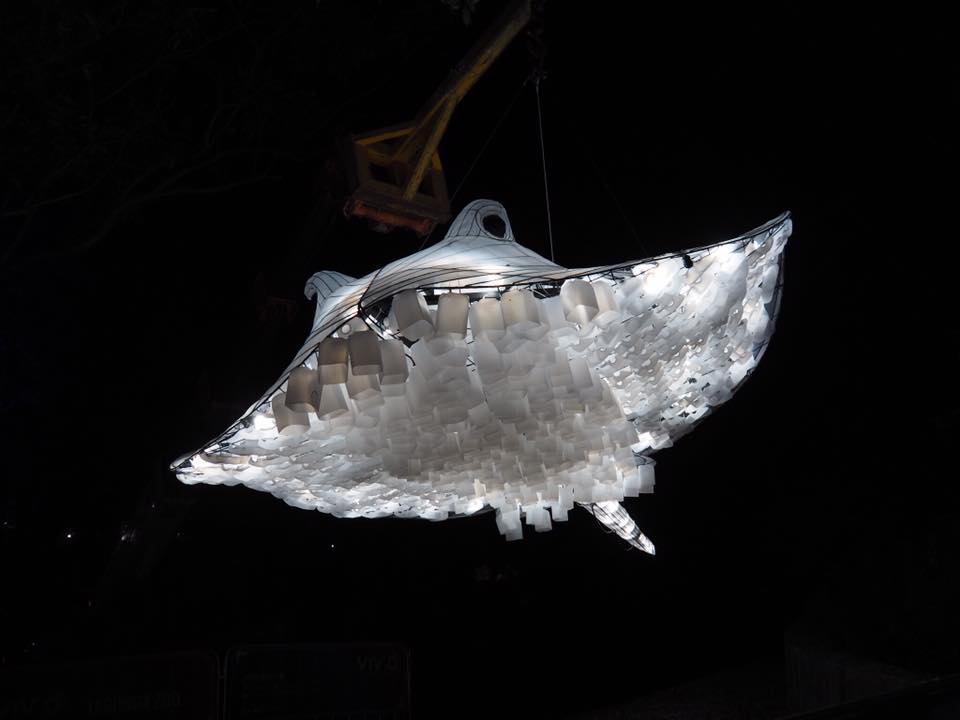 Food and Amenities
We had anticipated arriving at the Sydney Opera House at 5.30, casually picking up some dinner before heading across the harbour on a ferry. Unfortunately we needed to quickly change our plans and head straight to Vivid Sydney at Taronga Zoo by car. I had read the website and knew that there were food outlets opened within the precinct so wasn't really worried, but I suggest taking your own food!
Light Walk Entry
At the commencement of the Light Walk Entry, just near the entrance, you will find a cafe which sells food and coffee. There are a variety of pastries (sausage rolls, croissants and pies) and then a plethora of dessert type foods such as chocolate chip cookies, chocolate covered strawberries, muffins and the like. I hear the coffee is pretty descent too. There are plenty of seats and tables here making it a good place to meet up with friends and other families before your entry time.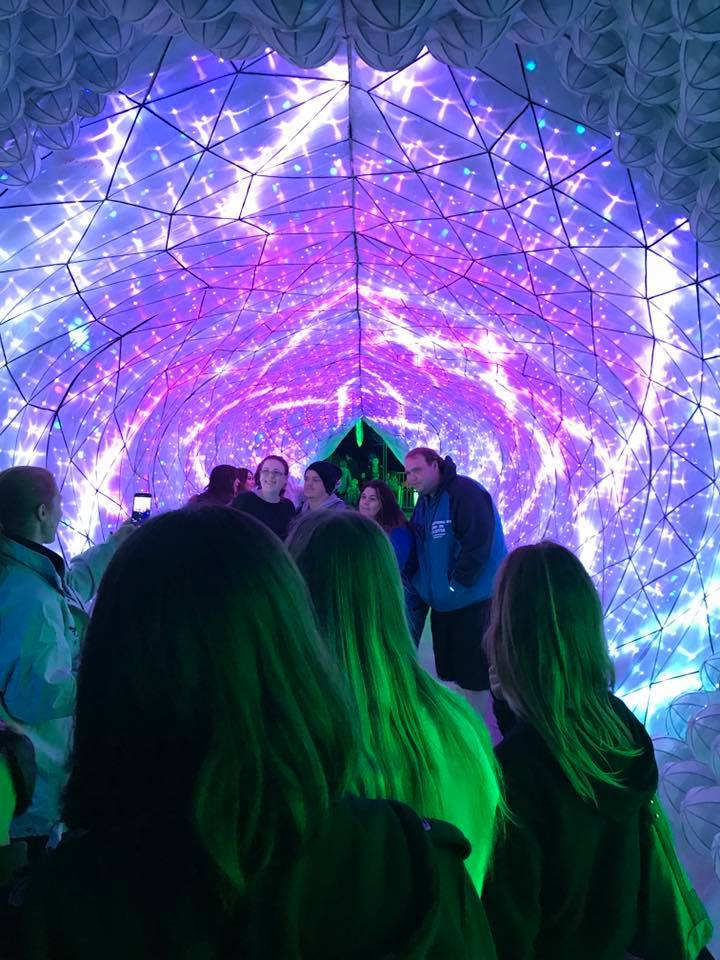 Taronga Food Market 
The Taronga Food Market is near the Indian elephant enclosure. During the day this is the place to stop for hot chips, chicken schnitzel and the like. We were incredibly disappointed to find it closed when we arrived just after 8.00 pm, and were told by staff that it closes at 8.00 pm which is silly considering the final session starts at 7.30 pm. For those of you with the earlier tickets, you could go here.
The Cafe next to The View
This cafe had run out of hot food by the time we came along. I'm unable to report on it but can confirm it had cold drinks.
The View
The View restaurant is just near the Port Jackson Shark lantern and usually requires a booking. With a lot of pleading, the kids were Hangry at this stage, we were able to get a table. It is open Thursday to Sunday and was quite delicious.
For reservation details, click here.
Vivid Sydney at Taronga Zoo VIP menu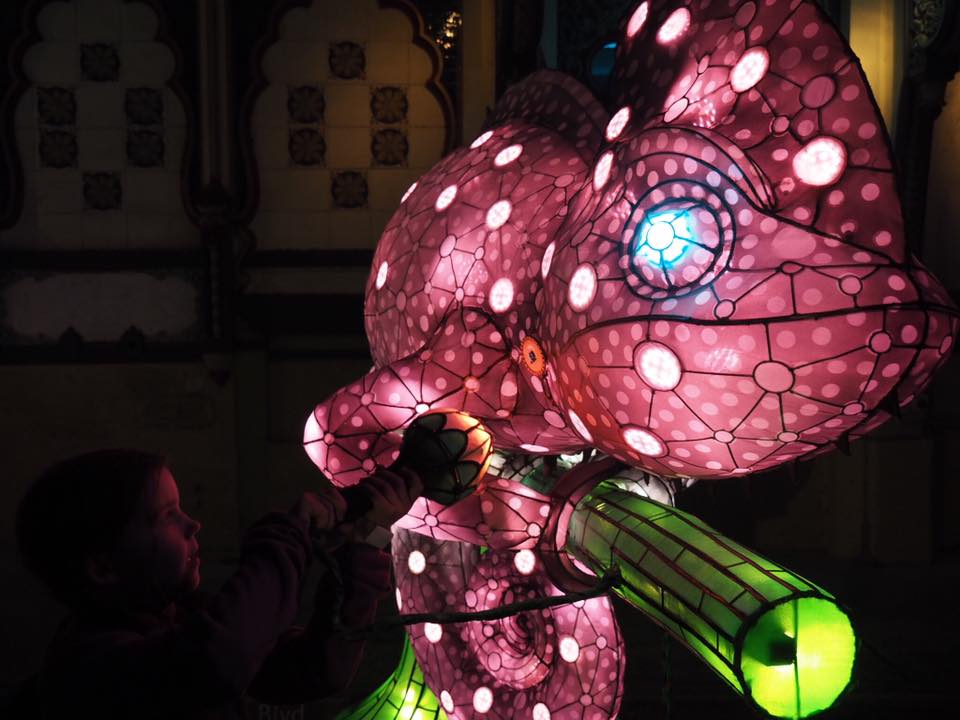 Same Day Zoo Admission
You can make a day out of the Vivid Sydney at Taronga experience by enjoying a day at the zoo beforehand. If you choose to do this, make sure you show the ticketing booth your session tickets for the evening so you can take 30% off the price of general admission tickets (Please note that the discount is not valid with any other discounts and only available on presentation of your pre-purchased Vivid tickets at the ticket desk. )
If you choose to do this, please be aware that Taronga Zoo closes at 4.30 pm and the first Vivid sessions commences at 5.30 pm. You will need to exit to the main entry plaza until 5.30 pm. This is perfect as you will be able to see the start of the light projection on the main building!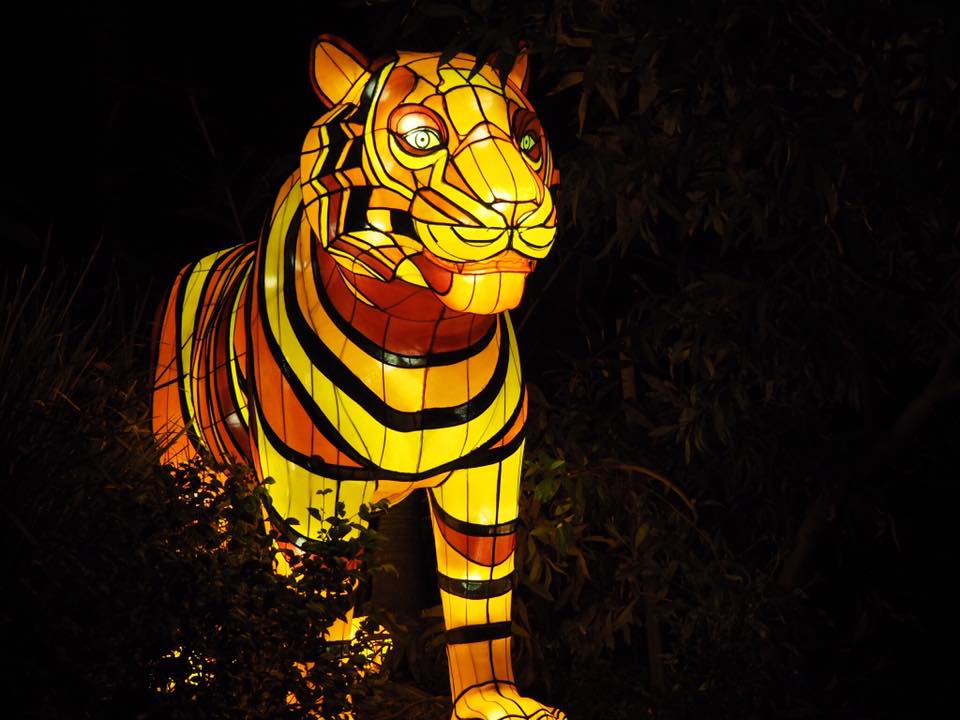 What If It Rains?
Vivid Sydney at Taronga Zoo is an all weather event. The lanterns can look quite amazing with a little drizzle. However, if you wish to exchange your ticket due to wet weather, please contact Moshtix on 1300 438 849. (Please note: tickets can only be exchanged for dates on Monday, Tuesday, Wednesday or Thursday, not including Public Holiday Monday (13 June) pending availability)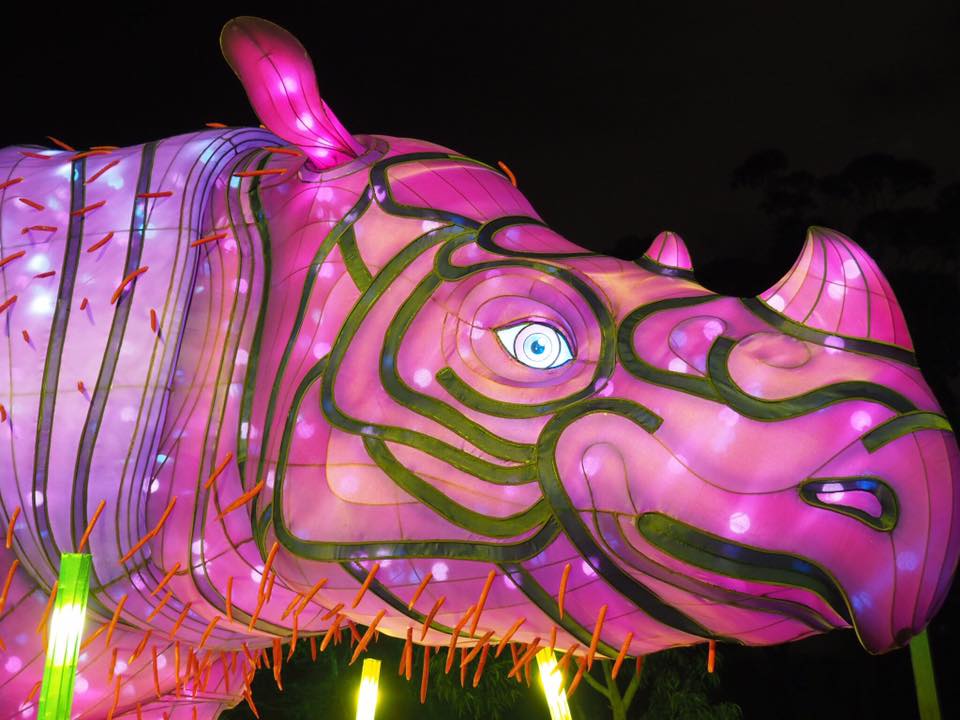 The Sculptures : Supporting conservation work
My kids were keen to see some of Taronga Zoo's animal creatures during our Vivid Sydney at Taronga Zoo light trail. We spotted the giraffes and some ducks, but nothing more. We did hear the seals which was a little eerie when it is dark. The team at Taronga Zoo have carefully selected the trail so it won't annoy or cause any anxiety in the animal residents. The Keepers also constantly monitor the animals to ensure that they're okay. For this reason, I'm happy we only saw lanterns!
In 2015, Taronga Zoo announced their 10 legacy species. For the next ten years, the zoo is committed to the conservation of 10 critical species: five Australian and five from Sumatra. The Taronga Zoo Lights for the Wild seeks to educate the public about the plight of these animals and encourages us all to do what we can to help. It can be as simple as recycling items in your daily garbage or using cloth shopping bags instead of plastic. You can read more about the conservation work here.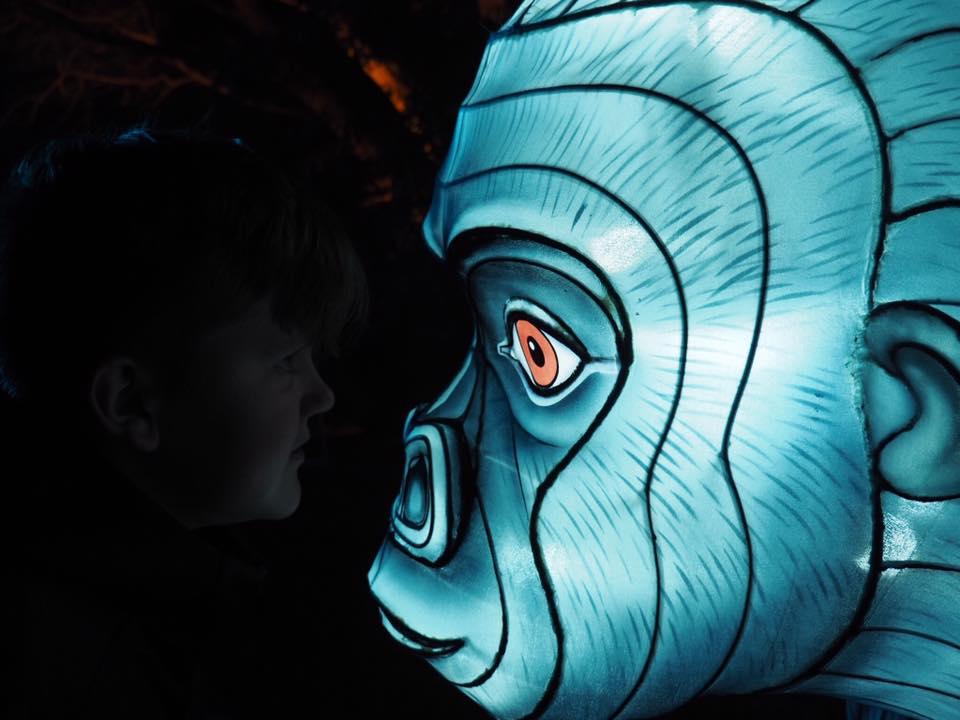 So What Did the Kids Think?
My kids loved going out in the evening and exploring the zoo and night fell. I was surprised that they could identify so many animals and quite proud that they wanted to stop and look at each one. I think that Vivid Sydney at Taronga Zoo is a great family evening affair. Book your tickets!
Pin this to Pinterest: