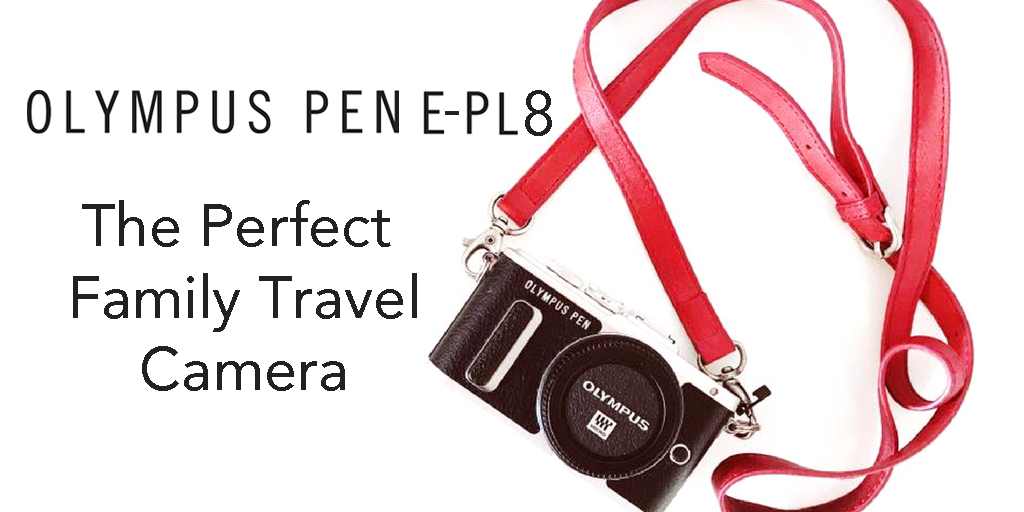 Travelling with kids is an amazing adventure which parents love to capture on film so they can recall those memories later on. When we first started travelling with the kids, I would cart my DSLR camera around with us. It was quite cumbersome and often got in the way, bashing me in the hip when I had to make a mad dash after one of the kids. It soon got delegated to the cupboard and I moved to using my phone for most of my images. Imagine my delight when Olympus offered me an opportunity to try their Olympus PEN E-PL8 on our trip to Japan. I was fell hopelessly in love with it, dubbing it "Oly" …..and now need to tell you why.
1. It is SUPER light
Since discarding my DSLR around 6 years ago, I have been reluctant to pick up another camera with the same image capabilities, fearful that it would get in the way of my adventure with the kids, the very reason I stopped carting it around. Of course I understood that I was trading convenience for picture quality, but with kids I felt that it was one of those compromises you make.  The Olympus PEN E-PL8 is light. On the occasion that I swing it around on my neck while wrangling my kids it doesn't bruise! I can actually pop this baby into my handbag and not even feel it – it's so light! This was one of the biggest selling points for me and made it the perfect camera for our travels.
2. A Stylish Design
The Olympus PEN E-PL8 is available in three colours: white, black or brown. As my camera was a loan from Olympus, I didn't have a choice in the colour that I received but I was chuffed to receive the classic black. It has a retro feel to it and looks incredible on my shoulder. Yeah, this camera actually made me feel pretty tech savvy.
3. It has built in WIFI
These days I'm pretty connected. I love the simplicity of uploading to the Kid Bucket List Instagram and Facebook pages straight from my phone. I love adding albums to my dropbox so I can use them across my devices, and I love being able to send images to friends with ease. The inbuilt WIFI on the Olympus PEN E-PL8 means I can send the images I take directly to my phone. I found this so, so convenient in Japan as I didn't need to carry around a hard drive to upload my images to when the SD card was full. I simply sent them across to my phone each night! This is a feature that I adore!
Simply download the Olympus App to start pushing out content to your phone!
4. DSLR Image Quality
Committing to a camera is huge. Not only does it need to fit with your lifestyle, but it needs to capture images that make you proud. As a family traveller, they're normally going to have your kids in them, so you want to shoot for memory keeping. For me, I didn't want to compromise on image quality if I was going to commit to a new camera. I was concerned that moving to a mirrorless camera like the Olympus PEN E-PL8 would mean that my images were just okay. However, once I started shooting I realised that my images were DSLR quality photos. They weren't grainy. They weren't blurred. They were super sharp. And to think I had thought my phone was taking exceptional photos!
5. Interchangeable lenses
With the Olympus PEN E-PL8 you can change the lenses just like the traditional DSLR. This option allows you to choose lenses that suit the type of images you want to capture. I must admit that I found the choices a little overwhelming so I headed to Fat Mum Slim's camera bag post for some help before messaging my the amazing Lauren Bath and asking her for some help too.
For my trip to Japan I chose the Zuiko Digital ED 40-150mm F4.0-5.6 and M.ZUIKO 14-150mm F4.0-5.6 II. They are a little larger than your typical pancake style lens but packed a real punch when trying to capture some of the attractions we were visiting. In my typical style, I did find changing between lenses a drag, so predominantly chose which lens I thought would be good for the sites we were visiting and stuck with that. I'm now looking at an a general all rounder although the M.ZUIKO PREMIUM 45mm F1.8 is definitely on my wishlist.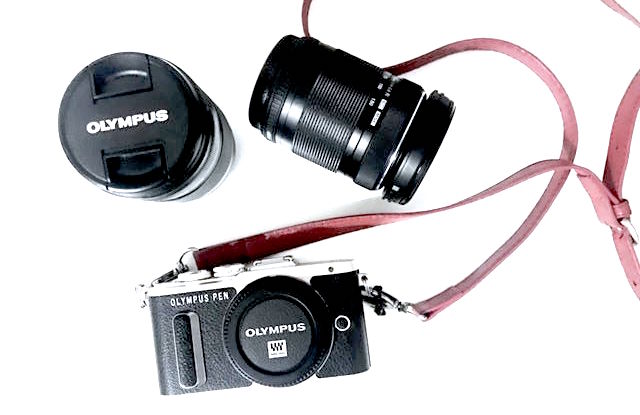 6. You Can Shoot Movies!
Gone are the days where I needed to juggle both a video camera and a digital camera. The Olympus PEN E-PL8 is FullHD video which is recorded with stereo sound. It's magnificent and exactly what I need….so simple to use!
7. Accessories Galore
I love to accessorise and I think Olympus knew that. They have quite an array to choose from which covers almost everything you would need for your photography needs as a family traveller. Most importantly, they're quite chic and stylish. I have my eye on a genuine leather body jacket and a BCL-1580 (15mm F8.0 Fisheye) Body Cap Lens.
8. Articulating Touch Screen With A Plethora Of Options
One of my favourite things about the Olympus PEN E-PL8 is the amazing touch screen. It can tilt both up and down and can even be flipped around to face forward for a selfie (see below). It's bright and can be seen from many different angles. Being touch screen, I can flip between different options.
9. Did I Say Selfie?
This is one for my kids! The Olympus PEN E-PL8 is, in my opinion, the best selfie machine on the market. Flip down the articulated touch screen so you can see your own image. This little baby is super clever too! Shooting at night? No problem, it automatically adjusts so you're captured perfectly. Select the visual effect options to change your look. Sunshine and Striker had so much fun playing around with this.
10. Super Easy To Use
You can customise this baby! With a little reading of the instruction manual I was able to set my camera up to be perfect for me. I was surprised how easy the Olympus PEN E-PL8 was to figure out and use. A press here, a swoosh there and I was able to pretty much set everything up without needing to refer back to the instruction booklet.
The Olympus PEN E-PL8 is an amazing light weight image that is perfect for the family traveller. It won't get in the way of your adventure with your kids and won't hurt your neck and back as it swings along with you. With an amazing array of lenses available, you'll be able to take almost every type of image you want even if you stay on automatic! 
Key Features:
16.1 megapixel Micro Four Thirds Live MOS sensor
Micro Four Thirds lens mount
3-axis sensor-shift image stabilisation (up to 3.5 stops)
3inch tilting touch-screen, 1037k dot resolution
FullHD video recording at 30p with 3-axis IS, stereo sound
ISO100 to ISO25600 (extended)
Wi-Fi connectivity
8.5fps continuous shooting
HDR, Focus Peaking
28 Art Filters, Photo Story Frames
Available in black/silver, white/silver, and brown/silver
You can find out more about the Olympus PEN E-PL8 
Olympus were kind enough to loan me an Olympus PEN E-PL8 for our Japan trip. I used it for four weeks straight and on return, was convinced that it was the perfect camera for us. 
Pin this!