Matka Canyon with Kids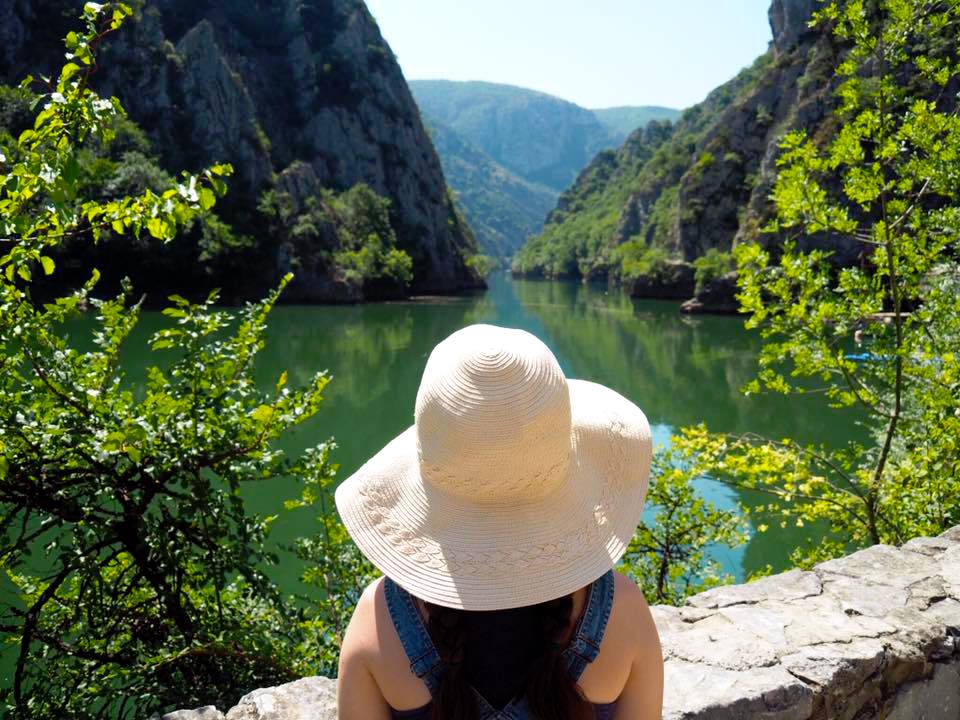 Matka Canyon is close enough to Macedonia's capital, Skopje, to make it a popular day trip destination for families. Yes Matka Canyon with kids is one place you want on your itinerary! It is a beautiful, serene location where both natural wonders and history mix. We had to visit and did a little research to work out how to get there with our friends from Vores Eventyr.
Before heading to Matka Canyon with kids I recommend stocking up on water, snacks, sunscreen and insect repellent. It is a few degrees cooler than Skopje, but you will be doing a lot of walking and the insects are intensified in the area.
We chose to catch a taxi from central Skopje to Matka Canyon and negotiated a return ride a few hours later for around 600 denar each way (just under 10 euro each way). It took around 45 minutes to reach the destination with the added joy of driving through a few interesting villages we would not have seen otherwise.
On arrival at Matka Canyon we were dropped off at the first set of cafes. This provided a good vantage point of the dam wall. A brisk 5 minute walk later and we were at the entrance of the Canyon.
What to expect at Matka Canyon
Matka Canyon is incredibly stunning. It is full of both amazing natural wonders as well as a few man-made sites that will take your breath away. If you have enough time you can explore caves, historic churches and monasteries dating back to the 13th century, and a plethora of animal and plant life which are not found anywhere else in the world.
Animal Life at Matka Canyon
I have to admit that prior to my visit to Matka Canyon I was fairly ignorant of Macedonia's native animals. As we started our hike, one of the first things we noticed was all the caterpillars and butterflies. Matka Canyon is home to 77 different varieties of indigenous butterflies! I think you would be hard pressed NOT to spot one or two as you start your adventure here. The kids loved pointing out new varieties throughout the day.
As our day progressed I became incredibly chuffed to discover that the area boasts both vultures, cuckoos and a further 100 or so bird species. The area is an important breeding ground for birds of prey including the Beared Vulture, the Egyptian Vulture, the Griffon Vulture, the Black Vulture and the Cinereous Vulture. How incredible is that? I had no idea there were so many different species of vulture! The caves are also home to hundreds of bats! You may need to add binoculars to your list of things to take if you hope spot one.
Hiking in Matka Canyon
With children ranging from 1 year to 11 years of age we were not confident about taking a big hike through the canyon. Matka Canyon with kids sounded a little crazy if we were going to spend a rather hot summer day just walking. Covering 5,000 hectares with narrow paths that wind around steep cliffs with very few barriers was just too risky with our kids on this trip. However, I do think that experienced hikers would find Matka Canyon right up their alley with no shortness of challenges to keep them busy.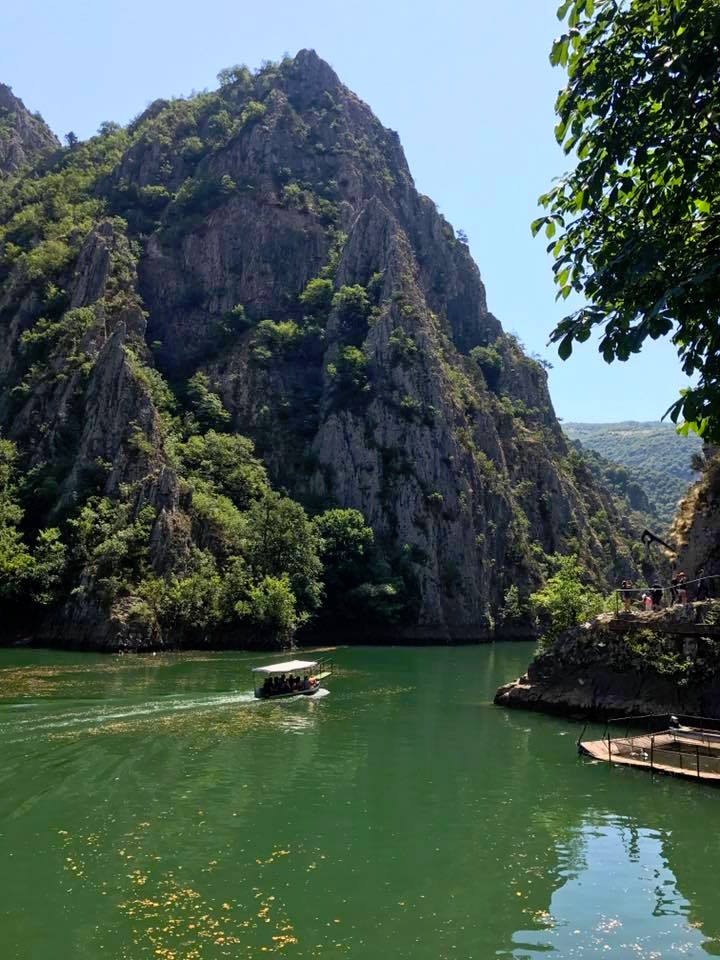 Take a boat
One of the highlights for us was the boat ride along Matka Canyon. In summer you can hire a boat with a guide for around 400 denar per person who will take you along the river to Vrelo Cave which *must* be explored. Unless you pay more, you will share the boat with other visitors. As you cruise along, drag you fingers in the water to feel how cool it is.
If you're lucky your guide will know a little English and will be able to answer your questions as you point out interesting sights along Matka Canyon such as the small stilted houses and random jetties. After exploring the caves. your guide will even show you the spot that scuba dives enter the underground cavern from.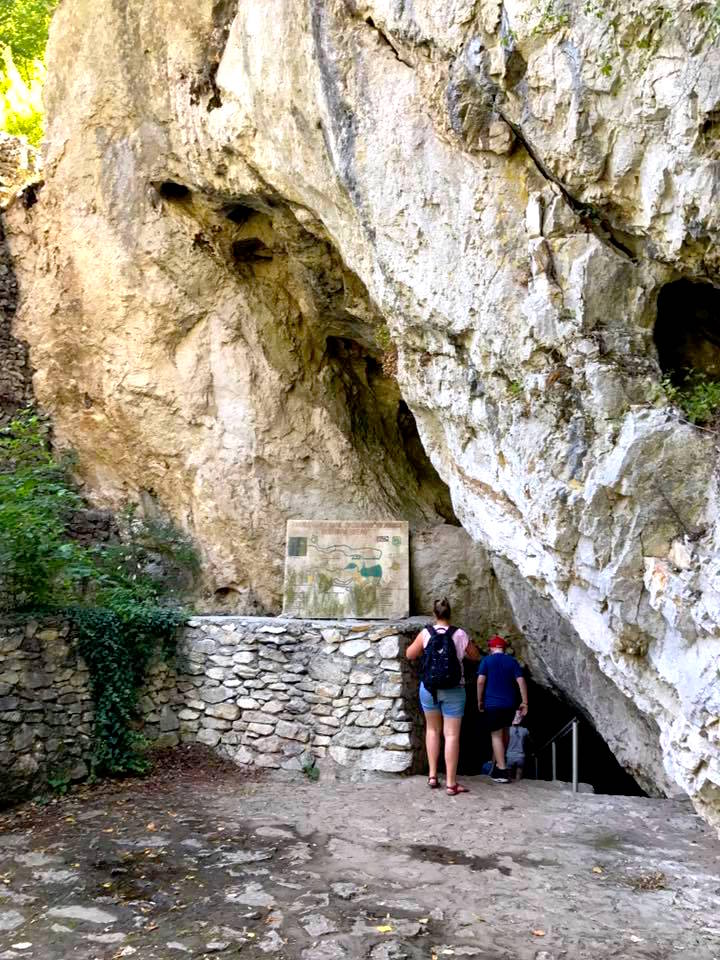 Explore the caves
There are 10 caves at Matka Canyon. On our trip we only explored a small section Vrelo Cave where we were able to see a section of its lake. After recent polish scuba divers explored the cave, it is now reputed to be the deepest underwater cave in Europe.  I did find the ground slippery inside and whilst there are barriers, they were chest high which allowed small kids to easily walk under them. Keep an eye, and hand, on your kids when exploring the caves.
While there are numerous stalagmites, stalactites and dripstone pillars in different forms inside the cave, I didn't find it that well preserved. It looks like different visitors have broken off sections as souvenirs at different points. I think Sunshine and Striker were more impressed with Wellington Caves in Australia, but that could have also been because the cave was dimly lit and I screeching at them to keep with me most of the time on this adventure.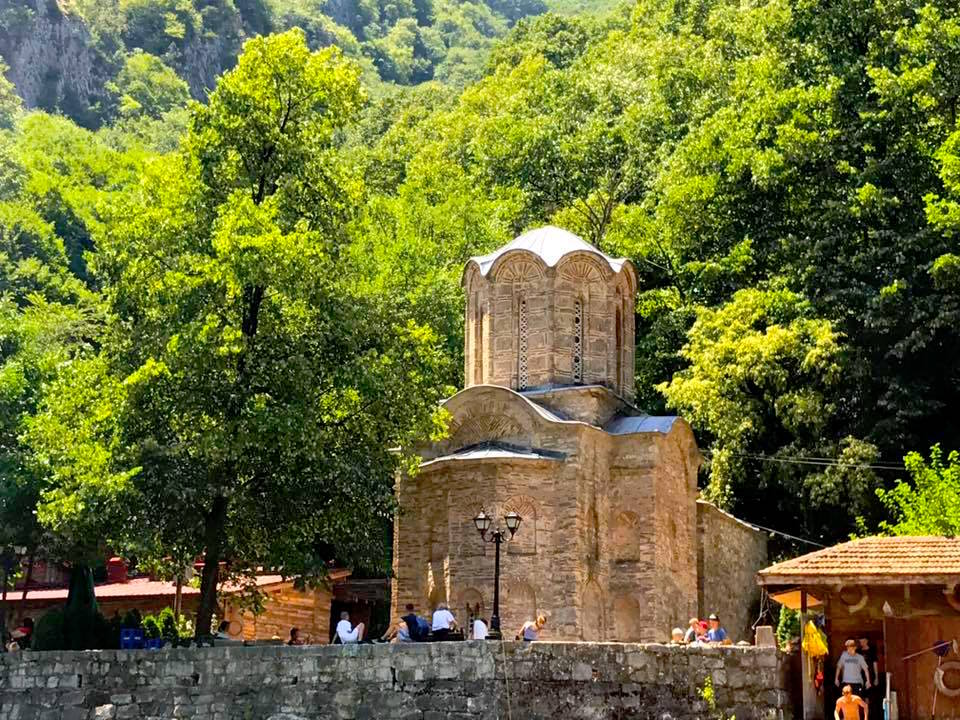 The Churches and Monasteries
There are three main monasteries along Matka Canyon: St. Andrew's Monastery, Monastery of the Holy Mother of God and St. Nicholas Monastery. If you are visiting in summer you should be lucky enough to visit all three, most at a small cost.
St. Andrew's Monastery was built in 1389 by King Vukašin's son Andrijaš. It is the most accessible of the three monasteries, and the first that you will come to on your explorations. It has gorgeous frescoes which are largely intact.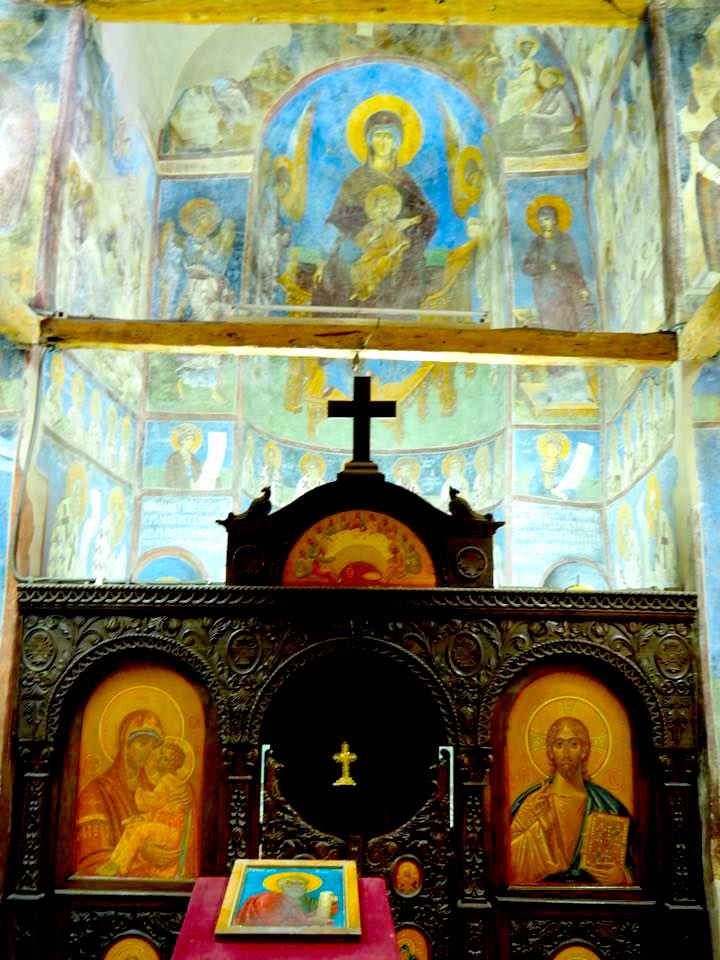 The Monastery of the Holy Mother of God is on the opposite side of the Treska and was built in the 14th century. There is an inscirpition on the church that says that in 1497 a woman called Milica happened upon the site and found it in poor condition. She saved it by adding a roof, new frescoes and a vineyard.
St. Nicholas Monastery sits upon a cliff and is the most difficult to get to but is an amazing site. It's date of build is unknown but it first appeared in literature in the 1600s, It has been abandoned for some time.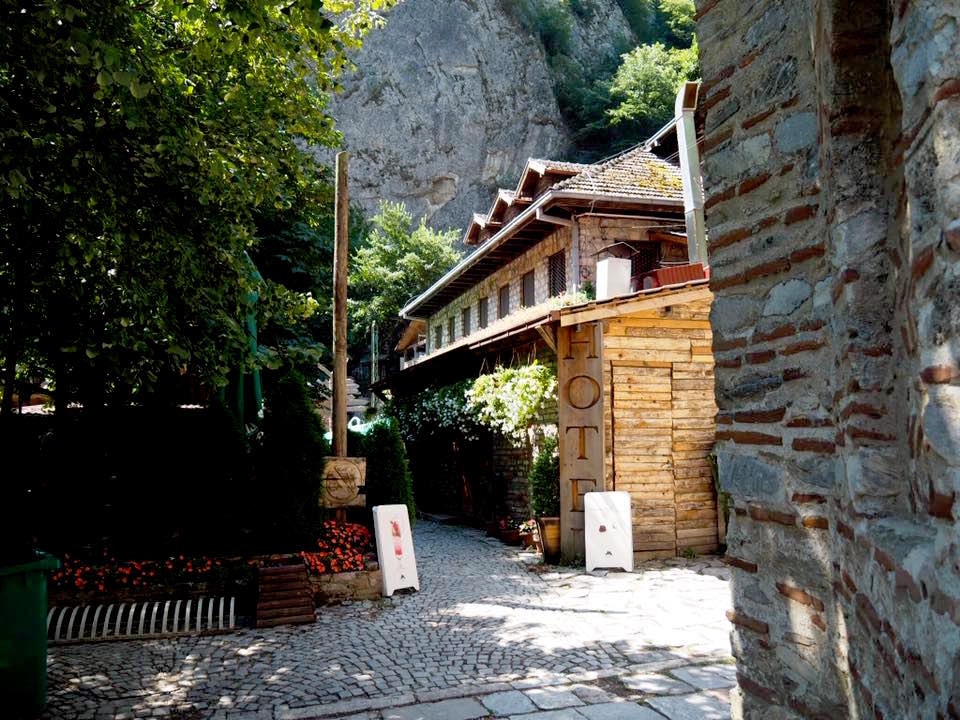 Eating at Matka Canyon
Canyon Matka is the spot to grab a drink or something to eat. The bar is usually easy to find a spot, but it the height of summer you may need to book a table. They accept both card and cash too!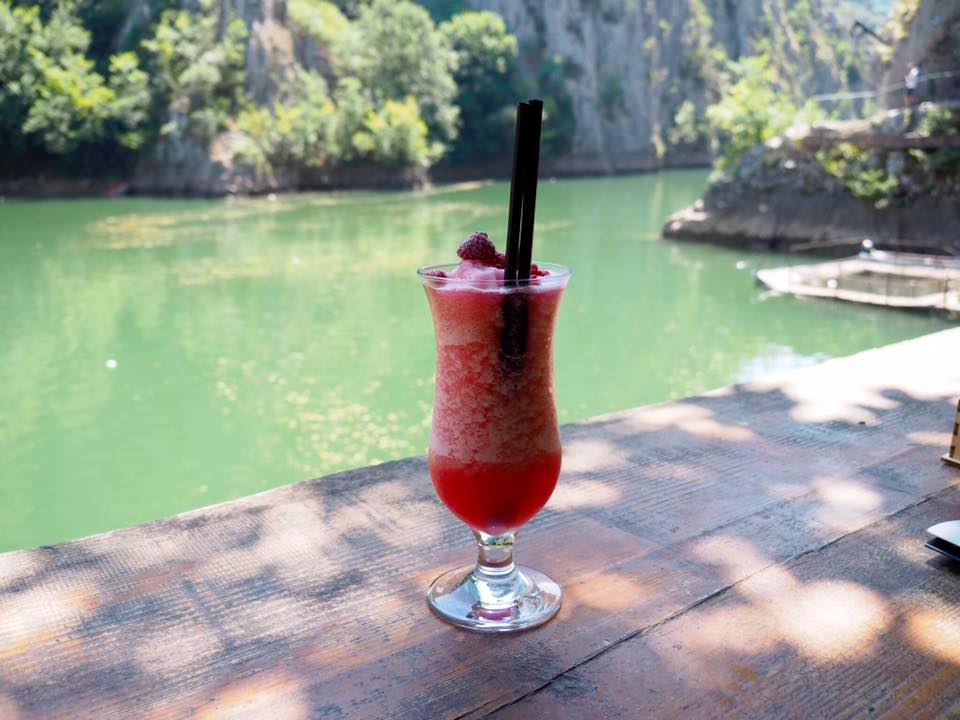 Matka Canyon with kids is a great place to explore. There are a plethora of sights along the way and a few adventures that the kids will be wowed by. Add a good restaurant, great drinks and stunning wildlife and you have the makings of an amazing day.
You can read all about our Macedonian adventures here,
We self funded our entire trip. 
PIN THIS