This summer Artvo Melbourne with kids was on our hit list. Both Striker and Sunshine had spotted a few images of the site online during their research for our trip and voiced that they wanted to visit.
Have you heard of Artvo Immersive Art Galleries? They've been quite popular overseas for some time and are often called trick eye galleries. Better yet, their probably the only art gallery where visitors are encouraged to stand on, touch and interact with each artwork. Sounds like Artvo Melbourne is perfect for kids, right?
CLICK TO READ THE ULTIMATE LIST OF THINGS TO DO IN MELBOURNE WITH KIDS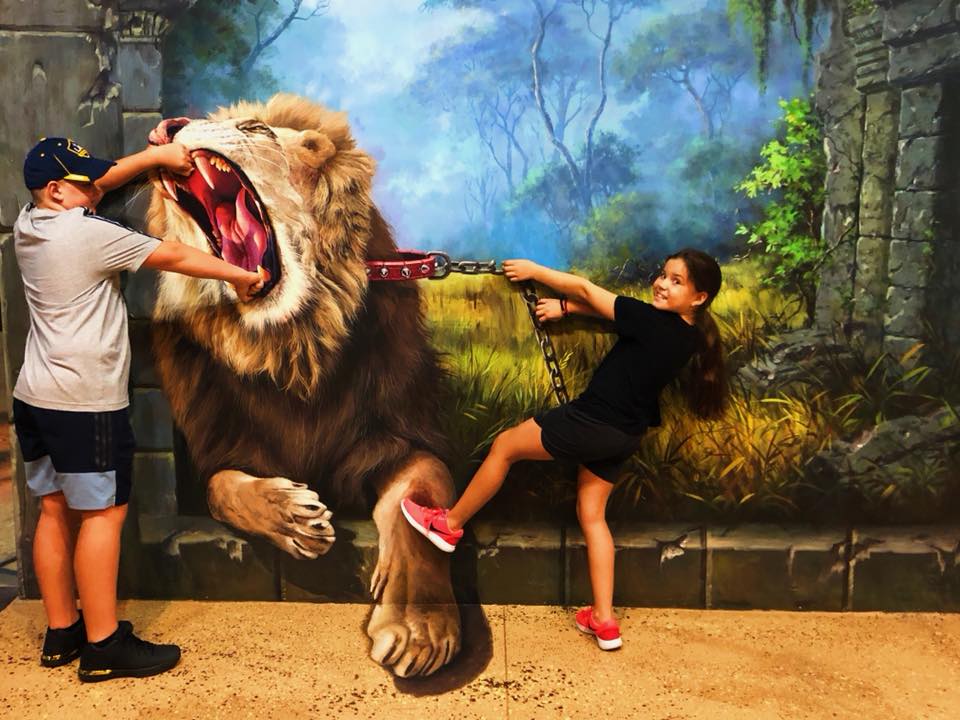 Artvo Melbourne with Kids
So what was Artvo like with kids? Surprisingly, for me at least, the whole family was in hysterics from the first art work. Having caught a tram down to the Docklands precinct and then walked around to the location and judged it as a shop in the wall style set up, I wasn't really expecting much. First impressions can be deceiving.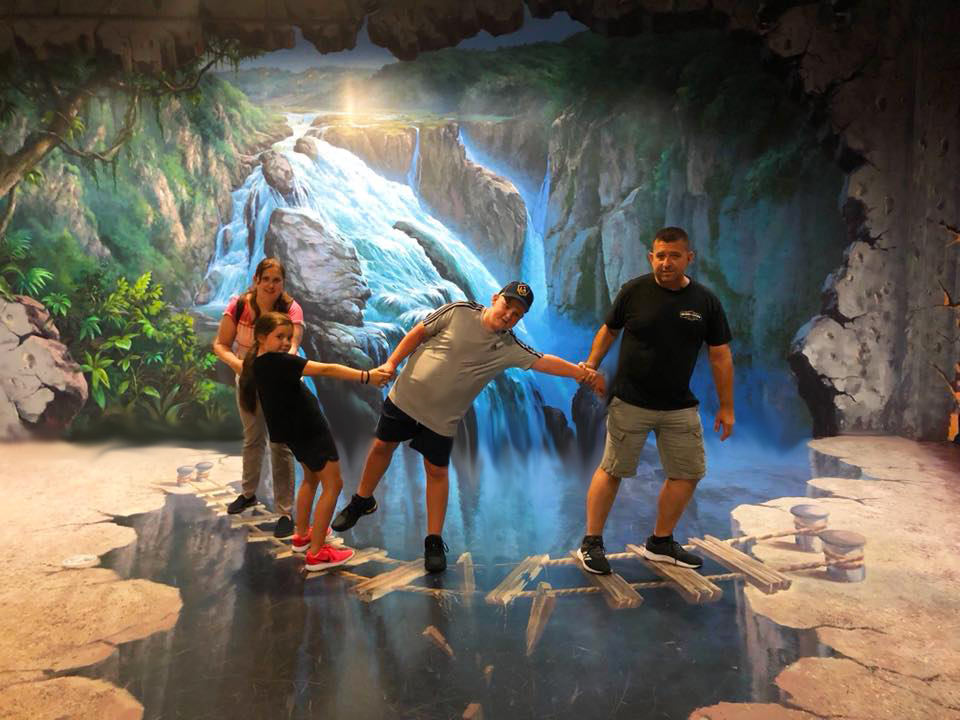 Artvo Immersive Gallery Melbourne is the first of its kind in Australia and boasts over 100 spectacular large-scale 3D artworks which have been hand painted by 14 artists. I guess seeing them for yourself is the best way to really explain how awesome they are. Your eyes, or at least your camera, will bring each image to life and trick your brain into seeing bridges above big drops, glass bottles to trap you and a bevy of other mind benders.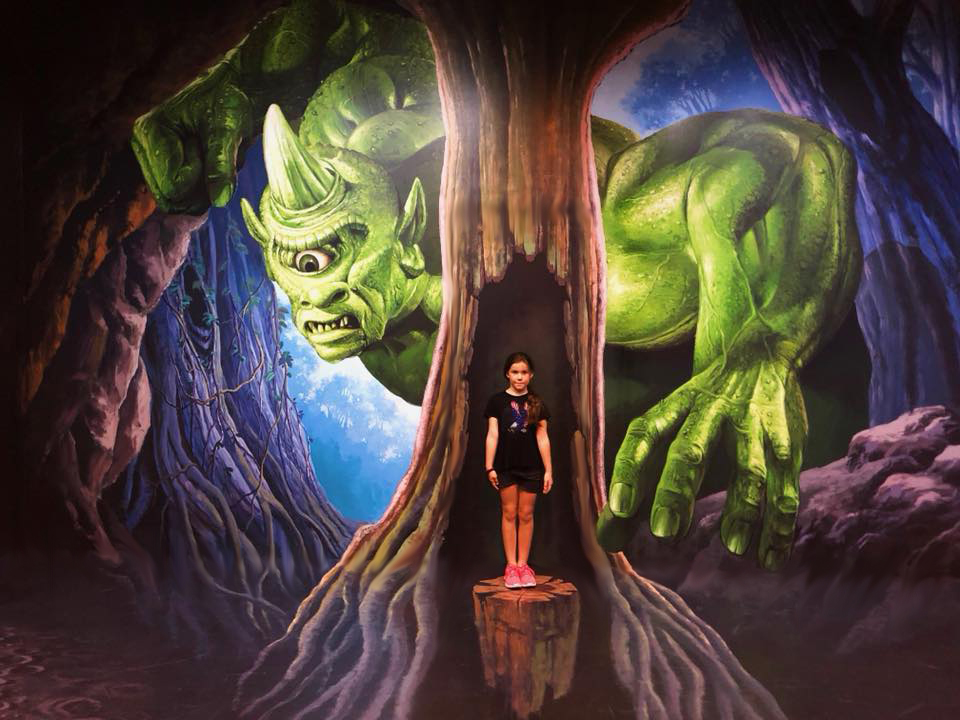 The artworks at Artvo only come alive if you jump in them. That's the important bit about this gallery, you and your kids need to interact or they remain quite static. Be funny, laugh, use your imagination to create interesting shots at Artvo Melbourne with kids.
There are a number of gallery zones which are each individually themed at Artvo. As you move through them you will note Photo Point circles on the ground which will provide a cue to the best point to shoot your camera for each artwork. You can also use the Artvo app to show you some of the ways other visitors have shot the artwork so if your imagination fails, you have it as back up.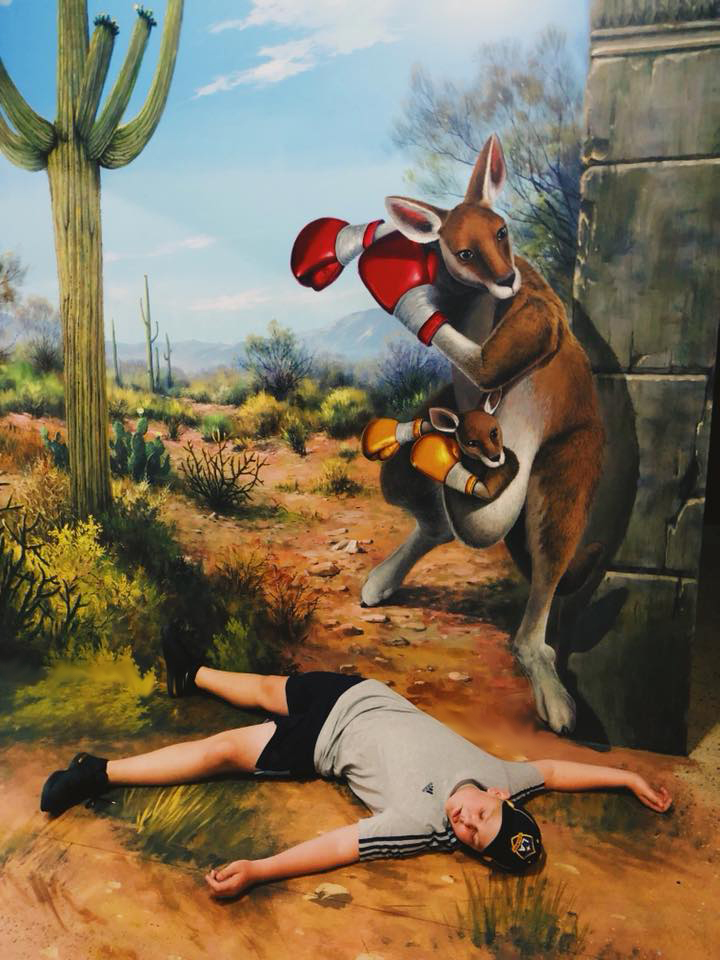 We spent almost 3 hours at Artvo which actually blew me away. I initially thought it would take us an hour or so to explore. How wrong I was! It's a great half day visit.
The Kid Bucket List were guests of Artvo Melbourne. All opinions are our own. 
Address: 26 Star Cres, Level 1, Harbour Town, Docklands Vic 3008
Open: Open 7 days a week. Sunday – Thursday 10.00 am – 6.00 pm Friday & Saturday 10.00 am – 11.30 pm
Website: artvo.com.au
Distance from Melbourne CBD: 3 kilometres or approximately 9 minutes by car
A family ticket (2a + 2c) is currently $78.00. 
PIN THIS