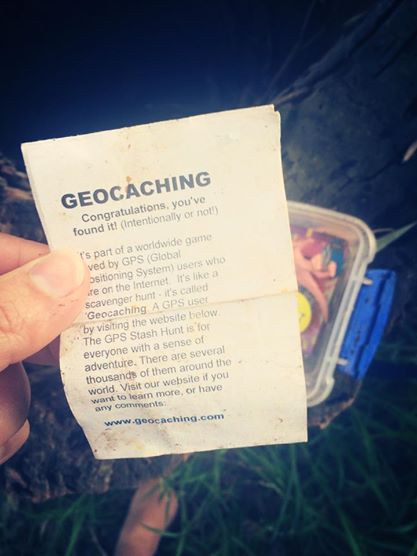 By chance, I happened upon the free geocaching app during my lunch break at work. I was curious: what was geocaching? Who were Muggles (outside a Harry Potter story)? So I read a little more and did a quick survey of the local area and discovered that there was a geocache nearby. I coaxed one of my colleagues to come for a quick walk and we found our very first geocache with relatively ease. That's all it took for me to become hooked and I quickly introduced my children to the activity when I got home.
So what is Geocaching?
Geocaching – www.geocaching.com is a real-world treasure hunt that's happening all around us right now. There are over 2.5 million geocaches hidden around the world, on every single continent, waiting for us to find them. All you need is a GPS enabled device and access to the app or website and you are ready to hunt. It is that easy! You can use the free app which provides some limited access to a small number of geocaches or you can spend the $10 or so dollars and buy the full version so you can see all geocaches around you.
The rules are pretty simple and limited to three: 1. If you take something from the geocache (or "cache"), leave something of equal or greater value 2. Write about your find in the cache logbook 3. Log your experience on the app or on the website. You can choose to find ANY geocache you like but be mindful that they range in difficulty and some may not be appropriate for children (they may be hidden on cliff faces or beside busy roads).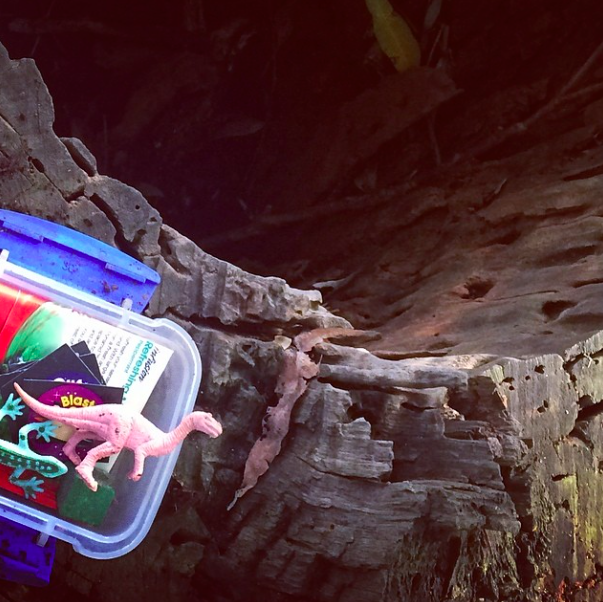 Geocaching is an activity that the entire family can enjoy. With a little planning you could spend the whole weekend searching and finding caches. What's more it is free! Totally free – you got to love that!  The caches are usually hidden in public places so there is no entry fees.
Before you head out for your first hunt remember to pack a pen and some small trinkets to place inside discovered caches if you choose to remove goodies that catch your eye. We have a little kit of scratch and sniff stickers and small key rings that we place inside. Don't use lollies or other edibles!
Are you keen to try geocaching or have you already tried it? What was your experience like?