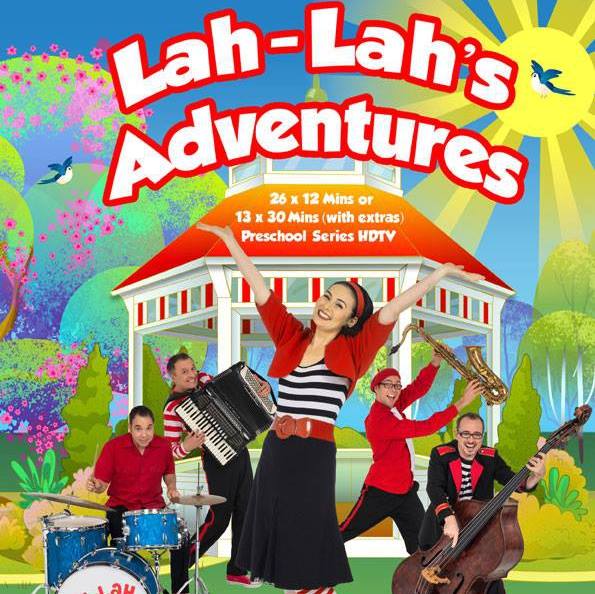 Lah-Lah and her Big Live Band have become the main feature in our house with Miss N finding every opportunity to belt out one of their tunes when we are on the way to an outing. She's even taken to wearing red and white stripy socks! I think we've just encountered her first band crush.
When I discovered that members of the band, Tina (Lah-Lah) and Mark (Buzz the Bandleader) had recently travelled to our top Wish List destination – Japan, with their family, I reached out and invited them to provide a few tips that would help us in our trip planning. You see, I've found some reluctance from the kids about Japan as a destination, and if anyone is going to influence a change of heart, I suspect Lah-Lah is my girl.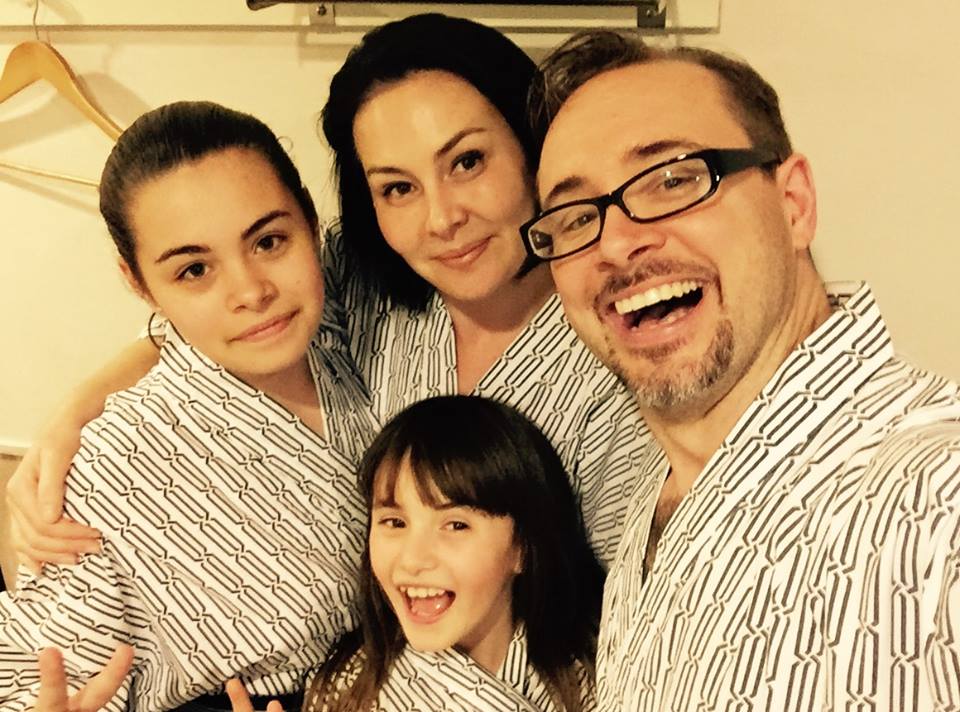 Thank you so much for sitting down with the Kid Bucket List to answer a few questions.
Lah-Lah and her Big Live Band have been touring all around Australia. Recently you took a short break to Japan. Why did you choose Japan as your most recent family holiday destination?
Mark and I lived in Japan about twelve years ago. We were there for almost two years and we loved it. At the time we were teaching English. I think our kids had heard us speak so much about how amazing it was that when we asked, 'where should we go?', they both said Japan!
Planning an overseas trip is something that can take a lot of planning. There are passports to secure, visas to obtain, and accommodation to source. How long in advance did you start planning your trip to Japan and what resources did you draw on to help you? (eg. Tripadvisor, Expedia, Qantas etc).
Okay, so this is very unlike us! We basically decided two weeks before and just walked into a travel agent and booked tickets. Normally I would stress and ponder for months but we had a really small window free between tours so we said, let's do it! The problem was because we did it so last minute accommodation was really tricky.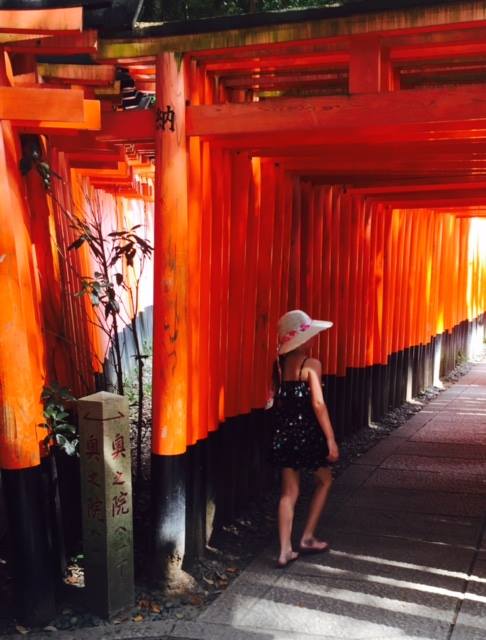 What three destinations do you think should be on every family bucket list when planning a trip to Japan? Why these three destinations?
Tokyo – it's crazy. I really liked Shinjiku which is fun and vibrant
Cat café – the kids really wanted to go to a cat café and there are lots! But make sure it's one that is okay for kids. Some are for 12 years and older.
Kyoto – Kinkakuji, The Gold Temple in Kyoto is magical and walking around Gion was like stepping back in time. We just loved it!
Are there any places that you are disappointed about missing?
Yes, I've never been to Mt Fuji. I would have also loved to have stayed in a Ryokan Japanese guest house (they were booked out).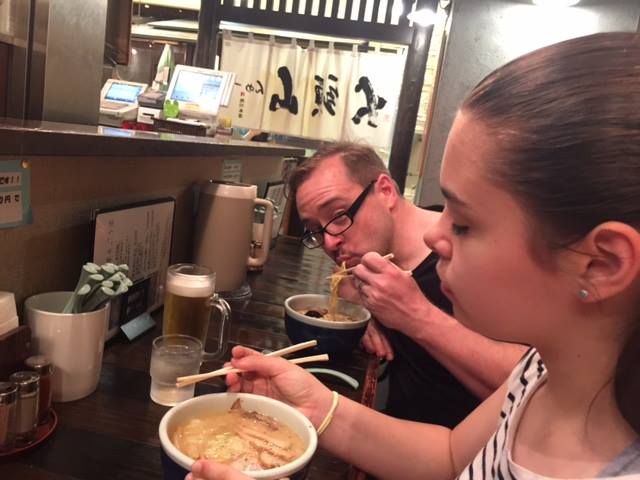 While the Japanese cuisine is quite popular in Australia, did you find that it differed greatly from what you were expecting? What dishes did your kids like the most?
I think because we had lived there before we were really prepared but for the kids it was a little left of centre. What surprised me was how adventurous they were with their food. At home they are both really straight ahead. Their favorite discovery was 'onigiri' which is a rice triangle wrapped in seaweed with a filling of tuna or meet. My youngest who never eats much would easily put 3 of these away each day! Since coming home Mark has had to make onigiri everyday for lunch. He even got a rice cooker for Father's Day!
Whenever we travel, sourcing comfortable accommodation for our family of four can take some time. What resources did you use? How did you find the accommodation choices? Do you have a top accommodation recommendation?
I think traveling with kids is tricky as many of the hotels don't allow for more than one child and want you to book two rooms which makes it really expensive. We found airbnb to be excellent value. For the price of a room we could have a whole apartment or house with kitchen.
Serendipity is a regular occurrence on our Kid Bucket List adventures, leading us to discover many unplanned treats. What was your most unexpected find (attraction, restaurant/café, accommodation) in Japan?
On our last night we stumbled into a beautiful restaurant near where we were staying with the most amazing sushi. It had a sunken table on the floor and tatami mats. It was just perfect!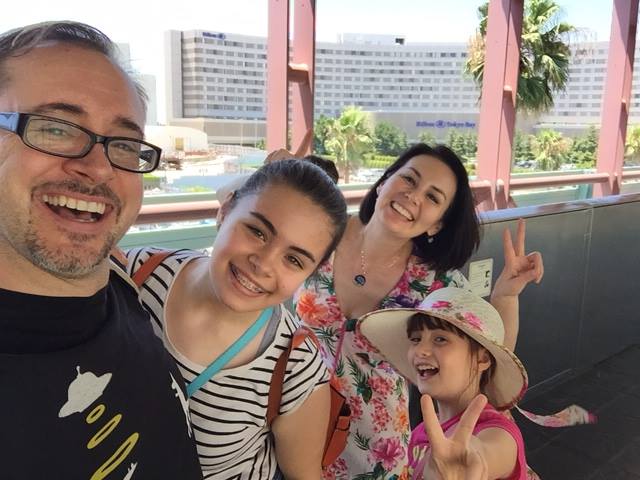 Travel is all about making memories. What were some of your favourite memories from your trip?
We decided to travel with small rolly bags, 1 each because we were moving around so much. I just remember the 4 of us walking through crowds of people in the heat laughing out loud, it just all seemed so crazy.
Besides your red and white striped socks, what are your top "must pack" items when travelling with kids?
Lucas Papaw Ointment because you can rub that stuff anywhere, lips, scratches or scrapes or even when the wheel on your bag won't work, that stuff will fix anything! Apart from that I pretty much can guarantee I'll forget my 'must pack' items so our joke is that mummy will have to stop to buy tooth paste or a hair brush at the first shop at the airport.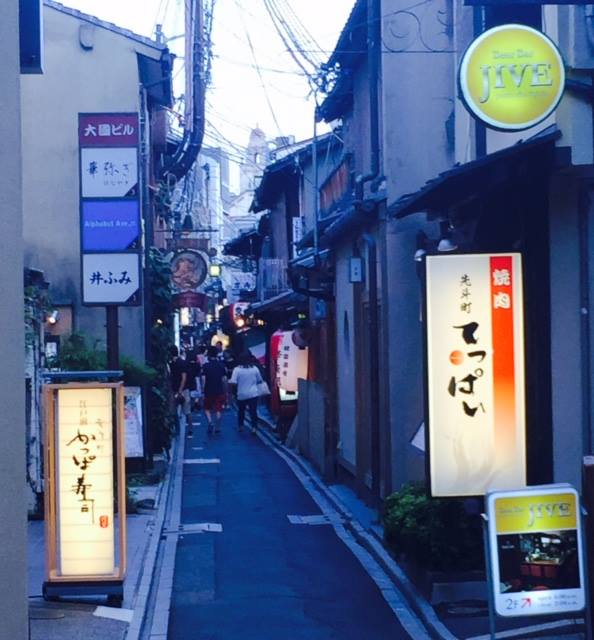 So now that you're back in Australia and resuming your Lah-Lah tour, have you started planning another family adventure? If so, where?
We're heading off next week for a massive 2 weeks tour. We're doing 3 states in 2 weeks with the whole band. We start in Victoria the back for Hornsby, The Sydney Fringe Festival and Campbelltown then off to QLD for The Sunshine Coast, Gold Coast and Tweed Heads before ending up at QPAC. The kids are coming along too which will be great fun.
Tina, thank you so much for talking to the Kid Bucket List today. We look forward to hearing about your Aussie travels next!
Lah-Lah and her Big Live Band are currently on tour around Australia. Click their tour guide for an event near you.