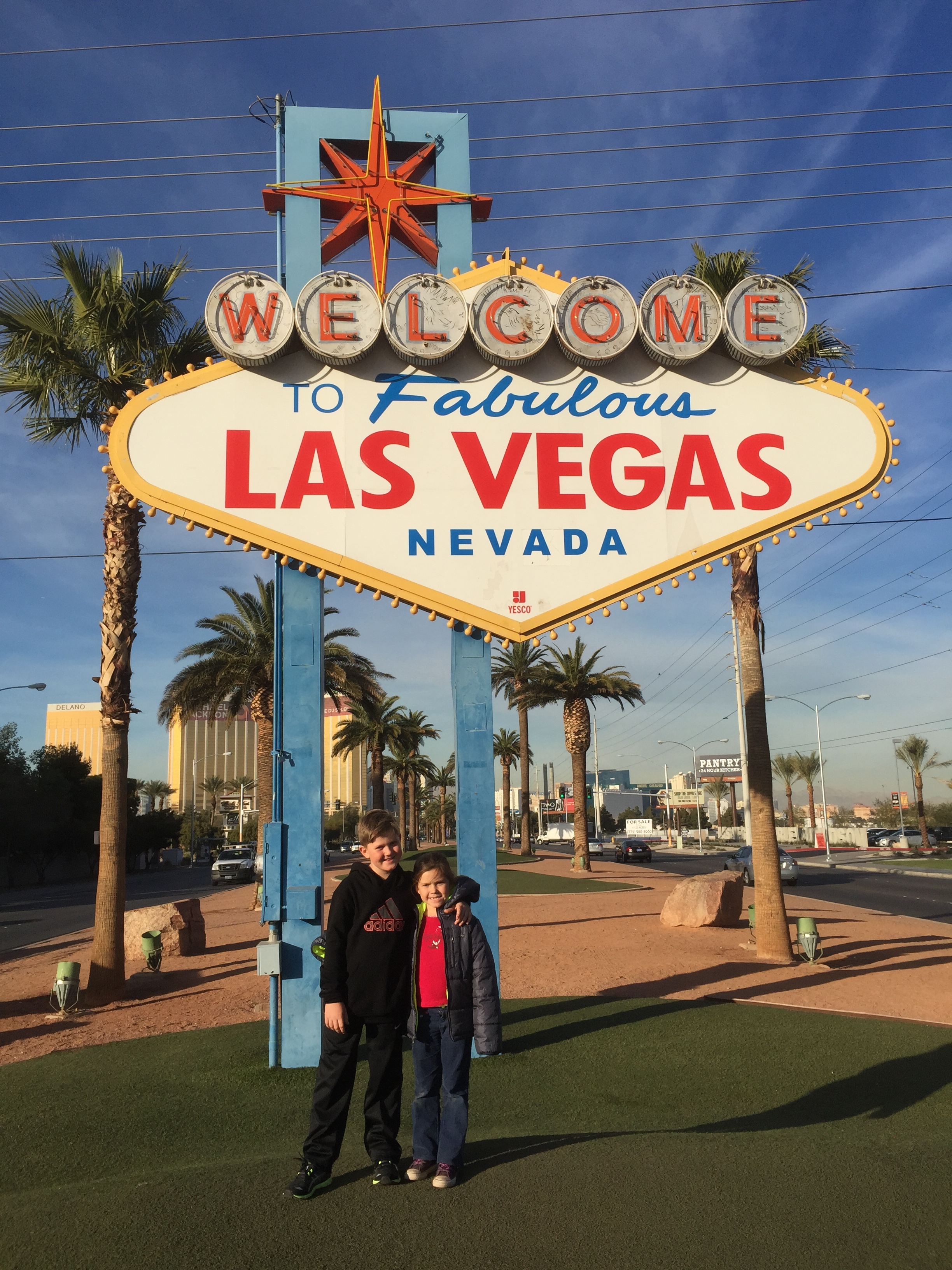 When planning our trip to California, USA we spent a good week or two deliberating over whether to include a side trip to Las Vegas. Time and time again we were told that it wasn't suitable for kids and to leave it off our itinerary. This made us pause, but just like we ignored everyone who said staying it Rome was a waste of money with all its crowds and pollution, we ended up ignoring this advice and booked four days at the MGM. We were certain that Las Vegas with kids could be fun if we chose the right places. Of course we were right!
When heading to Las Vegas make sure to pick your hotel carefully. My advice is to stay on the strip, perhaps the middle if possible. We chose the MGM Grand because they have a Stay Well floor which is completely non-smoking, has an air purification system, an awesome vitamin C infused shower and complimentary Grand Spa facility access. It provided a great detox for our lungs after walking through the smoke haze every day. Regardless of where you stay, make sure you book non-smoking as there are smoking floors in most hotels.
So what is there to do in Las Vegas with kids? While Las Vegas can be very smokey (they don't have the same cigarette bans as Australia) and quite interesting at night, there are a plethora of activities for kids to enjoy. There was never a moment where my kids weren't spotting something new and interesting.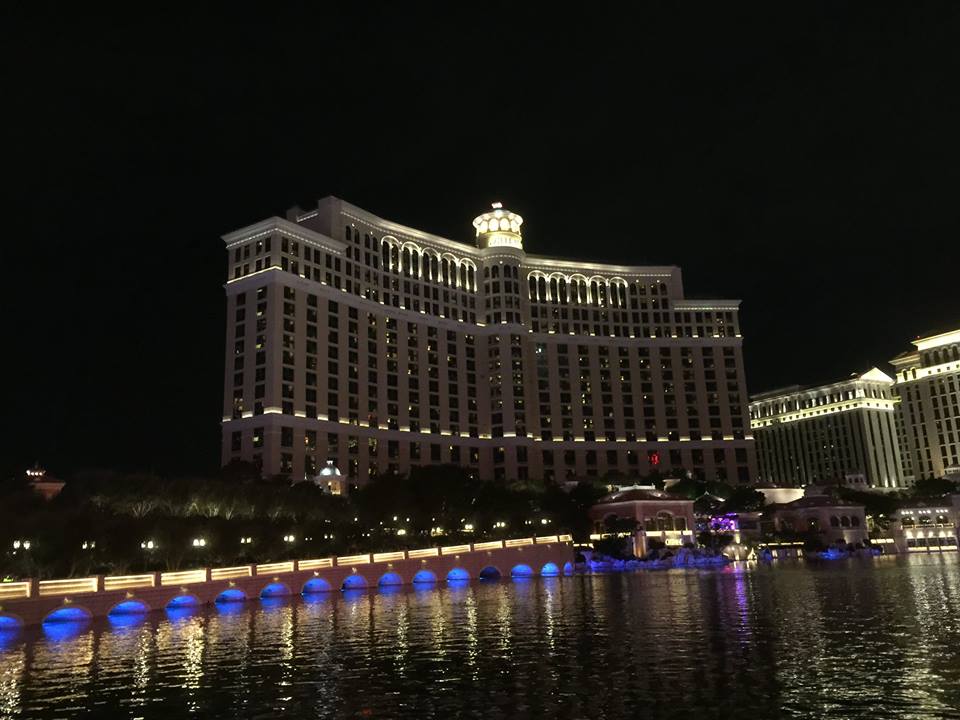 Fountains of Bellagio
The Fountains of Bellagio are an icon of Las Vegas. Every afternoon right through to midnight you can catch their interwoven water, music and light spectacular. Yes, it happens that often and it is free! I found it mesmerising. Even the kids stopped talking and watched it awe. No it's not the same as Disneyland's World of Colour, but it is enchanting nonetheless. Did I mention that it's free? Spanning more than 1,000 feet and with water soaring as high as 460 feet into the air, with a huge range of musical selections, each show is different. Make sure you cruise by at some stage of your adventure.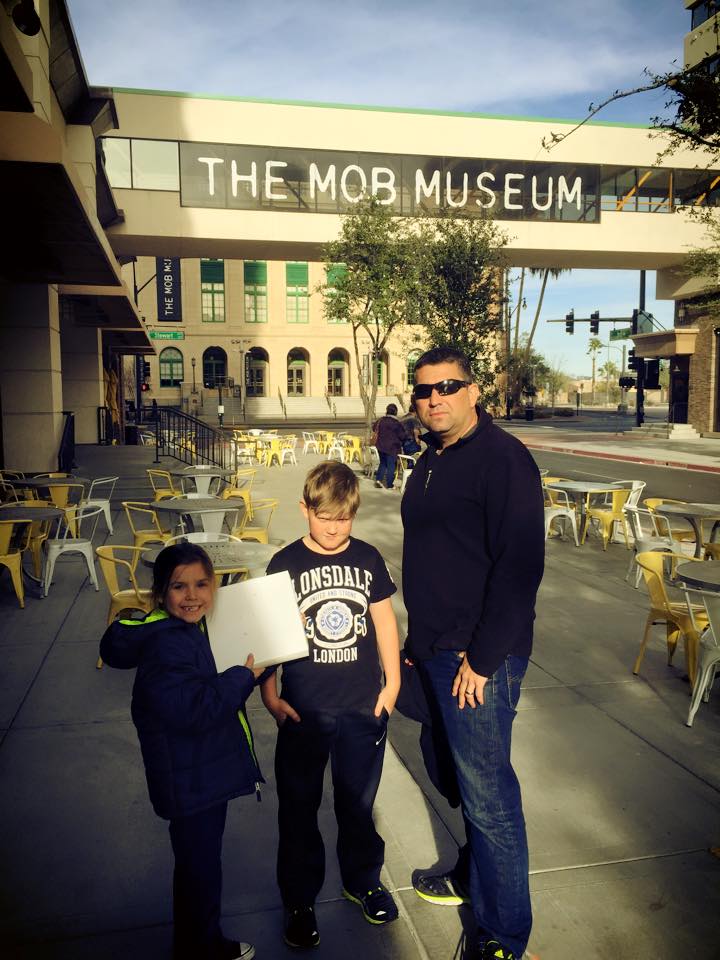 Say what? Yes, yes, I know that a museum dedicated to the criminal underworld probably isn't the most likely place to take the kids, but we did and they loved it. We spoke to the museum attendant when we arrived and she told us which rooms not to take the kids through so we could avoid the more in your face aspects of Mobster life in Las Vegas. Reframe the visit to show how crafty and smart the police were at catching the criminals and the kids will find the experience quite educational.
Serendipity 3
Serendipity 3 first came to my attention when Oprah featured it on show way back in 2006, introducing the Frrrozen Hot Chocolate as one of her favourite things. My SIL was so impressed that she worked with me to get some sachets shipped to us here in Sydney from New York direct. I have been coveting trying the drink at Serendipity 3 ever since. Your kids will love a sundae from this iconic restaurant right outside Caesar's Palace.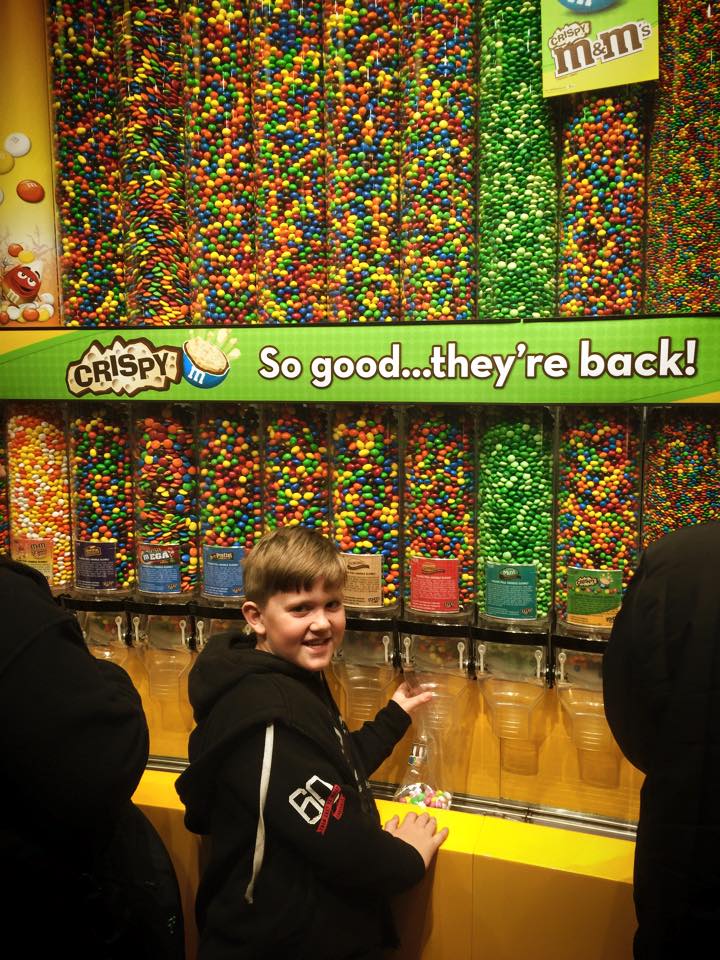 M&M World was an attraction repeatedly suggested to us by many parents who had been there previously. It features a multitude of M&M flavours and colours, but is predominately a large merchandising project. We spent around 30 minutes here before leaving with a bag of chocolate and a need to of more.
Adventuredome at Circus Circus
An entire five acres dedicated to indoor fun. This is the place to head to if your kids have a ferocious appetite for amusement rides. You can purchase an all day pass and enjoy ride after ride after ride. There's even a whole bunch of retro games – think Donkey Kong, Pac Man and event TMNT! Our tip, check with your hotel to see if they have any discounts on offer.
Fall of Atlantis at Caesars Palace
This is another free attraction that will amaze the kids. Every hour the monument comes to life with a re-enactment of the Atlantis myth. There's lots of fire and water, so stand back – it can get very warm. There's even a fire breathing dragon.
Shark Reef Aquarium of Mandalay Bay
An aquarium in the desert is incredibly bizarre, but then again, we are talking about Las Vegas. It isn't a large aquarium but sized well enough to fit a a multitude of aquatic life, including sharks, and a touch pool which is always a favourite with kids. Be warned, the queues can be quite long for this attraction so save imd and but your tickets online in advance.
Titanic Artifact Exhibit
By the time I left Vegas, nothing really surprised me. The Titanic in the middle of the desert? Why not! When you arrive at the exhibit you are given your boarding pass that features the name of one of the original passengers. At the end of your tour you discover whether your person survived or not. Cool or morbid? Currently, the exhibit features  a huge section of the original sleeping quarters from the Titanic as well as a mock up of the main staircase and promenade deck. It is full of artefacts which are incredibly interesting if you are yet to visit a Titanic exhibit.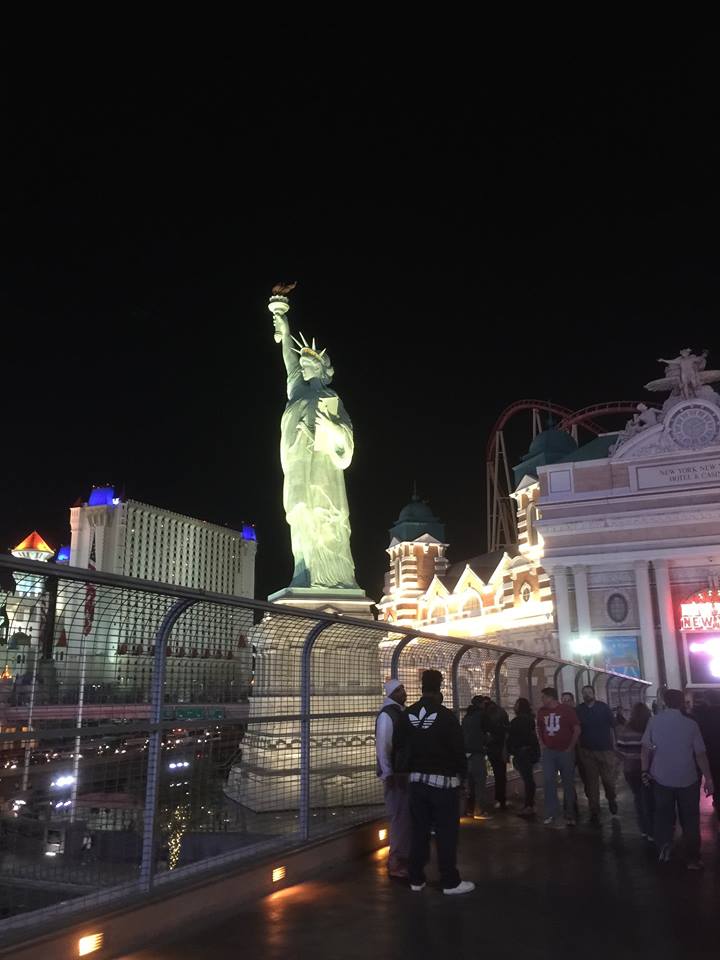 Big Apple Coaster at New York-New York
We're not a family of roller coaster junkies so we did skip this one. However, I am told that this is the best roller coaster in Las Vegas. The whole idea of a coaster on the top of a building terrifies me! I'll let  you ponder on whether to include it in your itinerary or not while I skip ahead. I'm getting vertigo just thinking about this ride!
Bellagio Conservatory & Botanical Gardens
Did you watch Charlie and the Chocolate Factory when you were growing up? Do you remember the beautiful chocolate garden with its chocolate river that Augustus Gloop fell into? Well, for some reason, the Bellagio Conservatory and Botanical Gardens make me think of Wonka's garden. The main display is changed a number of times through out the year, but from what I hear, it is always breathtaking. I think a walk through the gardens should be on every Vegas itinerary and it's free too, so no excuse! Now who wants chocolate?
A Gondola Ride at the Venetian
So Las Vegas isn't actually in Italy, but it does feature it's only little Venice inside the Venetian where you can take a ride in a gondola. The rides only last 10-15 minutes, but if you're lucky your gondolier will sing you a song as you glide along the canal. The rides can be expensive, so like all things in Las Vegas do your research so you can get a good deal
Las Vegas Natural History Museum
Who, other than us, goes to museums when in Las Vegas? I suspect that tickets to the Las Vegas Natural History Museum are largely sold to locals making it the perfect place to head to escape the crowds. Whilst the museum is a little small and probably hasn't had an update for some time,  it has a good range of exhibits featuring dinosaurs, geology, marine life, deserts and even King Tutankhamen to name a few. There is even an area where you can watch scientists work on the artefacts which the kids will find interesting.
Bodies the Exhibition
This museum is incredibly fascinating, educational and gruesome all at the same time. You'll need to pick whether it is a place suitable for your kids and their over active imaginations. You'll also need to gauge how much anatomy you wish to teach them when in Las Vegas. The curator has quite literally displayed a number of different human bodies for educational purposes. You can see the damage smoke does to a smokers lungs by actually looking at real lungs. There's an entire room dedicated to the developmental stages of a fetus which can be confronting to some, but there is clear signage before each exhibit to  allow people  to skip ahead.
The Tournament of Kings at the Excalibur
This kid friendly theatre restaurant is a real hoot. Real jousting, real swords fights, all in front of you as you enjoy a medieval banquet. It's like a kid friendly Game of Thrones! The night is loud, it is rowdy. It is a whole heap of fun and well worth seeking out on your trip.
Las Vegas is one of those places you are likely to only go once with the kids. This post provides you with a small snapshot of what you could do in Las Vegas with the family. There's a never ending list of things to do including shopping, reality TV star spotting, catching a show and much much more. When are you going?
Pin This