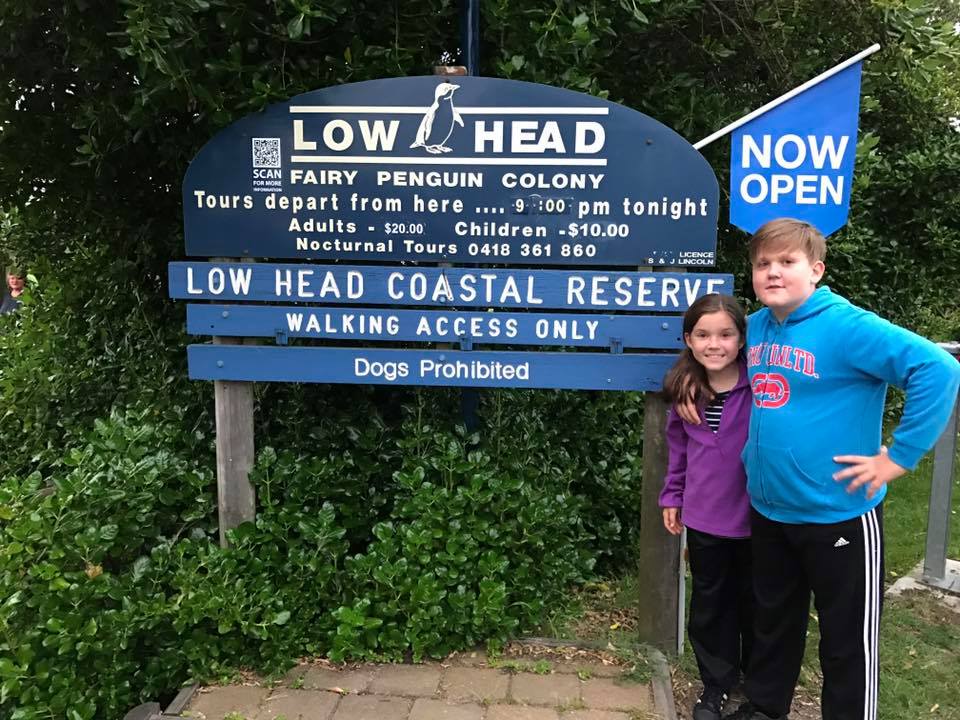 When planning a trip to Tasmania, a stay at Bicheno to see the Little Penguins was high on my list. There were tears and a little stomping of feet when I realised that the entire East Coast of Tasmania was pretty much booked out – I had left our accomodation bookings way to late. We calculated travel time between Bicheno and Hobart, Bicheno and Launceston. I resigned myself to the fact that we wouldn't be seeing the penguin tour there. Thankfully, T swept in and saved the day when he uncovered the Low Head Penguin Tours near George Town which was close enough to Launceston to provide us with a chance to see the penguins return from the ocean to their nests one evening. Phew!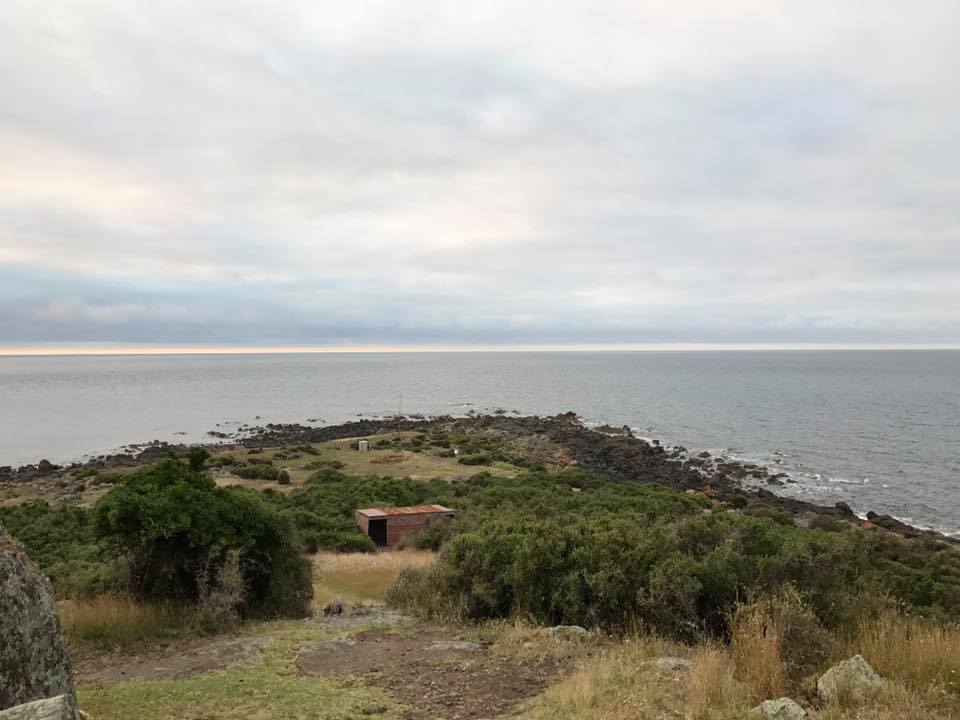 When I was around eight years old, my school took my class to Phillip Island for our annual school camp where we saw the evening penguin parade. It was amazing, hilarious and awe inspiring. Seeing penguins in the wild has been one of those kid bucket list items I've wanted to experience with my family. I was so excited about the Low Head Penguin Tours that I encouraged T and the kids to set off to George Town a little early.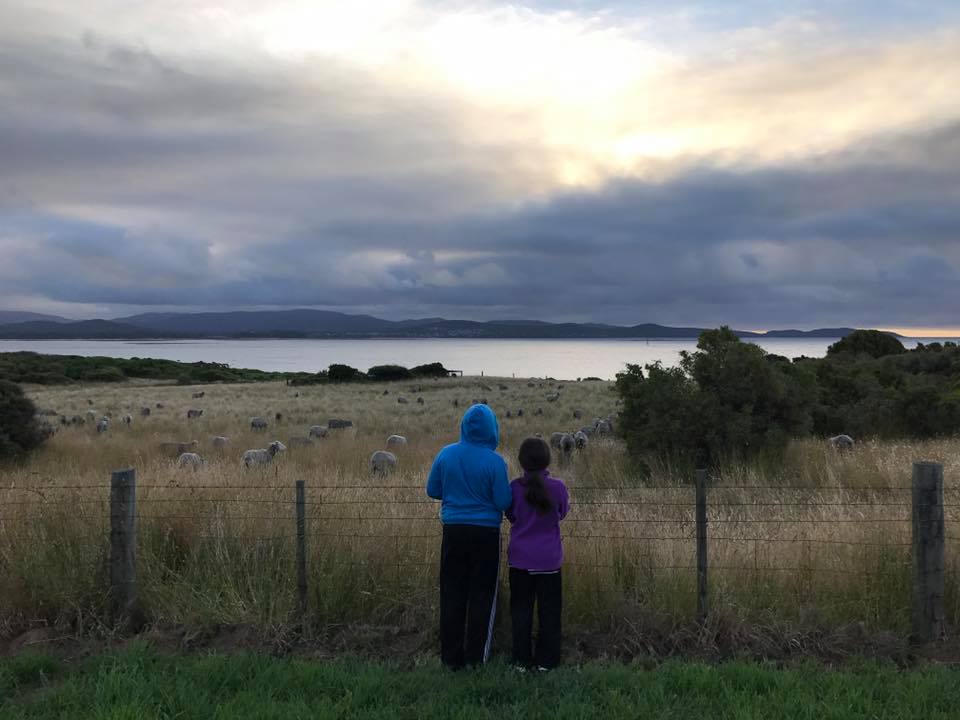 Little Penguins were once called Fairy Penguins. They've become quite a famous little bird. They are the smallest of the species at only 40cm in height. They are flightless, and breed in colonies all around Tasmania and along the southern coast of mainland Australia from Port Stephens in the east to Fremantle in the west. They are blue and black rather than black and white. They live for around 7 years, returning every night to their nest during breeding season, taking the exact same path each time. Who wouldn't want to see them in the wild?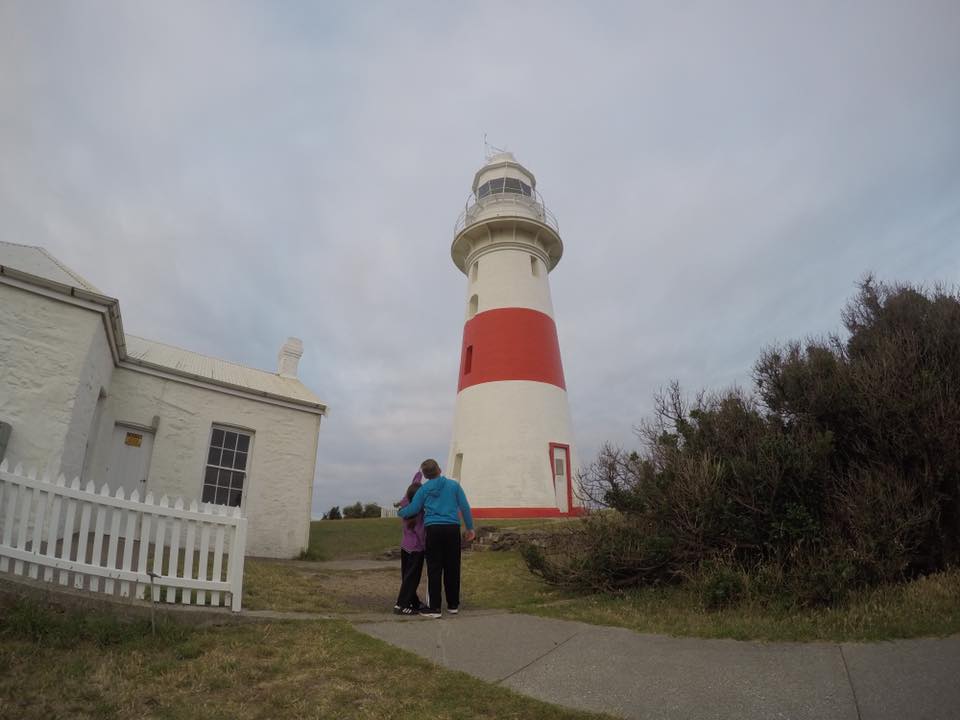 We arrived at least an hour before dusk and were encouraged by the Low Head Penguin Tours team to explore the lighthouse area before the tour commenced. The Low Head Lighthouse has run continuously since 1833. It's well worth the short walk so you should get there early too.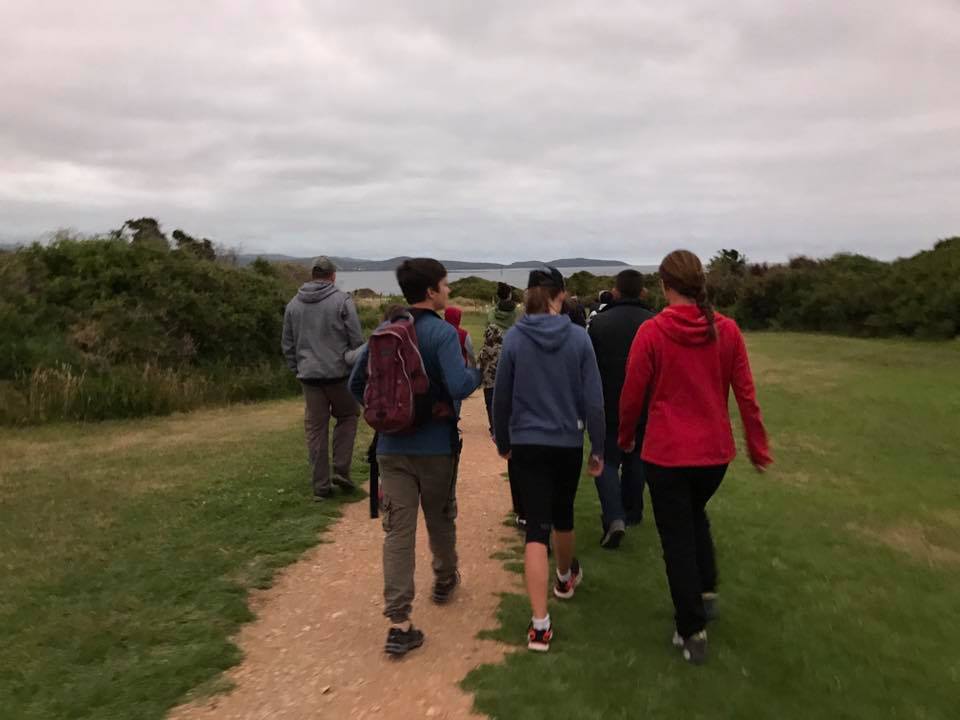 After our little adventure up the hill, we returned to the tour location to receive our wrist bands for the tour and to work through the induction. There were around 40-50 people at the site by this time. I was a little worried by the size but Sunshine pointed out that everyone was wearing different colour wrist bands. We were in the purple group. Sure enough, as the light faded, Shirley (the main tour guide) divided us into our groups and sent each group off over the sand dunes.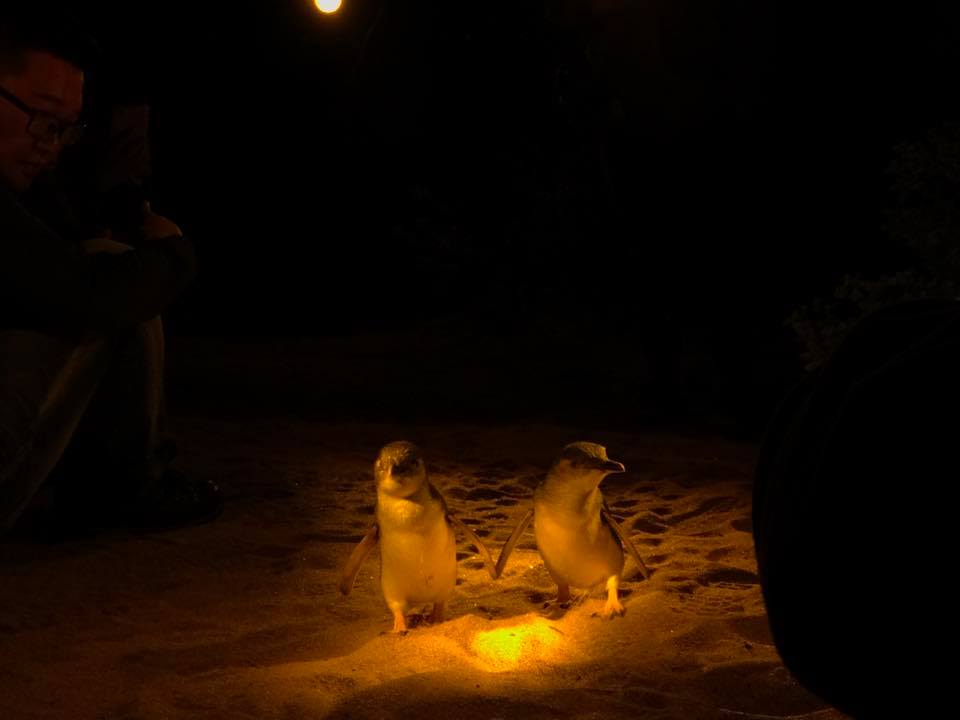 There was still light enough to see where we were going. Our first stop was the viewing deck where we found a few rows of benches. Here we waited for the penguins to start coming ashore. While we waited, our guide provided some information about the Little Penguin. We learned about the mating song that a male penguin sings when trying to attract a mate. We learned about the breeding cycle and how the chicks develop before they leave the nest for the ocean. We also learned about a terrible oil spill which almost devastated the colony. The kids couldn't take their eyes away from our guide until we started to hear the quacking of the penguins as they started to come ashore.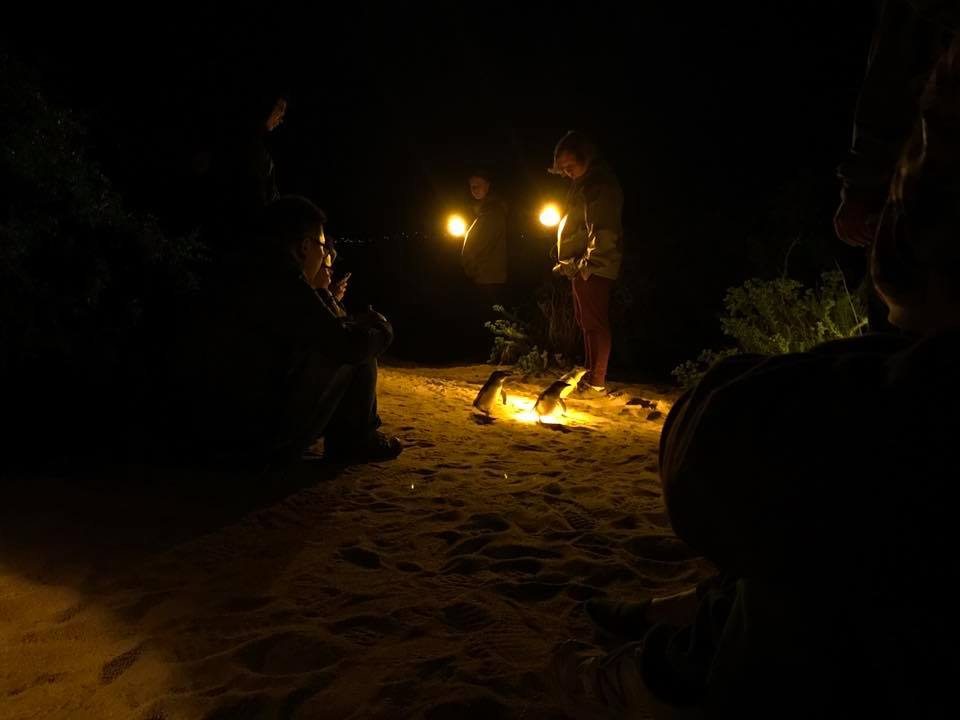 We were promised an amazing evening. I was wondering how good it would be with us sitting in the middle of the observation platform where much of the view is obscured. If you go to the Low Head Penguin Tours trust in Shirley. She has a strategy worked out for each group and you are certain to see a penguin or two. I think she noted that Sunshine and Striker were becoming restless as she asked our guide to take us back up the dunes to a special spot. A short walk and we were at some nests where we saw our first penguins – chicks! They were squawking for their parents and ever so cute. They will still a little fluffy with their big feathers just starting to appear. After a few minutes, we left to our next observation spot.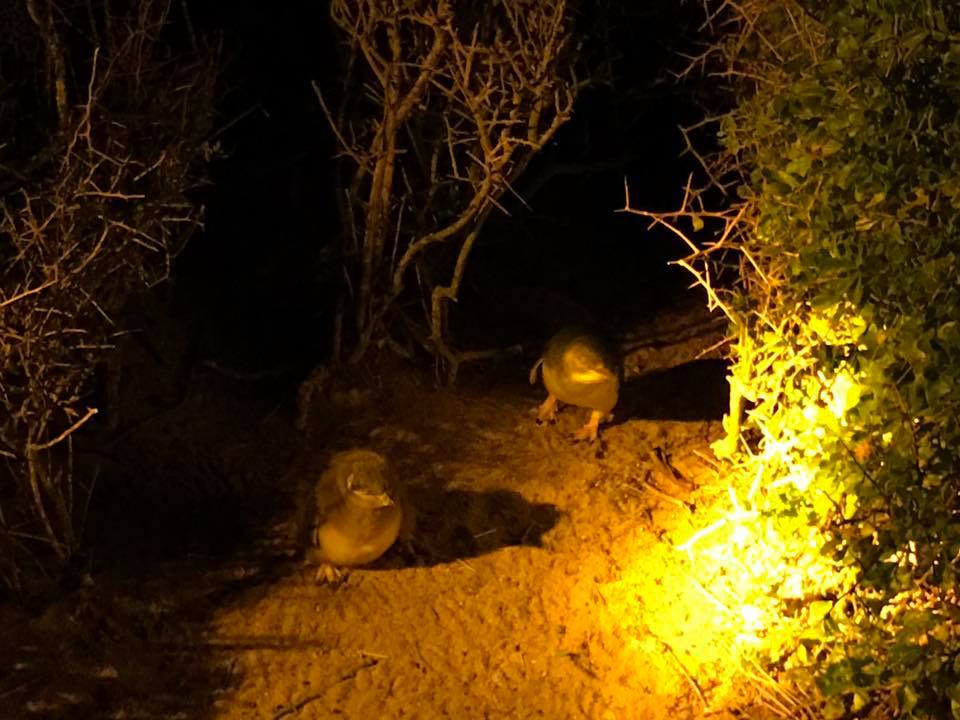 As the light faded to darkness, the action started to happen. Groups of penguins started coming to shore and were running over the rocks, sometimes leapfrogging. They huddled, watched, then ran before stopping and looking around again. Our group headed to the shoreline to have a close look. The penguins seems unfazed by us humans and ran over our feet, straight to their nests. We spent around 15 minutes down at the waters edge watching. These Little Penguins had our entire group captivated.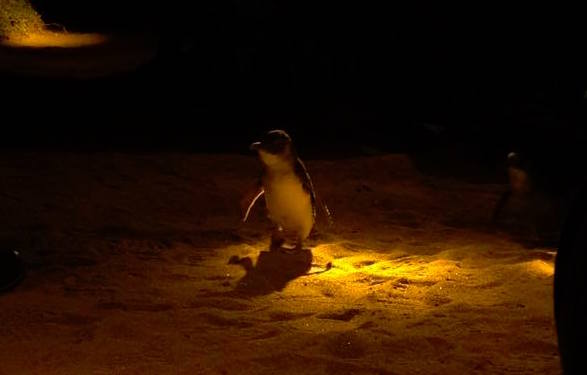 Throughout the evening, our guide led us to new and interesting parts of the beach so we could observe different penguin behaviour. We saw baby chicks who were still being cared for by one parent while the other caught food. We saw chicks who were left during the day while mum and dad fished. We saw males singing and females looking for the perfect males. I was in awe and so thankful that T had discovered and booked the Low Head Penguin Tours for our family. Every minute was amazing.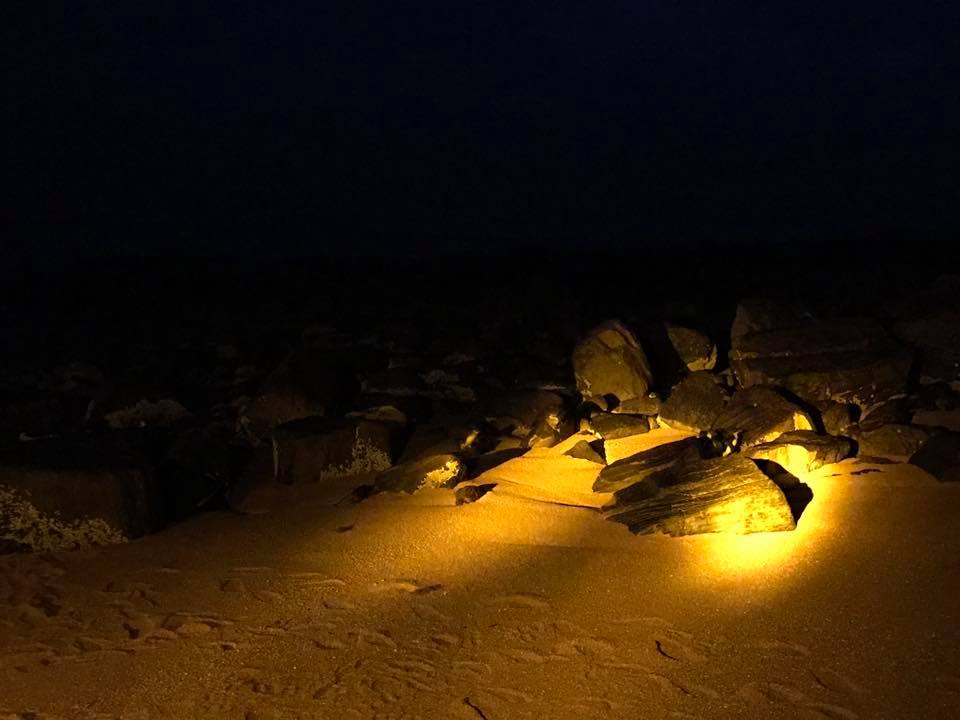 A few helpful tips for your trip: Unlike many other penguin tours, the Low Head Penguin Tours allows you to bring your camera as long as you don't use the flash. Don't bring a flashlight either, the white light can blind the chicks permanently and hurt the adult penguins eyes. Your tour guide carries two different torches at all times which are safe for the penguins. Wear covered shoes, there are sharp plants around that could cut your feet if you are not careful. Of course, being Tasmania, the weather can turn quite quickly so dress warmly and pack something for wet weather!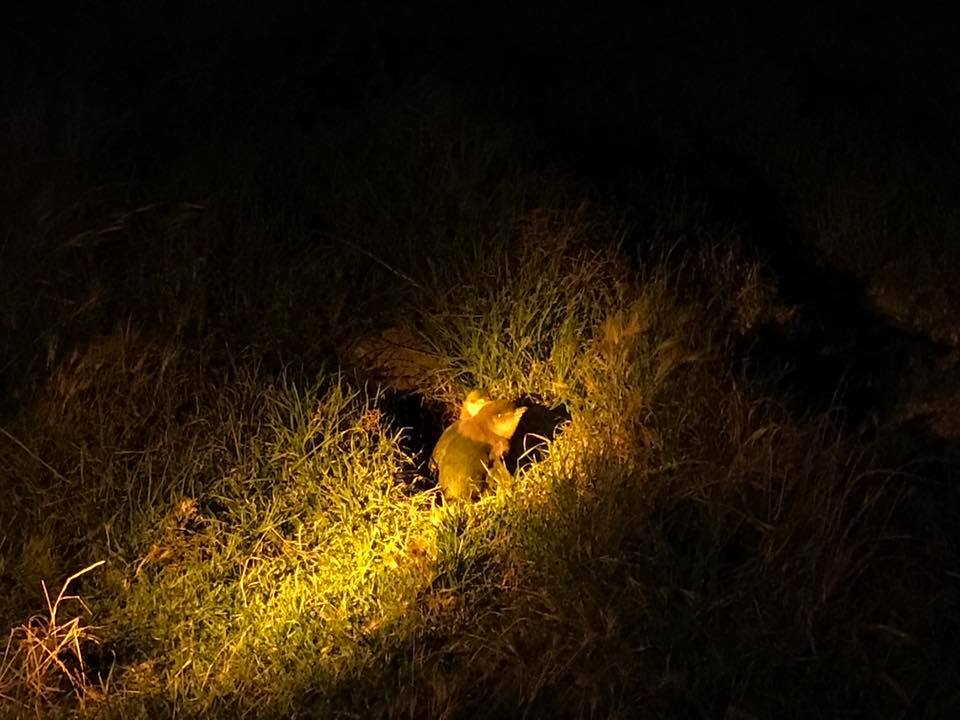 Location: 486 Low Header Road. Low Head Tasmania
Opening Hours:  Nightly from nightfall. You will need to ring the day before to confirm the arrival time
Current Ticket Price: $20.00 per adult. $10.00 per child. You will need to prebook to confirm your ticket
Website: penguintourstasmania.com.au
We self funded our visit.
You may like to consider visiting Trowunna Wildlife Park when in Tasmania where you can have a Tasmanian Devil experience!