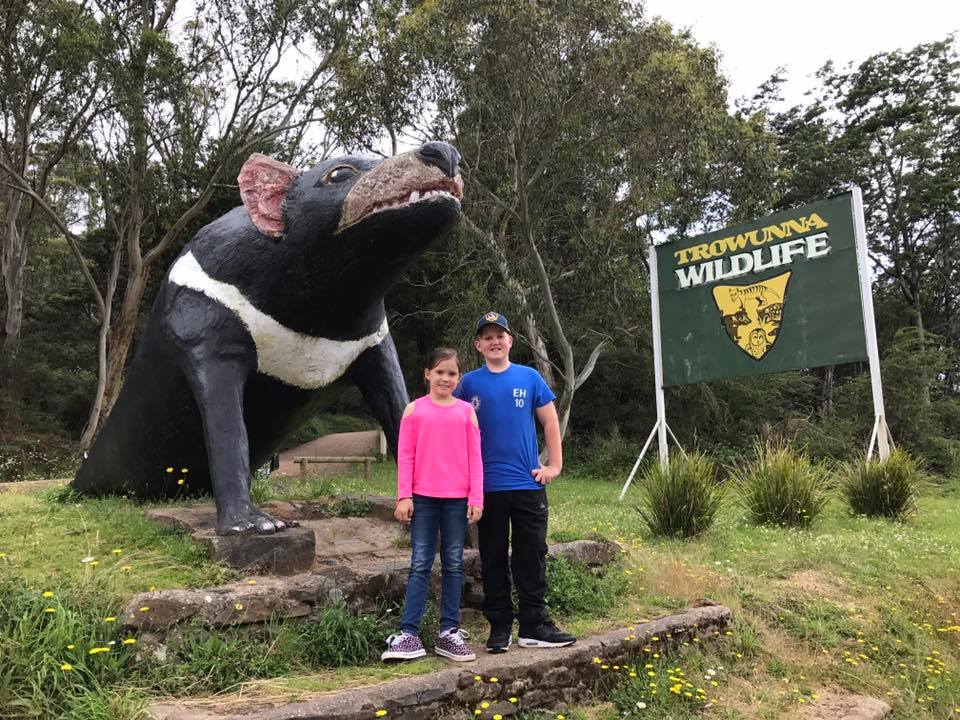 When we started planning our trip to Tasmania I knew that a visit to at least one wildlife park was going to be on our itinerary. Ideally I wanted to visit one that showcased the wildlife unique to this part to Australia and was committed to conservation and put the needs of the animals before the commercial dollar. After much research and thanks to a few tips from some of my trusted family travellers, Trowunna Wildlife Park near Mole Creek found its way onto our itinerary.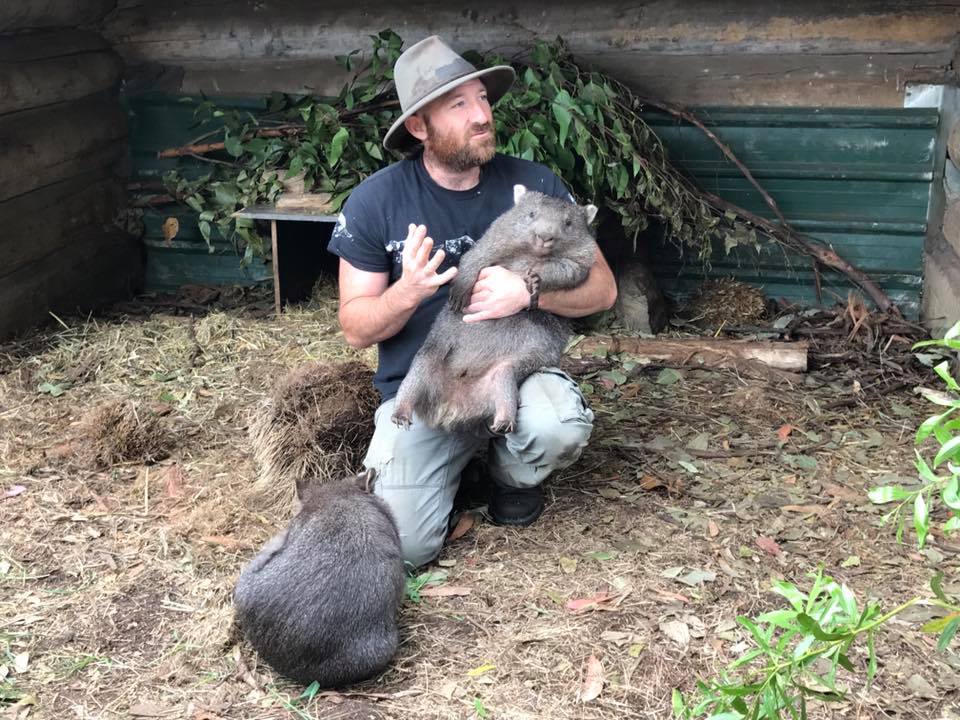 Trowunna Wildlife Park was established back in 1979 as a privately owned park committed to conserving the wildlife of Australia. Uniquely situated on a crossroad where animals from the costal, alpine and forested areas meet, Trowunna Wildlife Park is home to the world's largest heritage population of endangered Tasmanian Devils.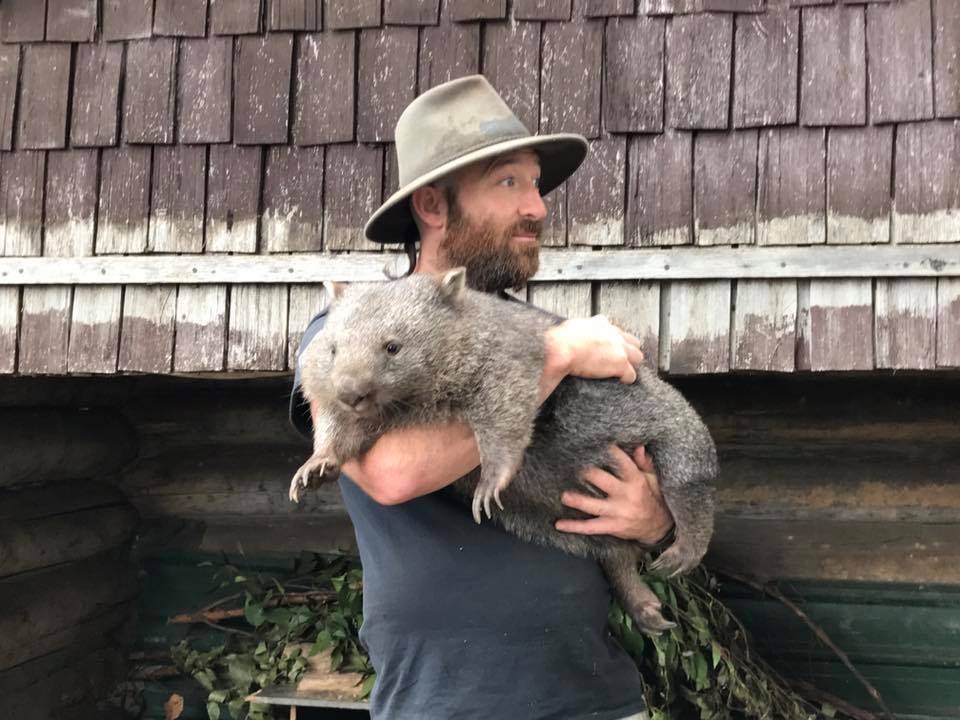 On entering the park we were immediately impressed with the spaciousness of each exhibit. Trowunna Wildlife Park has adopted an holistic view of animal welfare with much attention given to all five domains of care: nutrition, environment, health, behaviour, and metal or affective state. We didn't see a single animal engaging in repetitive behaviours such as rocking that you often see with animals kept in captivity. What we did see was Tasmanian Devils, Kangaroos, Eagles, Quolls, wombats and a range of marsupials, monotremes, birds and reptiles enjoying life.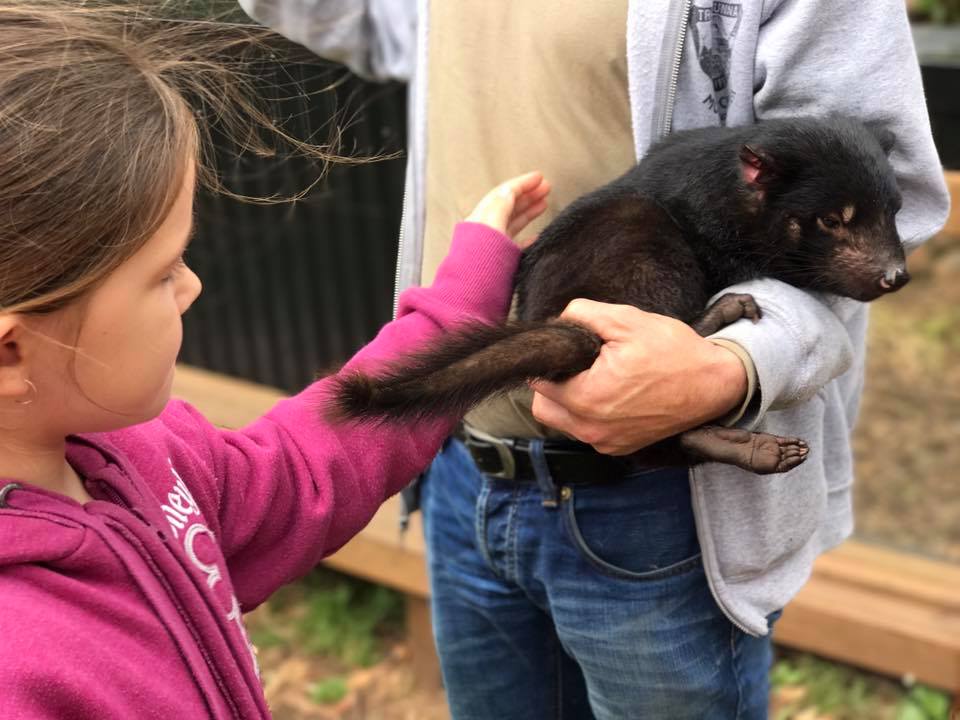 We were at Trowunna Wildlife Park during their tour times. Make sure you are around for this too – it is quite an adventure. One of the keepers took us on an educational journey, first by teaching us about wombats with one that he had raised as a little joey, and then with the Tasmanian Devil encounter where we watched a possum caracas consumed until nothing was left.  We were under the keepers spell. All four of us listened to his entire spiel and were excited to have a chance to touch both the wombat and the Tasmanian Devil.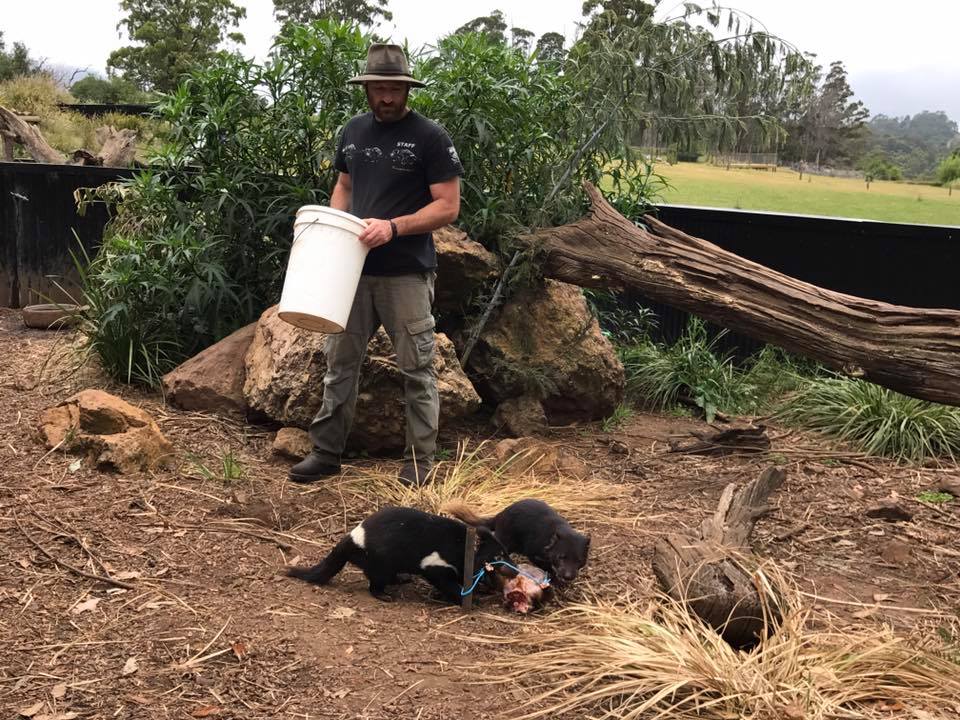 Tasmanian Devils are the largest carnivorous marsupial in Australia. Every single Tasmanian Devil at Trowunna Wildlife Park is part of the Save the Tasmanian Devil Program (STDP) Insurance population. You're probably wondering what that is, right? Back in 1996, Tasmanian Devils in the north-east of Tasmania were spotted with large tumours on their faces. Sightings dropped by 90% and it was realised that Devil Facial Tumour Disease (DFTD) was prevalent across the population. It is contagious and was wiping them out as it stopped them being able to eat and digest food. To protect the species, STDP was set up with releases of disease free Tasmanian devils on Maria Island, Narawntapu Nat.Pk and Tasman Peninsula (all which Trowunna Wildlife Park was involved with)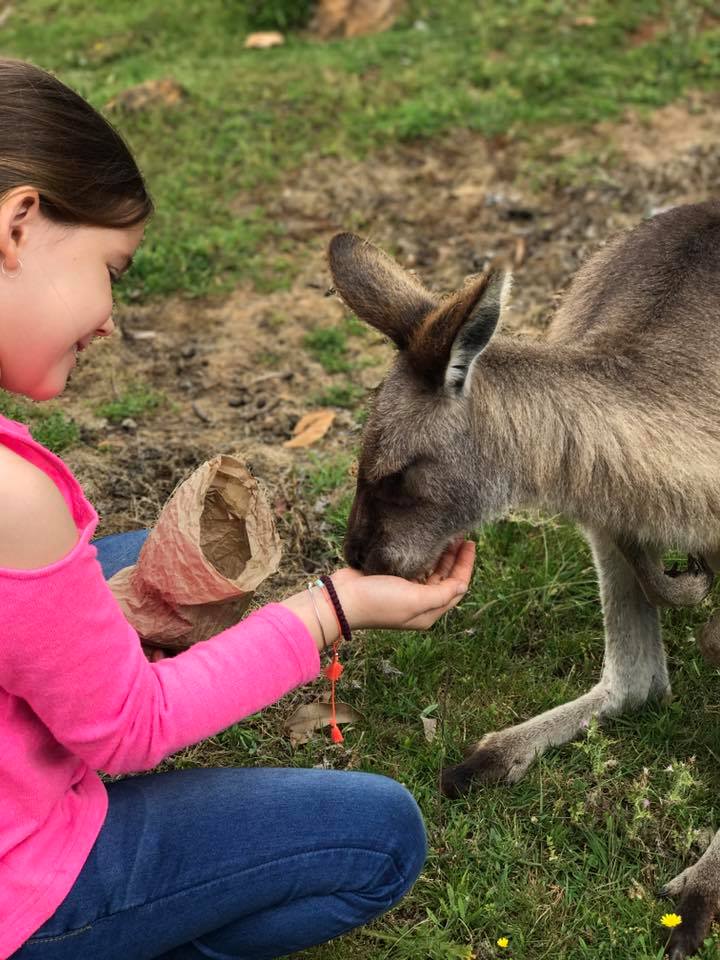 On previous occasions where we have spotted Tasmania Devils in captivity they have been pacing around and around in continuous loops. I was unsure if this was a natural behaviour. On seeing them at Trowunna Wildlife Park, I don't believe it is as here I saw them exploring their exhibits, sun baking and generally having a great time. I felt good visiting this wildlife park and highly recommend it as an addition to your Tasmanian Itinerary.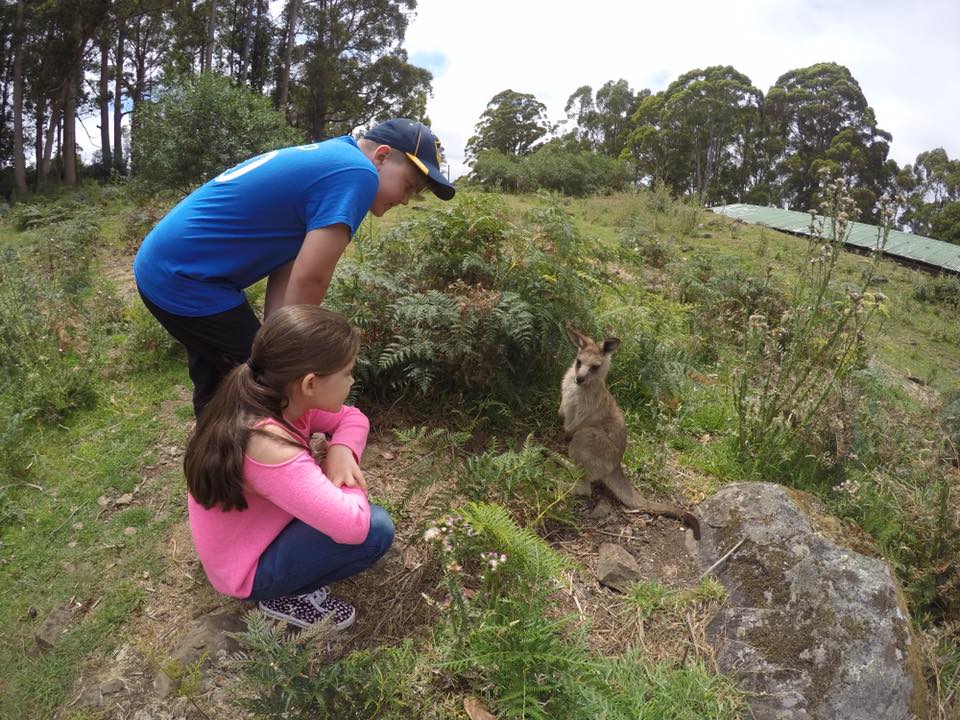 Location: 1892 Mole Creek Rd, Mole Creek TAS 7304
Opening Hours: 9.00 am – 5.00 pm every day except Christmas Day. Daily interactive tours occur at 11.00 am, 1.00 pm and 3.00 pm
Current Ticket Price: $75.00 (2a + 2c – $10.00 per extra child)
Website: trowunna.com.au
We self funded our visit.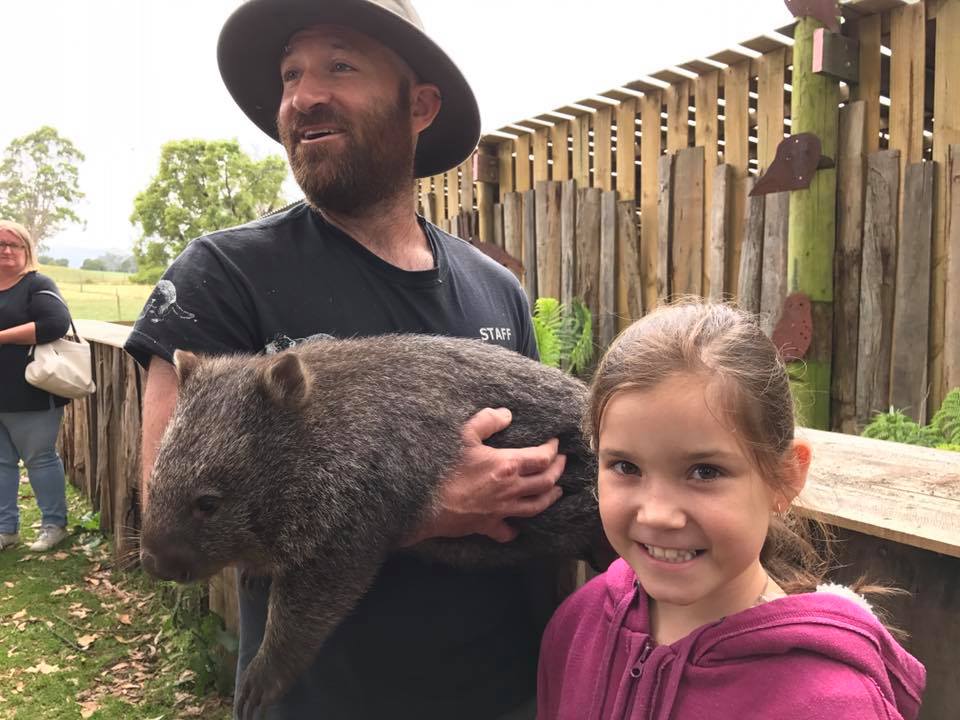 Other zoos and wildlife parks we have visited:
— Taronga Zoo — Taronga Western Plains Zoo — Werribee Open Range Zoo — Royal Melbourne Zoo — WILD LIFE Sydney Zoo — San Diego Zoo — Australia Zoo — Featherdale Wildlife Park — Australian Reptile Park — Ballarat Wildlife Park — Crocodylus Park — RSPCA Holiday Camp —