Long time readers of the Kid Bucket List would be very aware of my long standing fear of heights. It's a fear that has paralysed me atop quite a number of structures, much to everyone's amusement. So when we were invited to the Wild Ropes at Taronga Zoo my initial reaction was a big firm no. But my kids begged to give it a try, having had their eyes set on completing a high ropes course in Sydney for some time. Of course I relented.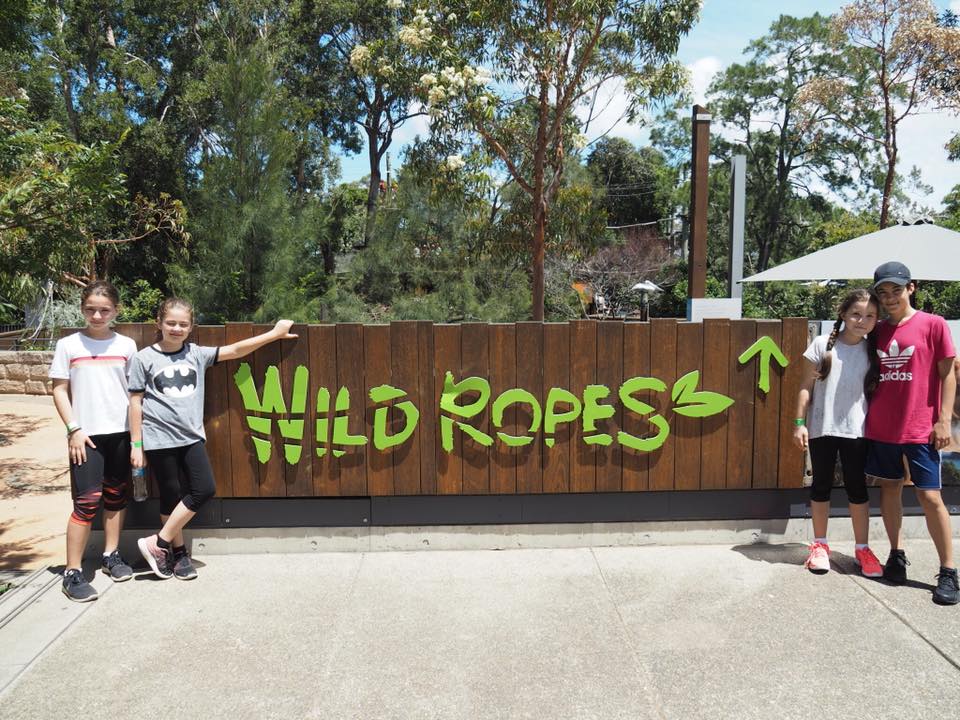 I had a few weeks to prepare myself, and with Rocky's Eye of the Tiger set firmly in my mind as my theme song for the day, I finally headed to Taronga Zoo with the kids and their cousins to give the course a good shot. It was quite a challenging day, but highly rewarding too.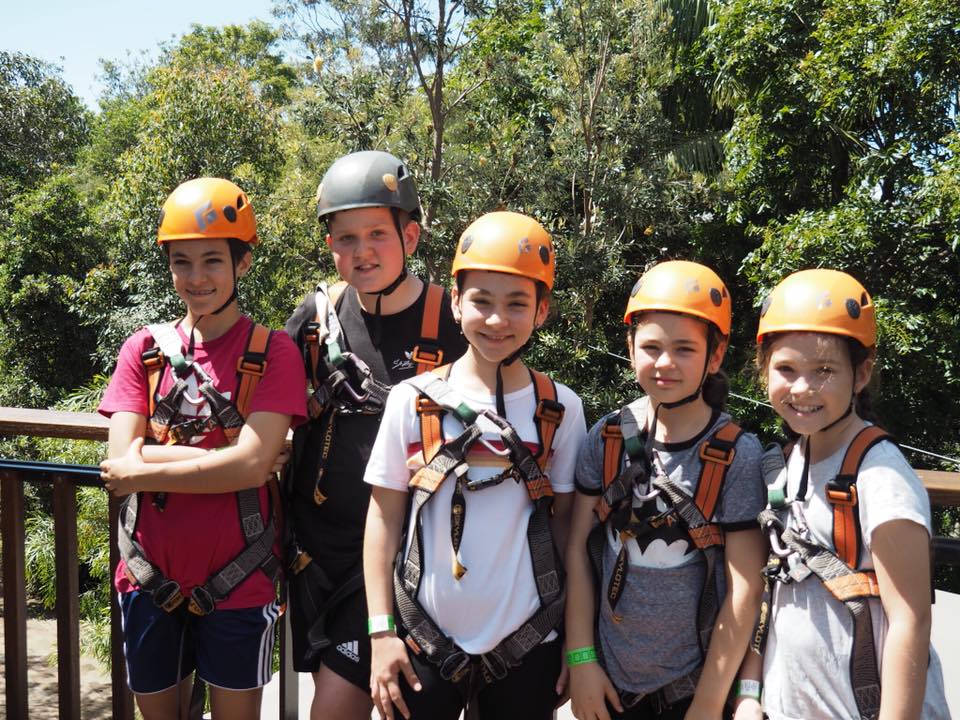 Wild Ropes at Taronga Zoo : High Rope Course in Sydney
The Wild Ropes at Taronga Zoo
Set in the bushland section of Taronga Zoo, Wild Ropes offers incredible ropes challenges for children and adults. There are three course: the new Children's Course for ages 3+ and the Adventure Ropes which include 4 different courses for those who are over 140 cm in height (with shoes on), have had their 8th birthday and weigh less than 120 kg.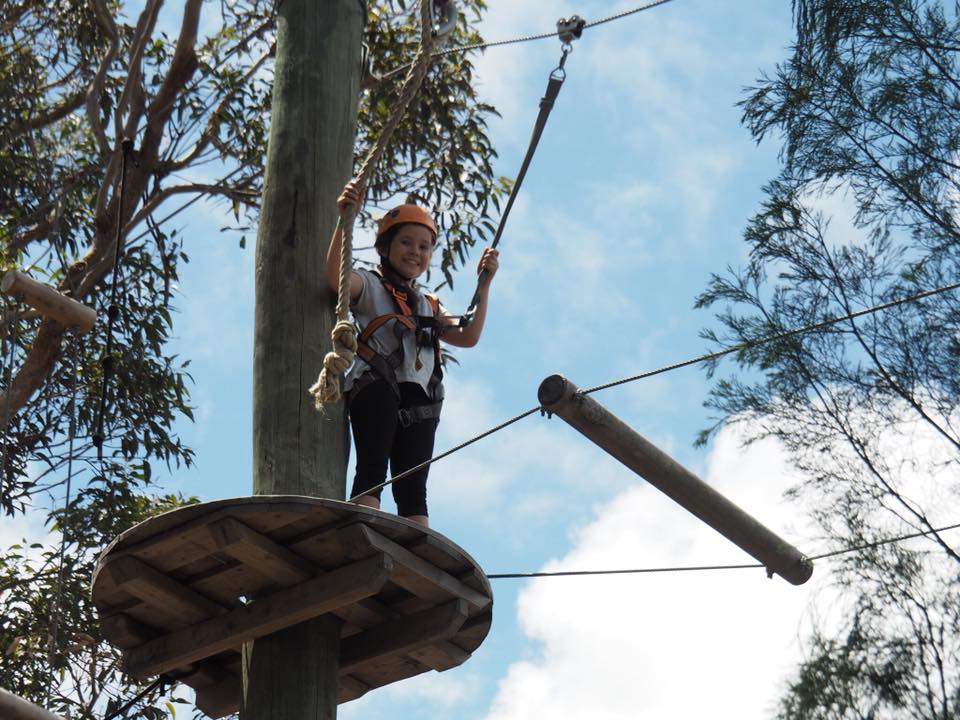 The Adventure Ropes are as high as 10 metres off the ground at different points. Each course features a series of challenges that not only require a little braveness, but flexibility, timing and, at some points, strategic thinking.
Our Experience of the Adventure Ropes course
On arriving at the Wild Ropes at Taronga Zoo our heights were measured (they do check, so make sure you are over the 140 cm required for the Adventure Ropes) before we received our wrist bands. We then made use of the free lockers to store all our loose items, bags and our phone!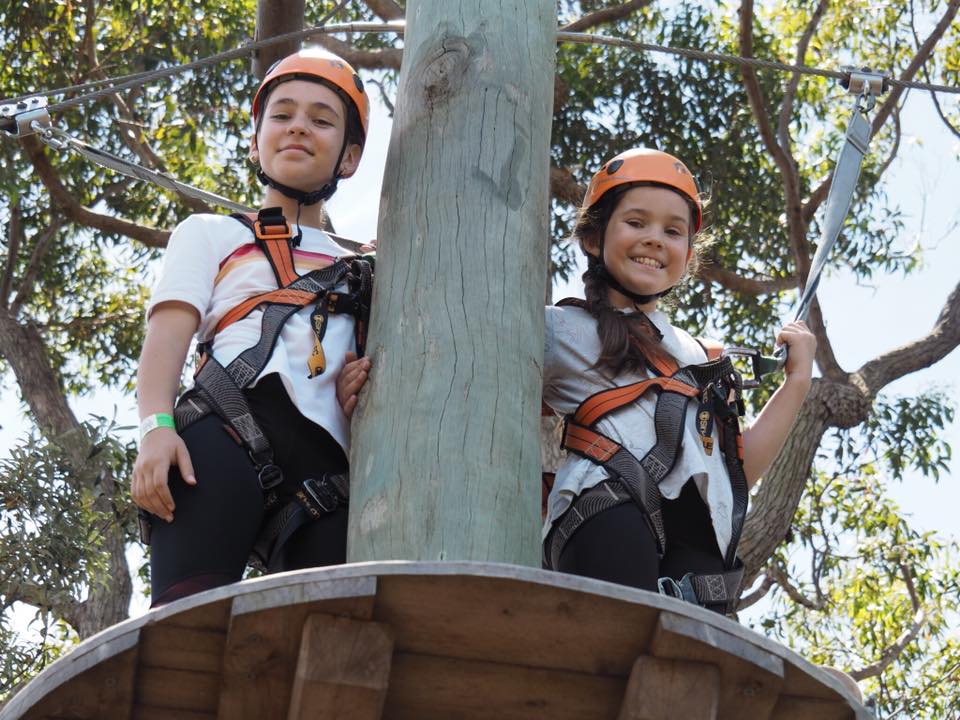 Fitting our harnesses and helmets took some time, so make sure you arrive around 20 minutes before your booked time so you're ready to go when your first challenge starts. We were booked into the Ultimate Adventure which includes four courses in all: two small and two high. I must admit that unlike the kids who were bustling in excitement, I was super giddy with nerves.
We started on the low 5 metre high course. I decided that the five kids would take the lead and I would follow. I questioned why I had agreed to the particular Sydney high ropes course where wild animals roamed freely below. My palms were sweaty, my brow furrowed, I was not sure I would be able to face my fear. But the kids leaped forward, one after another and I couldn't not go.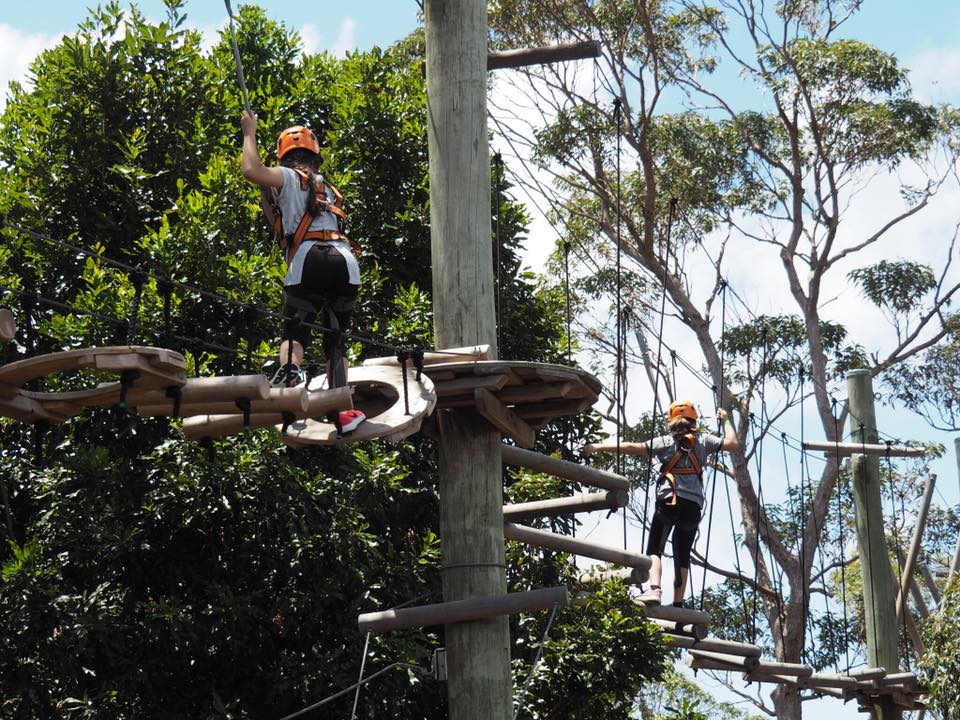 With a racing heart, I tip toed across tight ropes after the kids. I balanced on beams. I skirted along poles and swung between beams. I was scared Sh&*less and kept telling myself to just breathe until at last we reached the end where I zipped down a flying fox.
I felt exhilarated, and gave myself a pat on the back for facing my fears. And then kids reminded me that we had three courses to go! I *just* managed to get myself around the second course before nerves set in. The high ropes were next, 10 metres in height. My nerves got the better of me and I admit (as embarrassing as it is) that I bowed off at that stage.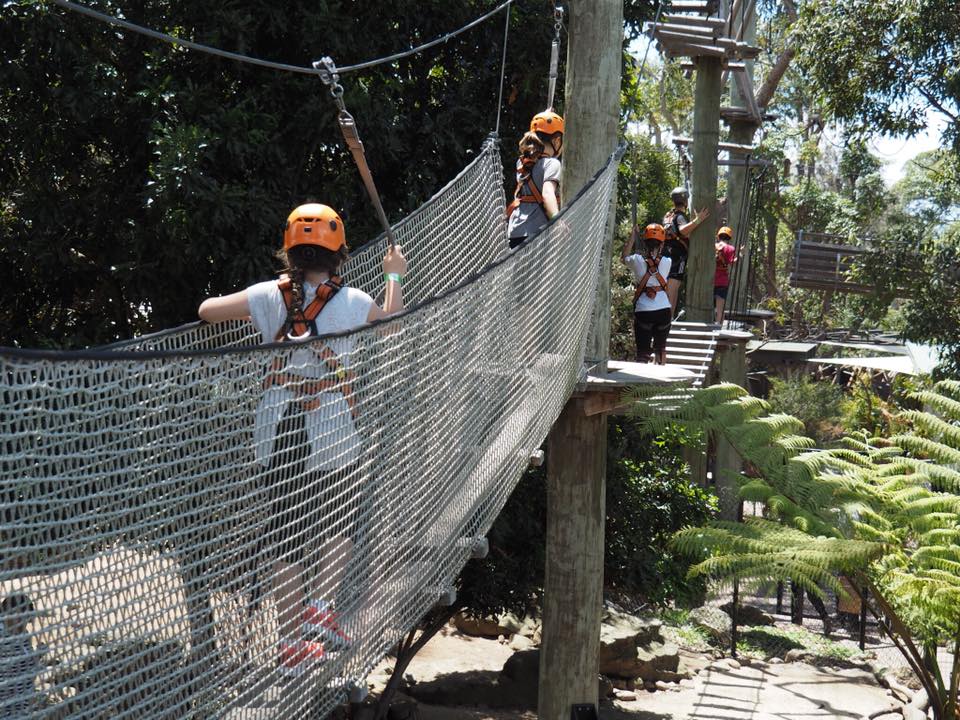 The kids were blessed to be able to move through the 10 metre high ropes with another adult. Unfortunately, two of the kids got to a point where they felt that they couldn't go any further. Of course, the Taronga were on hand to rescue them (they really have thought of everything!) which involved the team moving through the course to their point then lowering them down. Sunshine and her eldest cousin successfully completed the courses!
The Details
The first session starts at 9.30 am 7 days a week (closed Christmas Day). The last session is at 3.00 pm. The courses start at $32.00 for the Adventure courses and $20.00 for the smaller Childrens course.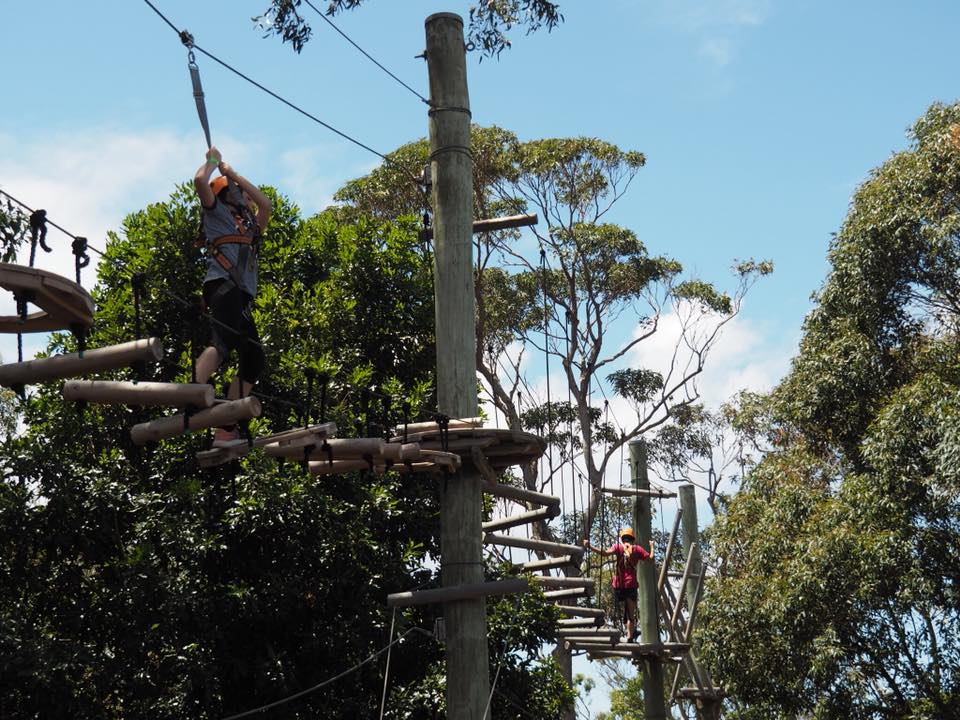 You will need to wear closed shoes and your ankles need to be covered. No high pony tails or buns either as you will be wearing a helmet.
For full details, head to the Taronga website where you will find all the ticketing options and requirements.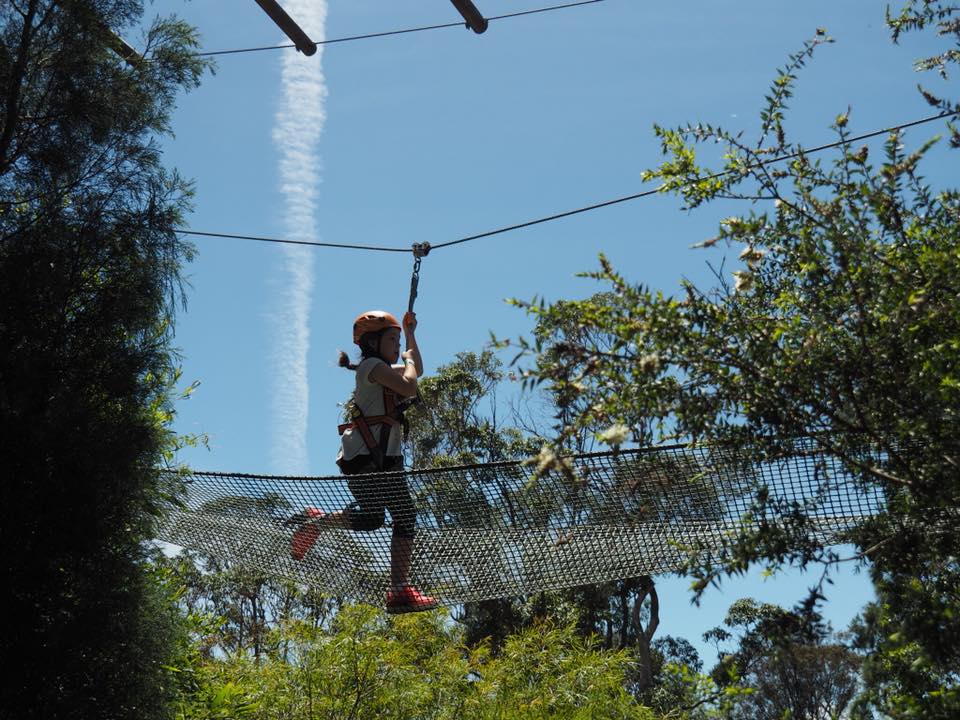 CLICK : IF HIGH ROPES AREN'T YOUR THING, YOU MAY LIKE TO CHECK OUT THE TARONGA ZOO KEEPER FOR A DAY OPTION INSTEAD. 
Enter the Kid Bucket List Taronga Zoo Giveway
We love sharing our adventures with you but we love it even more when YOU get to go on a similar experience. We have THREE (3) family passes (2 adults – 2 children) valid at either Taronga Zoo or Taronga Western Plains Zoo up for grabs. Simply click over to our competition page for details.
The kids and I were guests of Taronga Zoo. All opinions are our own.