With itchy feet and a few days up our sleeve we decided to be spontaneous and take a road trip. We wanted somewhere that would be a heap of fun for the kids, rich in learning opportunities and fairly laid back. We didn't want to arrive home from the trip exhausted. The choice was fairly easy. We would go to Canberra. Canberra is just over 3 hours from Sydney by car. In the way of family suites under $200 a night there isn't that much on offer (that we could find. Please let us know if you can recommend somewhere), so you may need to look at a double room. Do your research and look for something fairly central.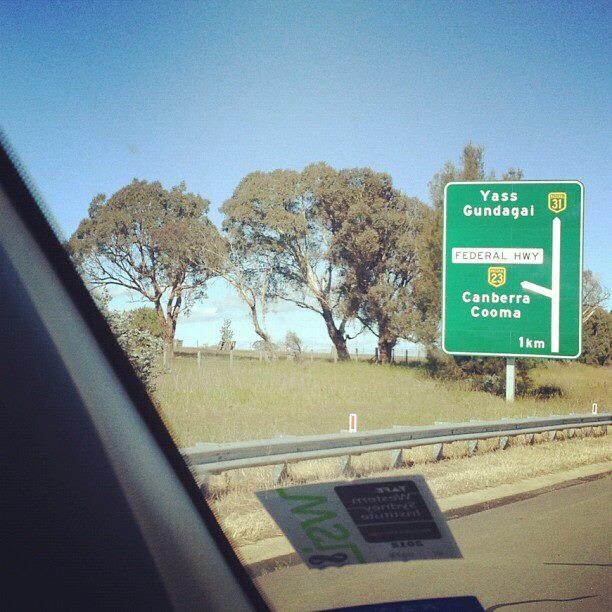 There are a plethora of activities and sites to visit in Canberra. I can safely say that there is something in town for everyone. We decided to do a one night sleepover with the promise to return. Our itinerary for our short stay listed Questacon, Parliament of Australia and the Australian War Memorial as our three destinations. We left Sydney at 7.00 am and by 10.00 am we were almost there. On crossing the border into the ACT we drove straight to Questacon. A family ticket (2 adults + 3 children) costs $70.00 which is well worth it – there is just so much to see and explore.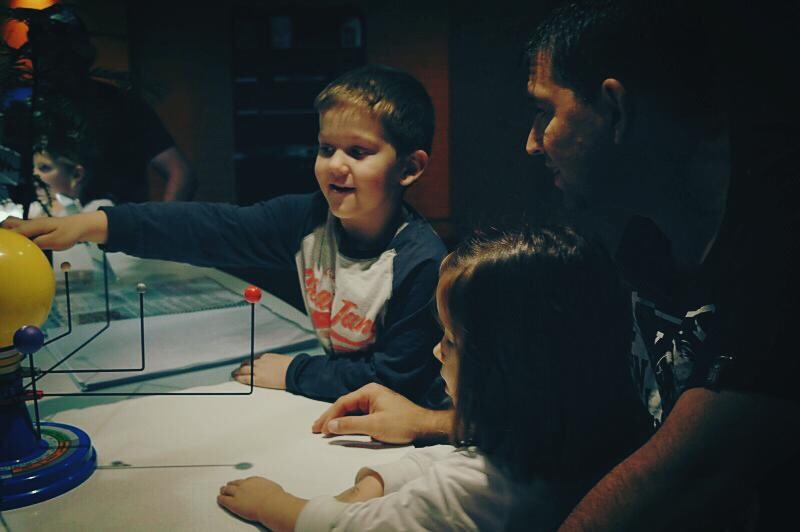 Questacon is made up of eight interactive galleries which offer over 200 hands-on exhibits. Each gallery is themed around a particular concept providing much opportunity for children (and adults) to grapple with ideas and test out their own theories. When developing each gallery the curators have provided activities for a span of age groups – perfect for both our 4 and 6 year old. The hands-on activities align perfectly with my philosophy of learning and I encouraged the kids to touch everything! 
Give yourself an entire day to visit Questacon. It has enough activities to keep your kidlets busy throughout the day and a cafe on site so you don't need to leave. Our next stop was the Australian Parliament House which we squeezed in before heading to our hotel to check in.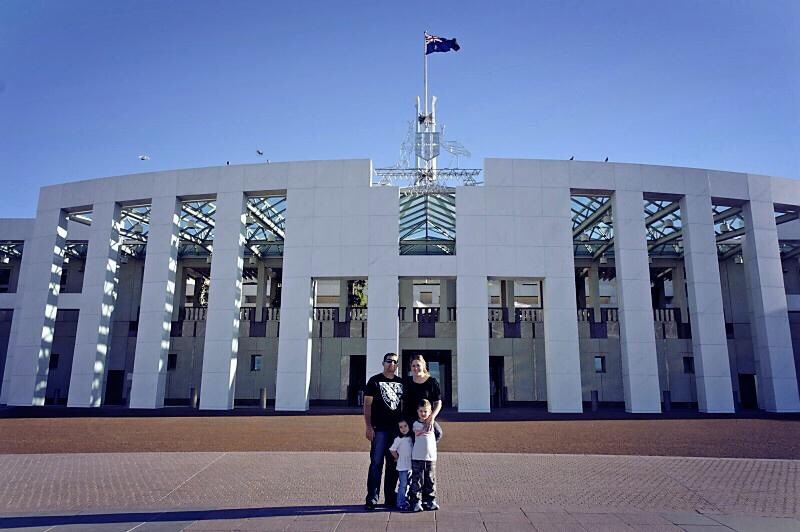 I first visited Parliament House shortly after it's opening in 1988 on a trip with my mum and dad. I was in awe back then and it still as the power so many years later. It's free to visit, and you can even park on the grounds (which greatly surprised us). With the site boasting 4,700 rooms we knew we couldn't see it all. Much of it is closed to the public so finding the underground tunnels was not going to be on the agenda. We did note the Great Hall, the House of Representatives chamber (decorated green) and the Senate chamber (decorated in red) as rooms to visit. I was also keen to spot the large Arthur Boyd tapestry and maybe a politician or two. We ticked all these items off our list. As a planned city, the town planners and architects who designed the Parliament House and roads outside had a lot of scope to create their own vision across kilometers of land. Covering 80 acres, the site sits above the Old Parliament House, and is a straight path to the War Memorial. It is the focus point of the city, and of course the power base of our great land. Children are welcome at Parliament House and there is plenty to explore. The site captured their attention quickly, even the gallery of past Prime Ministers was intriguing.
On arriving at our hotel after dinner, we nudged the kids to bed early so we could pack in further adventures the next day starting with the Australian War Memorial.
The Australian War Memorial documents Australia's history of war and is a place to commemorate the sacrifice of those Australians who have died in war. Wandering around the museum you hear many narratives about war time, view relics and discover facts that you may not have known. My six year old found the visit quite confronting which led to him becoming quite distressed. There is no way to make war less horrific or to wish it away, so we cut our trip short. We may visit when Master R is a little older, we may not. What we will do is explain why we need to remember the sacrifices and perhaps how we can prevent it happening again. Rather than squeezing in a further attraction we decided to head back to Sydney at a leisurely pace giving us time to stop for lunch at Grandma's Little Bakery in Collector and then for afternoon tea at Goulburn. Grandma's Little Bakery is a fantastic spot to stop with a lovely menu and a huge kids play area. Developed within the award–winning Fedra Olive Grove, even a short visit will find you looking across the grove and wishing you could stay all day. It is that lovely. We ordered Greek Salad, Grandma's House bread for two and items from the menu for kids. Oh my!  This will become our pitstop each and every time we go to Canberra.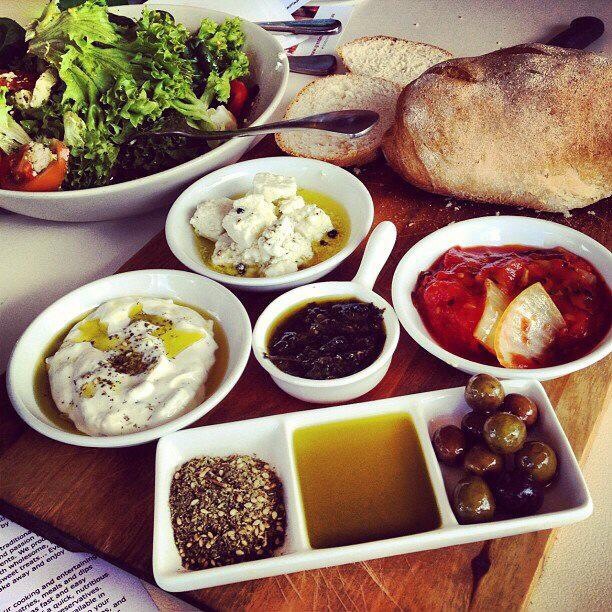 By the time we reached Goulburn we were itching to get home but we couldn't go past without introducing the kids  to their famous landmark – the Big Merino. Goulburn is the perfect spot for  quick break, even if it is just to stretch your legs, if you are travelling with kids along the Hume Highway. There are a number of quick meal spots in the vicinity of the Big Merino, plus your kids can go inside and climb up the stairs to peer out the sheep's eyes.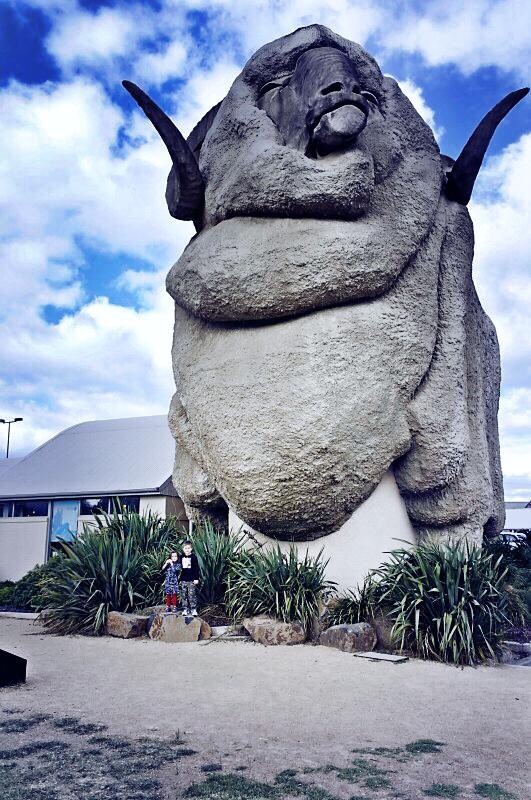 Canberra is an Australian destination that offers history, fun and gourmet delights. It's not too far from Sydney – you could do it in a day, or even a great road trip destination from Melbourne. Check out Visit Canberra – www.visitcanberra.com.au to help plan your trip.