With Sydney experiencing some of its warmest May days since the 1930s we have decided to make the most of the blue sky and source weekend adventures outside. On Thursday I discovered that Blacktown City was hosting My Lords and Ladies Medieval Fayre and knew straight away that it was going to be our weekend event destination.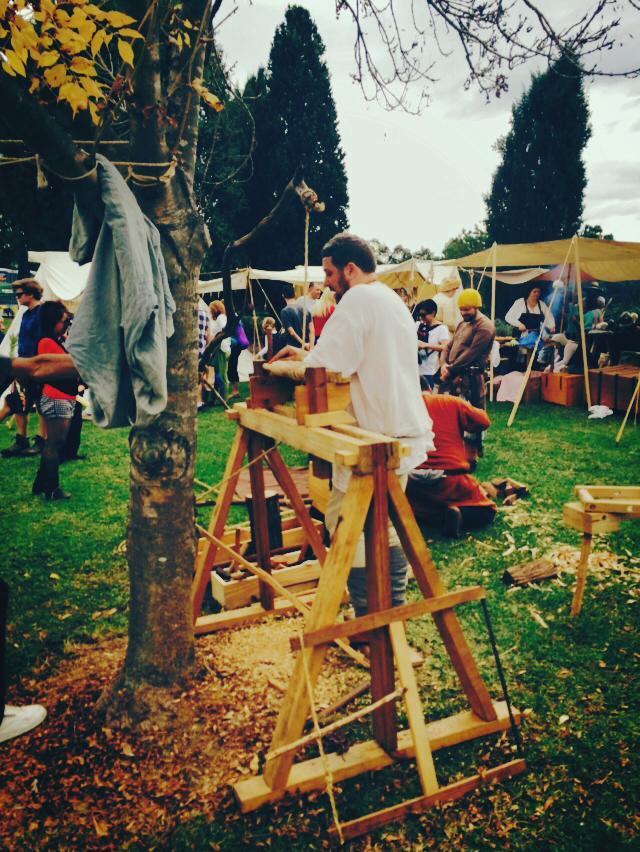 Although 2014 isn't the first year that My Lords and Ladies Medieval Fayre has run, it was our first year visiting so we were unsure what to expect. Hosted by Blacktown City Nurragingy Reserve, Knox road, Doonside and running from the 24-25 May, the celebration promised a plethora of attractions from Jousting to weaponry and armour displays; Hawks and Owls and even a circus activity tent. To be honest, our expectation wasn't that high but we were keen to spend the day outside having fun so off we went straight after soccer.
Arriving at the Nurragingy Reserve we were a little hesitant to drive in due to the line. We contemplated parking in a side street, but agreed that we were in no rush and drove into the site. Despite the queue, it moved quickly and there was lots and lots of space to park. The reserve is HUGE!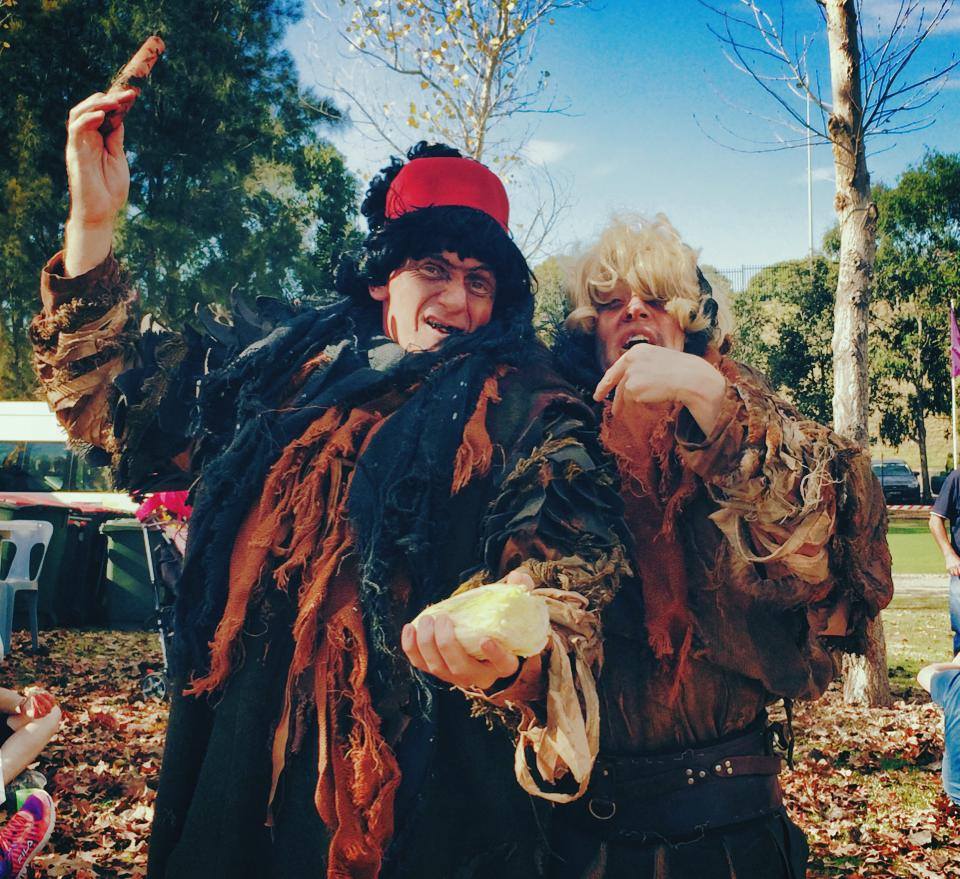 Entering the site and walking towards the event site we were accosted by two ruffians who attempted to coax Miss 5 into eating rotten cabbage and mildew ridden onion. They accused us of bad parenting due to our children's white teeth "here children, eat some of this so your teeth fall out!". The kids were in hysterics. All reservations vanished and we were ready to join the festivities.
My Lords and Ladies Medieval Fayre is not a small celebration. It is busy, full of cheerful banter and activities. It is a fantastic festival to attend with kids with so much to offer. We started off watching Medieval Fight Club in the Jousting Arena. We were walked through the chronological development of weapons from sticks and stones through to canons with a team of knights and soldiers demonstrating each item. We were warned to block our ears for the muskets and canon which also released a lot of smoke and made the kids laugh. The highlight was the arrival of a knight who bore the brunt of each weapon before finally falling to the cannon.
Where to visit next? We decided to look at the tents and let the kids lead the way. We saw medieval crafts, woodwork, smiths and a kitchen before coming across the executioners area which held their interest for a little  longer than I liked (perhaps as a result of our trip to the Police and Justice Museum last week?). They saw the guillotine and the hangman noose, but luckily we missed the demonstration (phew) distracted by the Swords Play demonstration.
The more we walked and saw the variety of activities and people walking around in medieval attire the more the kids immersed themselves in the festivities. We were soon convinced to source them both their own sword and shield – a steal at only $15.00 for the set. Of course they had to try them out!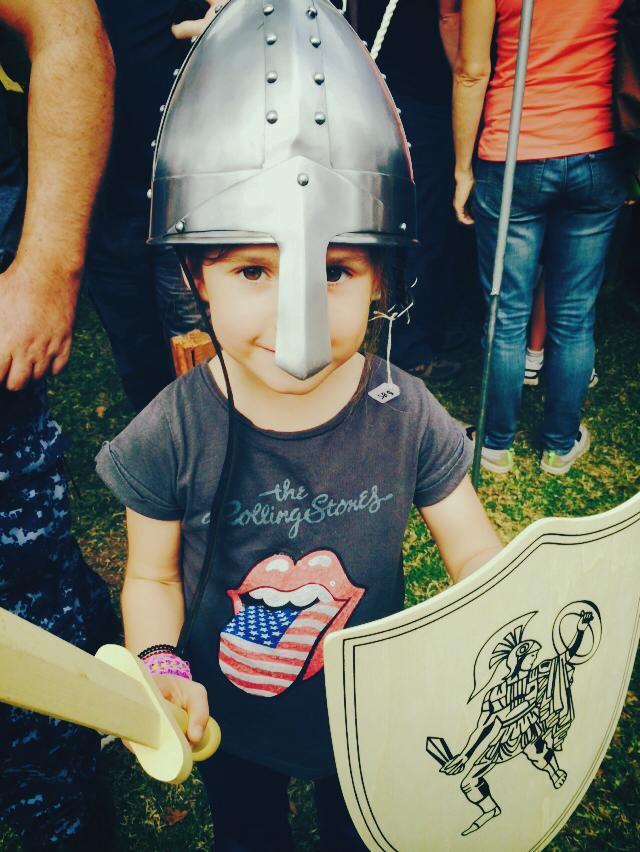 Our next stop was the Circus Works Children's Activity Tent. This enormous tent was packed full of kids enjoying the various activities including juggling, hula hoops, diabolos, twirling items, balance beams and many, many more items. What a blast! So much fun, with every single kid walking into the tent engaged in an activity within seconds. It was at this point I knew that the kids were going to sleep well in the evening – there was never a dull moment at the festival.
We ate lunch on the hill where meals were being prepared by a local community group. I must say, I was impressed. Usually at festivals the prices of food are quite expensive. Not at My Lords and Ladies Medieval Fayre! Hot food rolls and sandwiches were all under $6.00 and drinks a mere $2.00 a can! Brilliant!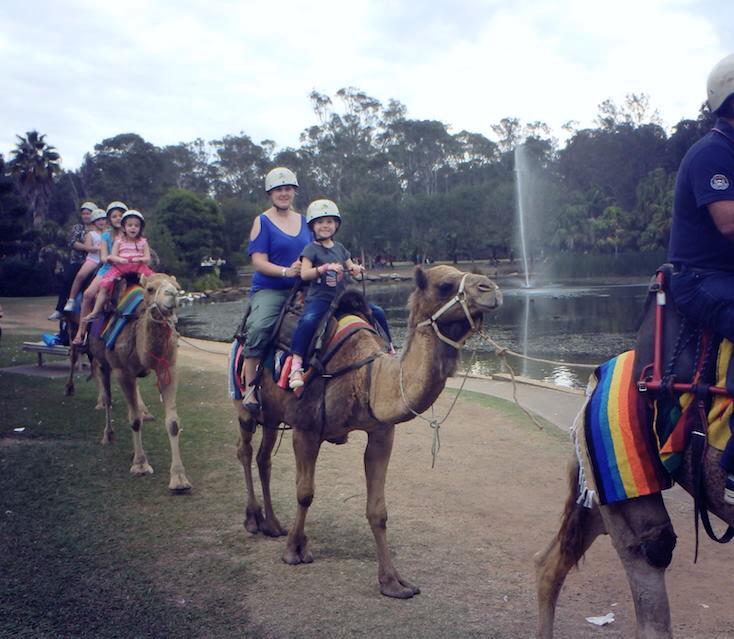 Miss 5 then spotted the camels and we lined up for a ride while Master 7 and T went to the jumping castle. It took more than an hour to reach the front of the queue with our patience finally rewarded and we took one of the final rides for the day. I have now ridden a camel!!! What a buzz! I can confirm that it is very different from riding a horse as their gait is unique. Miss N and I couldn't stop smiling the whole time we rode. After dismounting we realised we were quite exhausted – it was after 3.30pm at this stage, so we made the journey back to the car.
My Lords and Ladies Medieval Fayre is an opportunity to step back in time. All activities are free and there is so much to see and learn. I hope you get a chance to visit next year!