Just after his seventh birthday, Master R declared that he was now too old for birthday parties and would be quite happy with a 'get together' in the future. Perplexed by this, I asked him what he meant. He informed me that older kids invite a few friends around for a chat and drinks.
As his birthday grew closer and closer, Master R informed me that his get together would be the perfect opportunity for his friends to play Minecraft together. In fact, a Minecraft themed get together would be just what he wanted. I interpreted this as a party without masses of people and fuss. Typical Master R!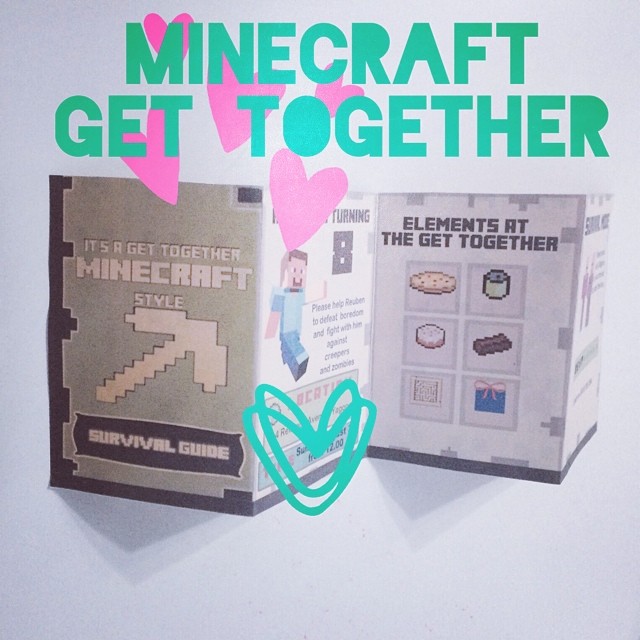 So I set to work. I began by sourcing invitations. Etsy is my go to place for invitations and I found a great invitation via Penciltrace. Despite the invite allowing for some minor editing, I used photoshop to tweak the titles to reflect a get together rather than a party and printed them at home. Easy peasy! If you would like to be really creative, check out the awesome Minecraft Cube Invitations that you can purchase.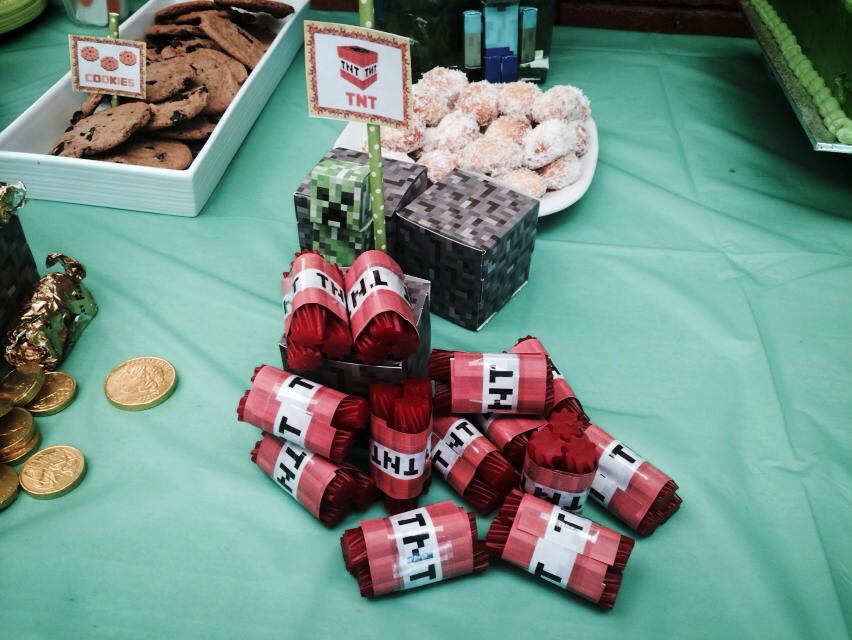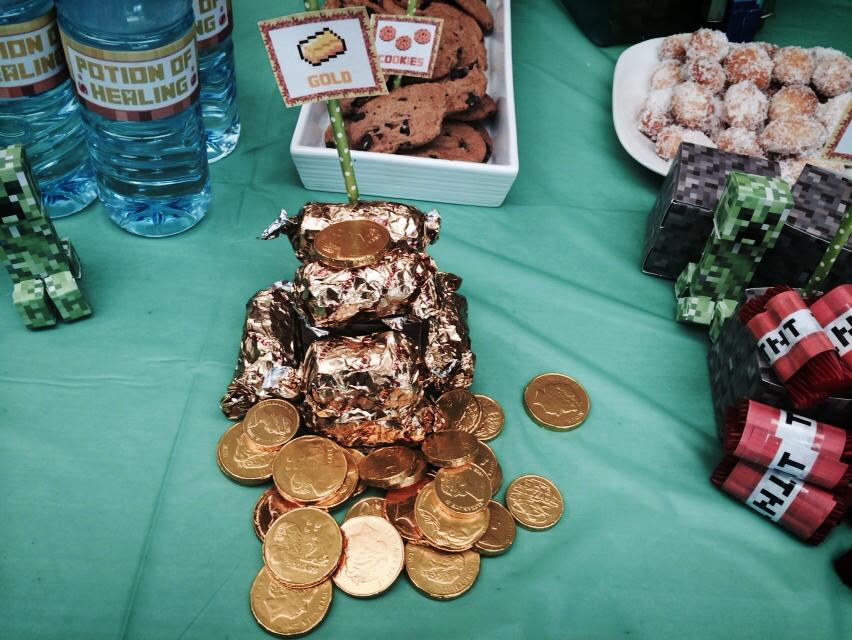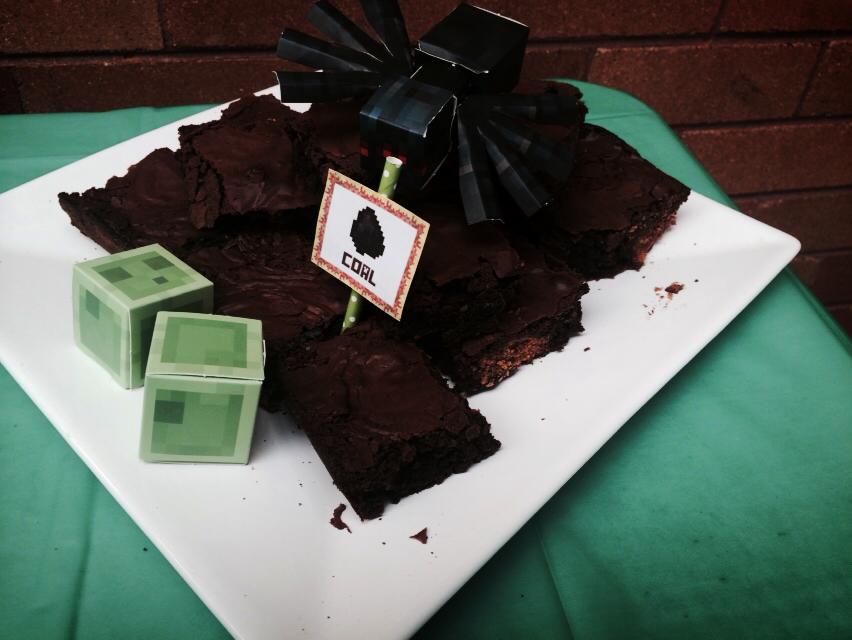 With the invitations sorted, my next step was to organise the cake and food. I left lunch in T's capable hands, and set to work on organising the sweets. I kept to the Minecraft theme and created TNT (red liquorice treats that I bundled together with a label); Gold (chocolate coated baklava in gold foil and gold coin chocolate); and coal (created from my special chocolate brownies with hidden Zumbo caramel Tim Tams hidden inside). A number of other sweets were provided and lots of carrot sticks (Master R's favourite).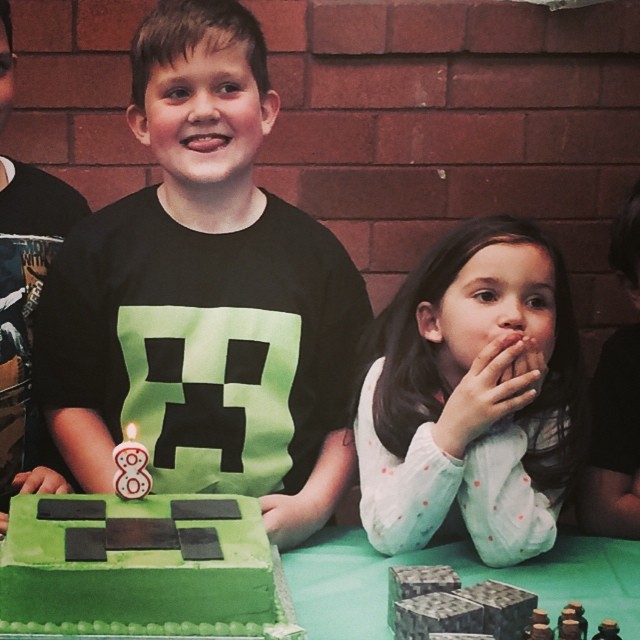 My last effort was the cake. I'm not a cook and leave that to T every night, but I figured a Creeper cake would be super easy. All I needed to do was bake a large square mud cake, lather it in green icing and whack on some chocolate pieces as his face. Easy peasy, right? T laughed for at least five minutes when I suggested this and organised for our local cake chop to make it for me. Crisis diverted! When presented to Master R he couldn't wipe the smile off his face. Success!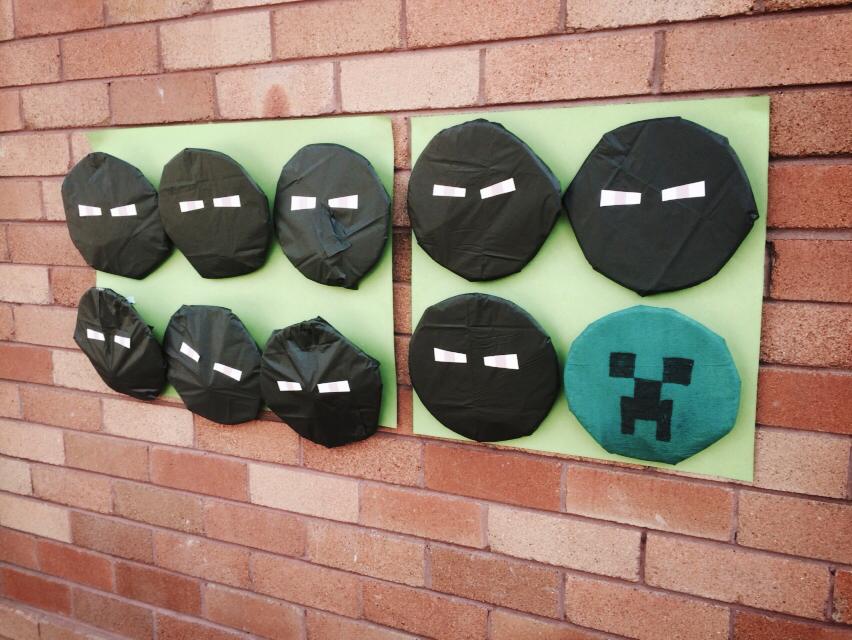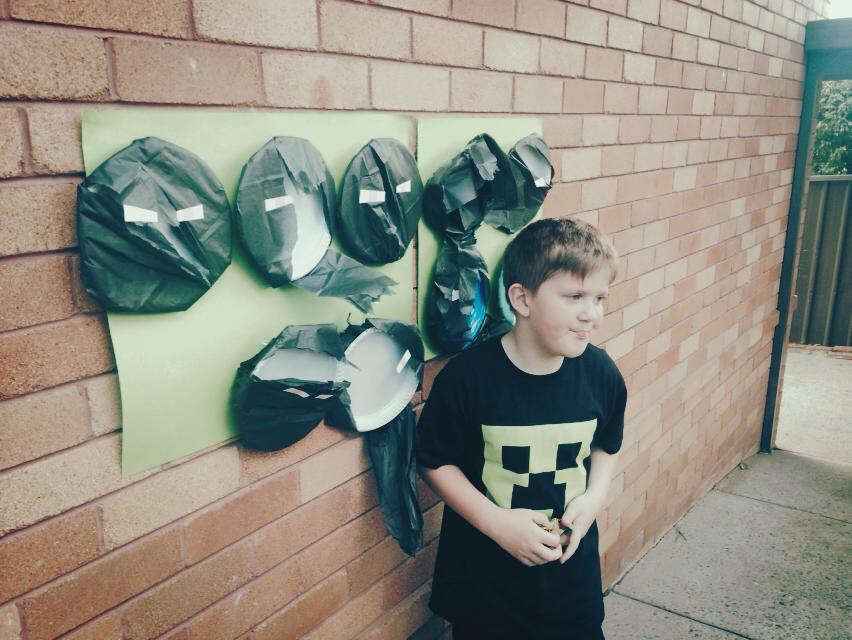 Games were something Master R was very hesitant to have at this 'get together'.  He was adamant that no 'baby games' would be on the agenda, but was keen to have a few fun activities just in case their batteries died and they couldn't continue playing online. I decided to replace the traditional pass the parcel with Enderman Punch Battle (see above). To create this crazy game, I grabbed a paper plate for each kid, stuck a random prize on the surface and then covered it with black tissue paper. I glued on some purple eyes so it looked like Enderman's face and then arranged each plate on large backing paper. To play I lined the kids up and asked them one by one to choose a plate. They could then battle Enderman to reveal the prize inside. Obviously the game is a little faster than Pass the Parcel but the kids LOVED the game!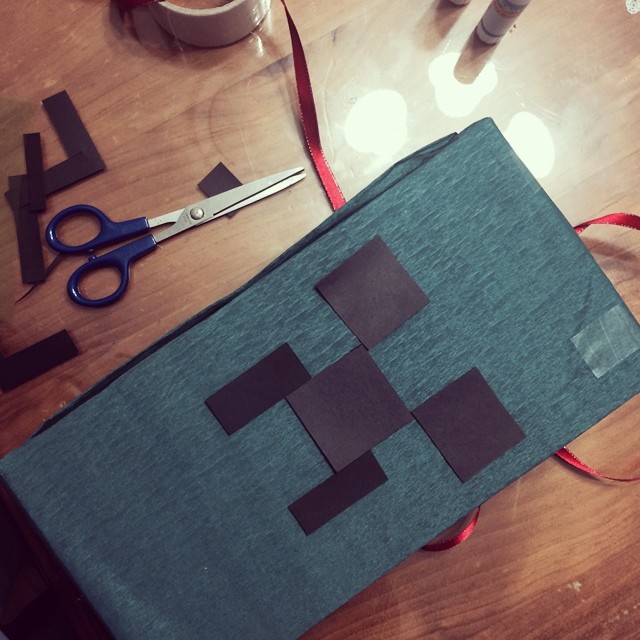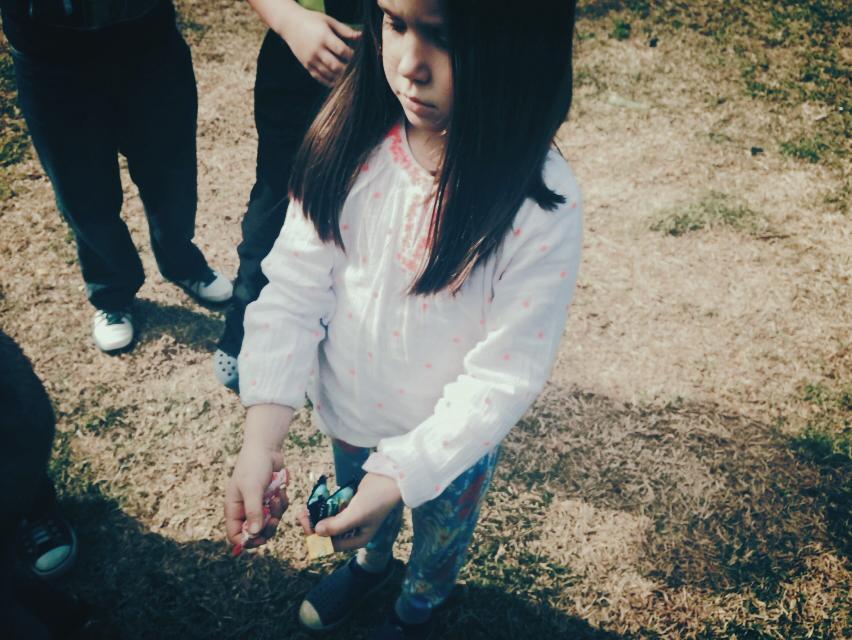 The piñata has been a game we haven't had at our parties for a while. I decided our get together was the perfect place to reintroduce the activity. I themed the piñata as a Creeper by simply finding a rectangular box which I filled with treats and then covered in green crepe paper. I added his face by using black card and voila! we had a piñata.
Master R didn't stop smiling all day. Our highlight was when he was told to make a wish as he blew out the candles and he replied "Why? All my wishes have already come true". I had to wipe away a tear.
Want more inspiration?  I found a plethora of Minecraft Party ideas from: Craft My Party, Burnt Apple, A Thrify Mom, and Frugal Family Times.
**Like our previous parties, I haven't shared all of our images as they also have Master T and Miss N's friends who I haven't sought permission to show.