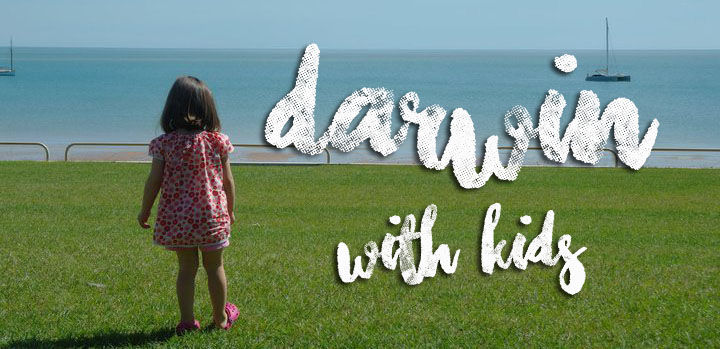 I spent most of my formative years growing up in the Northern Territory after we relocated from Tasmania. The contrast couldn't have been any greater. I recall long days around the pool and laughter. My brother and I would collect cicada shells from the trees and suck the honey sacs from the bottoms of green ants. We could scamper up coconut trees in record time (a skill I have long since lost). The days seemed to roll into each other and whilst it often rained, it never really got cold. As an adult I couldn't wait to travel back with the kids.
Ask my mum what Darwin was like back in the early 80s when my family lived there and she'll be quick to retort "beer and BBQs". I was hoping Darwin had evolved a little since my childhood, whilst maintaining many of the attributes that I had loved during my own childhood (except box jellyfish – I was happy for them to disappear). Ignore my mum, Darwin is a vibrant, happening city which, whilst small, offers amazing dining experiences, wonderful accommodation options and both natural and developed attractions that will every one of your days if you so wish.
When creating our itinerary I was super keen to visit some of the attractions that had delighted me as a child. To help you on your travels we have rounded up our Top 15 Things to do in Darwin with Kids.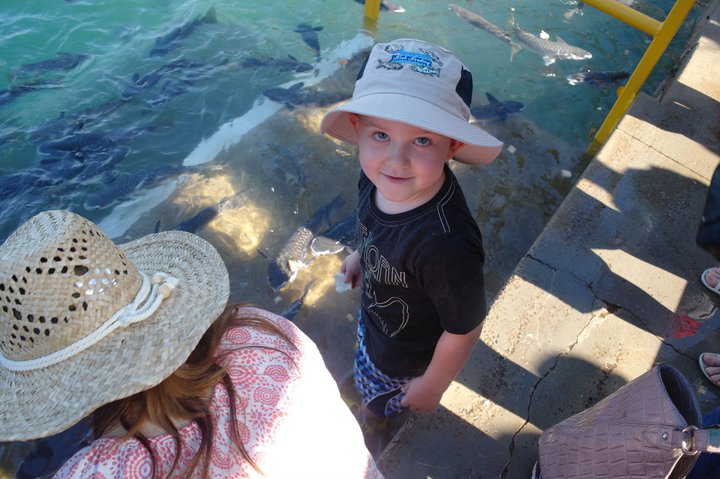 1. Aquacene.
At the top of my list was a visit to Aquascene in Doctors Gully where you can feed wild ocean fish by hand. My mum often took us there after school while we waited for dad to finish work way back in the 80s. I knew my kids would love it and they did. The bread seems to keep appearing so you can continue feeding the fish for the entire length of your visit. Awesome fun (and the fish don't bite).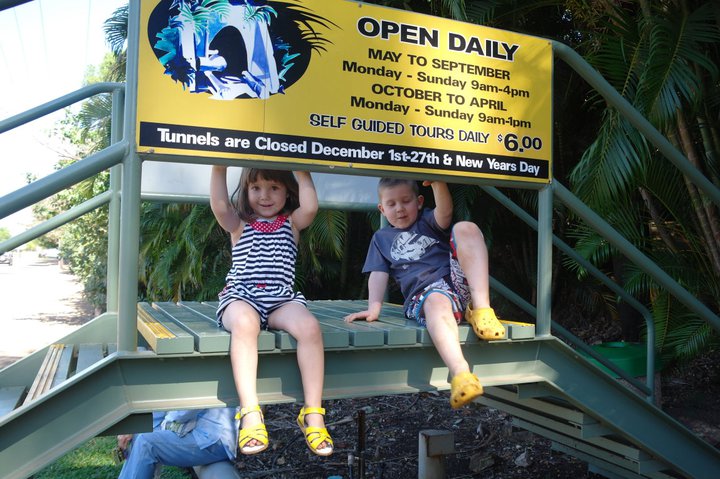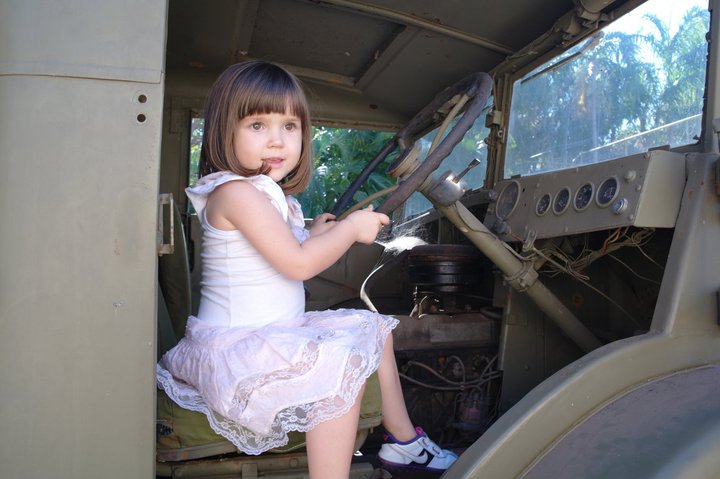 2 & 3. WWII tunnels and Military Museum.
During WWII, Darwin was a hive of military activity which peaked when it was bombed by the Japanese. Scattered around Darwin are a number of military remnants from this time. We found the WWII tunnels that run under the CBD and the Military Museum most fascinating, walking away with a much richer understanding of Australia during this historic period.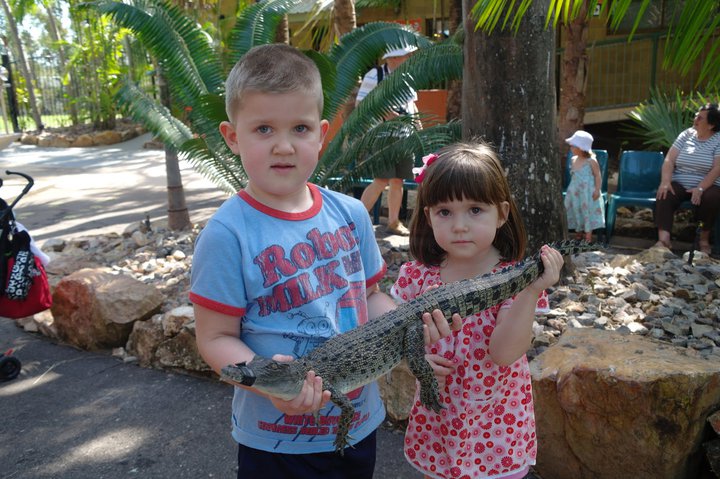 4. Crocodylus Park or Crocosaurus Cove.
A trip to the Northern Territory isn't complete until you've held a crocodile in your hands. Both Crocodylus Park and Crocosaurus Cover will provide you with the opportunity to do just this in a safe environment (please don't try to do this in the wild!).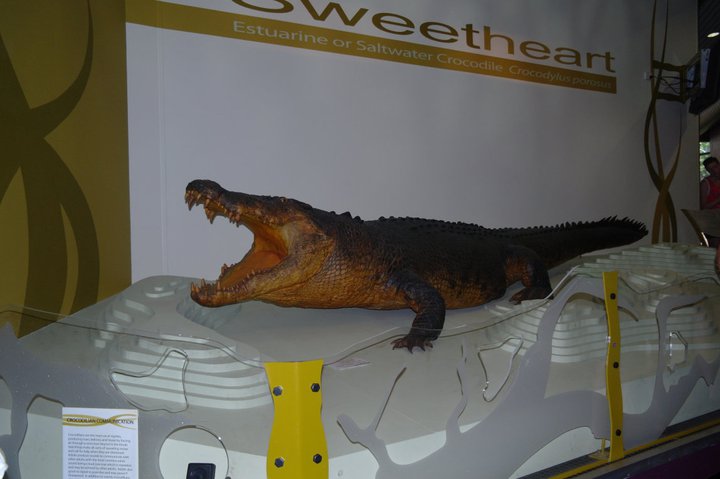 5. Museum and Art Gallery of Northern Territory.
I couldn't wait to revisit the museum having spent countless hours admiring Sweetheart when I was a kid. She's Darwin's answer to Melbourne Museums Phar Lap exhibit – a super sized 5 metre plus crocodile that was caught around 40 or so years ago. You can even see the contents of his stomach when he died (44 gallon drum anyone?). Whilst the kids found him fascinating they were most impressed with the cyclone simulator.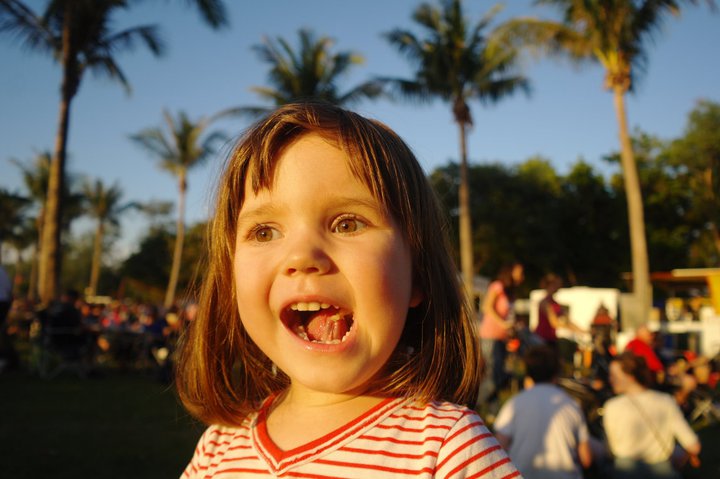 6. Mindil Beach Market.
If you love exploring markets and sampling a wide range of food, you are certain to enjoy Mindil Markets. Famous for overlooking the Arafura Sea evening sunset and for its diverse cuisines, the Mindil Beach Market didn't exist when I was a kid and is a welcomed addition to Darwin's attractions contributing more than $15 million to Territory's economy every year. It is crowded, I think the entire tourist population flocks to the every Thursday and Sunday, but it is an experience not to be missed.
7. Leanyer Recreation Park.
It's rare to find a FREE attraction these days that the whole family will enjoy. Leanyer Recreation Park is a water park owned by the NT Government facility and proudly managed by YMCA. With three giant water slides, pools, a shaded play area, a skate park and BBQ facilities just to start, we found it to be a great place to head to break up our travels. Did I mention that it is free? During the school holidays the kids are further treated to clowns, jumping castles, mobile discos and face painting. Hooray!
8. The George Brown Darwin Botanic Gardens.
Established over 130 years ago, I loved running through the George Brown Darwin Botanic Gardens when I was a kid. They had the most amazing spaceship in the playground that you could turn from an internal wheel. Sadly, it isn't there anymore (or maybe that's a positive) but there's so much more to enjoy now including Eva's Cafe which is more than a little bit yummy. With 42 hectares to explore you'll find water fountains, playgrounds and amazing floral displays. My top pick is the orchard of exotic fruits. Guava anyone?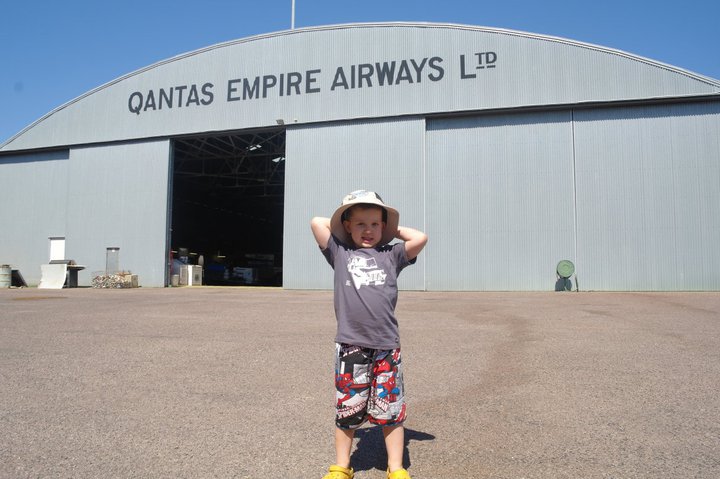 9. The Qantas Hangar. 
Built in 1934, the Qantas Hangar has survived countless cyclones including Cyclone Tracey and the WWII bombings. It has exchanged hands a few times since then and has been utilised by the Motor Vehicle Enthusiasts Club (MVEC) since 1999. In that time they have converted the main hangar into a display area where you can view a wide range of stationary engines and vehicles. T found this most interesting and spent a good hour looking around.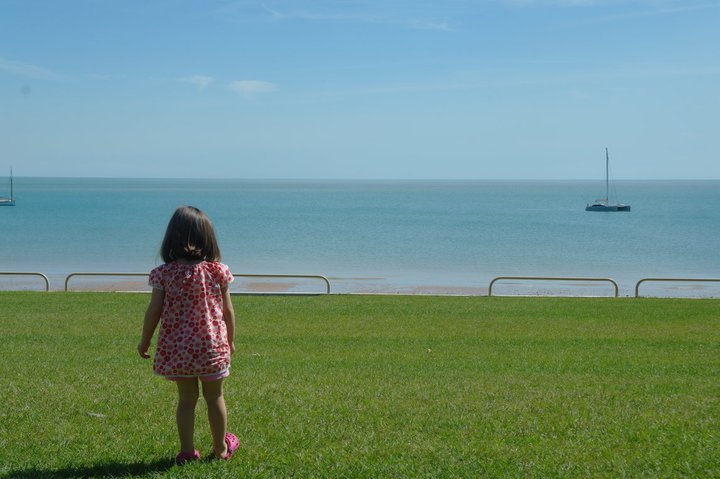 10. Darwin Waterfront Precinct.
When I was little, the beaches in Darwin weren't always safe to swim in due to Box Jellyfish and crocodiles. I also remember an escaped monkey problem, but that might be a figment of my imagination. The addition of the Darwin Waterfront Precinct is wonderful offering a Wave Lagoon and a saltwater Recreation Lagoon (which is free!). Dotted with cafes and lush parkways, I would consider staying near this area when we return. Divine!
11. Deckchair Cinemas
I couldn't find the drive-in where I watched ET when it first screened in Darwin, but we did find the Deckchair Cinemas which offers an interesting take on the movie theatre experience. With the temperature typically nice and warm throughout the night during the Dry Season, the Deckchair Cinema will see you laying back in your chair watching the sunset over the ocean enjoying popcorn before your movie viewing. Do check to see if a family movie is screening before you go!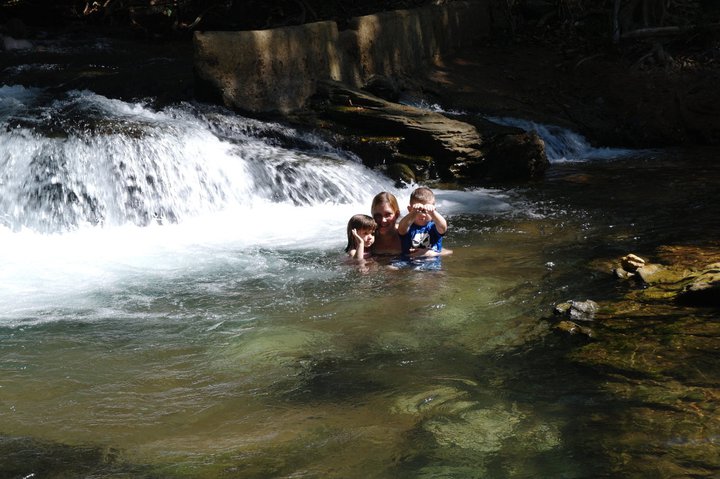 12. Berry Springs Nature Park.
I love, love, love Berry Springs Nature Park!! It hasn't changed from my childhood memories and is super family friendly. The water is divine and it has these little fish swimming within it that nibble at your leg and arm hair. It does get a little busy, so pick your time. The only thing, make sure the ranger has done a recent croc scan – they pulled one out a week after our visit!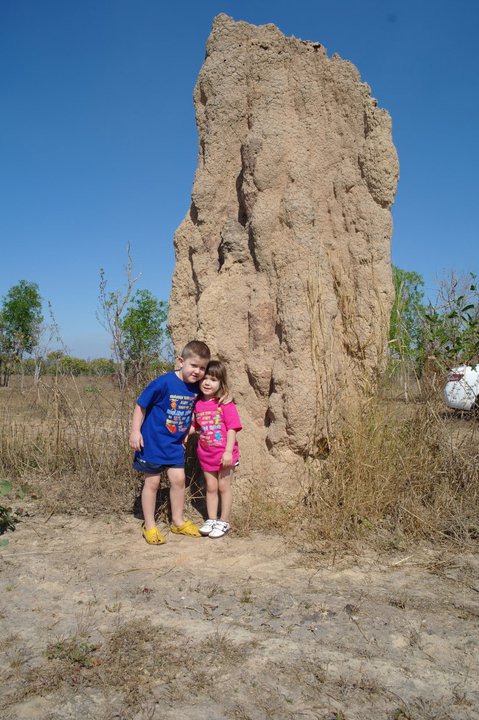 13. Magnetic Termite Mounds.
You don't need to go anywhere in particular to see a Magnetic Termite Mound as you will most probably spy a few on any of your adventures outside the Darwin metropolis although Litchfield National Park is THE place. Reaching over four metres at their peak, each mound is built by termites and aligned north-south. They often feature arches, bridges, nurseries, insulation and more. What an architectural marvel! You'll want to see these.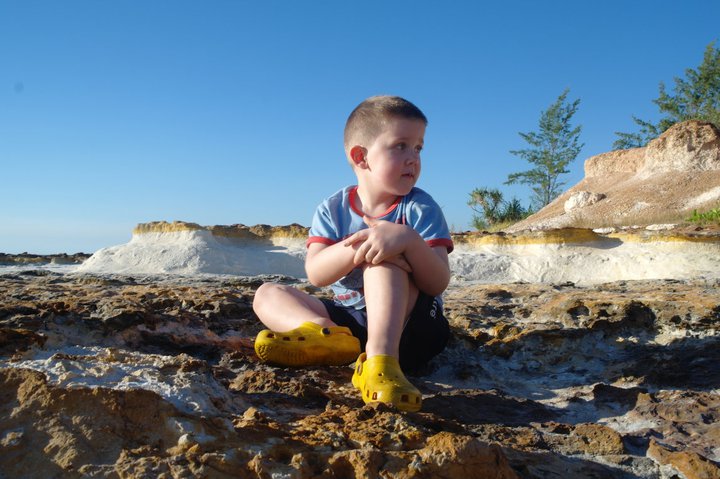 14. Nightcliff Jetty.
Nightcliff holds so many memories from my childhood. We lived here for a year or so before moving on to Palmerston (when it was first established) and my mum would take us to explore the rock pools after school before we went home. It is an amazing suburb. When I returned with my own family, we booked accommodation in this very suburb so I could enjoy a little nostalgia. The Nightcliff Jetty often has food vans waiting for your order and it has plenty of space to enjoy a picnic. Watch out for the Sunday Morning Nightcliff Markets.
15. Fannie Bay Gaol.
Another spot I visited as a child, the Fannie Bay Gaol was Darwin's main jail right through until 1979. It had served the city for over 100 years and saw its last hanging in 1952. It's free to visit and will take up about an hour or so of your itinerary.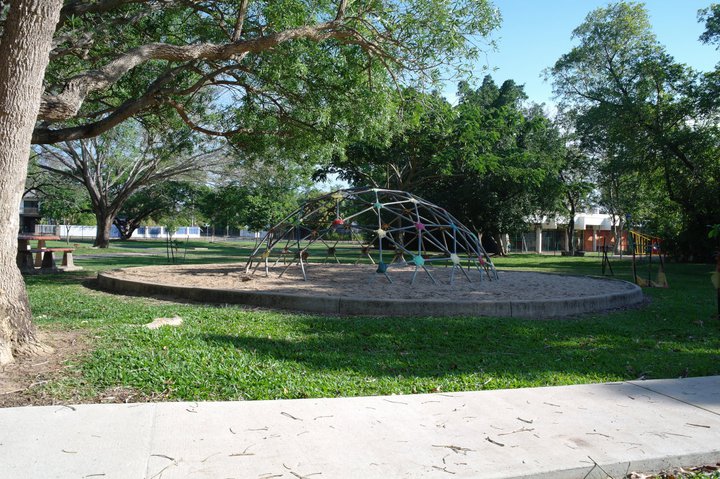 I had to include this. Back in the mid 80s I attended Nakara Primary School. I fell from the centre of this dome and broke my wrist. By memory, I was able to direct T back to the school so we could see if it was still there – and it was!!! This is a 30+ year old climbing frame and it's still totally functional!!
Have you travelled to Darwin? What attractions would you add? Make sure you read about our adventures further afield in the Northern Territory by clicking here.