When we head out an adventure, every member of our family has the opportunity to put forward the places, attractions and experiences they would like us to do at some point. I usually put forward museums, art galleries and historical venues. The kids offer suggestions of amusement parks, anything with water and perhaps a doughnut shop or two. T is generally keen to try things that no body else would ever think of adding to an itinerary. When we headed to California his list was full of garages. Which garages you ask?
The Da Rod Shop is the garage setting for Discovery's Rods N' Wheels reality show. Starring Steve Reck, Billy Derian and their cast, the show focuses on the restoration of vintage cars and hot rods. We actually arrived on a Sunday when the garage was closed but were lucky enough to spot Steve arriving to complete a job. He showed us inside and gave us a short tour.
You can visit Da Rod Shop at 958 Chambers Ln, Simi Valley, CA. It is open Tuesday –-Friday between 8:00 am – 5:00 pm and on Saturday between 9:00 am – 2:00 pm It is closed Sunday and Monday.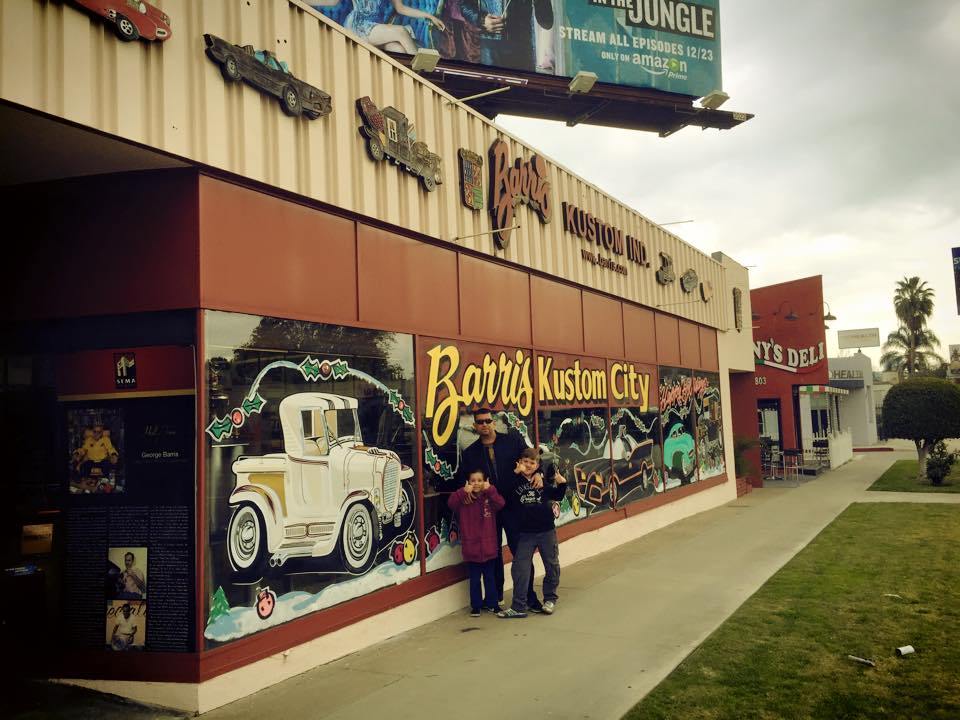 We were fortunate to visit Barris Kustom Industries and then to meet George Barris later that year on our trip to California prior to his passing. On our trip we were granted permission to tour the garage and touch (and even sit) in the original Batmobile, Munster Koach, Beverly Hillbillies, KITT from Nightrider and more.
Barris Kustom Industries can be found on 10811 Riverside Drive, North Hollywood, California 91602. It's easy to find even for us Australian's. Parking spaces are limited.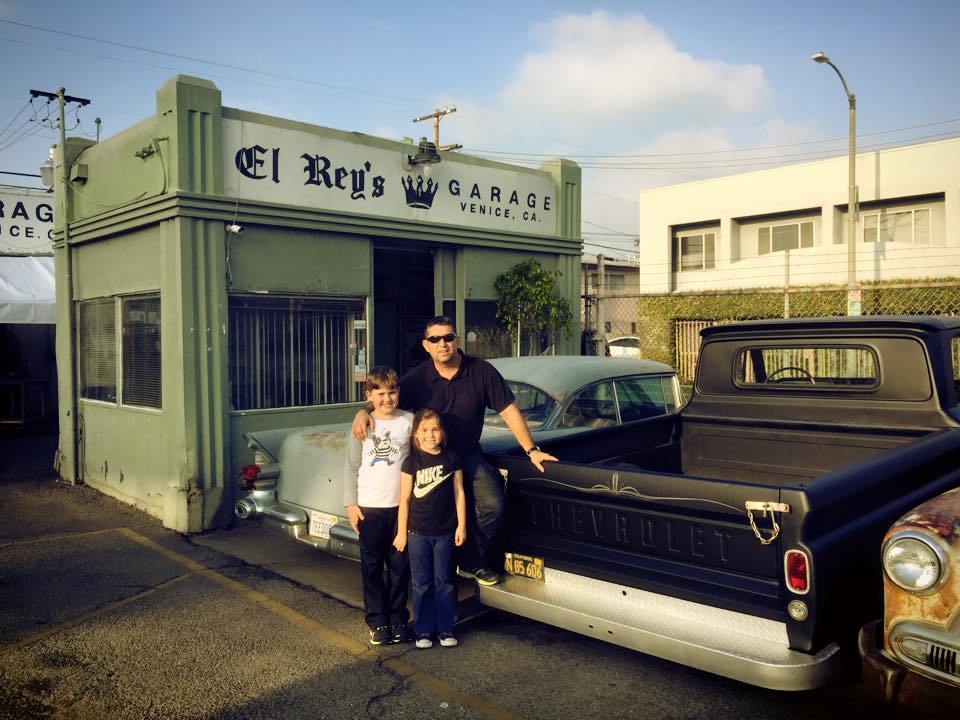 Whilst Turn and Burn isn't currently filming at El Rey's you can head over and check out the place where it all started and spot some of Brother JD's latest projects. If you're super lucky you may even catch the man himself down at Venice Beach.
Want to visit Brother JD at El Rey's Garage? Head to  8741 Venice Blvd, Los Angeles.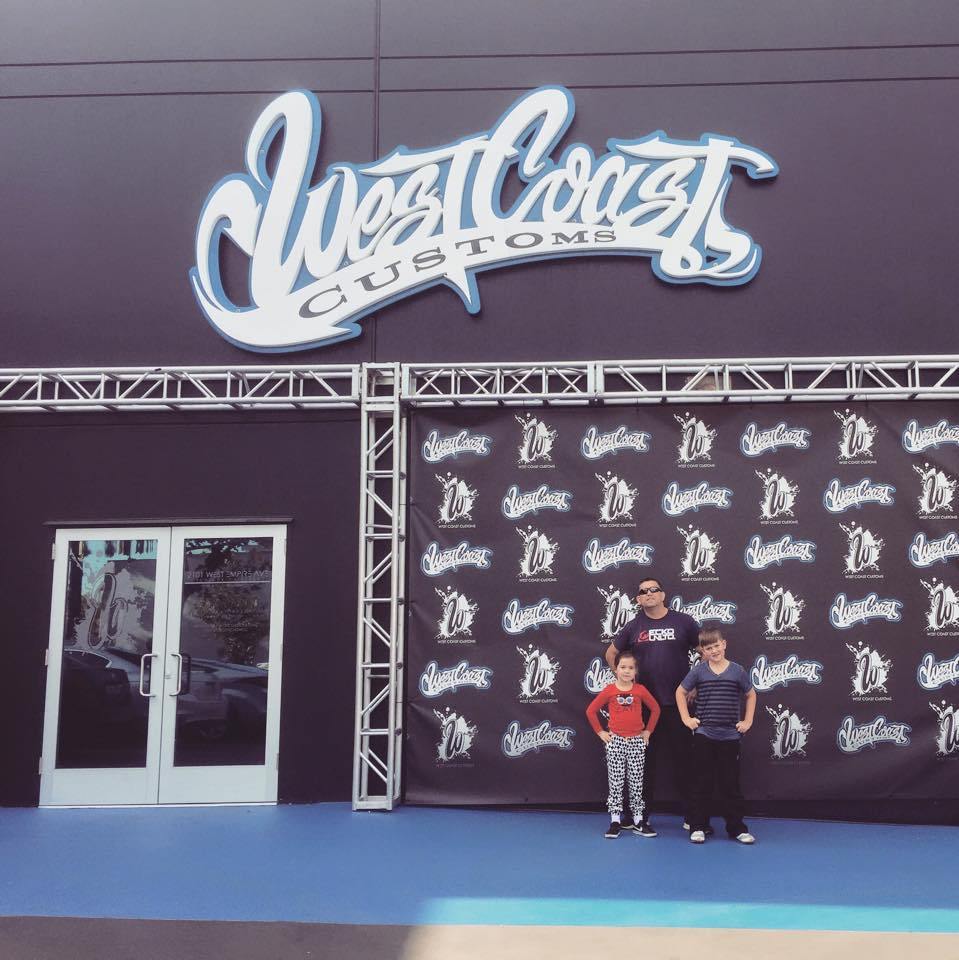 For years I watched Pimp My Ride on tv never realising that one day T would take me along to place where the cars are transformed into things of beauty. Regular tours are available on site as well as a large range of merchandise.
The West Coast Customs Showroom is open 8.00 am – 7.00 pm Monday to Friday and 9.00 am – 3.00 pm on Saturday. Head to 2101 W Empire Ave, Burbank, CA 91504. If you get lost you can call the team on (818) 237-1287. I found them very helpful and delighted to show us around.
Foose
A trip to Chip Foose's Foose Design garage in Huntington Beach was on our itinerary before we had even secured our airfares. T was super keen to head to this garage to absorb the greatness which is Chip Foose and perhaps catch him sketching out a design in person. The issue? The garage was closed for tours the entire time we were in Los Angeles. We drove there three seperate times just on the off chance it was open. Um, it wasn't.
Whilst we have never visited, we've heard it is one of the most innovative places to visit. Tours are between 12.00 – 1.00 pm daily. Head to Foose Design Inc, 17811 Sampson Lane, Huntington Beach, CA 92647. I highly suggest checking their website before you go (something we should have done) to make sure they're open. 
PIN THIS