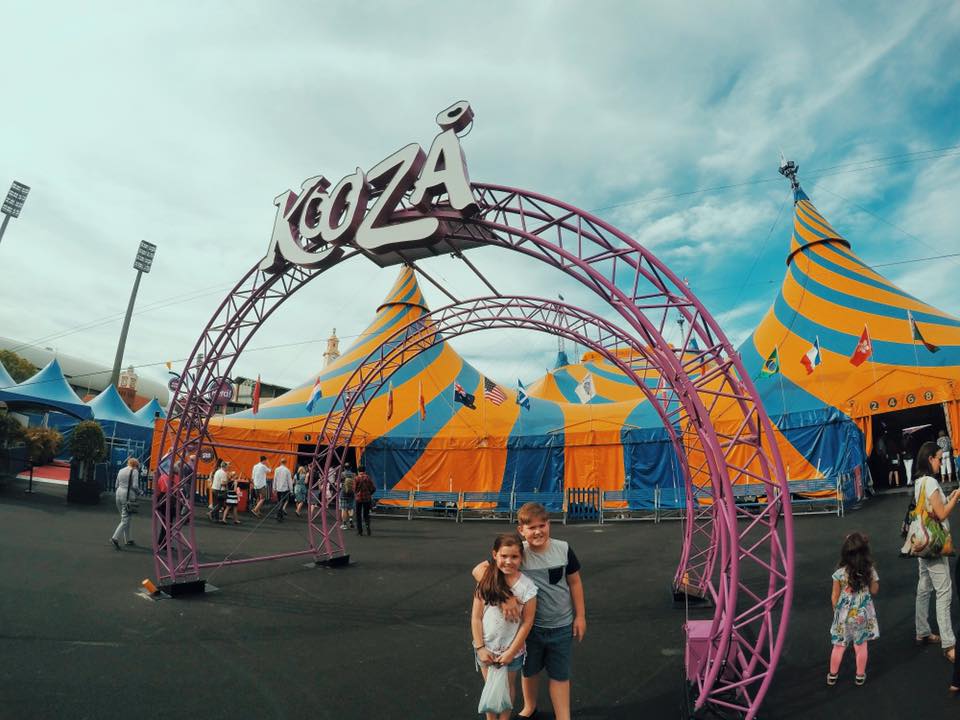 Over the years we have been in the audience at many Circus performances, even a previous Cirque du Soleil. They have a certain rhythm, a certain predictability. I was expecting much of a muchness as we headed to the Entertainment Quarter at Moore Park to watch KOOZA by Cirque du Soleil.  I humoured the kids, yes the big top looks bigger than the other ones we've been to. No, no there are no animals, you know how I feel about that. Striker was a bit miffed at the whole thing. He felt, being 10 and all, that he was too old for the circus. We took our seats, the show started and all those preconceived notions I had fell away.
The entertainment started from the moment we found our seats when we noted the three would-be clowns in the audience and on stage. The King of Fools and his sidekicks, or foolish footmen, have replaced the traditional role of the clown, hamming up the absurdity and providing comic relief when needed most. They had the kids clutching their tummies in laughter throughout the show. They can be a little rude and crude, but within the context it seemed completely appropriate.
In my experience, the very best stories are woven with intrigue, a lesson or two and both the dark and light of human existence. They become the legends and myths that are carried on and enjoyed again and again. KOOZA by Cirque du Soleil is spell-binding, It follows a narrative of the Innocent as his eyes are opened to the magical world of the Trickster. Of course, when he finds herself in possession of his wand, things turn dark. Light and dark, dark and light….these opposites are explored across the two halves of the performance, capturing your breath, preventing you from exhaling until the intermission and then again, until the end.
A major element of the set is the Bataclan, a travelling tower.  Revealed when the world of the Innocent becomes colour, it is inspired by Hindu culture, Pakistani buses and Indian jewellery, opening to reveal all it's precious collection inside. It instantly took me back in time to my first jewellery box which, when opened, played a magical tune while a ballerina danced in circles. Quite fitting when one of the first acts is the trio contortionists who not only spin on their necks, but bend themselves in all matter of ways like a slinky.
It was the metallic Wheel of Death that finally had me screaming in terror (seriously, I let out a huge squeal during this performance). The wheel is a huge contraption suspended in the air that spins around and around as two performers run, like a mouse in a wheel, inside (and sometimes outside) their respective section. The hairs on my arms stood up. At one stage, I covered my eyes and peeked through. Both my kids watched on, mouths agape. It could possibly be the scariest and most awe inspiring thing I've ever seen on stage. Of courses this is just a snippet of what we saw, unrevealing it all would take some of the delight from not knowing everything when you take your seat.
The performances coupled with the live music, the amazing costumes (there are 175 costumes and 160 hats in the show) and intricate attention to detail, make KOOZA by Cirque du Soleil the best circus performance I have ever seen. It is most definitely the best thing we have seen as a family this year – each of us left on a high. I haven't been able to stop thinking about it and I'm contemplating a return trip.  
Of course you want to go right? You can catch KOOZA by Cirque du Soleil at:

Sydney – Now playing until November 13 2016, Entertainment Quarter, Moore Park
Brisbane – From November 24 2016, Skygate Brisbane Airport (near DFO)
Melbourne – From January 20 2017, Flemington Racecourse
Perth – From April 13 2017, Belmont Park Racecourse, Victoria Park Drive (off Farmer Freeway), Burswood
Tickets at www.cirquedusoleil.com/kooza
The Kid Bucket List was a guest of Cirque du Soleil. Of course, all opinions are our own.