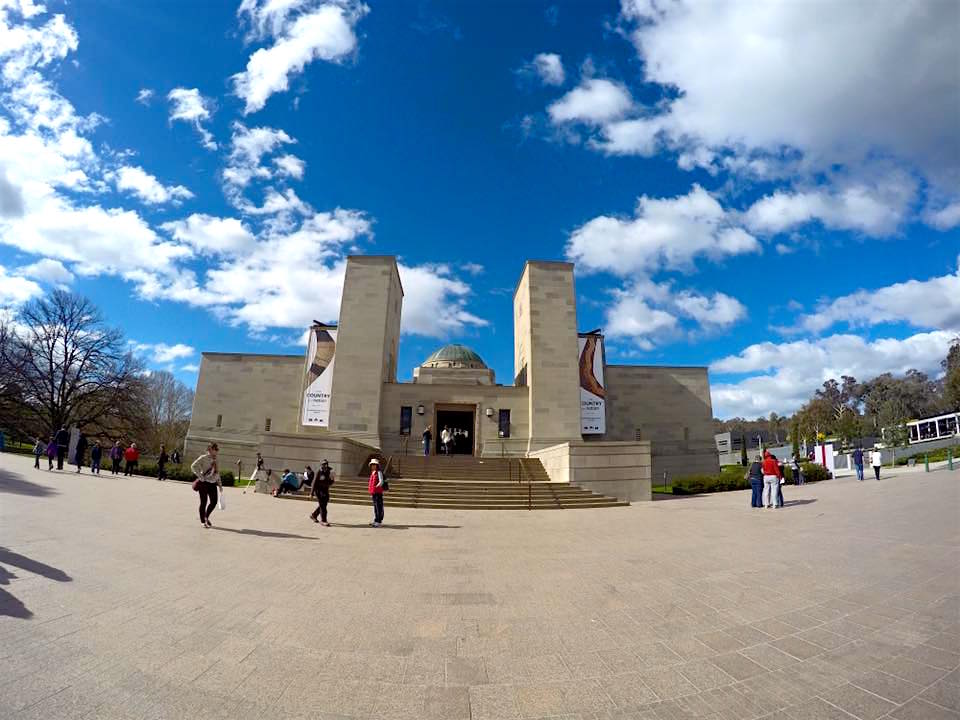 The Australian War Memorial in Canberra commemorates the Australians who have died in war and is a vehicle for assisting us to remember, interpret and understand the Australian experience of war and its enduring impact on Australian society. Dedicated to ensuring the generations of today and into the future remember, it is more than a shrine of war but both an archive and museum as well.
Mention that you are heading to Canberra and no doubt you will be asked if the Australian War Memorial is on your itinerary. It is one of those 'must see' places not just for its history but also for its amazing architecture and views. You aren't usually warned about how confronting it can be, something I hadn't even considered on our first visit with our young son who was almost inconsolable on that visit as his mind tried to reconcile what he was seeing.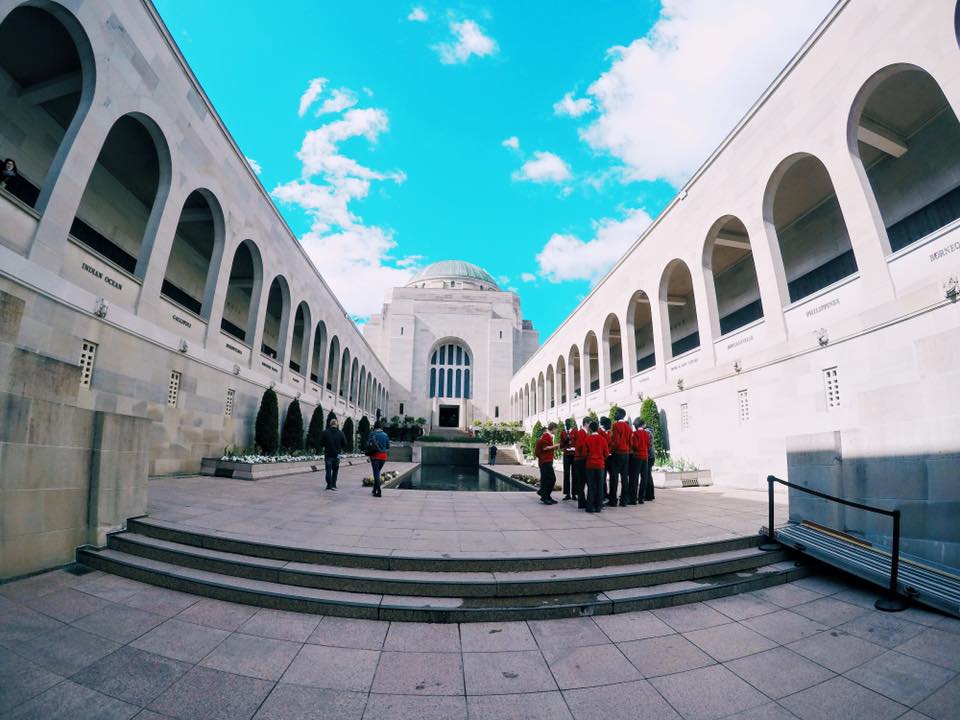 We decided to head back on our spring holiday just past. Rather than turning up blind, we did a lot of research and planned the visit. There were many conversation about why we were visiting and the importance of the Australian War Memorial which led to hundreds of questions from the kids. Often the things that are glimpsed at the site can scare us. We explained that that's okay but that we need to talk about it.
Despite all of this, when we arrived my son was a little shaky. He was worried about what was inside the Australian War Memorial and what he might see so we changed the plan,  deciding instead to explore the Sculpture Garden and to walk inside to see the Pool of Reflection and the Eternal Flame. It still provided a catalyst for lots of insightful conversations, but was supportive of our son's fears.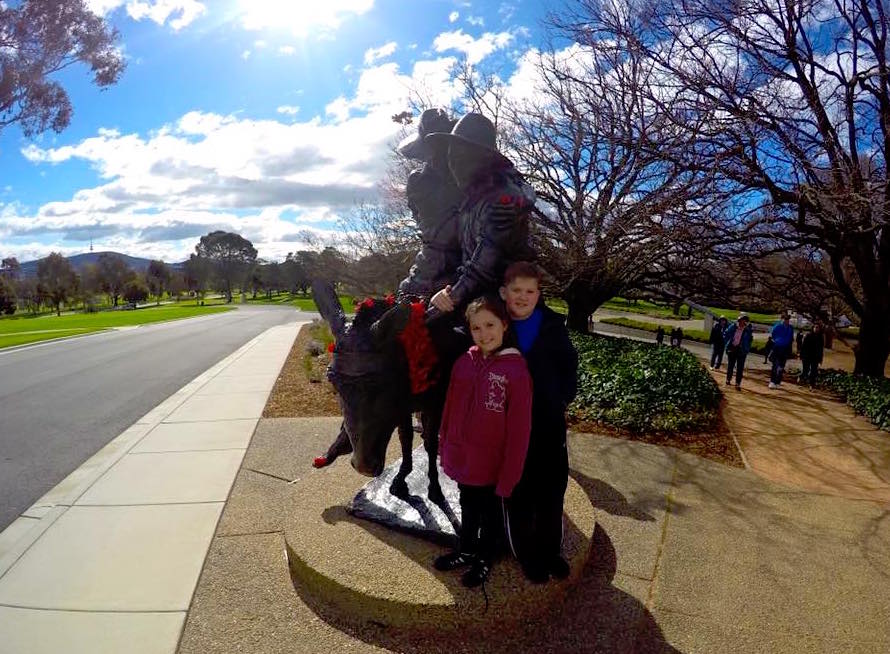 The Sculpture Garden opened in January 1999 and features a number of works such as Simpson and his donkey, Australian serviceman, and Sir Edward "Weary" Dunlop. It provided us with lots of opportunity to discuss Australian war history and the amazing efforts of our soldiers. Both of our children found the narratives around these servicemen intriguing, providing a good starting point to understanding Australia's part in the wars we have been involved.
If you too are thinking of visiting the Australian War Memorial with your kids it is important to work out, in advance, which exhibits you will be visiting. The Discovery Zone is a good place to explore which can be accessed from 12.30 pm to 1.30 pm on weekdays and all day during weekends, public holidays and ACT school holidays. It is largely a hands on space and features five environments inspired by Australia's military history:
a trench on the Western Front in France from the First World War
the Australian home front during the Second World War
an Iroquois helicopter hovering in a field in Vietnam
an Oberon Class submarine, searching for enemy targets
a peacekeeping mission in a war-ravaged community
Depending on your children, you may prefer to skip the exhibits dedicated to conflicts and focus on other areas.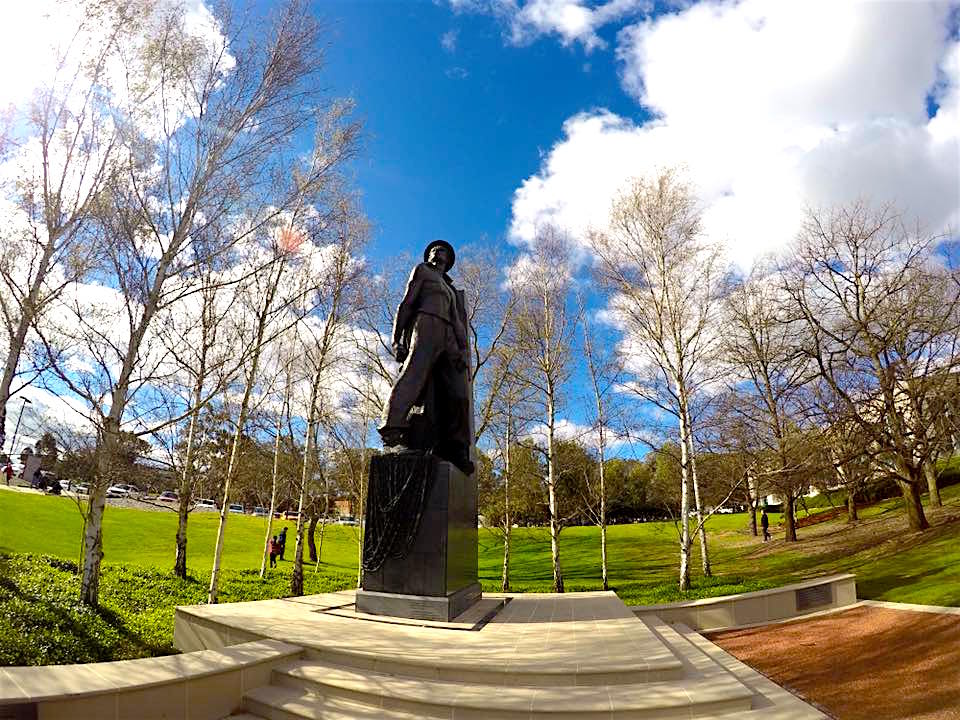 The Australian War Memorial is open daily between 10.00 am and 5.00 pm. Although it is closed on Christmas Day. Admission to the site is FREE although all bags will be inspected on entry. You will find the site at Treloar Crescent (top of Anzac Parade), Campbell in the ACT. For full details head to the Australian War Memorial Website.
Wondering what else to do in Canberra? Check out our 20 Things To Do In Canberra coverage.