When you think of Sydney, what comes to mind? I bet the Sydney Harbour Bridge comes up, right? This iconic structure is the world's largest steel arch bridge and can be driven, cycled or walked across, with some even climbing to the top of the arches via organised Sydney Harbour BridgeClimb experiences. Sydney Harbour BridgeClimb with Kids is now a possibility too!
The BridgeClimb has been on Sunshine's personal bucket list for as long as I remember, and when the minimum age was reduced to 8 she started saving so she could finally tick it off her list. That day arrived a few days ago.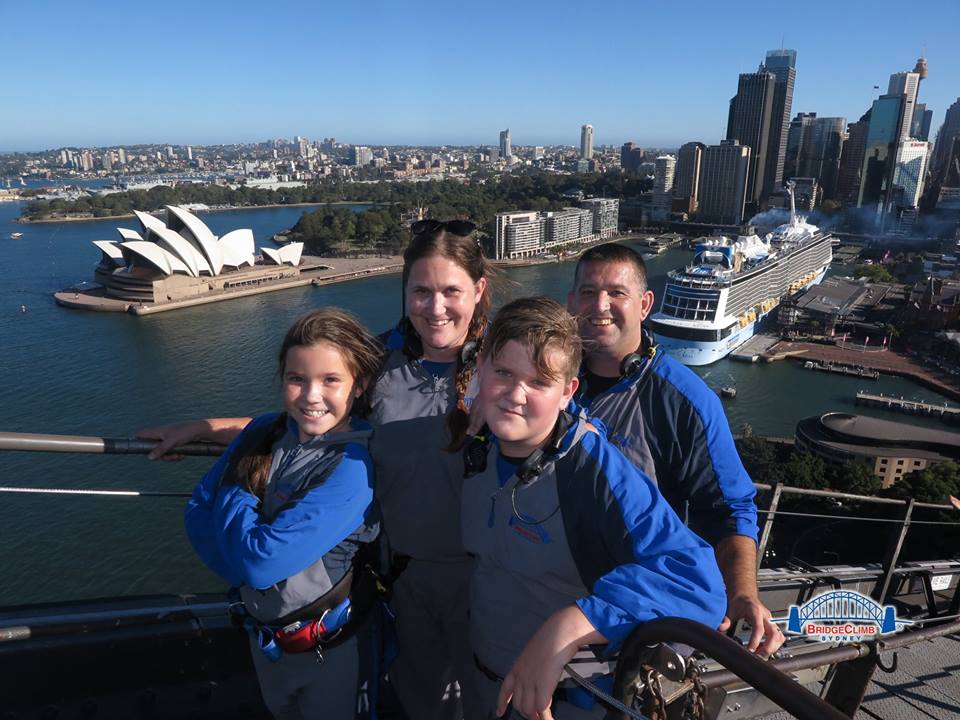 The Iconic Sydney Harbour Bridge
Nicknamed the coat hanger, the Sydney Harbour Bridge is an iconic symbol of the city and even Australia itself. Formally opened on Saturday, 19 March 1932, it carries over 160,000 vehicles across the harbour every day of the year and connects the CBD with the North Shore.
As one of Australia's most photographed places, the Sydney Harbour Bridge is also the location for Sydney's spectacular New Year's eve fireworks every year. This incredible pyrotechnic show is broadcast across the globe, kickstarting the festivities worldwide.
But what about the construction of this engineering marvel? The Sydney Harbour Bridge spans a total of 1,149 metres. Most interestingly, the arch may rise or fall 18 centimetres due to heating or cooling which ensures the bridge remains standing. The total weight of the steelwork on the bridge is a mind staggering 52,800 tonnes.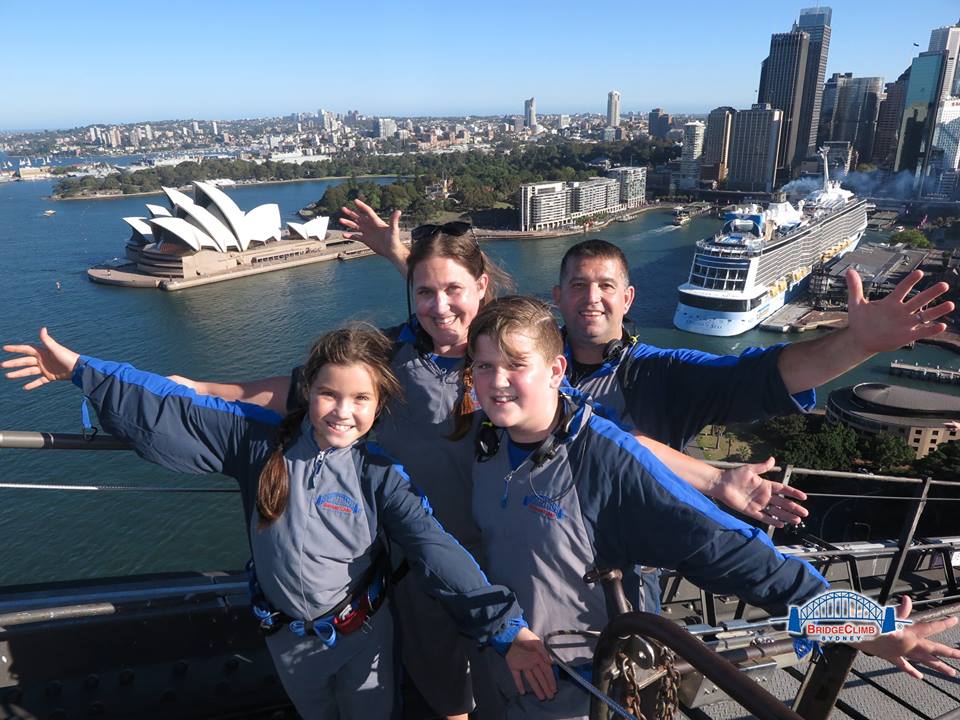 At each end of the bridge you will spot 89 m high concrete pylons which have been faced with granite which was quarried at Moruya, NSW. They were originally added just for looks but are now utilised for various projects including the Sydney Harbour Bridge museum and pylon lookout.
I remember as a kid being asked if I knew how many nuts and bolts were used to build the Sydney Harbour Bridge. I always thought it was a perplexing question, especially as back then no one could actually tell me the correct answer. Today the data is much easier to source. In total, there are 6,000,000 rivets used to construct the Sydney Harbour Bridge. Impressive, right?
You can find out more about the construction and opening of the Sydney Harbour Bridge at both the Sydney Harbour Pylon or BridgeClimb.
Sydney Harbour BridgeClimb Facts
Since the first BridgeClimb on 1 October 1998, over 3.5 million people have climbed the Sydney Harbour Bridge although only a quarter have been Sydney locals! Until only recently, children had to be over 12 years to climb but just last year the minimum age was lowered to 8 years making the climb something how whole family could enjoy (a great savings goal for Sunshine who was super keen to try it).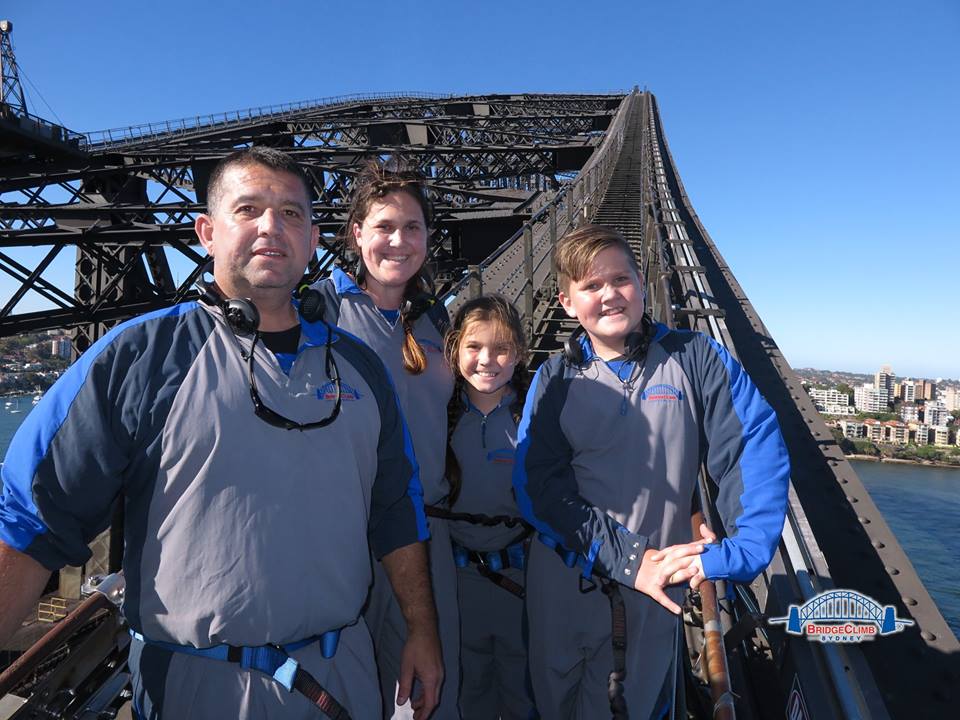 The Sydney Harbour BridgeClimb is open up to 24 hours a day, 364 days of the year, making it accessible to both early risers and night owls alike! A moderate level of fitness is needed to make the BridgeClimb as climbers will scale 1,332 stairs during the duration of the climb. However, your guide does make frequent stops and there are both bubblers and misters along the way to keep you hydrated and cool.
Better yet, all equipment is provided for your climb so you don't need to bring along anything special except closed in, rubber soled shoes. The equipment provided has been modified and specifically designed for the climb, and it's all fairly comfortable too!
BridgeClimb – Five Climbs
There are five different climbs to choose from when considering a Sydney Harbour BridgeClimb: the BridgeClimb, BridgeClimb Express, BridgeClimb Sampler and then two further climbs in Mandarin language.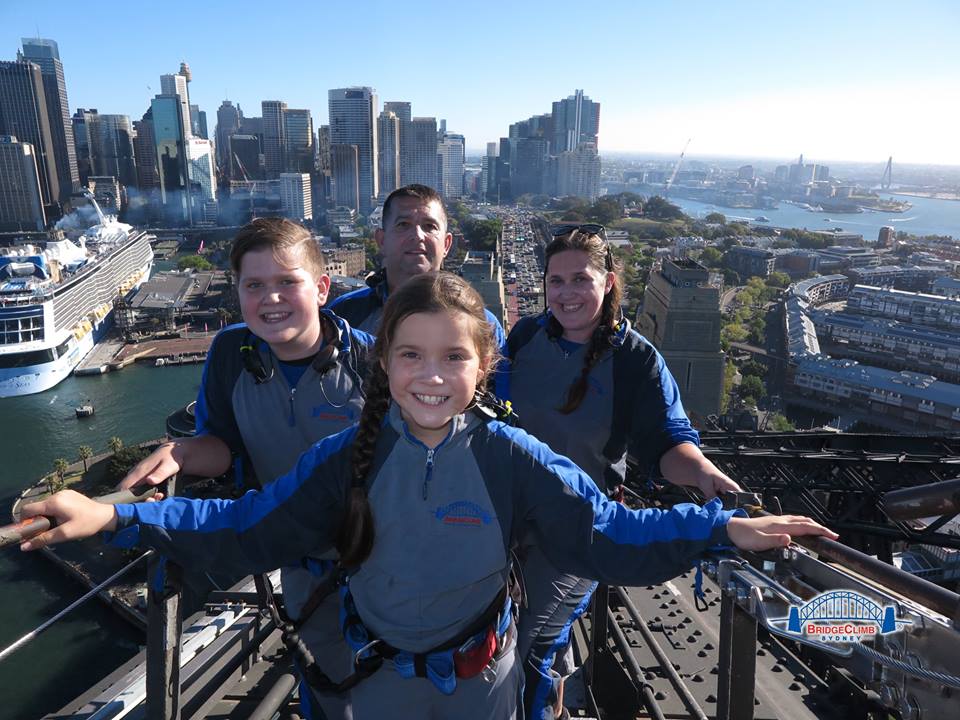 BridgeClimb
We took the BridgeClimb which takes around 3.5 hours. On this climb you walk along the upper arch before moving to the peak of the bridge. The most difficult section is where you ascend four ladders to the start of the upper eastern arch, but everything after that is pretty easy to manage and of course there are bubblers and rest stops along the way.
BridgeClimb Express
The BridgeClimb Express climb shaves an hour and a bit off the total climb (total 2 1/4 hours). It's a lot faster and steeper than the BridgeClimb, with climbers ascending through the heart of the Bridge. It also has less break stops that the BridgeClimb option.
BridgeClimb Sampler
This climb only lasts an hour and a half in total and takes climbers to the halfway point on the inner arch facing the Sydney Opera House. It's the easiest of all the climbs, but also the shortest.
BridgeClimb Mandarin
There are two BridgeClimb Mandarin options to choose from: a 3.5 hour and a 2.25 hour climb. Both options provide a Mandarin speaking Climb Leader with the whole tour in this language.
Preparing for your Sydney Harbour BridgeClimb with Kids
Before you venture off to the Sydney Harbour BridgeClimb, make sure that you are wearing rubber soled, closed toed shoes. Running shoes / sneakers are the best option.
We were asked to remove all bracelets, necklaces and other jewellery. Climbers are provided with lockers to house their valuables and clothes during the climb. This includes all mobile phones, cameras, wallets etc. Climbers are provided with jumpsuits to wear during the climb, and being quite hot on the day of our climb, we were encouraged to remove all clothing except underwear to keep us cool (I highly suggest you do this too).
All climbers receive a Sydney Harbour BridgeClimb hat and can choose to wear it  on the climb or pick it up at the end. If you do opt to wear it, it will be clipped on to your suit, as are the headphones, radio, and even your sunglasses if you wear them up.
Before embarking on your experience, make sure you have eaten and are well hydrated. You will be breath tested prior to the climb with an expectation that you have a 0.0 result (any alcohol on your breath will result in your climb being cancelled).
Of course, if you have any medical conditions or are a little scared, let the BridgeClimb team know so they can do their best to accomodate you.
Read the Sydney Harbour BridgeClimb checklist for further details.
The Sydney Harbour BridgeClimb with Kids
For days leading up to our BridgeClimb, both Striker and Sunshine asked a plethora of questions. I could tell their excitement had just a hint of fear wrapped around it. Could they fall? What happens if it rains? Who would lead the climb? Both T and I reassured them that over 3.5 million people have safely experienced the BridgeClimb. They couldn't wait.
For our climb, we had booked a late afternoon time slot. Being summer, I thought that it would be a little less intense in terms of heat, and we might get the golden hour of light. We made sure that we had a good lunch down at Barangaroo and had kept our fluids up before arriving at the Sydney Harbour BridgeClimb. By this time the kids were almost bursting with excitement.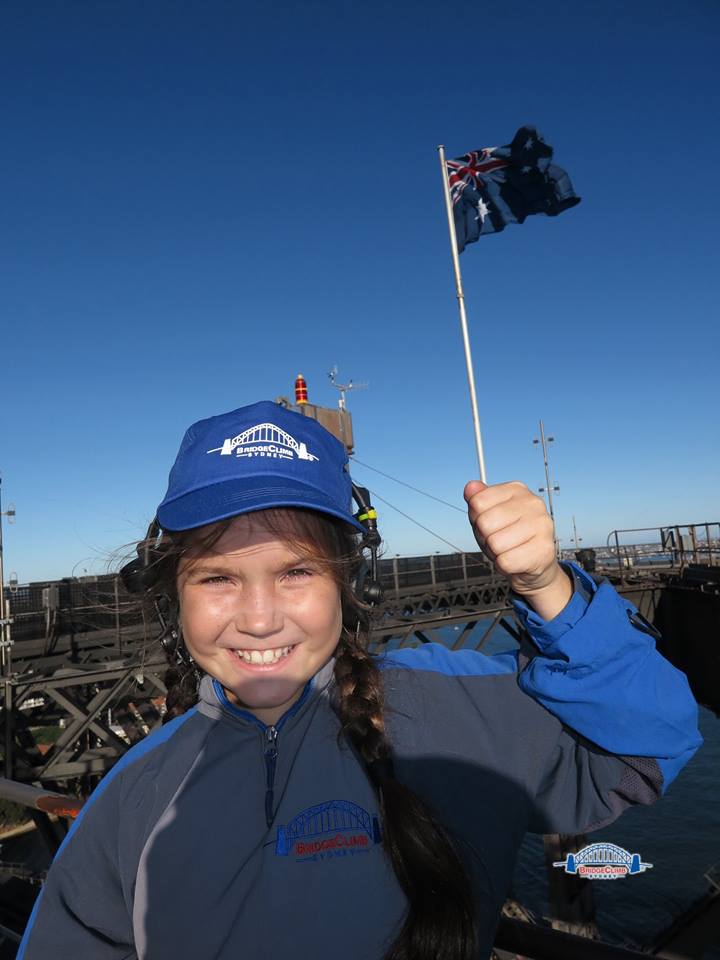 On arrival, we grabbed our tickets and were shown upstairs to the waiting room. Our first leader greeted us and took us inside the main climb area for our briefing. It was here that we were breathalysed (even the kids – you need a 0.0 reading to be able to participate) and received our jumpsuits. They come in all sizes, even mini versions for Sunshine!
After dressing, we walked through a metal detector before meeting Dean who would be our climb leader for the next 3.5 hours.
Besides the four vertical adders which you use to ascend onto the upper arch, the climb is fairly easy thanks to the numerous stops your Climb Leader will make along the way. It was not nearly as vigorous as I expected and very manageable. We had time to point out numerous Sydney sites, watch ferries arrive and depart from Circular Quay and even watch the sun head towards the horizon.
The Sydney Harbour BridgeClimb Kid Tested
So what did the kids think of the Sydney Harbour BridgeClimb? Both Striker and Sunshine ranked the experience a 10/10 trumping almost everything else we have ever done with them (including Disneyland!). I wonder if this was due to the feeling of accomplishment that our family felt after reaching the summit and conquering the climb despite a few jiggly feelings of fear.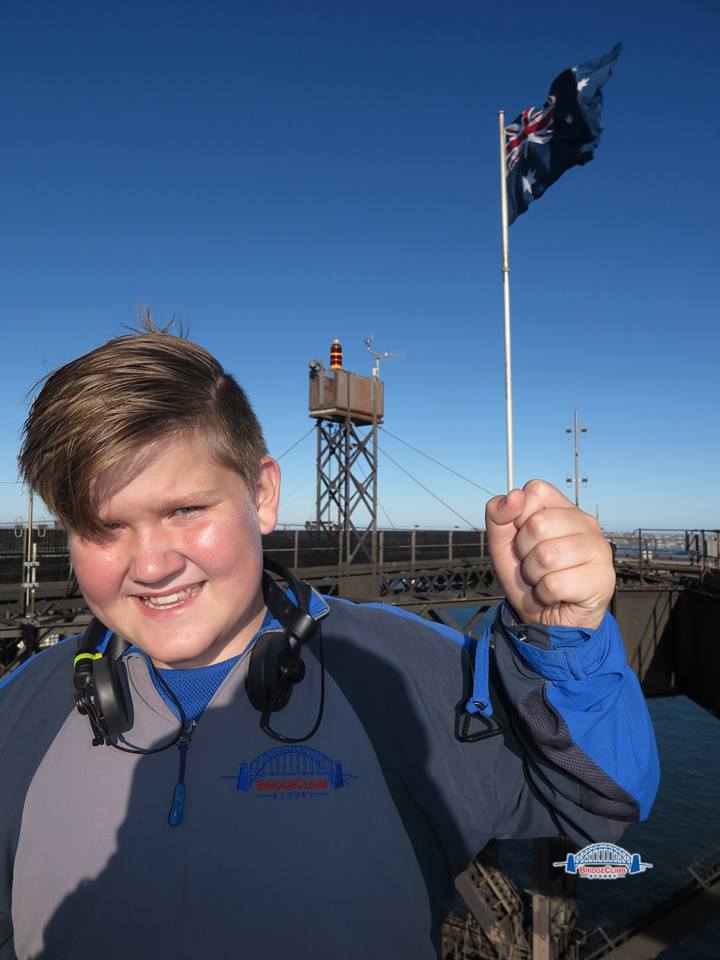 When I asked them what they liked most, Striker said "I liked that I could see the whole city from the top." whilst Sunshine replied "I was on top of the world! I made it to the top and could see EVERYTHING! I was like a bird but I didn't need to fly". 
They were both impressed that BridgeClimb provides jumpsuits to wear on the climb and they received a hat each as a souvenir from the trip.
So you want to climb the Sydney Harbour BridgeClimb?
The Sydney Harbour BridgeClimb is a 7 day a week experience option. Prices start at around $138.00 per child and increase depending on your age and the climb you wish to take.
For full details, head to the Sydney BridgeClimb website.
Our Sydney Harbour BridgeClimb was self-funded although we did receive a media discount. All opinions are our own. All images Copyright © 2018 BridgeClimb Sydney