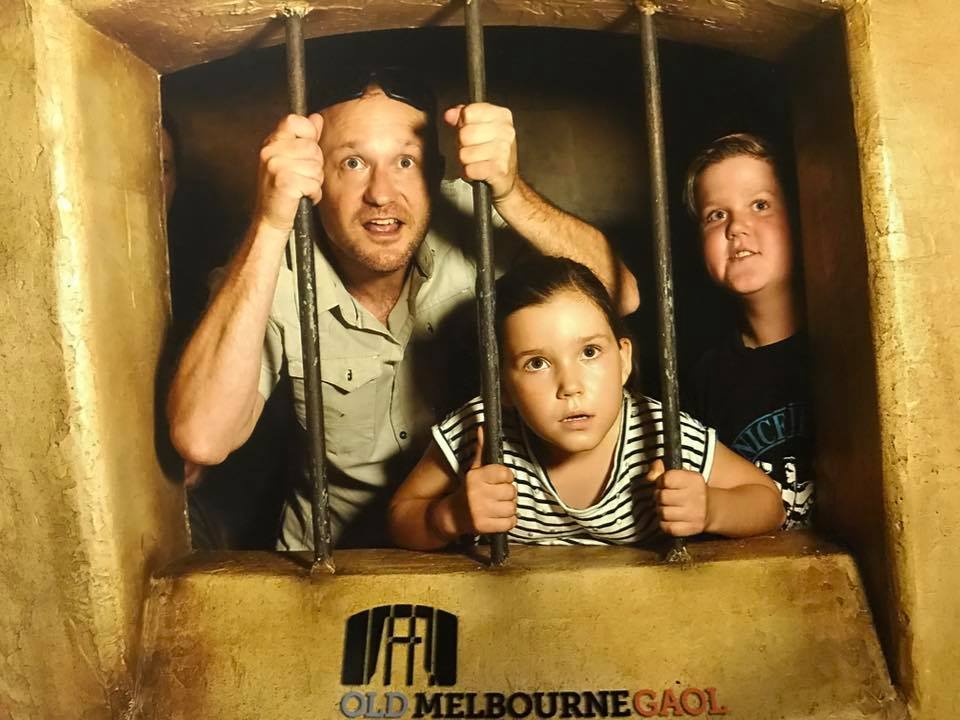 To really know a city you need to step back in time and learn about the foundations on which it was built. Learning about the past helps you to really understand the changes that have led to the now. Whenever we visit a city we search out the historic sites that tell the story of its evolution. On our recent Melbourne holiday we made sure to fit a few hours into our busy schedule to visit the Old Melbourne Gaol.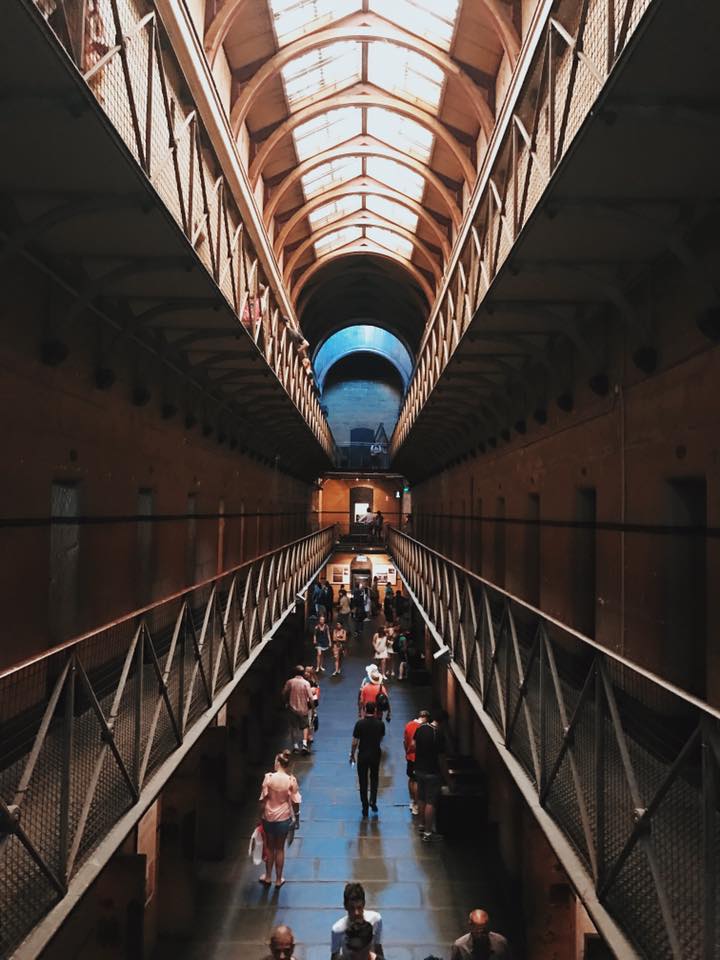 Built in the mid 1800s, the Old Melbourne Gaol was built on a hill overlooking the city of Melbourne. It remained an active gaol until its closure in 1929, and was the site of 133 hangings including that of infamous bush ranger, Ned Kelly. It also held up to twenty children at a time and was a dual sex gaol for much of its time until a female prison was built next door. The City Watch House which was built in 1909 and operated right up until 1994. It was here that felons were brought for conducting minor misdemeanours in Melbourne city or if they were awaiting a court appearance.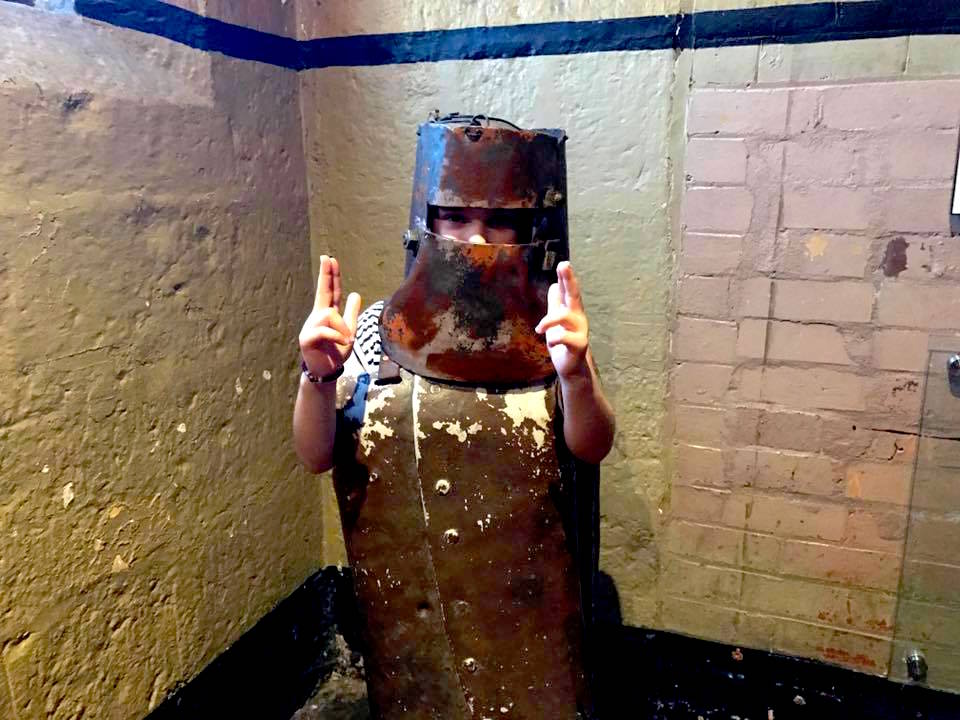 Before I talk about our visit, I should just point out that an old Gaol can be confronting for children if they aren't prepared. Given the nature of the occupants that lived in these facilities and the punishments that they endured, the history you are going to hear about is likely to be a little violent and scary. Framing this for younger visitors and working out the purpose of your visit is something you need to pay attention to before you walk through the gates. Scoping out the tour before hand will also ensure you are able to avoid some of the more graphic contents if they exist (for example, when we visited the Mob Museum in Vegas, T walked ahead and checked the exhibits. There was one room that the kids and I skipped).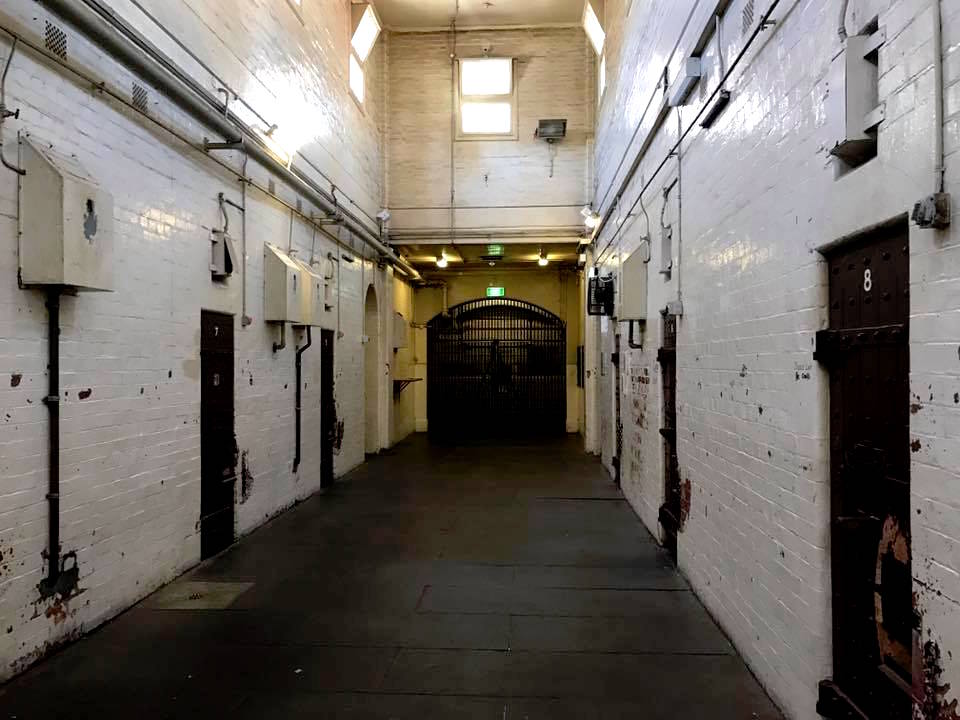 We decided to pay a little extra and do the guided tour which a lot of other parents also joined with their children. Our guide walked us through the cellblock at ground level to begin with and pointed out a few of the bizarre beliefs that were held by society about criminals. The most notable was the belief in Phrenology which is the study of the shape of skulls and the bumps in them which apparently represented psychological attributes. If you feel behind your ear you will likely find a bump. This means you have criminal tendencies if phrenology is to be believed. I guess we're lucky for this belief as it led to the creation of death masks of each prisoner executed at the gaol which you can now view. Morbid perhaps, but strangely fascinating. We then walked up stairs to the gallows. I wandered around to some of the cells while our guide explained how they were used. Finally, she told us about Ned Kelly's time at Melbourne Gaol.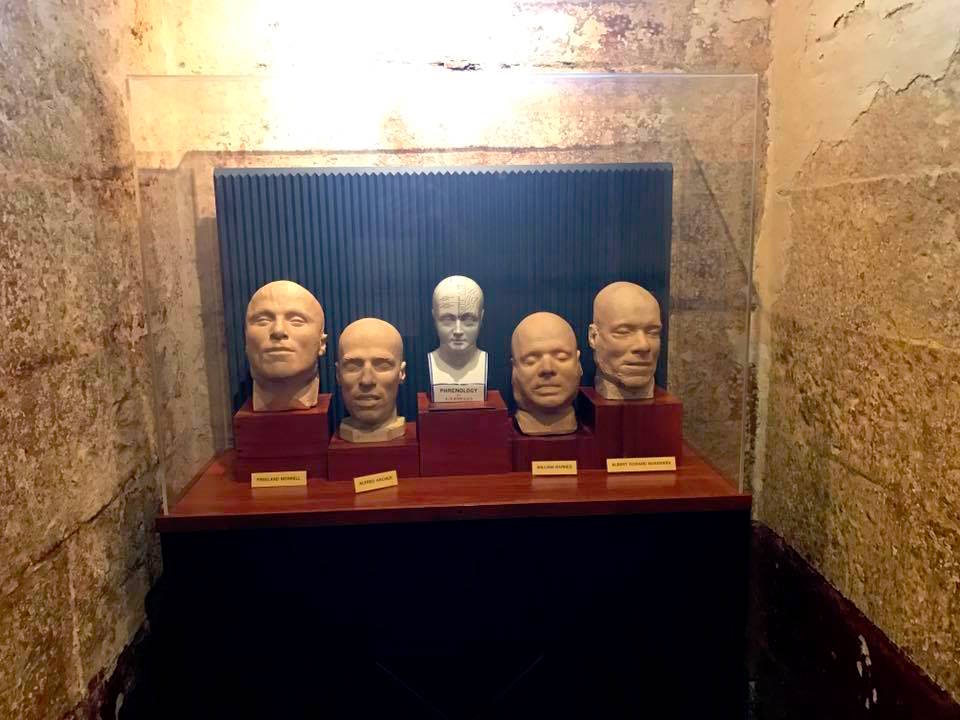 If you know your Australian history, you will know that Ned Kelly was captured at Glenrowan, Victoria after a bloody shoot out where he wore a homemade suit of metal armour. He stood trial in Melbourne on 19 October 1880 and was convicted of the wilful murder of a policeman. He became the 101st person hanged at Melbourne Gaol. He is a very complex character – one of Australia's greatest folk heroes but also a criminal. He was no Robin Hood, stealing for himself and his family rather than for the poor. Both Sunshine and Striker find him fascinating especially his death mask (I really don't think they have any concept of what it really is despite us being told how they are being made). The tour concluded here.
We wandered around the cell block for a few more minutes before heading to the City Watch House for what became our favourite part of our visit. We were led into the City Watch House by a tour guide who handed us over to a policewoman. For the next 40 minutes we were led through an amazing interactive experience by a Charge Sergeant who arrested us and ran us through the drill of being put it gaol. We were locked in small groups into cells. In.the.dark. For one small child in my group, this was too much as she cried although the darkness only lasted for 2-3 minutes. We were then led to the exercise room. I don't want to detail the entire experience because not knowing what to expect ensures a surprise. We loved it, I think you will too! It's also included in the ticket price.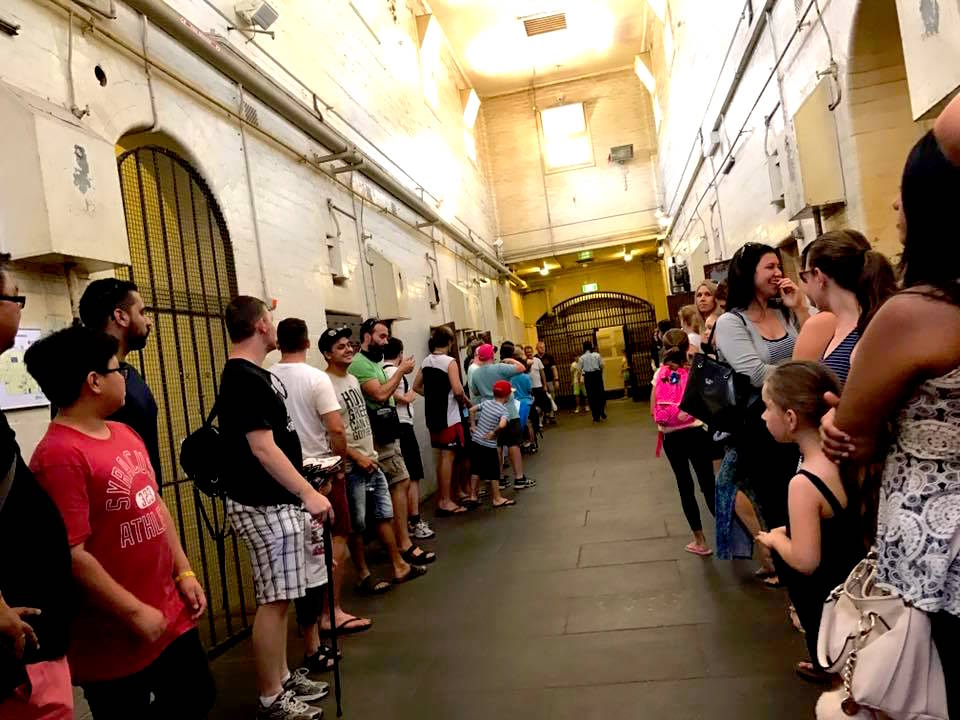 Both sites are open every day of the year (except Christmas and Good Friday) between 9.30 am and 5.00 pm. Your entry ticket covers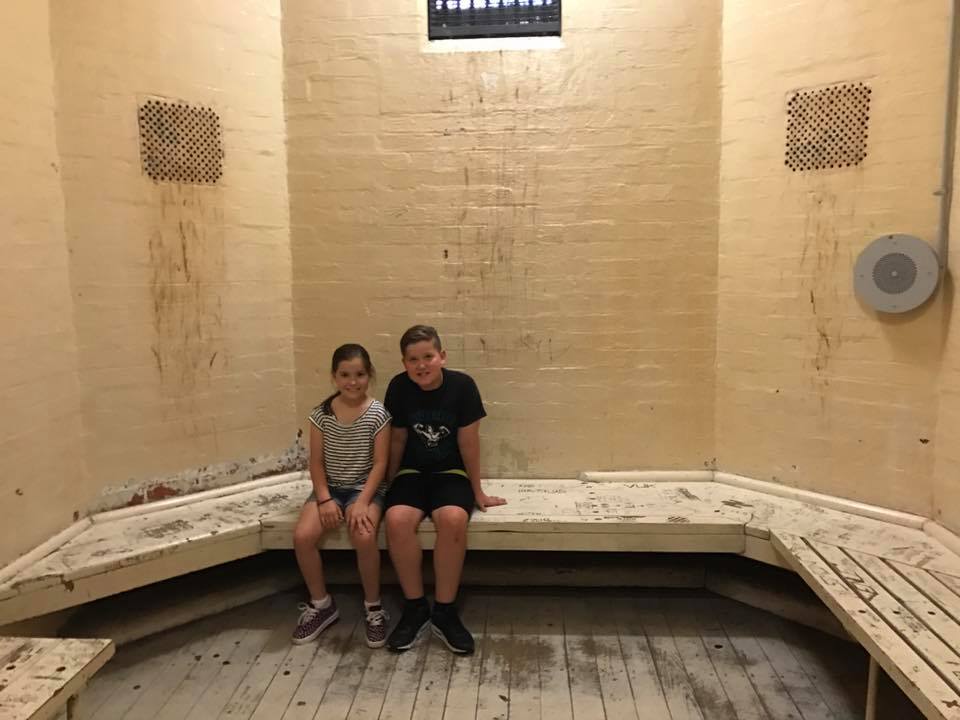 Virtual Tour

Location: 377 Russell St, Melbourne VIC 3000
Opening Hours: 9.30 am – 5.00 pm (suggested last entry 3:30pm) daily except Christmas Day and Good Friday.
Current Ticket Price: $55 Family (2 adults + 2 children)
Website: www.oldmelbournegaol.com.au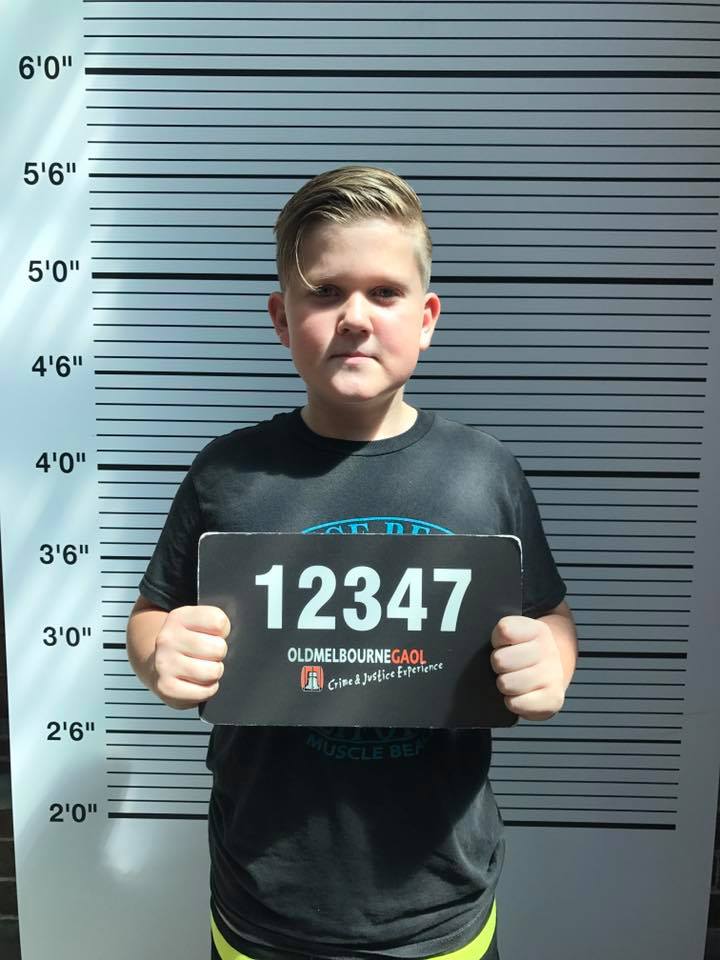 Other Gaols we have visited (click on them to visit)